Though multi-channel customer support is getting more popular, one channel is often left out of the conversation: app store reviews.
While teams set aggressive response time goals for email or chat, support teams leave the majority of app reviews unanswered — even though negative reviews have more influence on download decisions than app size or price.
That's why we're excited to introduce our newest communication channel: Google Play Store. Front makes it easy to respond to every app store review, so you can build stronger customer relationships and attract new users to your app.
1. Manage all your customer touchpoints in one place
Front connects with Google Play Store in a few steps to help your support team manage app reviews alongside all your other channels: email, SMS, chat, and more.
Responding to mobile app reviews becomes part of your support team's daily workflow — instead of yet another channel to monitor. With Front, app reviews are piped directly to where they're already working, with all the information they need for a useful response, such as star rating, message content, and key context like device type or location.
2. Capture valuable customer feedback
Don't let the treasure trove of feature requests and bug reports hiding in your app reviews slip away. Unlike a traditional help desk, Front makes it easy for your support and technical teams to work together in one platform to resolve issues quickly.
Multiple teams can collaborate through in-line comments, and your support team can follow up directly with the users reporting any issues with all the context they need. They can even track feature requests with tags or connect them with tasks in Asana, JIRA, GitHub, or Trello — without leaving Front.
With everyone working out of one platform, your team can resolve issues faster and avoid duplicating work across multiple communication or project management tools.
3. Build your brand on the Google Play Store
Responding to negative reviews shows potential new users that you're receptive to feedback and focused on delivering a great customer experience. A 2016 Apptentive study found that 75% of smartphone users identified app ratings as a key factor in their decision to download an app.
Helpful responses to reviews may mean the difference between someone downloading your app or not. Google has even indicated that responding to app reviews can boost your search discoverability — critical for any developer trying to grow their user base.
Get started with Google Play Store reviews
To start managing your app reviews in Front, simply choose Google Play Store from your Add a team inbox menu and follow the set up guide.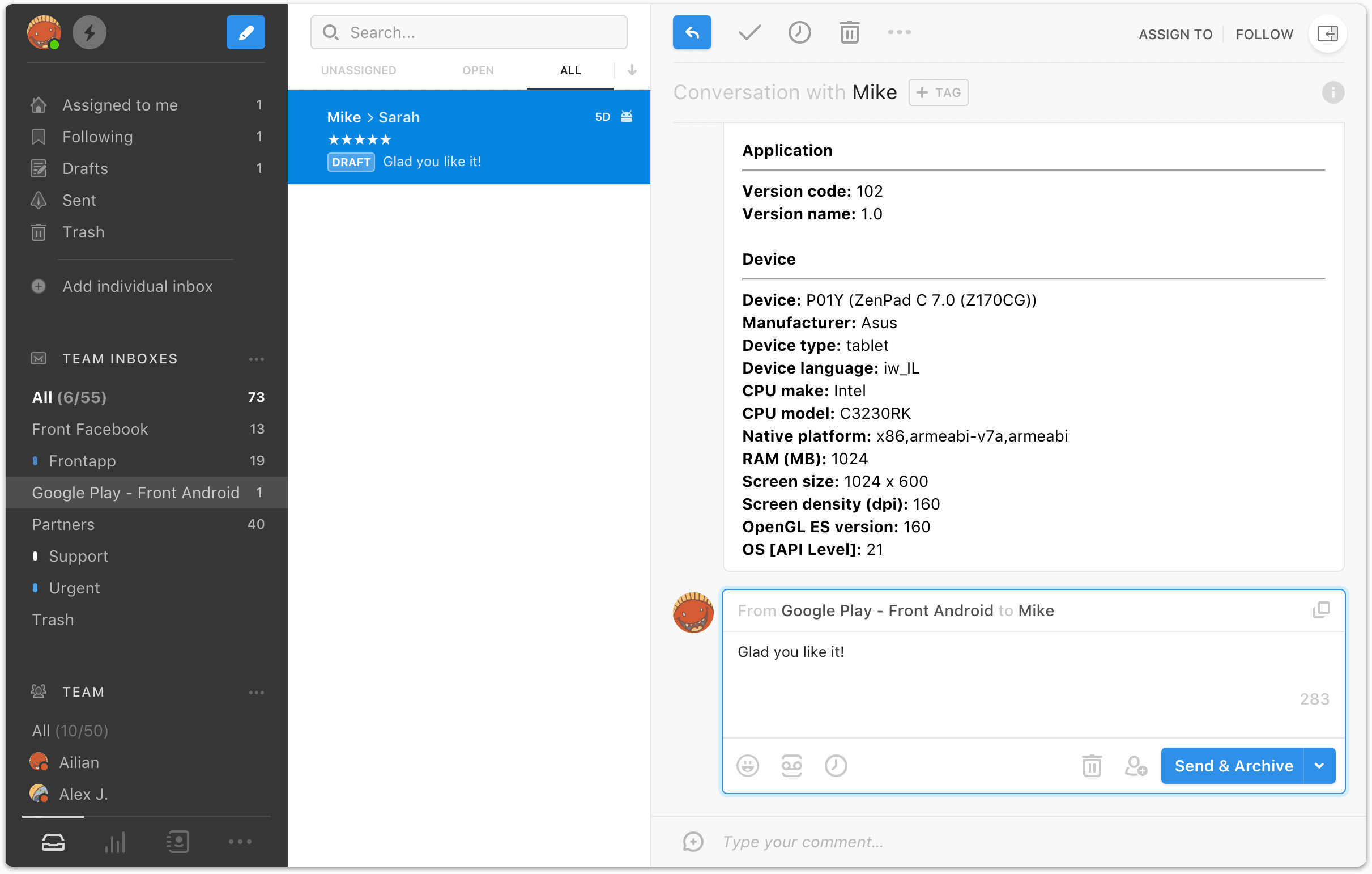 Once you're connected, your team can start replying to app reviews just like emails. Front will post your replies to the Google Play Store automatically, so you can manage everything in one place without switching tools.
Let us know what other channels you'd like to see in Front!
Written by Sarah Spangenberg
Originally Published: 17 April 2020