2020: Burn the tape?
I grew up playing hockey, and every once in a while we'd get absolutely blown out. (Okay, maybe it was a bit more than "every once in a while.") But oftentimes, after those particularly lopsided losses, our coach would say something like "burn the tape" and "move onto the next game."
The idea was that this was such an outlying result, it's better to just put it behind us completely rather than spend any time replaying it and reliving it. Obviously we had no literal videotape (though some particularly gung-ho moms or dads may have been recording and reviewing), but that's what the NHL coaches would say after a bad "L" and it's what our coach said too.
Normally, you can learn a lot from mistakes, bad outcomes, and disappointments. You go over your own "tape" so you can see where you went wrong and correct going forward. But sometimes, when absolutely everything goes awry, it's too hard to pick out any individual error, and you just end up feeling depressed.
When it comes to the tape on 2020, most companies took a heavy hit of one kind or another. The ones that thrived (like Zoom) are definitely the outliers. And for many businesses, whether large or small, there aren't really any glaring mistakes you can learn from besides "not seeing a global pandemic coming." Maybe you did everything right, but 2020 still hit you like a ton of bricks.
So is that the move? Burn the tape on 2020 and move past it? Or is it still a worthwhile exercise to go deep on the analytics from an outlying year?
No company worth its salt is going to toss out any data on any year, no matter how outlying, but it's worth keeping in mind that 2020 was unprecedented. And what happened in 2020 might not be a good predictor of what to expect going forward.
That said, there's still a lot we can learn.
In this article, we've dug into Front user data to get a few broad insights into what happened in 2020 and what to expect going forward.
Why Front's usage data is meaningful
We've used usage data to infer market trends before, but I want to give a quick recap on why Front data may be able to be generalized beyond trends specific to Front.
Front has a large and diverse customer base: Unlike some highly verticalized SaaS products that only cater to a specific industry, Front's install base spans nearly every sector of the global economy. We have customers in logistics, finance, legal, real estate, travel & hospitality — the list goes on. And our usage base in each of those categories is large enough to be statistically meaningful.

Front serves a broad variety of use cases: Our use cases include support, sales, finance, marketing, companywide, customer communication, productivity, and more. This variety means the trends we see aren't limited to a very narrow persona. It's more likely that trends are reflective of the broader economy.

Front is often integral to its users' work: People who use Front tend to use it throughout their workflow and workday. It's not something they check in on once per day or week. It's usually their go-to communication dashboard internally and externally. From that we infer that changes in usage one way or another are reflective of changing conditions at the company. Sometimes we don't know what those changes mean, but taken in aggregate, they can give us a glimpse into macro-level conditions.
The 2020 Front usage data index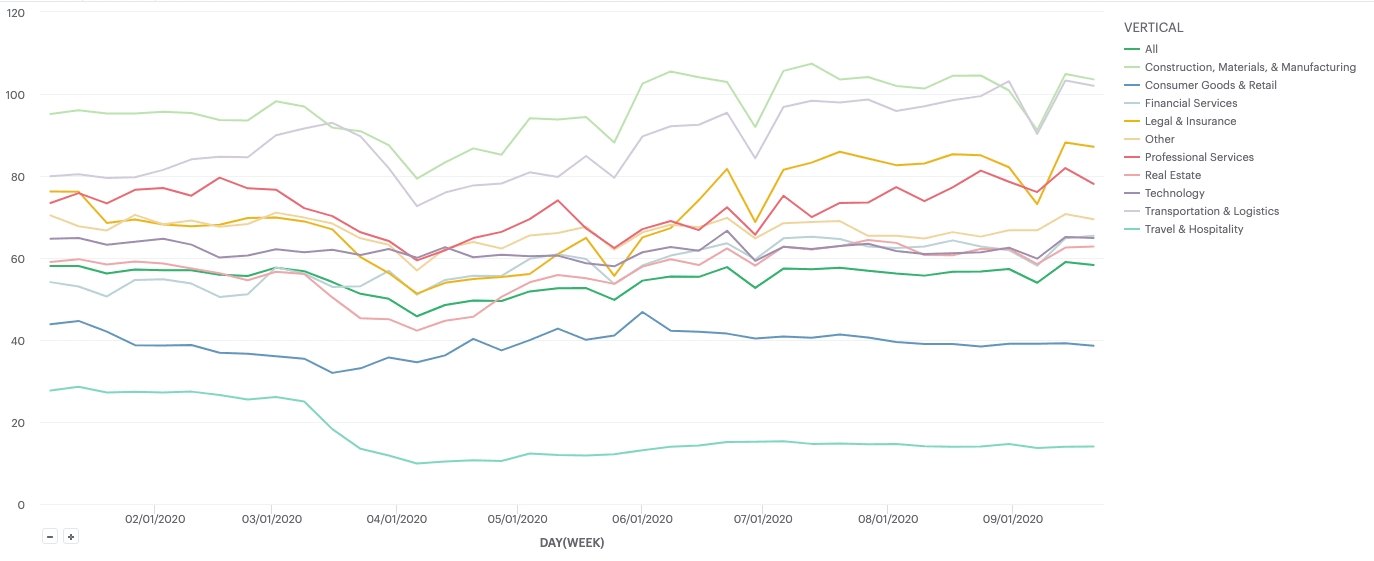 Here's a snapshot of our usage data broken out by vertical from January through October of 2020. The reason we're looking at January through October is to try and understand our usage pre-pandemic through the global lockdowns through initial re-opening. Since recovery has been so asymmetric around the world, plus the coincidence of the U.S. election season with the holiday season, we thought those last two months of data might be unnecessarily "noisy" so we opted to include a slightly more limited timeline.
What the index is specifically measuring on the Y-axis is the amount of email communication (per user license) divided by the amount of overall communication (per user license).
In other words, we wanted to get a sense of how much each vertical is communicating with customers in general as well as understand how they're using email versus other channels like SMS, live chat, and social media.
Since we're only looking at internal Front usage data, we wanted to find a way to have some kind of comparison. We don't have access to, say, Google or Slack or Microsoft's usage data, so we can't know how Front compares to theirs. But we can benchmark ourselves against ourselves to generate a meaningful comparison. Hence the vertical by vertical breakout as well as indexing channels of communication.
4 high-level takeaways from the index
So what can we actually learn from this data? Surprisingly, a lot! Specifically, four things:
The email channel continues to power the heart of our customers' business.

Live chat, social, and SMS are disproportionately relied upon in B2C verticals.

Travel and Hospitality continues to be depressed as an industry, but multichannel is powering customer communication.

Construction, Logistics, Professional Services, and Legal deviated most strongly from the median customer.
Let's dig in to each one.
1. Email powers the heart of business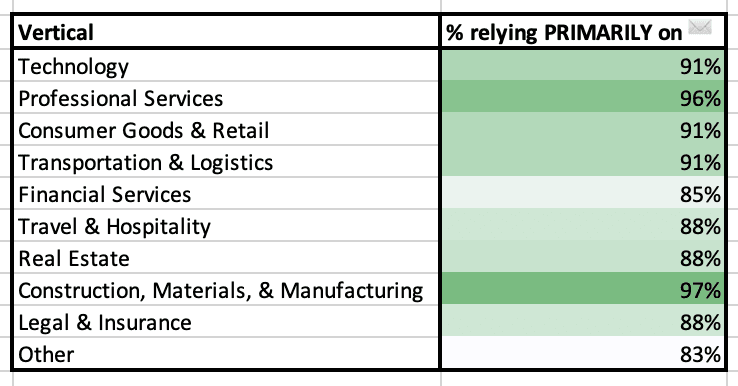 When we talk about the "heart of business," we're talking about all the big and small interactions companies have with their customers. And for our Front customers, those interactions are still taking place overwhelmingly through the email channel. That's not surprising given Front is (among other things) an email platform. But despite the variety of different channels available to companies to talk to customers within Front, these numbers are striking. The lowest percentage is 83, among our catch-all "Other" category.
And our data is backed up by other research. HubSpot found that "73% of millennials prefer communications from businesses to come via email." In fact, email is likely to be the number-one channel for most businesses to connect with customers. But when we talk to companies, we often find they're under-investing in email as a communication channel. And that means email is possibly a growth opportunity for you. Here's what we heard from Boxton CEO Warren Kucker:
In 2021, we think more companies will come to the same conclusion as Warren and look to bolster their email channel with strategic investment.
2. B2C businesses are more likely to leverage emerging channels
Even though email is the "queen of comms," other channels can be the rooks, knights, and pawns — especially for B2C companies. Check it out, and for reference:
✉️ = email

👥 = social media messaging (Twitter, Facebook, etc.)

📱 = SMS text messaging

💬 = live chat / web chat
The outliers here (in bold) are Consumer Goods & Retail, Travel & Hospitality, Real Estate, and Financial Services. What you don't see in this chart is that a large part of that 20% number in the "💬" column for Financial Services is being driven by Better's use of live chat on their website. That's a fascinating story, and you can read more about Better here, but what it means for the data is that these higher-than-average numbers are being overwhelmingly driven by B2C vendors.
The B2B verticals like Professional Services, Logistics, and Construction are all well below our average in most channels outside email. Again, this seems true if you're a B2B worker, and it jives with our conversations with B2B customers as well.
But when we look at specific non-email channels, we see Real Estate taking the largest share of SMS communications by percentage and Consumer Goods & Retail far and away the leader in social media messaging. Real Estate can often be a highly personal transactional relationship between buyer/seller and agent, with a lot of back and forth on things like scheduling a tour or open house. And retail brands are well-known to be leveraging social as a key marketing and sales channel.
Looking forward to 2021, there's no reason to suspect either trend will slow down. It's time for you to start creating a multi-channel strategy.
3. Travel is depressed, but multi-channel is powering customer communication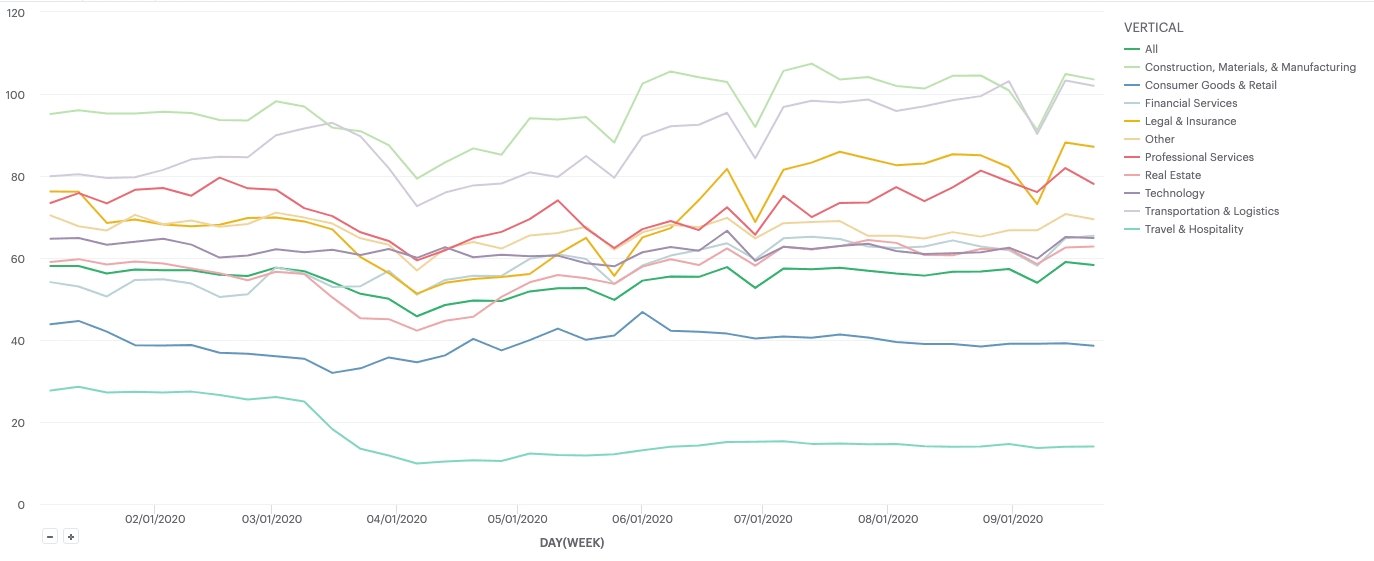 Going back to our original chart, you can get a glimpse of just how tough it's been in the Travel & Hospitality sector. If you use overall communication levels as a proxy for economic activity (which, we argue, you can), you can see just how much of a hit they took in March.
And it hasn't really recovered on the whole.
Outside of the analytics, however, there are some success stories. Companies like SnapTravel and TripActions have done some extraordinary things to rebound — things like negotiating refunds with partners or daily customer meetings. You can read SnapTravel's full customer story here.
But apart from the obvious — travel is hard when most travel is restricted and discouraged due to a pandemic — what can we learn from this data?
Let's look at this chart again:
Notice how the Travel & Hospitality industry is the one segment at or near the top in all three non-email communication categories. It's clear that travelers are looking for more convenience in how they communicate with vendors. It makes sense — traveling can be a complicated endeavor and you need to be able to reach your customers wherever they are, be it an airport, hotel, or Fiji, or the Himalayas, or New Zealand, or Machu Picchu, or… okay. I really miss traveling.
But if you're in the Travel & Hospitality business, investing in your multi-channel communications capabilities could pay big dividends in 2021. It did for SnapTravel!
Logistics, Construction, and Legal beat the mean
When you look at industries whose overall volume of messages grew following the initial lockdowns, four industries outperformed the mean:
Construction, Materials, & Manufacturing

Transportation & Logistics

Legal & Insurance

Professional Services
Firstly, B2B as a very general category was not impacted the same way consumer businesses were. We're talking about cascading effects here, and when a larger proportion of B2B businesses can transition to remote work than can B2C businesses, you'll naturally see a stronger rebound within that ecosystem.
These companies are, again, relying mainly on email to connect with customers, but we do see relatively strong SMS usage in Legal and Logistics. And we know from interviews with companies like MNX Global Logistics and Edge Logistics that text messages are a crucial part of thriving in an industry in which, literally, seconds make a difference.
90% of all text messages are read within three seconds of being received. If you work in a company where response time is critical, it's time to consider investing in your SMS channel.
Summary of key learnings and takeaways
A lot of us were really hoping to turn a page on 2020 and get a fresh start in 2021. But it turns out that the calendar flipping over doesn't change the reality on the ground. And any change since last year is not going to magically or instantly happen just because the year is one number higher.
That's why we can't ever "burn the tape" in business. There's just too much to learn — even from what I'm sincerely hoping will go down as the most tumultuous year of my life.
So what's the TL;DR on Front's 2020 tape?
Email is a channel ripe for optimization. A lot of companies in the market view email as a given. It's free or cheap, and it's table stakes to run a company. But the companies that rebounded the strongest are the ones most highly invested in email as a channel.

B2C companies need to invest in a multi-channel strategy. At work, asynchronous communication is the name of the game. But consumers are demanding more from their vendors — and the most successful ones are meeting that demand. Find out where your customers live and have the capability to reliably communicate through those channels.

Double down on customer experience. Our Travel & Hospitality customers went through some incredibly scary times. In fact, a lot of our customers were hit hard. The ones that performed the best under these circumstances give credit to doubling down on CX and getting closer to their customers.
If it works in the worst of times, imagine what it could do in the best of times.
Written by Matthew Klassen
Originally Published: 18 January 2021