CRMs aren't just for forecasts and pipeline reports.
In the day-to-day hustle of updating opportunity status and logging conversations, we tend to lose sight of why we adopted CRMs (customer relationship management software) in the first place — to better understand our customers and their needs. For Sales teams, the effort required to keep a CRM in order seems to take away from their core job, instead of adding value to it.
High quality CRM data is a key building block in the foundation of a great customer experience. Complete conversation history, context on business challenges, clear action items for strengthening the relationship. We're caught between knowing the value of this data and the reality of those time-consuming updates.
That's why Front integrates with Salesforce (and other popular CRMs) to connect your customer records with where you actually get work done — your inbox. The best part? Front stays updated automatically, so nothing ever slips through the cracks. With the right tools, keeping your customer data in sync with your team is easy. Here's how Front and Salesforce work together to give you better data, more efficient teams, and happier customers.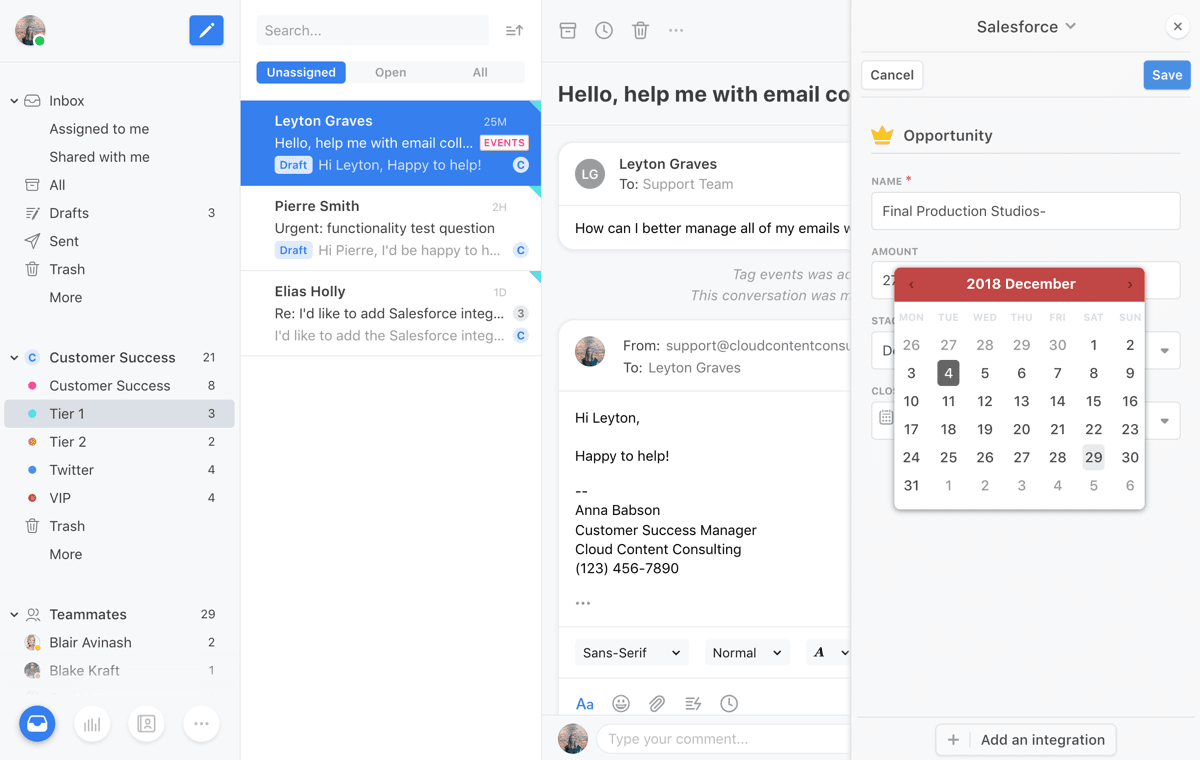 Break down the silos around Salesforce
"Out of sight, out of mind" is true — especially when it comes to Salesforce.
Giving your team visibility into your CRM is a big first step toward making it an essential part of their workflow. When your team isn't engaging with Salesforce throughout the day, it's easy to forget about the value of the data that lives in it.
Next to every conversation, Front shows you the related and updated Salesforce leads, contacts, accounts, opportunities, and cases. When you open a message, you know exactly who the customer is, what plan they're on, and how they've interacted with your team in the past. It's easy to customize which fields are shown in Front (including Salesforce custom fields) for a quick view of exactly what you need to craft a compelling message, instead of spending time switching between tools searching for context.
Reduce the time spent on updates
We've all been there. 30 minutes before your weekly team meeting, and what haven't you done?
Your status report. Your project summary. Insert other ways your team tracks progress here.
For Sales teams, that means switching back and forth between your inbox, meeting notes, and Salesforce cobbling together updates. Manually adding Salesforce tasks, logging emails, and editing open opportunities to match your most recent conversations. When making after-the-fact updates, valuable details are often lost in the hurry of sifting through a crowded inbox for highlights and reminders.
Beyond visibility into Salesforce, Front gives Account Executives and Sales Development Reps the ability to update records and tasks directly from the related conversation in Front. Converting a lead or changing an opportunity status is as simple as a few clicks. But what's better is that Front can stay updated automatically to save your team time.
With real time updates in Salesforce, everyone wins — your sales team spends less time on administrative tasks, managers' reports and forecasts are always current, and more details from the sales process are captured for other teams' benefit down the line.
Transition customers smoothly between teams
Over time, Salesforce becomes a historical record of your entire relationship with a customer: from initial outreach, through their sales process, to ongoing discussions or issues. In an ideal world, it's a treasure trove of context for everyone who engages with that customer once a deal is closed — Customer Support, Account Management, Marketing, or Product Management.
But we know that the ideal can be hard to achieve. Every field, note, and task in Salesforce is a minute that could be spent on something else. There's a heavy burden on Sales to capture every customer interaction in Salesforce, when they aren't always the ones who'll rely on that data down the line.
The easier it is to make small updates along the way, the more likely there is to be a rich record of the customer lifecycle for other teams to refer to later. Integrating Salesforce with your team's daily workflow brings powerful downstream effects on your customer experience.
When an Account Manager starts working with a new customer, they have the information they need to tailor onboarding to address that customer's specific needs. Product Managers can put feature requests into the right context: where the customer is in their lifecycle, what plan they're on, or what their pain points were that led them to purchase.
Customer Support can spot higher level trends based on the issues different groups of customers are experiencing. All because they have the customer records that enable them to do their best work for your customers.
Your CRM is more than a sales tool
Understanding your customers is key to empathetic and effective communication. Access to great customer data powers a better experience for your customer, regardless of who they're engaging with. And it starts with your sales team having the tools they need to make saving that data easy.
With your team engaging with Salesforce next to every conversation in Front, you can build a positive feedback loop around adding and updating data in real time. The more you use it, the more you notice when it's missing or incorrect, and the more likely you are to make those changes so the right data is there for you — and your teammates — in the future.
Up next: How to build a strong sales team with a shared inbox
Written by Sarah Spangenberg
Originally Published: 17 April 2020