Ever wonder how we use Front here at Front? In our Front Tips series, we feature our own team's best tips and tricks for using Front to work more efficiently.
Respond in the blink of an eye? Never miss a follow up? Keep customers updated and in-the-loop 24/7?
Whether you're in sales, support, customer success, or any other customer-facing role, you know that staying on top of emails from customers can feel like you're singlehandedly saving Gotham City — superpowers are needed!
Since our whole team here at Front uses Front all day, every day, we asked the team to share their favorite ways to use Front features to stay on top of customer emails. Go ahead and try these tips for yourself. No super suit required.
1. Stay on top of VIP contacts with tags and rules
Got important clients that you need to prioritize? Customers who you can't afford to miss an email from? Don't worry, we've got your back. With Front, you can set up a rule to automatically tag the emails from those VIPs and move them into a high-priority folder, so you won't miss them.
How to set it up:
First, set up a tag for your VIPs.

Once you've set up your VIP tag, now it's time to set up your rule. In your Front settings (click your profile photo in the top left hand corner, then "Settings"), click "My Rules" and "Add an Individual Rule." Give your rule a name that's easy to remember.

Under "WHEN," select "Inbound message."

Under "IF," select "from" and "contains." Add the email address of your VIP. You can enter multiple emails by clicking "add condition" and replicating the first two fields, and entering the different email addresses of your VIPs.

Next, move down to the "THEN" category. Select "Add tag" and find the VIP tag you created. Voilà – you're now a speedy-VIP-email-answering champion!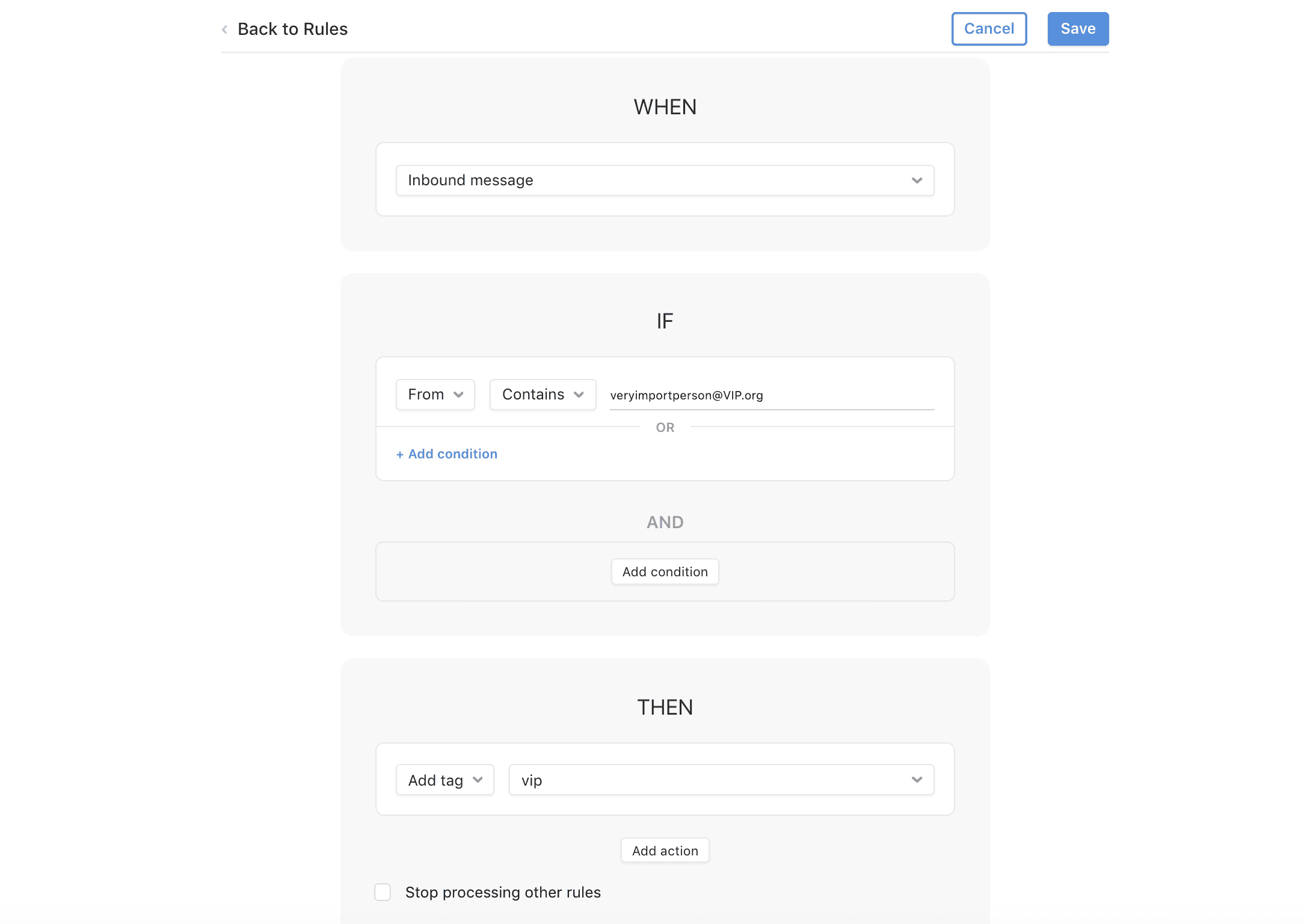 2. Update customers when features launch using the Jira integration
Product and engineering teams love to integrate Front with Jira — but it's great for customer-facing teams, too. With the Jira integration, you can open a new issue directly from your inbox, and you can attach customer messages to issues, so that your team can read customer requests in their own words.
Every time our product team closes a Jira issue, the conversations linked to the issue will automatically reopen in Front. That way our CSM team can reach out to customers who asked about the feature or bug to let them know it was released or fixed. We don't have to leave notes or make lists of customers who have requested a feature — the Jira integration tracks it for us and lets us know automatically.
How to set it up:
1. First you'll need to set up the Jira integration. You need to be a Front admin to enable the integration, so if you're a Front user, then ask your admin for help.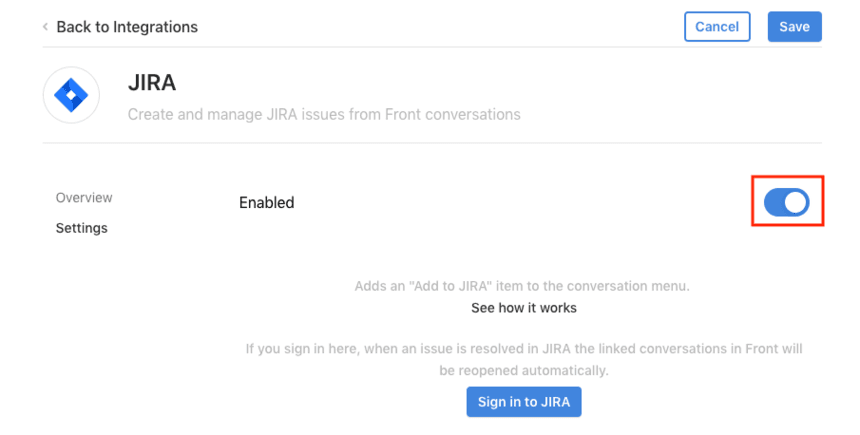 2. Then click "Sign in to Jira" and log in using your credentials. If you're having trouble finding them, just follow Step 3 in this article.
3. Once you've set up the Jira integration, everyone on your team can log in with their own accounts. You can all create new issues and attach conversations to existing issues directly from Front by clicking the "Tags" button.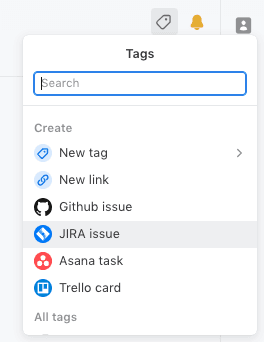 4. When an issue closes, Front will automatically reopen every conversation attached to that issue, so you can reach back out to update the customer. You'll pleasantly surprise customers with these updates — especially when it's a feature they requested months ago!
3. Reply with lightning speed using SLA response time warnings
When a customer has an urgent question, a timely response can mean the world to them — and it's especially important when you have SLAs (Service Level Agreements). With Front, you can create "response time warnings" to let you know when an urgent email comes in, or when you're about to breach an SLA. That way you can always exceed your customers' expectations.
How to set it up:
Go into "My Rules" in settings, click "Add an Individual Rule" (don't forget to give that rule a name. Unlike a horse, you cannot have a rule with no name).

Under "WHEN," select "Inbound message."

Under "IF" select "from" and "contains." Add the email address of the customer you'd like to set a response time warning for. You can enter multiple emails here by clicking "add condition" and replicating this step.

Under "AND," click "Add condition" and set it to "Unreplied After." Set the amount of time you'd like to pass on unreplied emails before you respond.

Under "THEN," select "Notify teammates." Add the teammates you'd like to notify when the message comes in.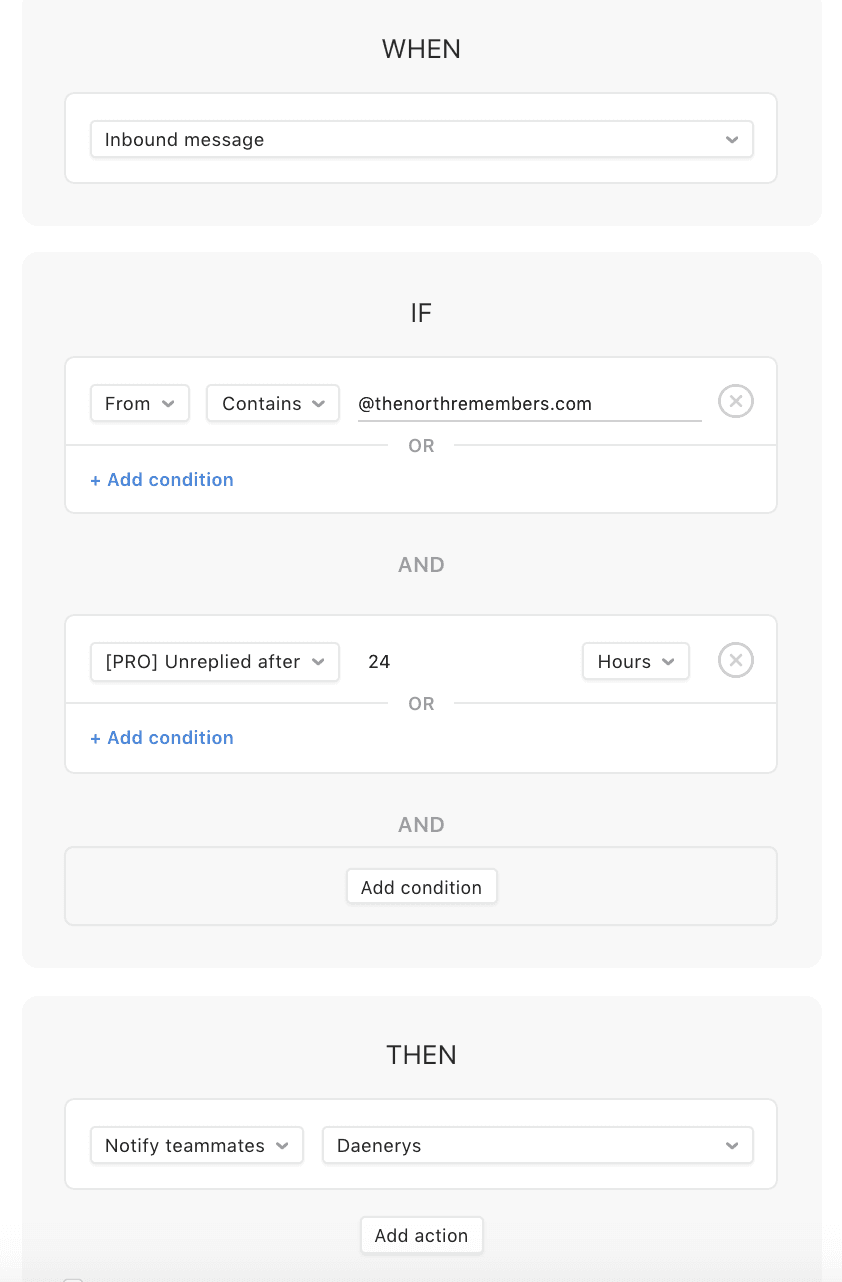 Be a superhero for your customers with Front
Living in an always-on world can make it difficult to stay on top of customer emails — but with these Front Tips you can harness those superpowers and wow your customers.
For more tips from the Front team, follow us on Twitter. We'll be releasing new videos in the coming weeks.
Written by Emily Hackeling
Originally Published: 17 April 2020