It's time to pick out your favorite eraser and the coolest colored notebook.
We're introducing a brand new resource hub with guided learning pathways to help you and your team get a sense of everything that's possible in Front – and how to make it happen.
Front Classroom is your one stop shop for learning how to set up, understand, and get more out of Front. Guides, case studies, checklists and more equip you with the knowledge you need to set your team up for success and turn work into impact. And no, you don't actually need to take notes.
Let's take a sneak peak at what you can expect.
Get up to speed in a snap
Starting fresh with any tool – let alone one that can replace email, like Front – can feel daunting. We've dedicated an entire section of Front Classroom to helping you and your team get up to speed. Reference our guides to setting up a Team Inbox or Change Management.
Read inspiration from teams like yours
Got a small team with thousands of customers? A remote support team? An operations team that partners with sales? Gather some inspiration from teams just like yours by reading how other companies use Front to succeed.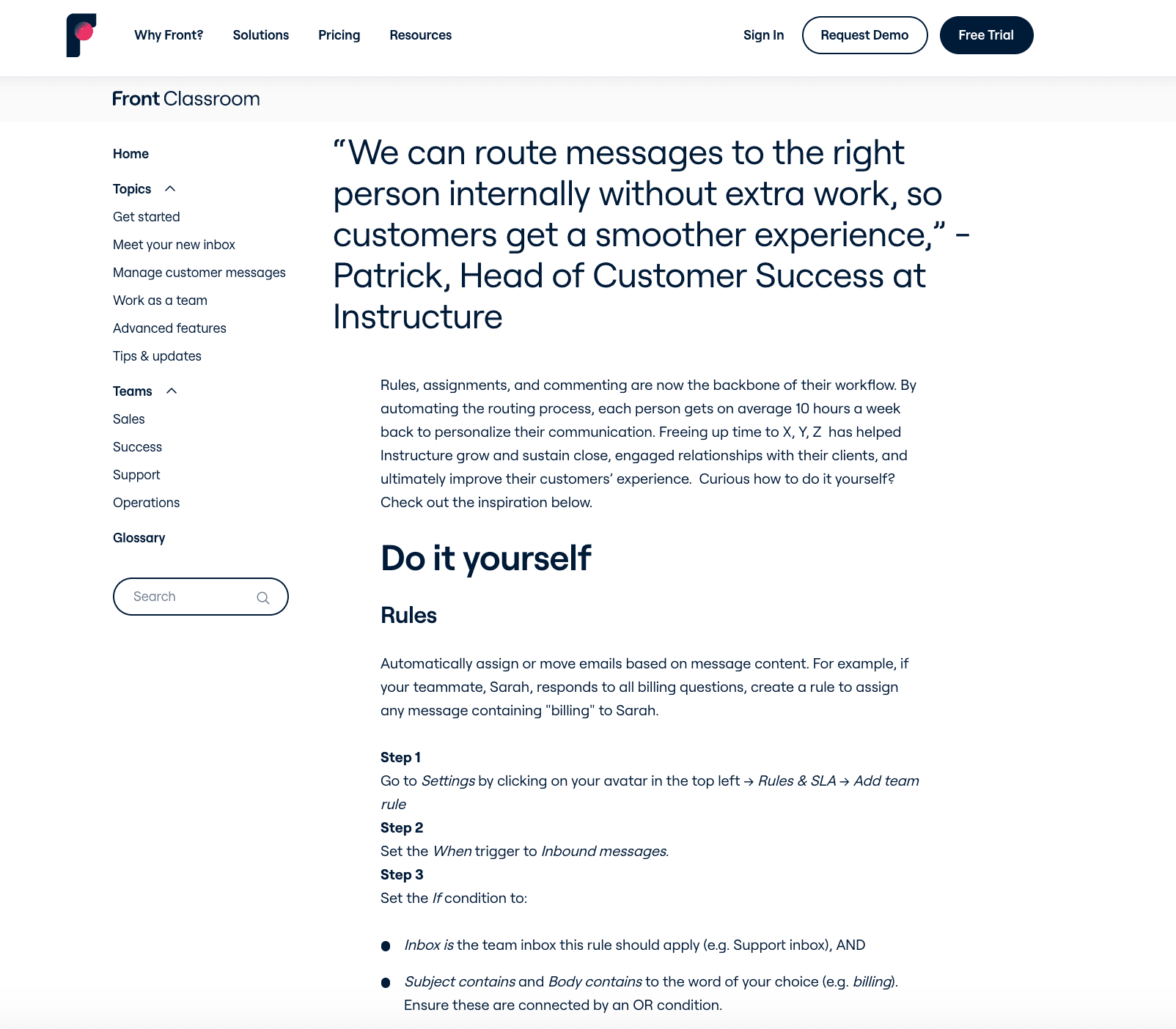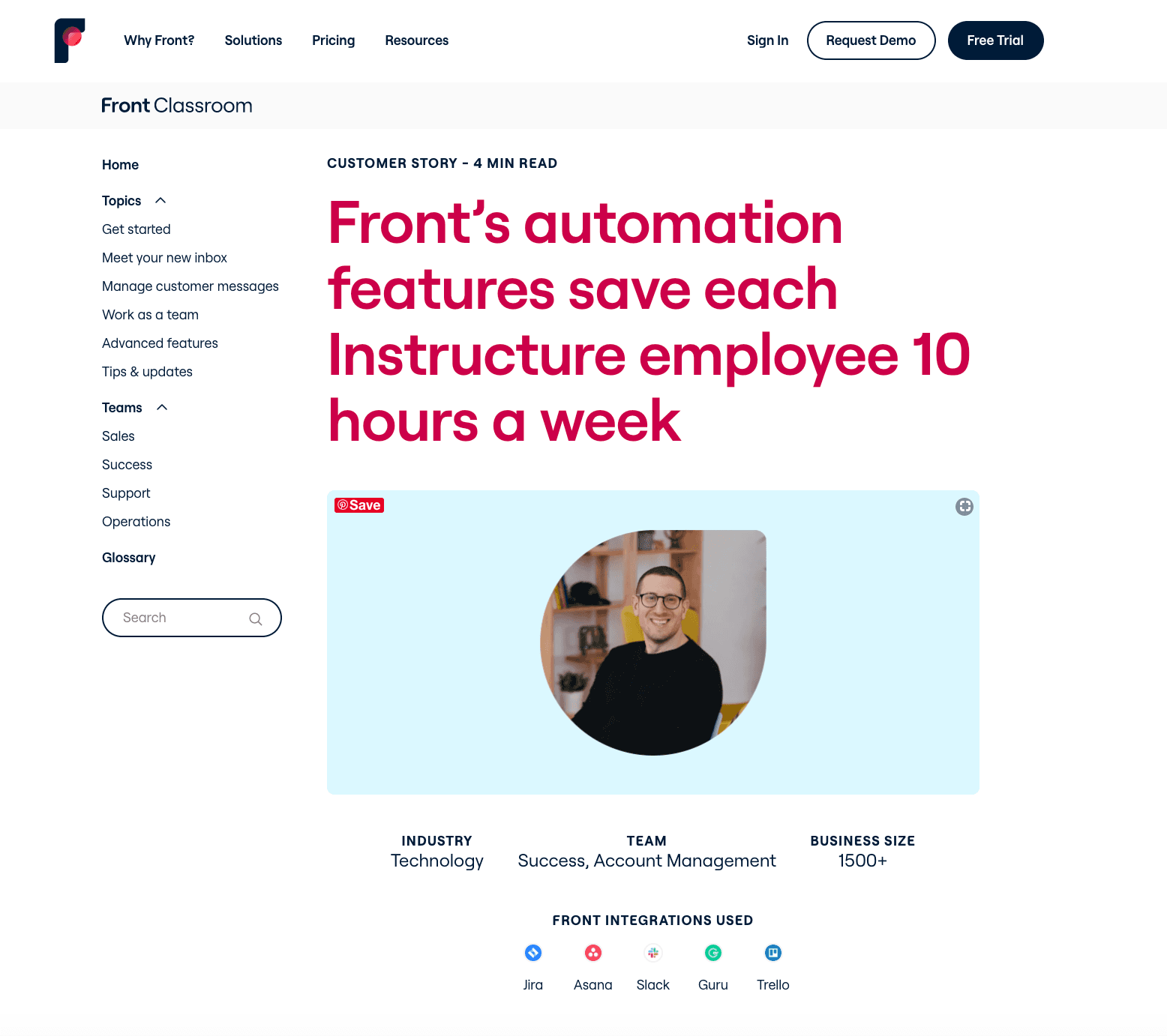 Maximize individual productivity in Front
Classroom will walk you through how to hack your individual inbox to create a more productive workday using snooze and message templates, or how your team can automate their busywork using rules and tags.
Keep the focus on the customer
We believe wholeheartedly in connecting your entire team with your customers, so we of course have some thoughts on how to best handle customer messages in Front.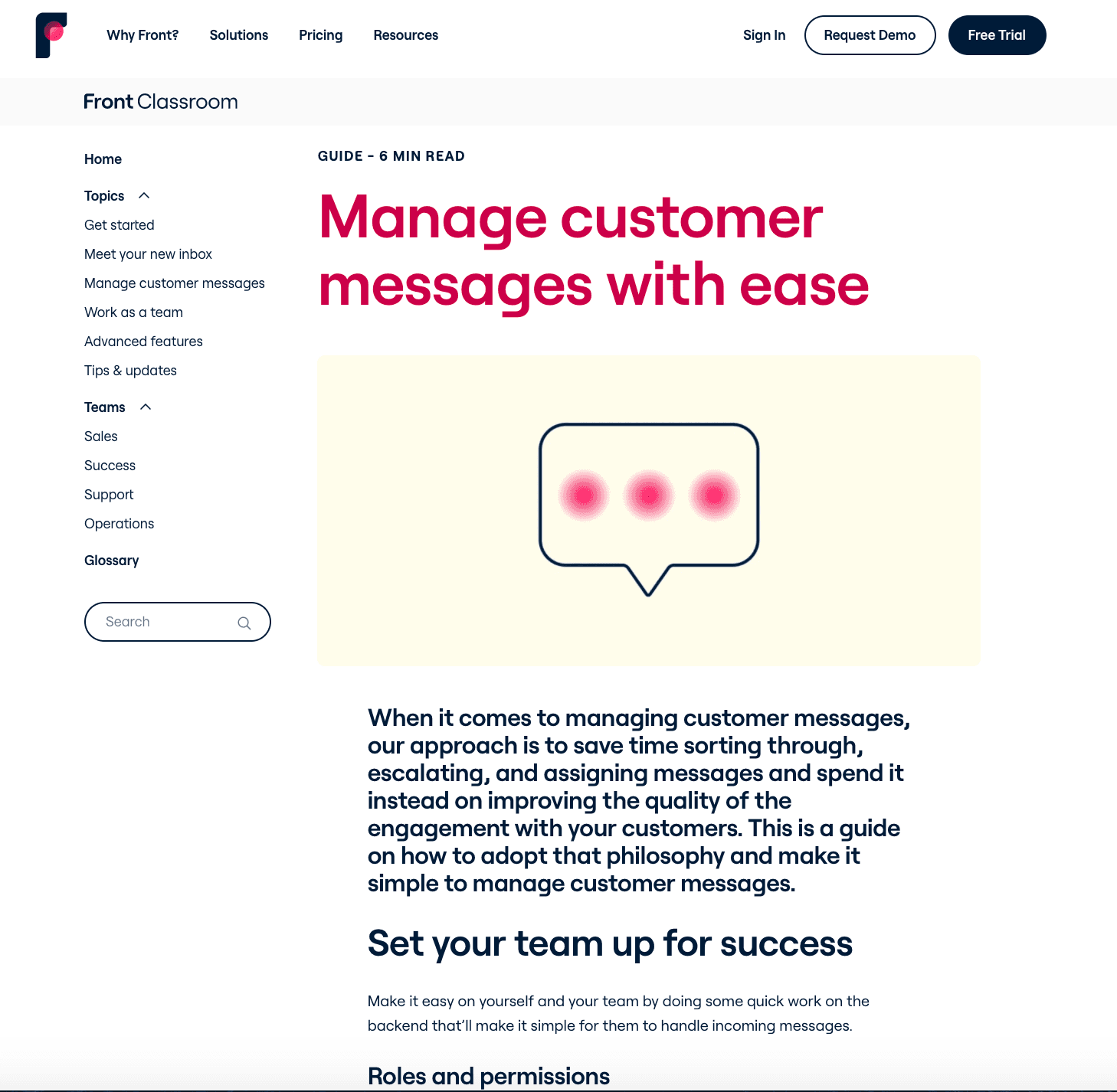 You've arrived at Integration Station
Did you know that you don't have to have 20+ tabs open to get work done effectively? Mind. Blown. Integrations in Front are a huge time saver, and here's an article to help you understand how your team case use them to give all your customers white-glove service every time.
Stay up-to-date on the latest in Front
If you're eager for the most up to date tips, the "Tips & Tricks" section features an educational column that's updated monthly with the newest updates and tips on our product.
We're excited to keep building on this foundation and adding more tailored, educational content to the site often. Have a request for a specific guide? As always, we'd love to hear from you at [email protected] Class dismissed.
Written by Logan Davis
Originally Published: 26 August 2020