It's the new year. A great time for a fresh start, a chance to make changes: to move faster, think bigger, and ultimately, live a little happier. We're all setting big goals, diving into new projects, and rethinking the way we normally work.
Kick off your 2018 by improving a tool you rely on every day: email. By using a shared inbox to manage your messages, you can take control over your email. Here's how.
What's a shared inbox?
A shared inbox makes your work more efficient and more collaborative. It brings all your work communication into one clean, happy place: personal email, group aliases like team@ and support@, SMS texts, live chats, and social media.
Imagine your workday like this:
You open up your email. Notes of freshly-brewed coffee grace your nose. Mmm.
Scrolling through messages, you notice a client sent a tricky question to your team@ address. No worries — your manager has already replied. "Ah, cool, now I know for the future," you think to yourself.
Next, a partner emailed you for a copy of your logo. No forward needed — you just @mention your designer directly in the thread: "@lucy, can you shoot over the .png?"
A teammate wants your opinion on an SMS text reply he's sending to a customer. He shared a draft with you. "Hm, just a few quick tweaks." You edit directly in his message and hit send for him.
Plowing away at your pile of unreads, you never have to click away from your email or open up another app for context. Everything you need is in your inbox.
You're not even halfway through your warm mug of light roast, and somehow, you're done checking your email. Nicely done, self.
That's your reality with a shared inbox, and that's why we built Front. Here's what a shared inbox helps you do everyday, so you can feel in control of your inbox.
1. Find everything, right where you need it.
Email isn't the only way you communicate with your team. You likely use tools galore to work internally with your team — you've got Asana, Trello, or JIRA to manage projects. Slack or HipChat to chat. A CRM like Salesforce or Base. Then there's your customer communication solutions — for support ticketing, live website chat, social media management, and more.
That's a lot of platforms to log in to, update, and keep track of. Plus, each one holds precious information you need to make decisions and answer messages.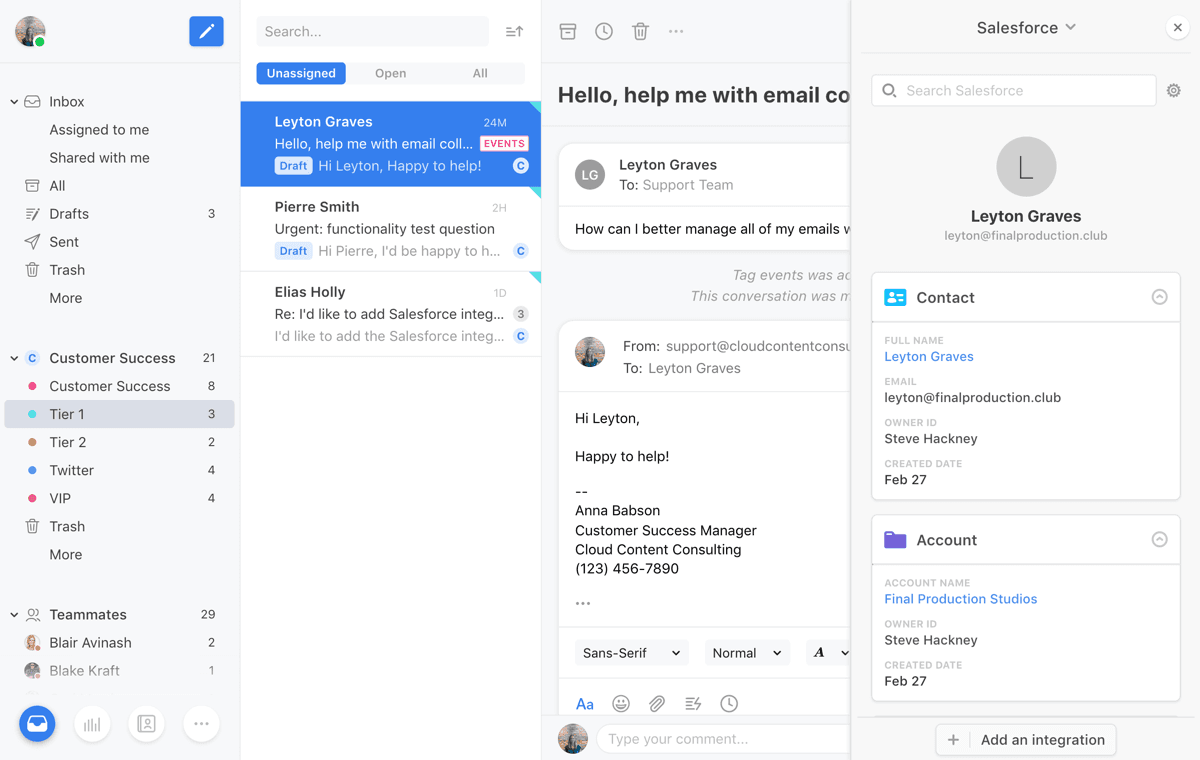 With Front, your tools sync up into one place, so all the context you need is handy, directly in your inbox. Customer details, project timelines, and internal database records appear next to your messages, right where you need them. Need to update a Salesforce record? Edit it directly from your inbox. Need to reference a project timeline in JIRA? See it right in your email thread. With Front, your CRM and other apps are always up to date.
2. Make your customers happy.
A shared inbox collects every conversation you've had with a customer, on every channel, into one place. That means they'll never have to repeat a question, and you'll never have to hunt down a teammate to get background on a customer's situation.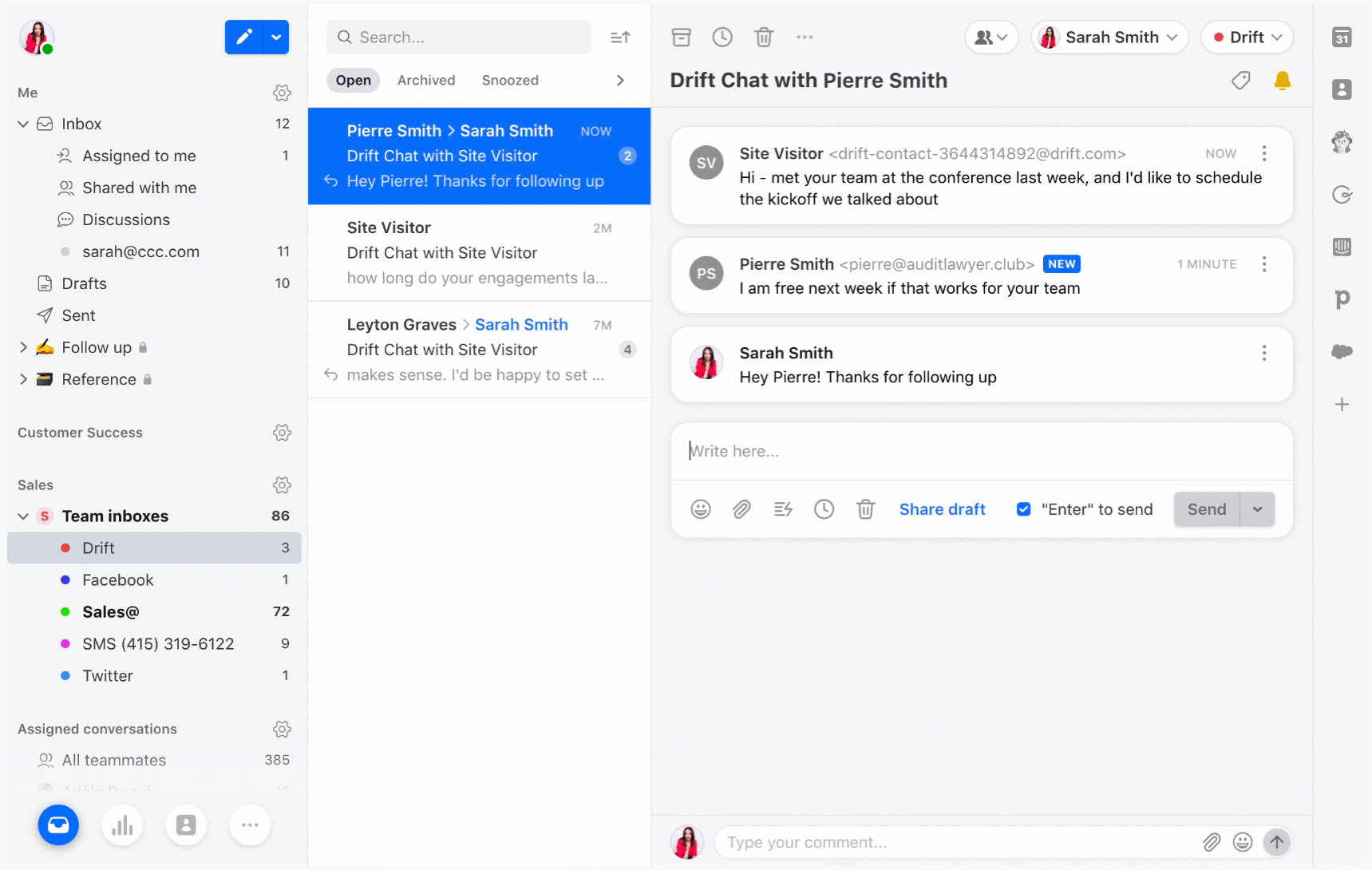 Front also lets you easily move conversations from one channel to another to better solve your customers' issues. Having a long live chat conversation with a customer? With a shared inbox, you can take the conversation to email without skipping a beat.
3. Reply faster.
It's easy to give speedy responses with a shared inbox. Y Combinator uses Front to manage customer messages to their 20 email aliases seven times faster. And some teams move so much faster that they're able to set limits on response times. Cleaning Pros, an eco-friendly cleaning service, replies to every customer within two minutes or less.
Front's built-in organizational tools help you instantly cut the noise and clutter of messages you don't need. That way you know exactly what needs your attention, and you can get to it faster.
Assignments let you get messages in the right hands. See a question someone from your marketing team needs to handle? Assign it to a teammate with a single click. No forwarding needed.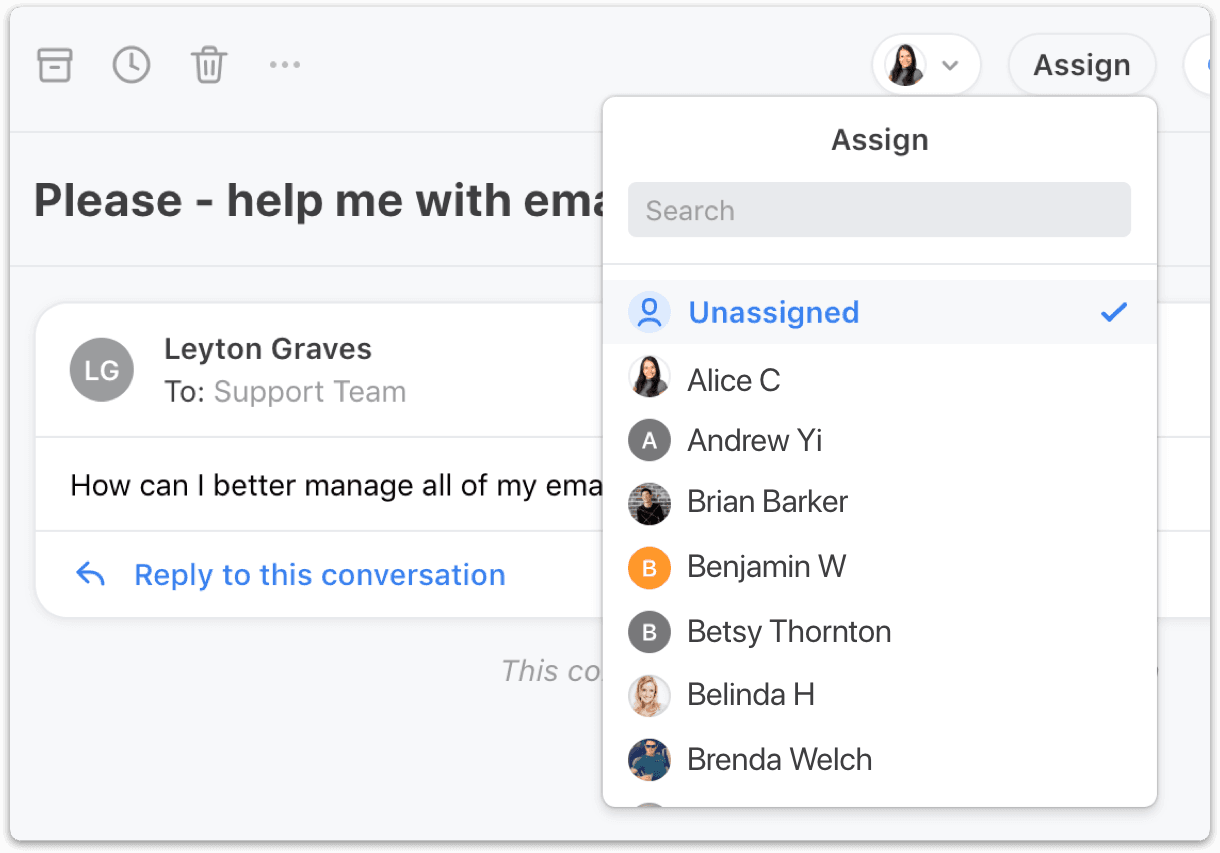 By building rules, you can automate assignments, tags, replies — or anything you do in your inbox — based on trigger words, sender, or time of day. Want Steve to handle every message from 4-10pm? Easy. Need messages with the word "demo" to be evenly distributed among the sales team? Done.

Use tags to group messages by client, instantly see what needs a response first, and easily locate information you need. Organize your own messages with private tags, or use team tags to sort messages for everyone.

Custom roles let you restrict permissions in Front, so every teammate sees exactly what he or she needs — no more, no less. No inbox clutter means no confusion on what you need to get done, letting you jump right in and respond faster.
4. Get more done by automating your work.
With Front, your email has smart features that help you collaborate to work through email faster. That way you can clear out your inbox and have more time to get your other work done.
Chat with your teammates internally, right in your email threads. Never forward, CC, or BCC again. Plus, your chats stay saved with the messages, so you and your team always understand the situation if you revisit it weeks later. Adios, guesswork.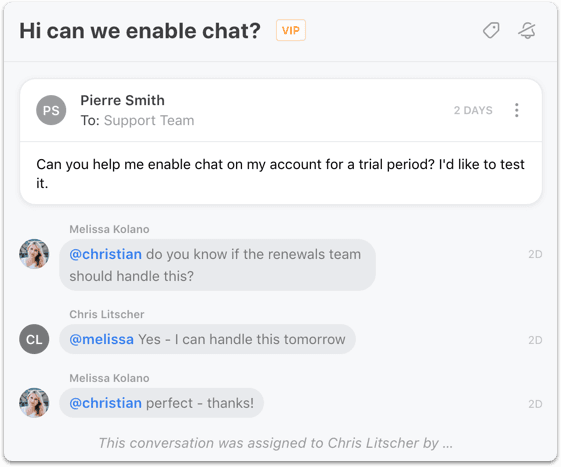 Share and edit drafts to write better responses. Not sure how to respond to a tricky situation, or need a second pair of eyes on your message? Sharing drafts helps keep consistent messaging, and they're ideal for teaching new hires, too.

Set reminders to follow-up on messages, and snooze messages until you're ready to respond. That way messages never slip through the cracks, and you never have to remember something from weeks — or months — ago.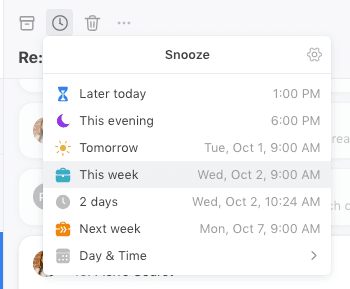 Build rules to instantly respond, archive, assign, tag, snooze, or escalate messages for you. It's like giving your inbox a magic wand. Every message gets the right response, from the right person, at the right time.
5. More transparency = happier teams.
Whether you're a fresh startup of three or a seasoned team of 3,000, it's not easy to keep your team up-to-date on every little thing you're working on.
A shared inbox changes that. It lets your team actually work like a team. It gives you more context on decisions being made and gives you insight to your teammates' worlds. Everyone adds more value to the team by sharing their conversations for others to learn from.
What about when your team grows — as it inevitably will, with your superb 2018 success? A shared inbox makes onboarding flawless. With access to your team's channels and folders, new hires can instantly see all your team's conversation history and get the context they need to make great decisions from day one.
It's a new year. You're setting big goals, working to boost your productivity, and planning ways to get more done in the months ahead. Start 2018 off right by using a shared inbox.
Written by Emily Hackeling
Originally Published: 17 April 2020