Finding work-life balance while building a dream career often seems impossible. Daina Lightfoot has mastered that art, working with big brands like Hootsuite, Optimizely, and Dropbox, while deliberately making time to live her life to the fullest. Now, Daina is leading a distributed design team at Abstract, a collaboration and version control tool for product designers, while enjoying life in her new home city, Denver. In this interview, she shares what she's learned along the way — and how her day has changed now that's she's fully remote.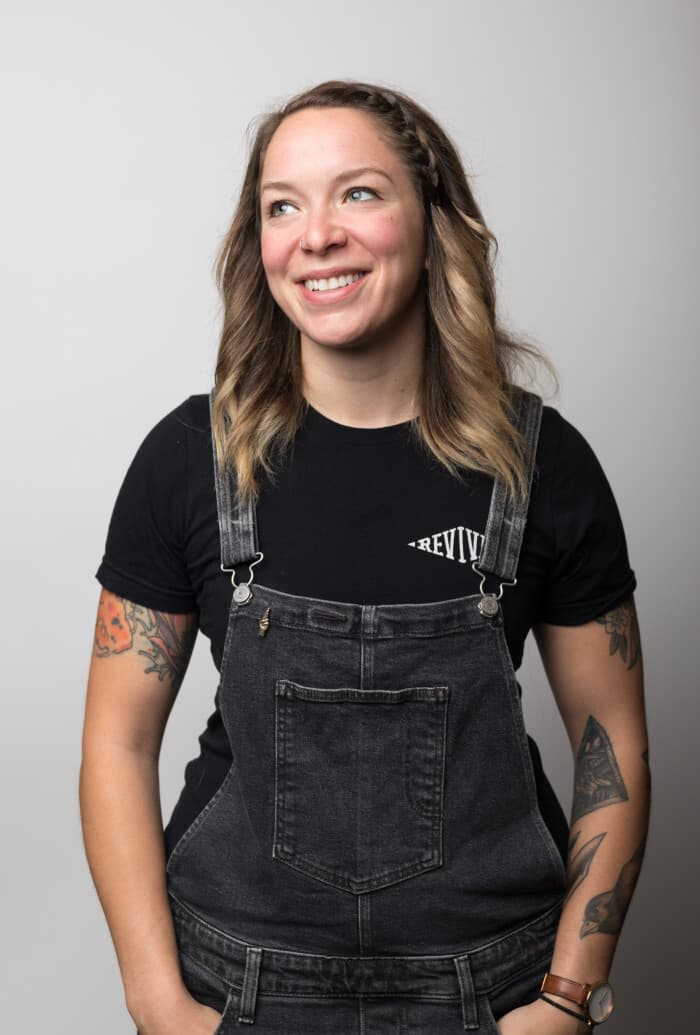 They say a morning routine sets the tone for the rest of the day. What's the first thing you do when you wake up in the morning?
I brush my teeth and then exercise. Before the pandemic started, I went to the gym, but now I do a workout in my living room or my driveway if the weather is good. Colorado weather is a bit finicky this time of year, warm one day, snowing the next. This is a forcing function so I shower and get dressed like I would if I was going out, which is important for me. Then I have my coffee and breakfast and start my workday.
Walk us through your typical work day.
I'm in Mountain time, so I'm starting the day later than many people on my team as we are distributed across America. For the first hour, I follow up on Slack messages and email to make sure I've responded to everyone who needs something. Then I like to look through all my tasks and plan my day. As a marketing team, we share our top three priorities for the day, so I decide what my three priorities are and post them. This helps me set myself up so I know what I should be focused on.
My mornings are typically full of meetings — cross departmental syncs, design reviews, and one-on-ones. I like to group my meetings so I have more focused time in the afternoon for design work. And I always take at least 20 minutes away from my desk and my phone to eat lunch and take a break. Sometimes I do a Zoom lunch with my co-workers for some social time.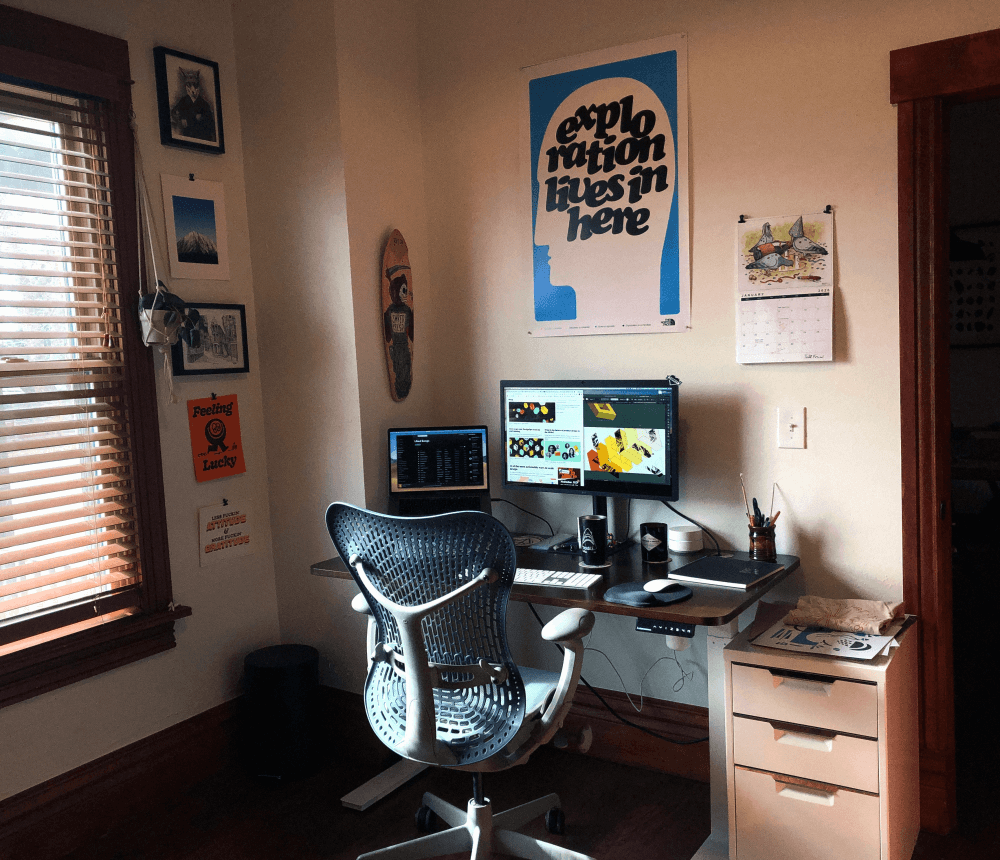 What do you like most about what you do?
I love that I get to influence and work on every aspect of our brand, from product marketing to the website to video to conference experiences and social media. It's a lot of variety. I also really love the brand that we've built. It happens to have a lot of elements in common with my personal aesthetic, so it's fun for me to play with and push the boundaries with. It's also been great working with Abstract's community since we serve product designers. In many ways, I'm part of our target audience.
Multitasking is a polarizing topic among roles and industries. Do you multitask while designing, like listening to music or podcasts, or do you prefer silence?
It depends on what I'm doing. If I'm heads-down designing, I need some music or a movie that I've already seen playing in the background. It makes me feel like I have some company while I work and keeps me from being distracted by my phone or Twitter.
You've been able to design for top companies and have navigated to a role you really love. What's your top work tip for people who are looking for success in a role like yours?
If you're working remotely, as more and more people are, communicate what you're working on regularly — at least at the start of your day and end of your day. Transparency builds trust, and trust builds better working relationships. Also, if you're in a creative field, find outside creative projects that aren't work-related. I love working on construction paper crafts, cross-stitching, and other projects that give me creative energy that I can take back to my work.
Do you procrastinate...and what do you resort to when you do?
Who doesn't procrastinate?! I really try my best not to. I'm a believer in not pressing snooze to get my day started, and I carry that mindset throughout my day. Recently we adopted a puppy, and she has been the ultimate procrastination distraction. But she brings me so much joy in a time where there are a lot of uncertainties. I also love to spend time outside, and now that spring is here, I want to be outside more often. I do my best to schedule breaks to go on a walk because I know I personally need a time limit, otherwise I will be out there all day.
You mentioned your workout is a critical part of your day. What do those look like?
I got into CrossFit before I moved to San Francisco, which helped me meet people with similar goals when I was new to the city. Then I moved to Denver with my boyfriend because his office was relocated from the Bay Area, and I've been able to connect with the community here as well. I also like Olympic weightlifting, snowboarding, and hiking!
What's your relationship with your own work-life balance?
I'm definitely not perfect, but I have been working on it. There's going to be an ebb and flow — you might be working more hours than you had hoped to if you're trying to meet a deadline, but when things slow down, you can take more time off. Balance is important, and sometimes it's not day-to-day balance, but more month-to-month.
I learned that early on when I was a Junior Design at Hootsuite. My Senior Designer, Jason Esteban, always made time to put his family first, but he also had a high bar for quality when it came to the design work he was producing. He worked on the Vancouver 2010 Olympics, so I saw how balance was possible even when working on world-class projects. Thanks to his mentorship, I was able to maintain balance when I moved to San Francisco where the culture is much different and I sometimes got the sense that designers tied their self-worth to their jobs or the companies they worked for.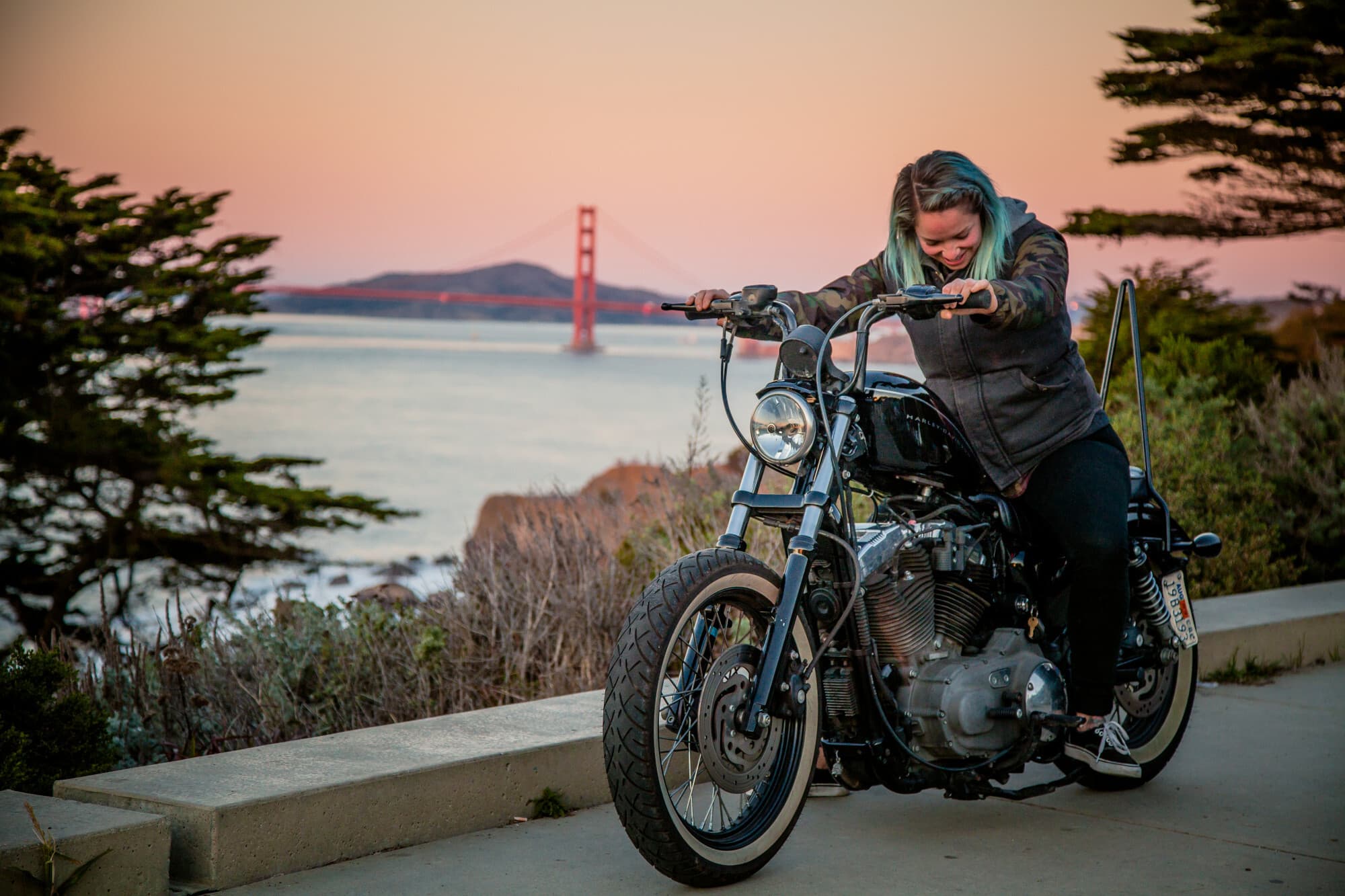 What's your best advice for others trying to achieve that balance?
I've found that it works best if I communicate my availability with my team, especially since we're in different time zones. I set my status to "at the gym" or "traveling" — I'm specific so people know I'm not going to respond and block off time on my calendar. I found that "busy" or "do not schedule" didn't have the same effect.
Also, having a separate space in my house for work helps. I know when I'm there, I'm working, and when I'm not there, I'm not working. I also do my best to plan something to do after work every day, like going out with friends or, now with the pandemic, working on projects at home. It's something to look forward to after work so my work hours don't consume my life.
Written by Emily Hackeling
Originally Published: 17 April 2020