Every business is different, so building a communication and collaboration platform that works for them all is a challenge. That's why most SaaS companies end up focusing on a single function: it's hard to make one tool work well for every kind of team.
This explosion of point solutions has left IT juggling tools across their organization and teams patching together workflows between them. We're optimistic about a world where the whole organization can work in one platform, with the flexibility to set it up just the way they want it.
We know that means giving IT the controls they need to design how information flows across their organization. That's why we're building Front to work in any organization — from tiny startup to large enterprise. Here's how admins can customize Front to fit their business.
Set the right boundaries
There are two reasons a department chooses to use a different tool from other teams. The first is to support workflows specific to their function (like a bug tracking system for an engineering team). The second is to get more control over who can access their information.
This is especially important for a department like Human Resources or Finance, who deal with highly sensitive, privileged information. They aren't going to be the first to jump in to a shared platform that everyone in the company can access. So what can you do to help onboard them to Front?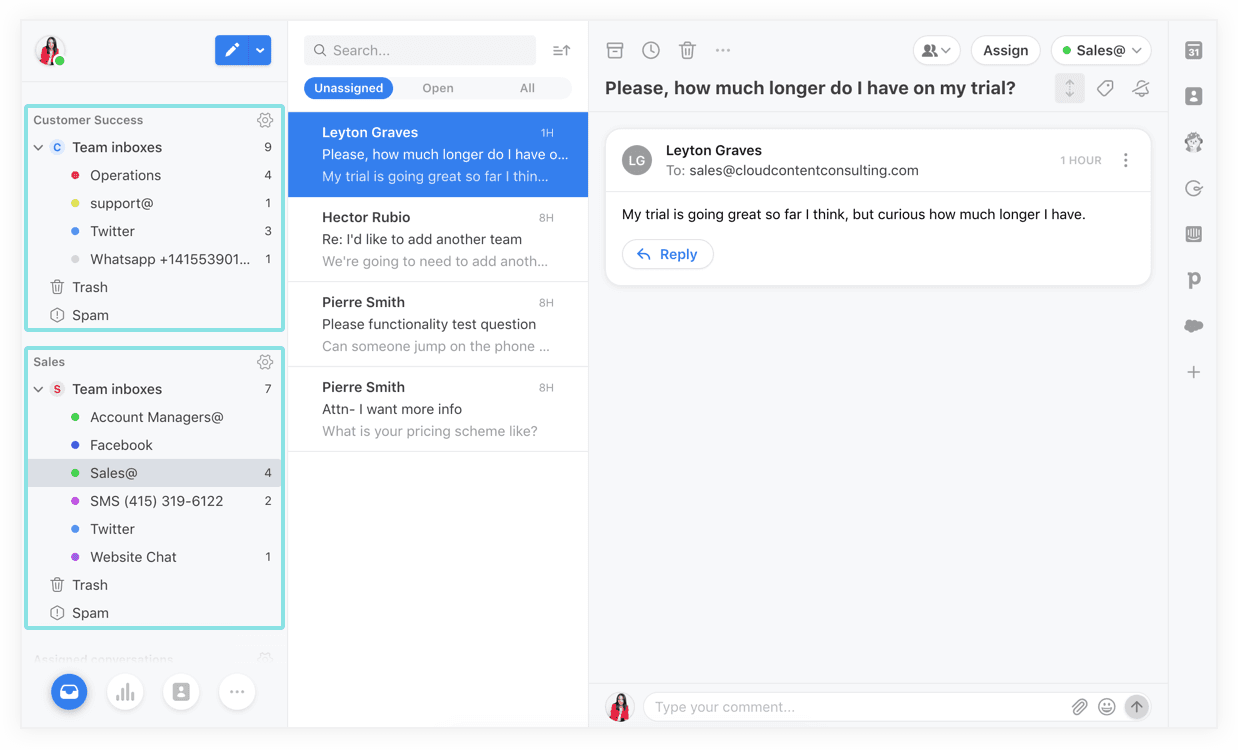 Front Teams allows you to create separate workspaces in a single Front account, like having multiple accounts on one bill. You can set up private Teams for departments like HR or Payroll — no one will know they exist, much less be able to see them, unless they've been specifically invited. All of your other departments can collaborate in a shared Team, while Payroll and HR can handle sensitive matters in their own separate workspaces.
With Teams, IT and admins can set the right boundaries in Front to foster collaboration when its beneficial and give teams privacy when it isn't. Billing and admin controls are easy to manage in one account, training is simplified with more of the company on one platform, yet each department gets a workspace that fits their needs.
Mirror your organizational structure in your tools
The growing SaaS universe presents another challenge for IT departments responsible for multiple brands or regional teams — decentralization of IT. Often it's IT hearing about the new tool that one of their business units is using, rather than the other way around.
We want to help IT teams be proactive. With Front, they can create separate Teams for each of their business units, brands, regional offices, or client accounts so every group has a focused workspace. Key Front features like automated rules, comments, and message tags are separated between Teams, so every Team sees only what they need.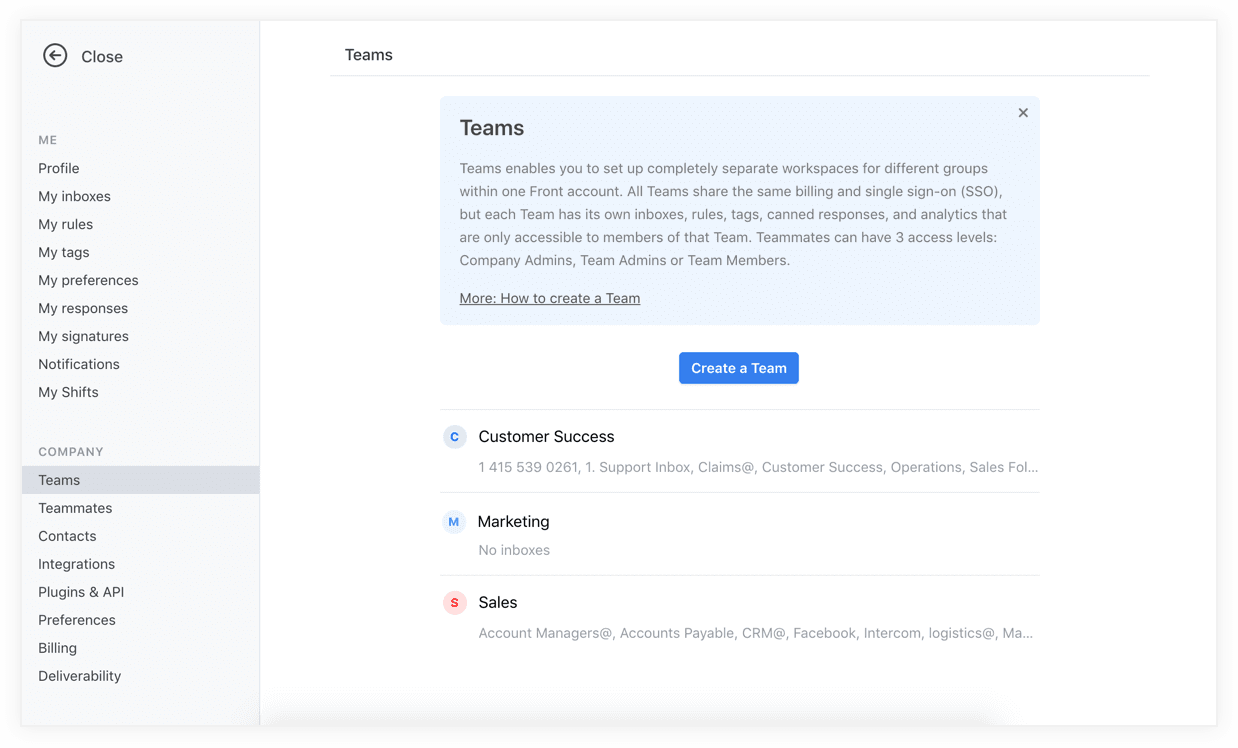 This framework simplifies how IT handles business expansion or restructuring, too. For example, when the company above sets up a new office in Seattle, IT can create a new Team in Front and set up the same shared folders as the other regional offices. They can help build consistency across the company even when the business is changing quickly. If part of the San Francisco Team relocates to get the Seattle office off the ground, the Company Admin can easily invite them to the new Seattle Team to give them everything they need from day 1.
Design how your company communicates
Email is the communication foundation for most businesses, but it's missing the structure that large or distributed organizations need. Google Groups and distribution lists are unwieldy, but so far they've been the best way to set up a hierarchy for routing messages to the right people. They're tolerated not because they work well, but because they're the only option.
That's what we trying to change here at Front. We want to give businesses more ways to design how they communicate and collaborate, so they can choose what works best for them — not settle for the default option. By providing more ways to create the right boundaries and structure within Front, we're enabling businesses to finally find a communication platform their entire organization is excited to use.
Written by Sarah Spangenberg
Originally Published: 17 April 2020