We know that for leaders, transitioning your team to a new tool can be difficult — and managing that change while your team is remote can feel particularly overwhelming.
That's why we put extra care into making sure that Front is easy to set up and intuitive to learn. Front is a better way to manage your email, but it feels like the familiar inbox your team is used to. Here are the ways we've made Front simple for teams to set up and start using, no matter where you're working from.
1. Set up your team's inboxes in a few clicks
You can sign up for Front with your Google or Microsoft login using OAuth. That means you'll see your private work inbox like [email protected] added immediately in Front, and it'll instantly show past emails in Front (10K from Gmail, 1K from Office365).
Creating shared inboxes is also an easy process in Front. You can sign into your Gmail or Office365 account directly in Front and set up a two-way sync. From then on, emails will sync back and forth from Front and your email provider. Adding teammates to that inbox is simple. All you have to do is check off the names of the teammates who need access to the inbox.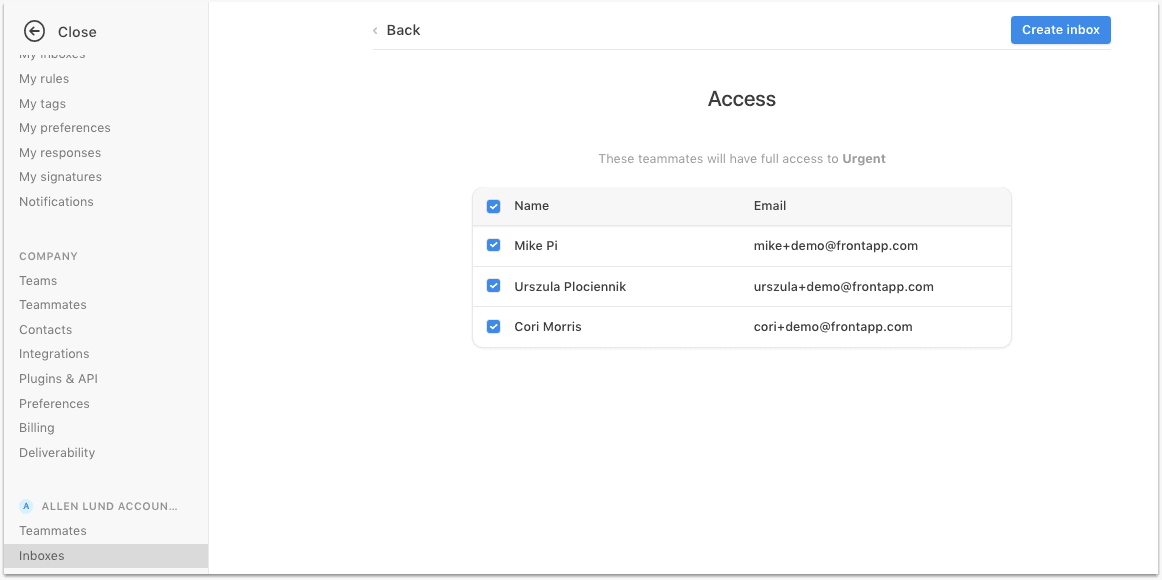 2. Log in once across multiple communication channels
Front isn't just for email — you can connect communication channels like SMS texting, live chat, or Twitter, and manage them together with email in team inboxes. Without Front, getting teammates set up on each of these channels would mean creating logins for each of these platforms individually. With Front, you connect the channels to your inbox, add the teammate to the right inboxes, and voila, they're ready to start communicating over any channel they need.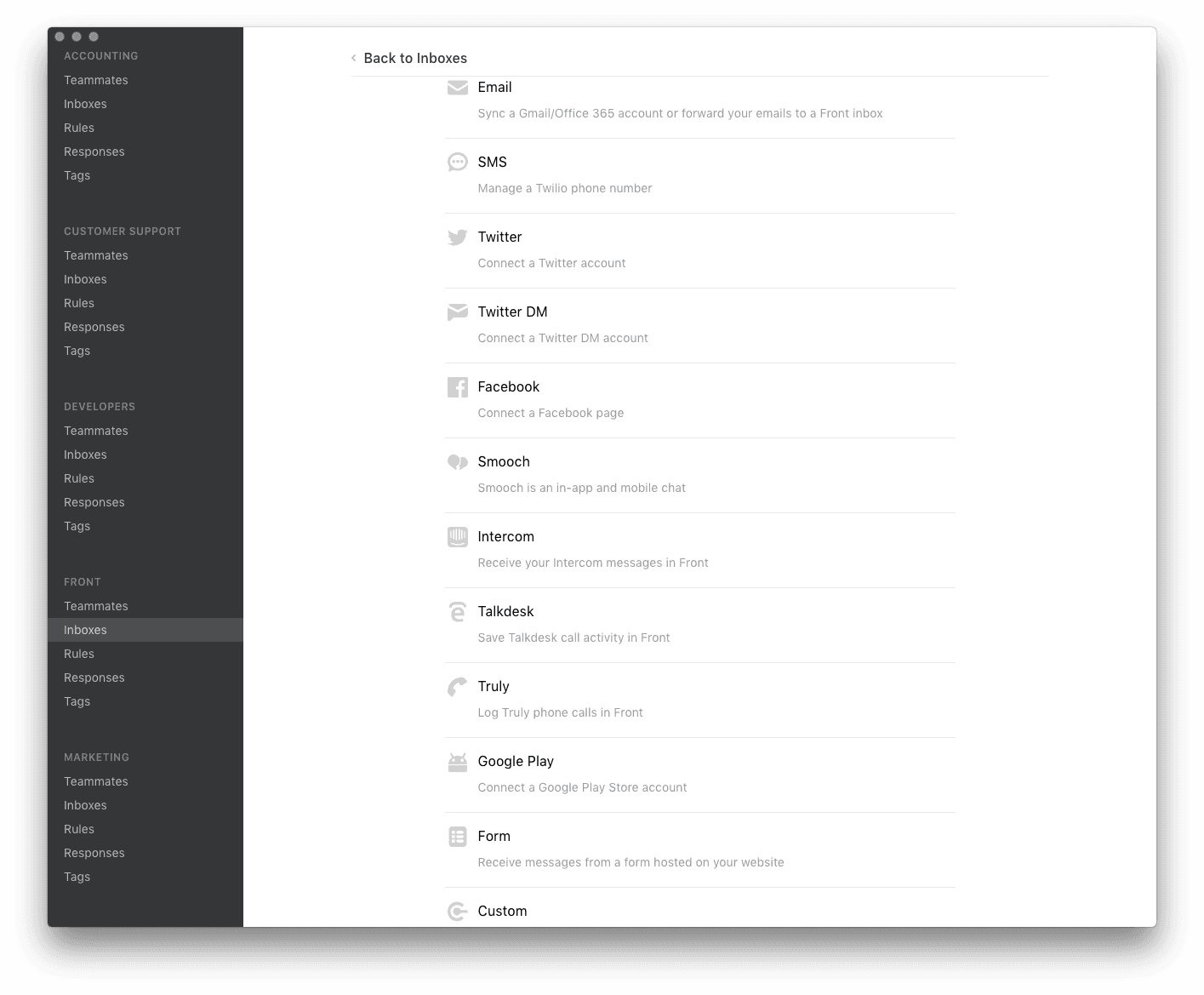 3. Create roles to give teammates the right access
With Front, you get complete control over your team's permissions and inbox access. To make it simple to add teammates without having to select permissions for each one, Front has these roles to choose from: Team Member, Team Admin, and Company Admin. You can also create custom roles and permissions to meet your team's specific needs. These can have varying levels of access, like being able to create message templates, set rules, or even reply to conversations. Every time you add a new teammate, just assign them a role, and you're off to the races.
4. Team settings apply for everyone
You can set up inbox preferences for your entire team in a matter of clicks. For every Team in Front, you can dictate a unique set of preferences. That means you can set notification settings, tags, message templates, email signatures, and other inbox customization directly on behalf of your team. It's easy for you because you only have to build one set of customization. It's easy for your team because they can open up their new inbox and have exactly what they need to start working.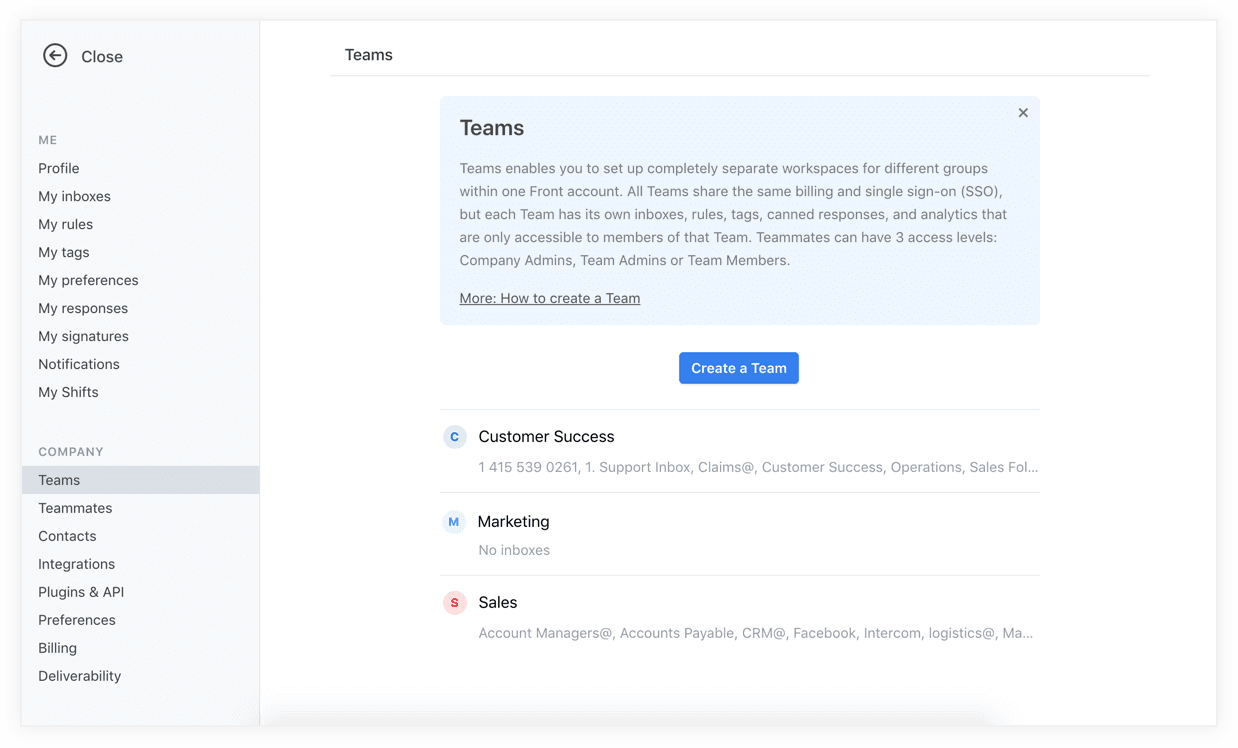 5. Understand performance and usage from afar
Front has analytics that allow you to track performance and understand your team's messaging habits. When you're transitioning your team to Front while remote, analytics are a great way to understand which teammates are using Front, and who might need more encouragement or assistance. With analytics, you get insight that you'd never be able to get with a typical inbox or collaboration tool.
Read how Boxton's team transitioned to remote work with Front.
Ready to make the transition to Front for your remote team? Request a demo to chat with our team and get started.
Written by Emily Hackeling
Originally Published: 17 April 2020