The business-to-business business is weird. You can work at a giant, global company worth billions like Salesforce or Twilio and most people (well, most people outside the Bay Area) have no idea what you do.
But B2B can also abstract you from the product or service you sell. Like, if you're in the bicycle business, you can ride your bike to get a sense of how good it is, how it compares to other bikes, what your company is good at and where it can improve. If you sell vegan nuggets, you can taste the quality for yourself.
But what if you sell a customer communication platform?
At Front, we use Front every day. The first day you start working here, you get your Front login, and that's your new work email. I know what it's like to set up a rule or an automation. I know what it's like to assign a message — or get assigned one. I can see for myself how easy it is to send out calendar options in a message template or collaborate on a shared draft.
And I can see where things are not so easy — like what the most common support requests are, and what customers are asking for on the product road map.
But there's still a blind spot for us because of the nature of B2B: what's it like for the customers of our customers? I might never have known until I became one, when I refinanced my home with Better.com.
What's the real ROI of Front?
The real value of our platform and the promise we make to our customers is that Front isn't supposed to just save you time or clean up your inbox. It's designed to get your teams closer to your customers — that's what we call the "heart of business." In other words, your customer interactions can be more meaningful than automated ticketing or one-way marketing automation. All your teams in every department can just have a ton more one-to-one conversations using Front than they could with traditional email or ticketing systems.
At least that's what our customers tell us that their customers are telling them. But it's one thing to hear third-party feedback twice-removed. It's another thing to actually experience what it's like to have a Front-powered interaction with a company.
How I ended up on the receiving end of Front
I just finished refinancing my house. Mortgage rates are hitting rock bottom — under 3% on average. I guess as long as I have to go through the second historic global recession of my adult life, I might as well save a few points on my interest rate. 😑 I'm not alone. Refinancing demand is at an (unsurprising) all-time high, and maybe, just maybe we won't have a housing crash in addition to an employment crash this time.
Anyway, I checked rates at a few different companies, including Better.com. I'd heard of Better aka Better.com aka Better Mortgage before, but I thought since they're one of Front's customers, I'd take a look. They happened to come back with the best rate, so we locked it in.
And that's when I first started to "grok" the value Front has for customers. I locked my rate at 12:49 p.m. Pacific Time. At 12:50 p.m. I got this email:
And at 12:51 p.m. Rachel replied with her intro and our next tasks: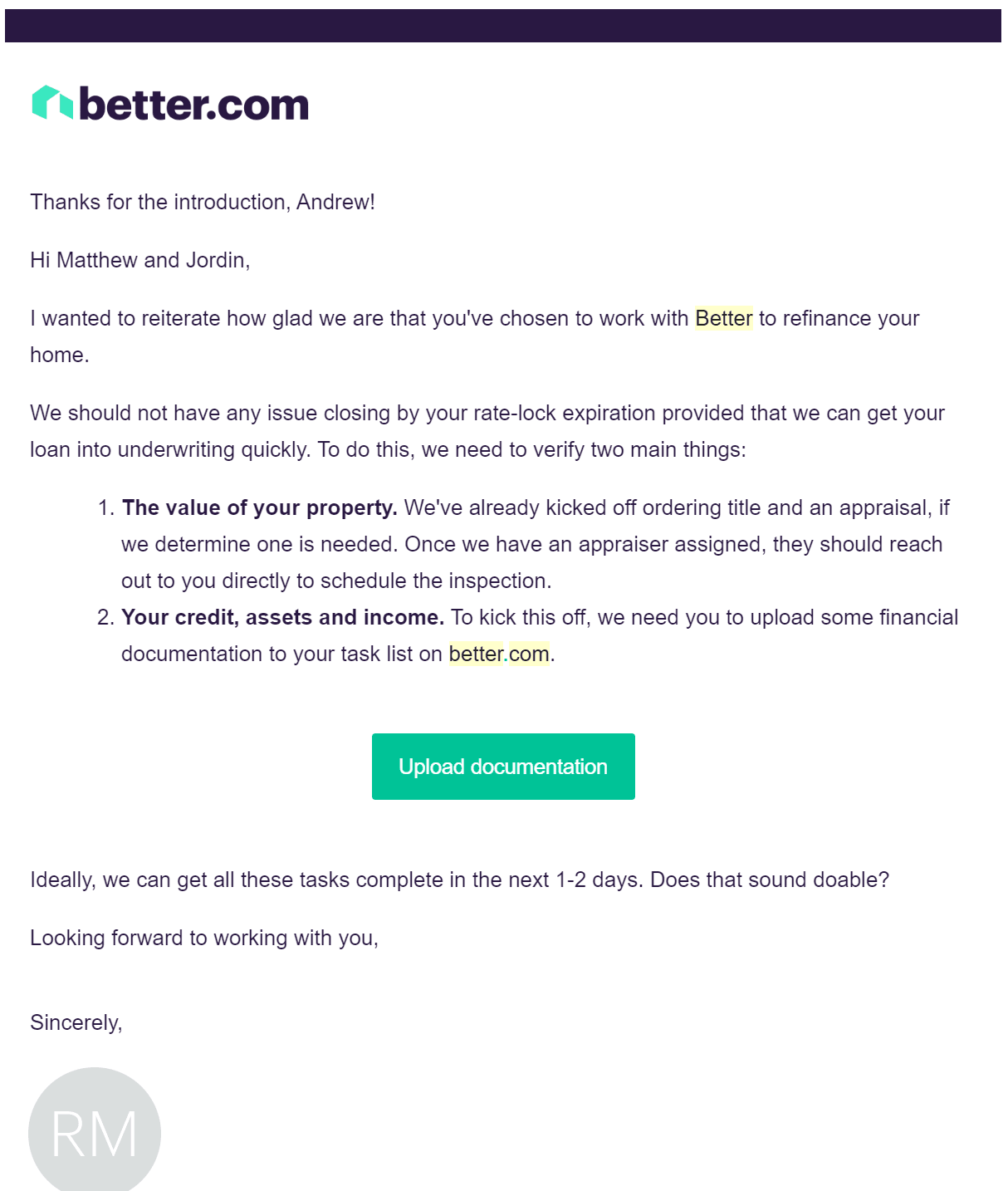 And at 1:03 p.m. Andrew replied again to intro me to Nathan, one of Rachel's team members.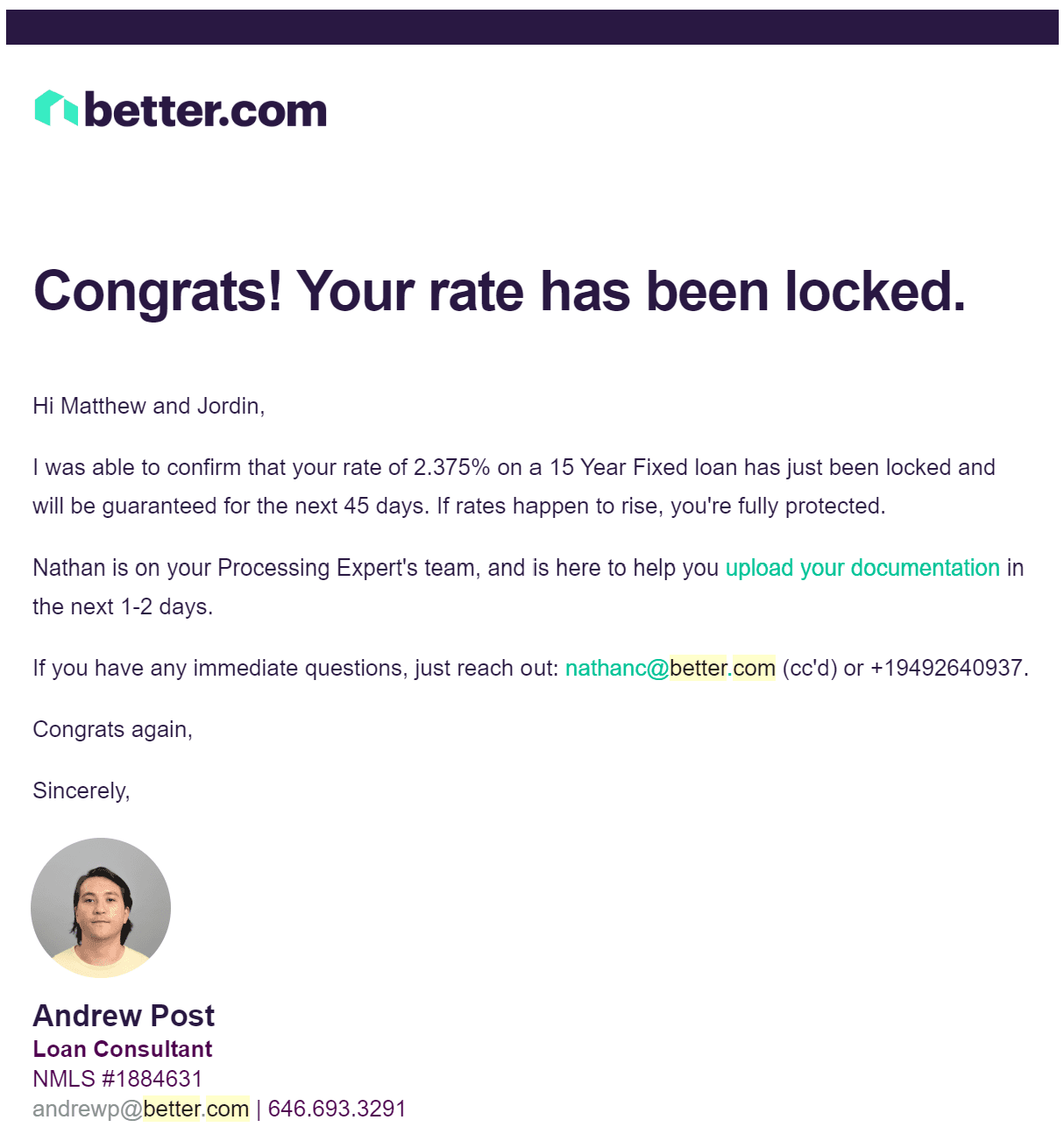 Now, obviously I know an automated canned response when I see it. But these were personable and friendly and they had all the next steps and contact info I would need for the first part of this journey, so what more do you want?
When I originally bought my house, I went through the whole process with just one main point of contact — our loan processor, who sometimes emailed me using her loan officer's personal alias (I'm guessing through Salesforce — some variation of phbv23li.f4-mddmeae.na59.bnc.salesforce.com was copied on all these emails) and sometimes used her own, actual work account when it was actually one-to-one and not a stock email.
From the start of the mortgage process to the end, I had 56 emails — replies included — spread out over 33 individual email threads. And those threads can get… complicated. Take a look at this one: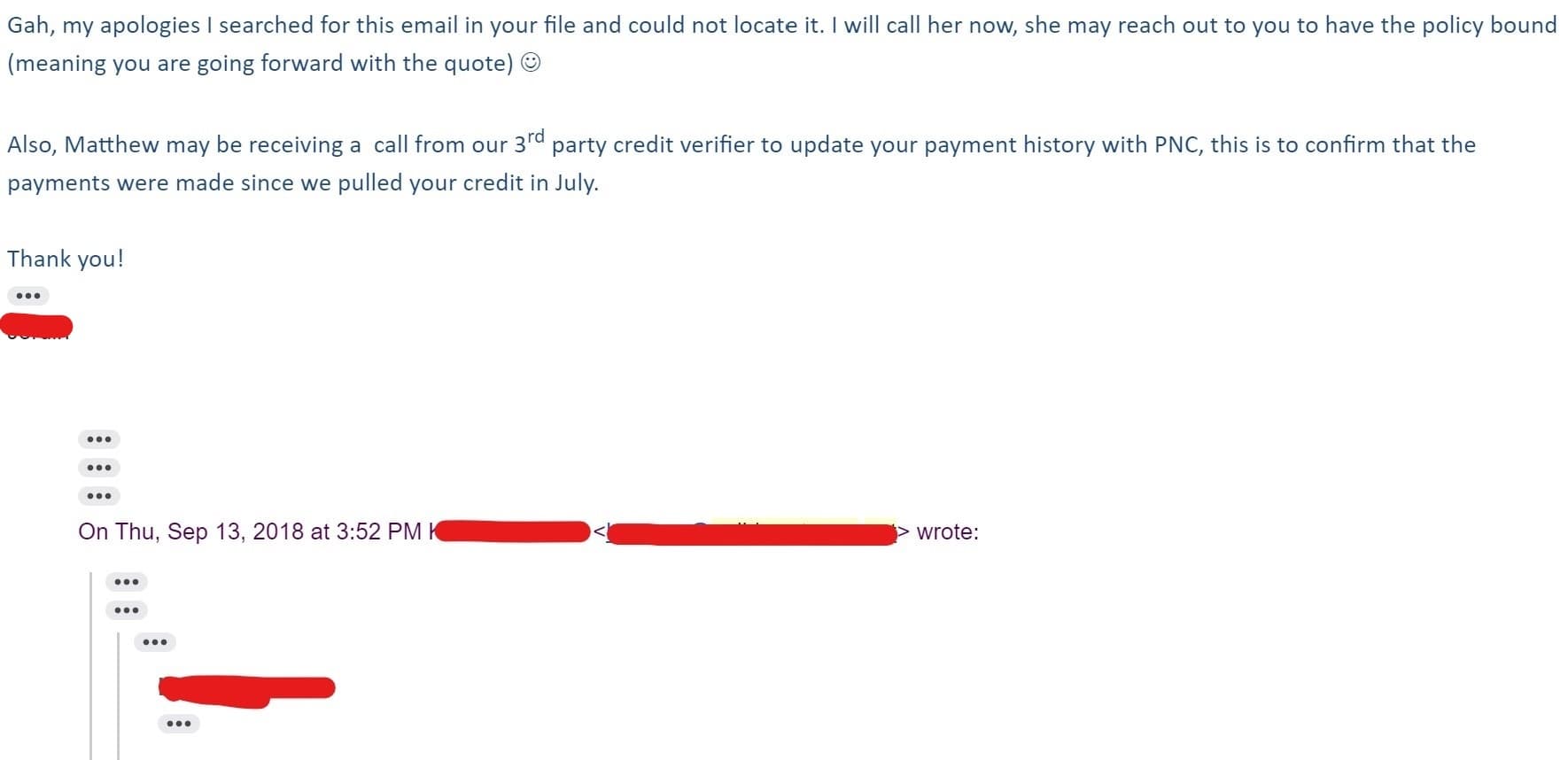 It's no surprise an email got lost in this whole transaction. Take a look at all those collapsed replies. This blog would take hours to scroll through if I expanded all of them. It's maybe more surprising only one got lost!
By comparison, I counted 46 total emails across 36 threads during my refinance with Better.com. And because replies work differently in Front, they were super clean and easy to understand at a glance. I interacted personally with six different people at Better from end to end. Some of these were marketing emails or content newsletters or surveys, but I also got those during my first loan process.
And I don't want to drag that company, which is why I'm not naming names. They were really kind and professional and they got the job done! But there's absolutely no way they're processing as many loans as Better.com's team — especially now, since I happen to know Better.com's refinancing inquiries went up by 200% this summer. And they lost an email with just two people working on their side (at least that I know of) from end-to-end. Better.com's process has a lot more moving pieces involved. Take a look at this customer journey:
There are six hand-off events from pre-approval through servicing. Hand-offs are the most dangerous part of a customer journey — every time you switch teams, you tend to lose a ton of context. That's where you drop the ball nine times out of 10. But even with that kind of complexity, Better didn't miss a beat. And from my side of the glass, it was seamless.
So what's the takeaway?
Why customer communication is hard — but important
Home financing is a very complex process. As a consumer, it's really hard to be educated and knowledgeable about every facet of the exchange. And it's hard for vendors, too. Plus it's not just the difficulty in being an expert on the end-to-end process. There are intricate regulations that vary state-by-state. It makes a lot of sense to have a team of specialists that can scale a consistent process to more customers. But even as a small team — as few as two people — it's easy for things to fall through the cracks, for hand-offs to be missed, to be utterly overwhelmed by the complexity.
Buying a home and then refinancing it have been by far the two biggest financial transactions of my life. They involve a daunting level of complexity and a staggering amount of money (though I guess people stagger under different levels of money — believe me, in this case I staggered). You have to be able to trust the people you're working with. Having a personal relationship boosts that level of trust, but so does knowing that you have a team of subject matter experts who specialize on a more narrowly scoped part of the process. Better.com kind of offers the best of both worlds, and Front makes that possible.
It's easy for me to be cynical about business and work in the late-stage capitalist dystopia we find ourselves in. But I took our software for a spin in a way I hadn't yet experienced, and was actually pretty proud of it.
And it's a wonderful thing to be proud of what you do.
Written by Matthew Klassen
Originally Published: 8 July 2020