It's no secret – we're big fans of productivity here at Front.
Our friends at Zapier (and their customers) are also pretty keen on productivity. And that's one of the many reasons why we're thrilled that Front was named number 2 on Zapier's Fastest Growing Apps Report, for the second year in a row! It's been a big year for us — usage of Front has grown more than 500 percent, and we're honored to be among some very good company on this list.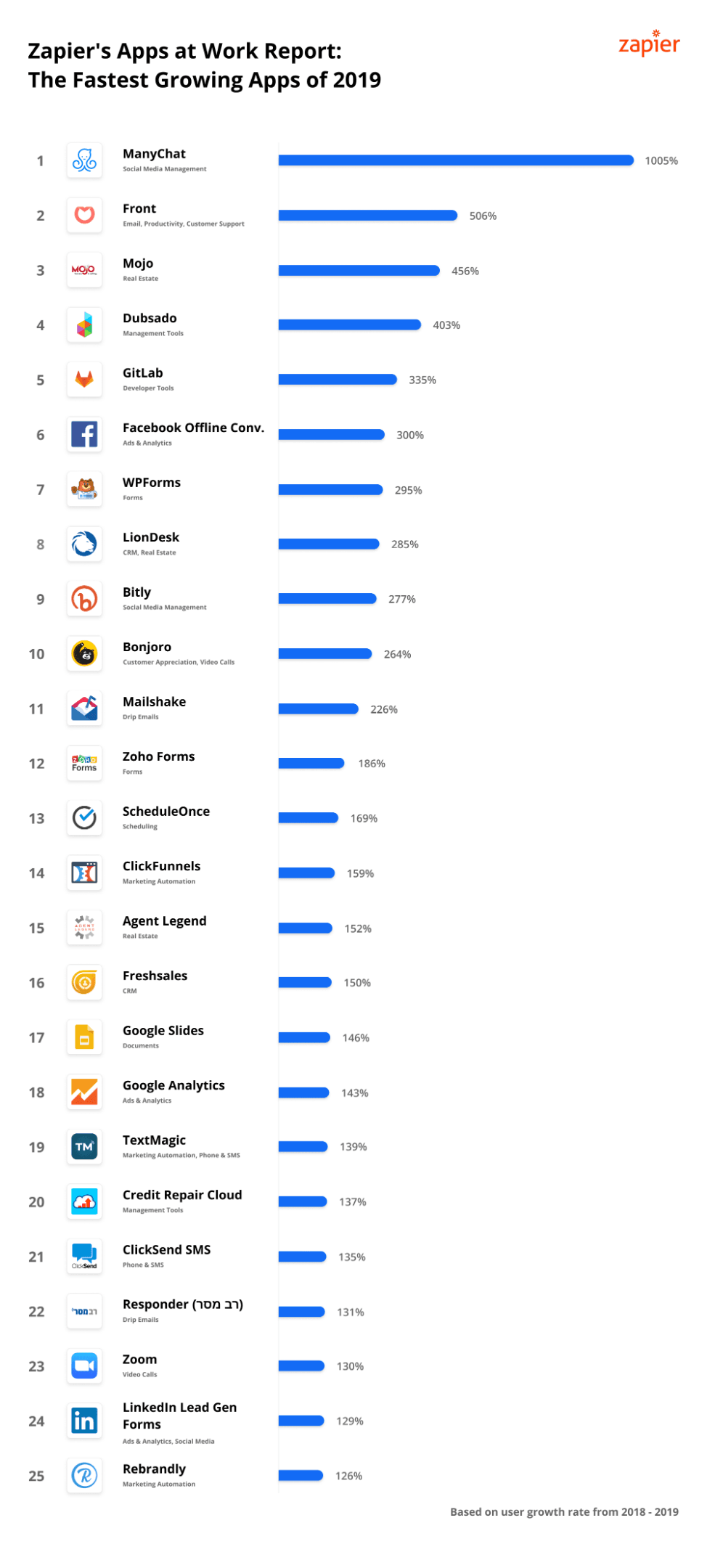 We dug into the reasons why Front landed near the top on last year's fastest growing apps list, and we found that customers of all sizes and industries love the Front + Zapier combo. Here's how Front and Zapier can supercharge your team's productivity — plus 6 examples of popular Zaps you can use to work faster with Front.
Front gives users productivity superpowers
Front has reinvented email specifically to help teams be more productive. With Front, you have your email, team collaboration, and access to 50+ other apps all in one place. Front is also packed with features that supercharge your productivity, from sending emails with built-in reminders, to creating message templates and custom rules, creating a customized (and robust) tagging system, or one of the dozens of other productivity tools Front offers.
Front enables asynchronous work
A survey we recently conducted on context switching showed that one-third of people say their work is interrupted at least 10 times a day. Many of today's tools demand synchronous, or real-time, communication, but Front recognizes the vast majority of your work can and should be done asynchronously. You can manage email, messages from SMS, Slack, and social media channels, and tools you use every day like Salesforce, Asana, and more, all on your own time.
Front helps you minimize context switching and get into deep work
Context switching is a massive productivity killer, especially when you need to switch tools while in the midst of a task or project. Most of the tools we use are siloed — sales data in Salesforce, tasks in Asana, chats in apps like Slack or Teams… the list goes on. Front keeps you focused by bringing all of the tools you're using into one place, and integrates directly with over 50 apps like Zapier (🤗), Salesforce, Asana, Slack, Twitter, Facebook, and HubSpot. When your communication channels sit alongside the other tools you need to do your job, you can quickly access information without getting sucked into another system and distracted.
6 Zaps to make you a productivity superhero
Here are a few of our favorite Zaps you can use to work more productively in Front in Front.
1. Create a database of customer interactions
Whether you have 50 customers or 50,000, keeping track of your interactions is absolutely vital for forming happy, healthy relationships with customers. To build a backup database for every customer interaction you have, connect Front and Google Sheets in Zapier. It will log any new messages in Front directly to Google Sheets. You can even add a step to the Zap to search the sheet for an existing record from that specific customer and add it to their row. That way, you can catalog all the interactions you have with each customer – without needing to copy over every message by hand.
2. Automatically add new Facebook Ads leads as contacts (and respond to those leads)
We all know how important it is to respond to new leads quickly. In fact, a study by Lead Connect showed that 78 percent of customers buy from the first responder. With Zapier, you can pair Front directly with Facebook Ads to automatically create a new contact for that lead. And once that lead responds to your ad, you can create a custom auto-reply to connect with them instantly.
3. Automatically send reminders with your scheduling software
No-shows are costly on many levels. You miss out on revenue from the no-show customer, and your employee loses precious time that could have been spent on something productive.
If you're using a scheduling app, like Acuity Scheduling, cut down on no-shows by setting up a Zap to automatically send reminders ahead of your appointments through Front. You can fully customize these by time (24 hours ahead, 30 minutes ahead, you name it) and by type of reminder (email, text, etc). And you can use these same Zaps to send reminders of any type like scheduling future appointments, following up on to-do's from the last appointment… the world of automated reminders is your oyster.
4. Send NPS responses automatically
Your NPS score is your north star to measure customer happiness, but it's a metric that requires constant attention. Thanks to Zapier's Drift integration, you can send a follow-up message from Front the moment you get a new Drift NPS response. You can also create a rule in Front to automatically sort these messages (double win!).
5. Add new MailChimp subscribers to Front contacts
Chances are, your marketing team is using an automation platform or email marketing service to communicate with both paying and potential customers. This makes it tricky to track all the email interactions your team has had with a customer over the course of their lifecycle. Luckily, Zapier has an amazing integration that allows you to sync Front directly with MailChimp. Any time a new subscriber is added to a MailChimp list, this Zap can automatically create a new contact in Front – no manual data entry or imports required.
6. Save new Front attachments in Dropbox
Ever found yourself digging through past email threads to find an attachment, like an invoice, contract, or design mockup? Never lose an attachment again with this super helpful Dropbox Zap. This Zap allows you to choose a folder in Dropbox where all attachments from inbound Front messages are saved. All your attachments will be right there, organized however you like, waiting patiently for you. Never lose track of that important proposal, or that important cat pic, again.
Become a productivity superhero with Front and Zapier
Zapier and Front are here to help you harness your inner productivity hero. Already a Front user and want to give Zapier a try? Team admins can enable the Zapier integration for their team in their Front Settings, and the whole team can start building Zaps with Front from there. Just log into your Zapier account, choose Front in the Zapbook, and follow the guided setup flow. If you have questions about getting Zapier and Front set up, don't hesitate to reach out and our team will be happy to help.
Not a Front user? Schedule a demo with us, today.
Written by Paul Chalker
Originally Published: 17 April 2020