Guide - 8 min read
Analytics in action
Once you have a general understanding of Front Analytics and the capabilities of our reports, it's time to make it your own – and make it a habit. Teams get the most out of Analytics – and thus the most out of Front – when they are using regular reporting to audit and improve their productivity, performance, and customer experience. But what does this actually look like in practice? Scheduling regular reports, knowing the best ones to share with execs or teammates, and having a comprehensive understanding of trends helps your team have the greatest impact and helps you, as a company leader, anticipate trends. Here are several ways you can use Analytics, tactically, to measure and report on successes and make changes when needed.
7 ways to use Analytics to make a bigger impact
1. Have an emailed report sent to leadership every Monday
Each leadership team may have different priorities – some may care about response time while others are after SLA reporting – but regardless of the goals, you can customize a report to show what they care about most and schedule it to arrive in their inboxes once a week. It would go something like this:
1. Survey your leadership team for what they care about most. Once you know their goals for the report, choose the default report that will communicate this best:
2. Save a view that highlights those metrics. A saved view can be accessed and modified via the top header in each report – so if your leaders wanted to hear about team performance, you could save a view under that report and apply the appropriate filters that showcase a summary for them. Change the date to weekly, and set the view to public.
3. Schedule the report as an email and set the cadence to weekly. This way you and your higher ups will be able to count on accurate, timely reporting on your impact each week.
2. Set a custom view for VIP clients
Understanding the full experience of your most critical customers is crucial to excellent service and a longterm partnership. By setting up a workflow that supports your VIPS, you can serve them best and get specific analytics on their experience. Here's what we recommend: First, set up your workflow: SLAs for your VIPs clients, a tag for them as well, and a rule that sends all their messages into the VIP tag or inbox. Once the backend work is done (visit our Rules Library to help you out), save a VIP view in Analytics. Here's what you'll be able to learn:
Overview - with your VIP tag filter applied – will show all the high level metrics for the messages that have been routed to that tag.

Our tag report – with your VIP tag filter applied – will show other tags that are also applied alongside your VIP tag.

The SLA report – with your VIP tag filter applied – will help you track and create goals, and potentially change your workflow or staffing to keep breaches at bay in the future.

Have certain teammates handing specific VIP clients? Check out the VIP tag and look at the different teammates that have been handling conversations with that tag.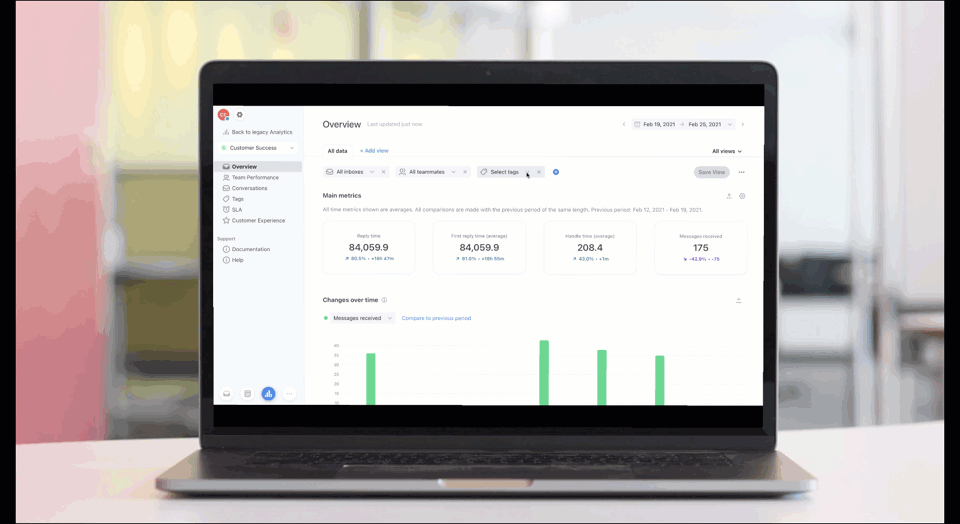 3. Share performance metrics with your team to track goals
The teammate performance report is your one stop shop to get insight on your team's productivity, success, and goals. Here are some key ways to use Analytics to help your team reach their full potential:
Create weekly team rewards – Celebrate team member's success and incentivize great performance at your weekly meeting by sharing team successes like an overall improved handle time or who touched the most messages the past week.

Manage performance tracking – Quantify an individual teammate's performance improvements or decline, and share those numbers with them at meetings. By tracking response times, which clients are requiring most, or their peak performance hours, you'll be able to create actionable goals.

Standardize benchmarking – Standardize each position's performance metrics and identify goals for improvement, and do the same for the team. This removes bias and creates a fair, data-driven, and transparent system.

Understand how specific initiatives affect team improvements – Does adding new team members, changing shift scheduling or introducing Front productivity features change the team's metrics and how? Is there a need to add more canned responses, rules or tags to increase reaction times? Play with different tools and track how the metrics change to learn how to best support your team.
4. Investigate the Bugs tag to improve your workflow
One day you're exploring the Tags dashboard to see what topics and trends your team is facing, and you search for the 'Bugs' tag in the Individual Tag Performance widget. Quickly, you see that there's been a large increase in the amount of conversations in that tag – meaning that your customers are likely dissatisfied with the product at this time. You take the following steps to investigate further:
1. Click into the details drawer to view all conversations associated with that calculation. You can scroll through all messages that were tagged as a Bug and learn what happened.
2 You create a new rule that ensures any message that's tagged as a Bug gets a message template saying your team is on it – and that the assignee is notified.
3. Lastly, you follow up with the engineering team to provide them with the data so that the bug can be fixed and your customers can get back to being happy.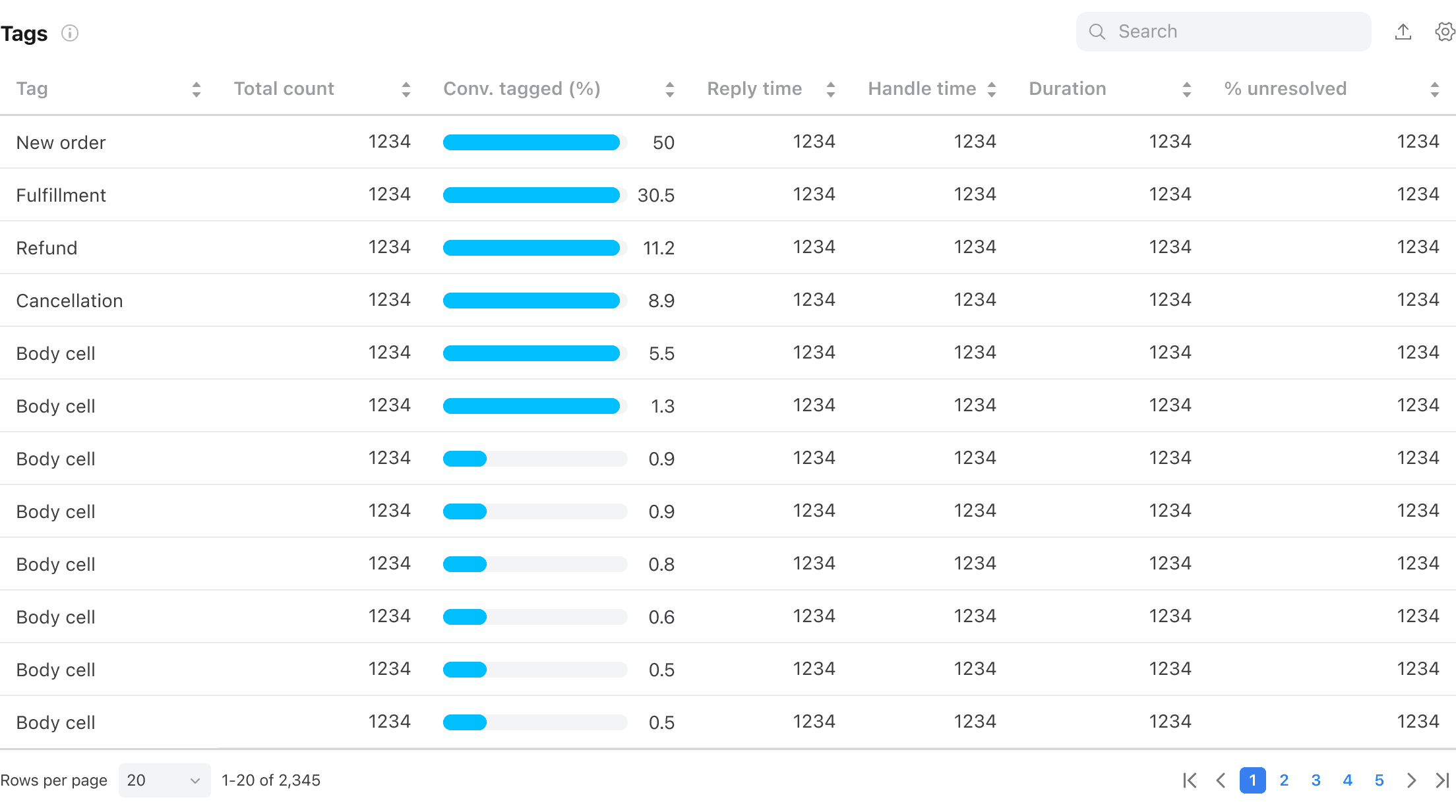 5. Coach individual teammates using metric details
Part of your job as a team manager is to support and train your direct reports. When yearly reviews come around, you decide to have individual coaching sessions with each one to help support them in their work so they can better reach their goals.
The best way to do this is to check out the Teammate Performance dashboard. In the 'teammates' widget, you can search for individual teammates and see the metrics associated with them. Trying walking your report through those metrics.
Want to improve their response time? Click into the details drawer on that metric to view those conversations and see where they could've used a message template to work faster, or to inquire about what may be slowing them down.

Is their handle time lower than average? Click into the details drawer on that metric to view the problematic conversations and work each one through with them so they feel supported and understand how to tackle it next time.
6. Use the conversation report to anticipate staffing
The dashboards in Analytics work in tandem to give you a wholistic picture of your company's success, team performance, and customer experience. When it comes time to think about your hiring plan, here's a step-by-step way to ensure you're making the right call.
Go to the Conversation dashboard and check out the 'What happened' widget. In it, you may notice that there's a backlog of conversations from a previous time period pilling up – suggesting that your team may not be equipped to handle all the messages on their plate.

Check out the heatmap in the Team Performance dashboard – which shows your busiest days and hours. By looking at the heatmap for the past few weeks or months, you can start to observe some trends about your busiest times.

Do some analysis based on the above two observations. What's the volume of messages your team has coming in, and has that been increasing? Is individual team performance improving across the board or staying consistent? Turn these insights into action and hire the right amount of people for the right times to make your customers and team happier.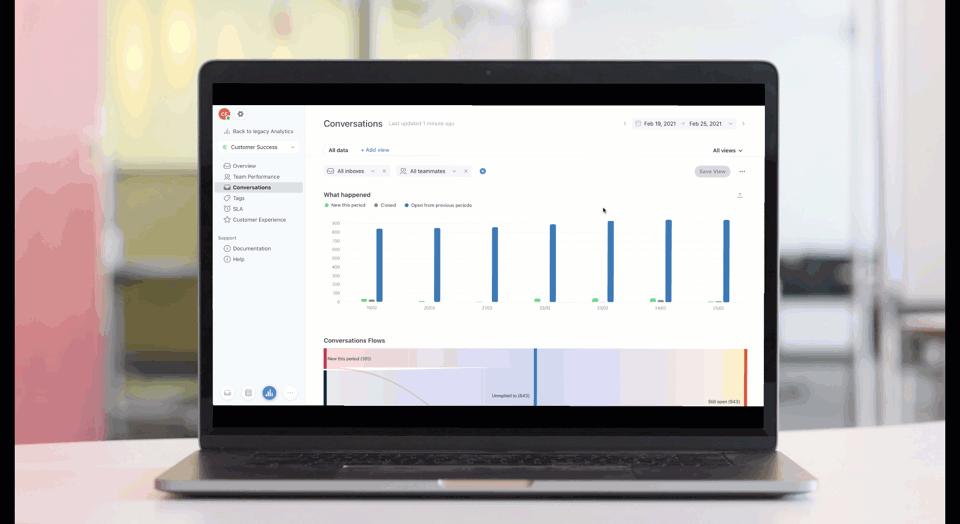 7. Prefer doing your own analysis, or using your own data visualization tool?
You can use exports or our APIs to pull metrics into your own platforms. Here's some common ways this can elevate your reporting:
Need to add a graph of key metrics in Front to a PowerPoint for a company presentation? First, select the time range you are interested in and export the data from Front. You can choose different export types, but a Messages Export would do the trick here. Select the columns you want to display, and submit the export request. Once downloaded, import the data into the tool of your choice and use our export documentation to help you slice and dice your data.

Exports can also be helpful when Metric Details returns too many conversations to examine one by one. Export the data from the details drawer to investigate metrics in more detail. In a spreadsheet, you can then sort by teammate, response time, or other values to quickly get a pulse of what happened with the metric in question.

If you're looking for even more automation, you can use our API to pull raw data (Exports API) or precomputed data (Analytics API) into internal systems or another data visualization tool.
Share this guide
Want to see Front in action? Get started!