Guide - 6 min read
Create a powerful Success team with Front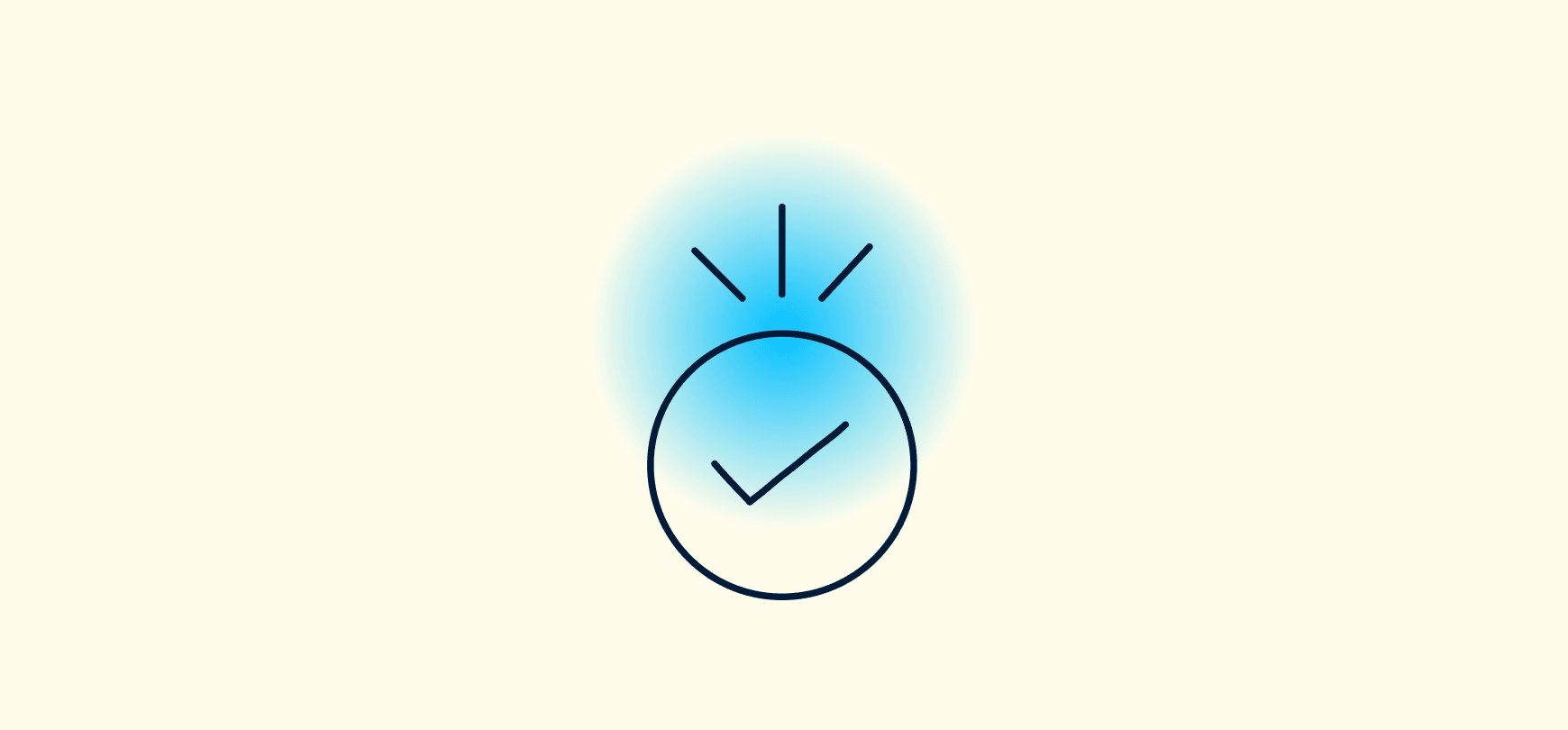 Your customers demand a first-class experience whether they're in your high-touch segment or not. Front helps you personally ensure your customers' desired outcomes at any scale, without sacrificing customer experience.
Once you've set your Success team up using our getting started guide, it's time to think about a strategy for helping your team thrive. Front is built to be customized to your team's needs, meaning you can design the workflow that helps respond personally to clients at scale, work together on complex requests, and get visibility into what you care about most. This is a guide about how to use Front to support and improve your Success team.
#Automate workflow
Automate high-touch communication
Setting your team up for success means establishing a natural workflow that eliminates busywork and clears the way for higher quality connections with your managed accounts. Here are 4 actions that help streamline your workday.
Assign owners to accounts
As messages flood into your team inbox, assign a specific CSM to the message. By giving each message an owner, duplicative work on the same customer is avoided, and each person knows exactly what they're responsible for. You can even automate the assignments based on sender, content, and more – but we'll cover that next.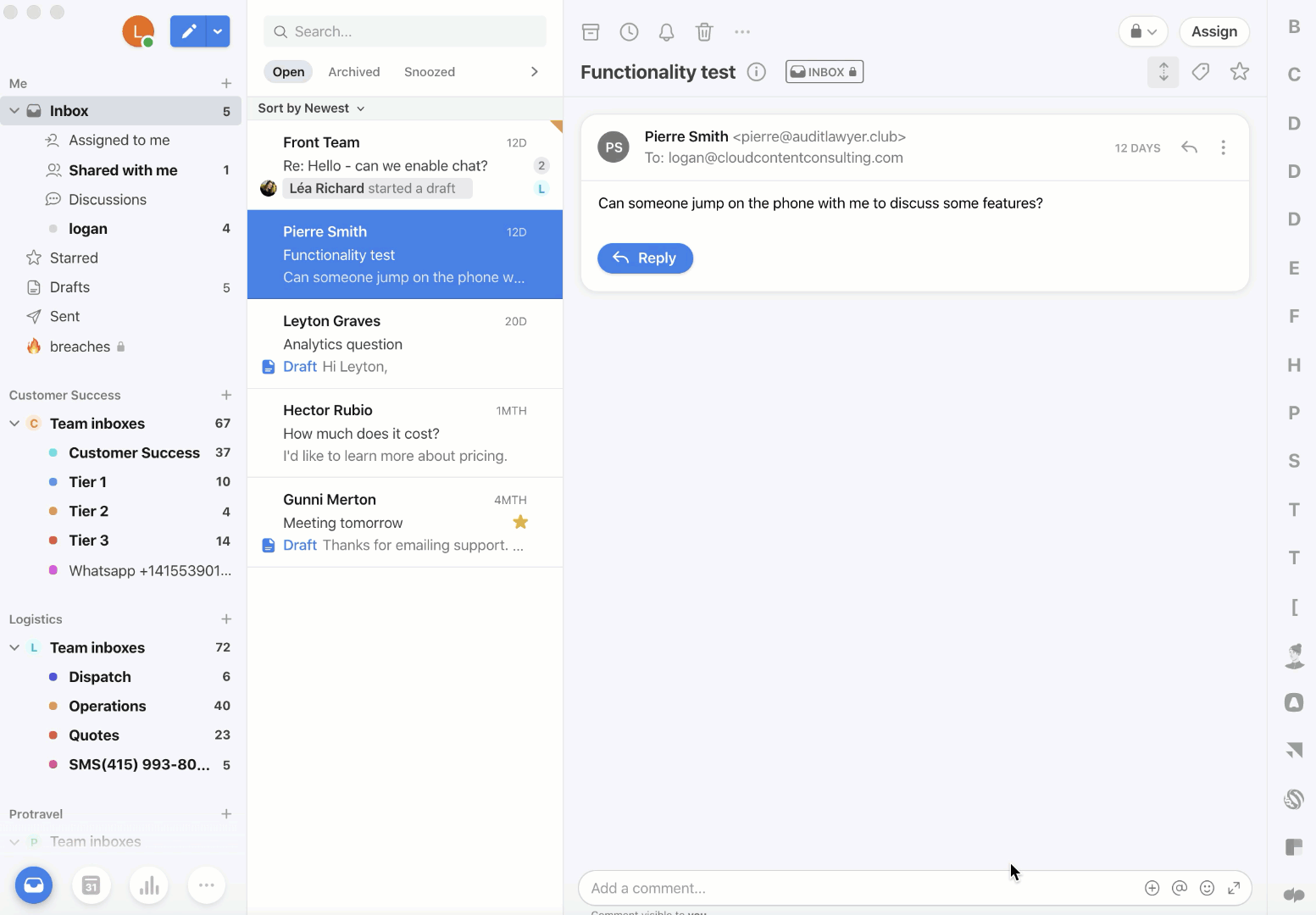 Use rules to route messages to the right person or stay on top of SLAs
Rules are automatic workflows that you can set up to triage messages, route them to the right person, and save your team time doing the sorting. Have you ever wished you could automatically ensure a message from a customer is assigned based on a region, specific success manager as indicated by your CRM, or by how much they spend? Front rules allow you to customize the escalation path for any message, so you can immediately assign messages from certain customers to specific teammates. Rules also help you manage your SLAs – create a response time goal and have rules send messages on the verge of a breach to an "Urgent" tag or assign them to a teammate.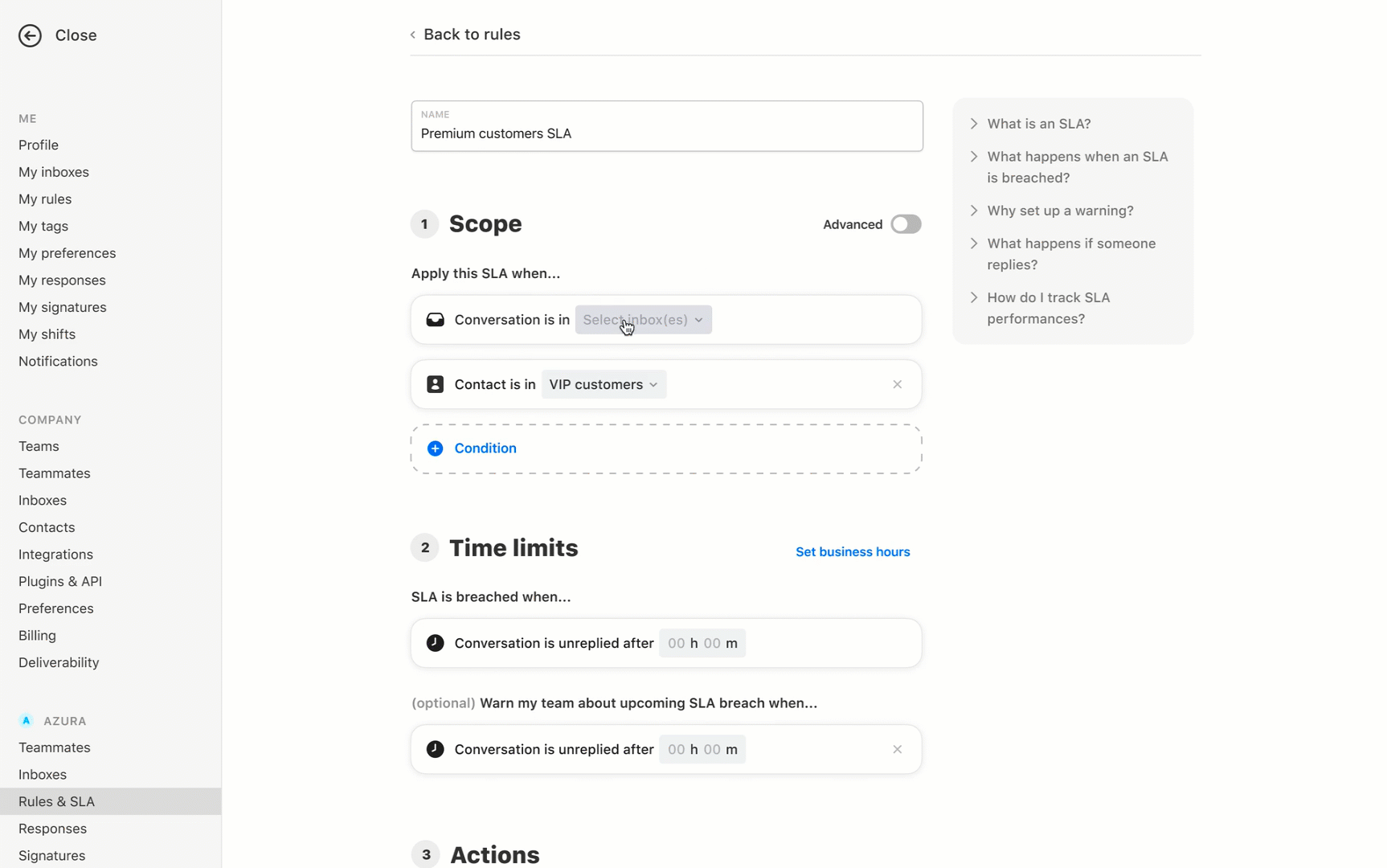 Create email templates for common messages
Though every customer has different needs, it's typical as a CSM to find yourself crafting similar messages often, like EBR checklists or onboarding content. When it comes to this type of response or other FAQs, create and save a message template. Create them for yourself, your team, or your company, so that content tone and voice can remain consistent and time can be saved and spent on personalizing and customizing the message.
Get reminders to follow up later
It's important to never let your customers fall through the cracks. By hitting "snooze" on an email, or "send and snooze," you can set up an automatic reminder to check in on a message. So if you haven't heard back from a VIP client by tomorrow morning, the message will pop back up in your inbox so there's no chance of you dropping the ball.
#Work together
Good account management takes a village
Team up to handle complex CSM requests, share information about customers, hone your messaging, and get visibility into how your team is doing.
View all communication in one place – your team inbox
Whether you work as a scaled group or by specific clients, team inboxes are a place to connect all your customer communication channels and view every inbound message in one place, as a team. This way you can see all incoming messages, know who's handling what, and build a culture of visibility, accountability, and collaboration as you tackle messages as a team.
Comment on emails to work together on messages
Need a second opinion on a customer request, or want to include a teammate in a conversation? Comment directly on a message with a simple @mention. This replaces messy forwarding chains and makes collaboration much more actionable; when you @mention someone, they can stay in the loop and continue to provide support as you go back and forth with the customer.
Write important email drafts together
We all know what it's like to stumble or get stuck when writing an important email to a customer. With Front, you can write up an email draft and share it with a teammate when you need help finding the right words or tone to massage a tough conversation. They can then review, edit, and write the draft with you so there's double the amount of thought put into your most important messages.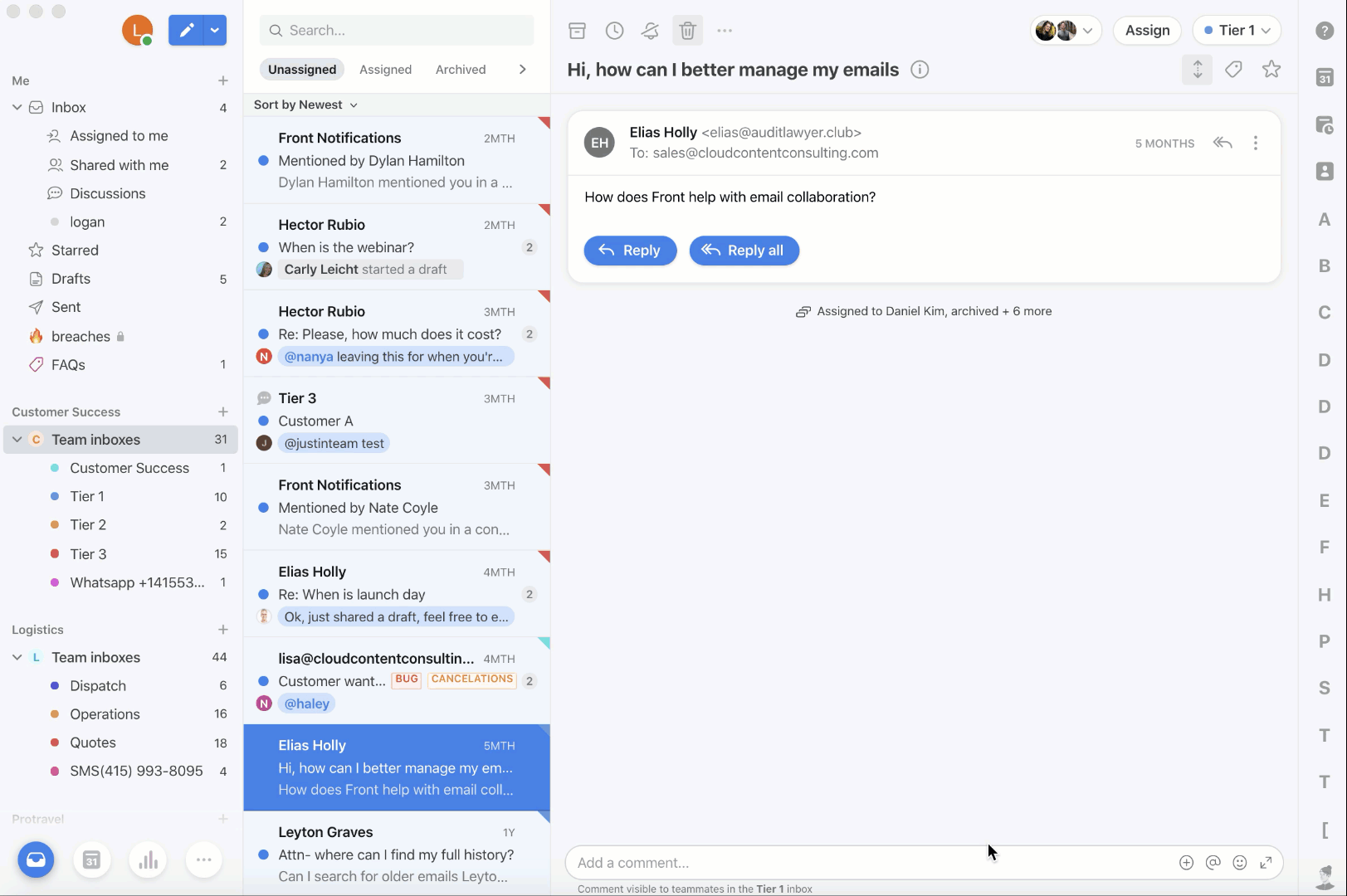 Use internal discussions for quick chats with teammates
So much time is wasted when people hop between apps to chat with teammates, only to return to their inbox to do the actual work. Internal discussions let you talk with a colleague or team casually, without having to go to a different chat app. And the discussions remain searchable, can be sorted into tags, snoozed, and all the other good stuff – so information is never lost.
#Beat churn
Stay on top of customer messages and beat churn before it happens
The best way to hold onto customers it to know their experience intimately, and improve upon it over time. Tags and analytics help your team understand each customer and your impact on them, so you can turn those insights into action and reduce churn.
Get visibility into customer experience with analytics
Your customers rely on you to get back to them quickly and meet their needs, no matter what. Front Analytics helps ensure that. See how quickly teammates are responding, which customers write in the most, when your busiest hours are, among other things. Then, adjust accordingly to take advantage of every opportunity to create a better customer experience.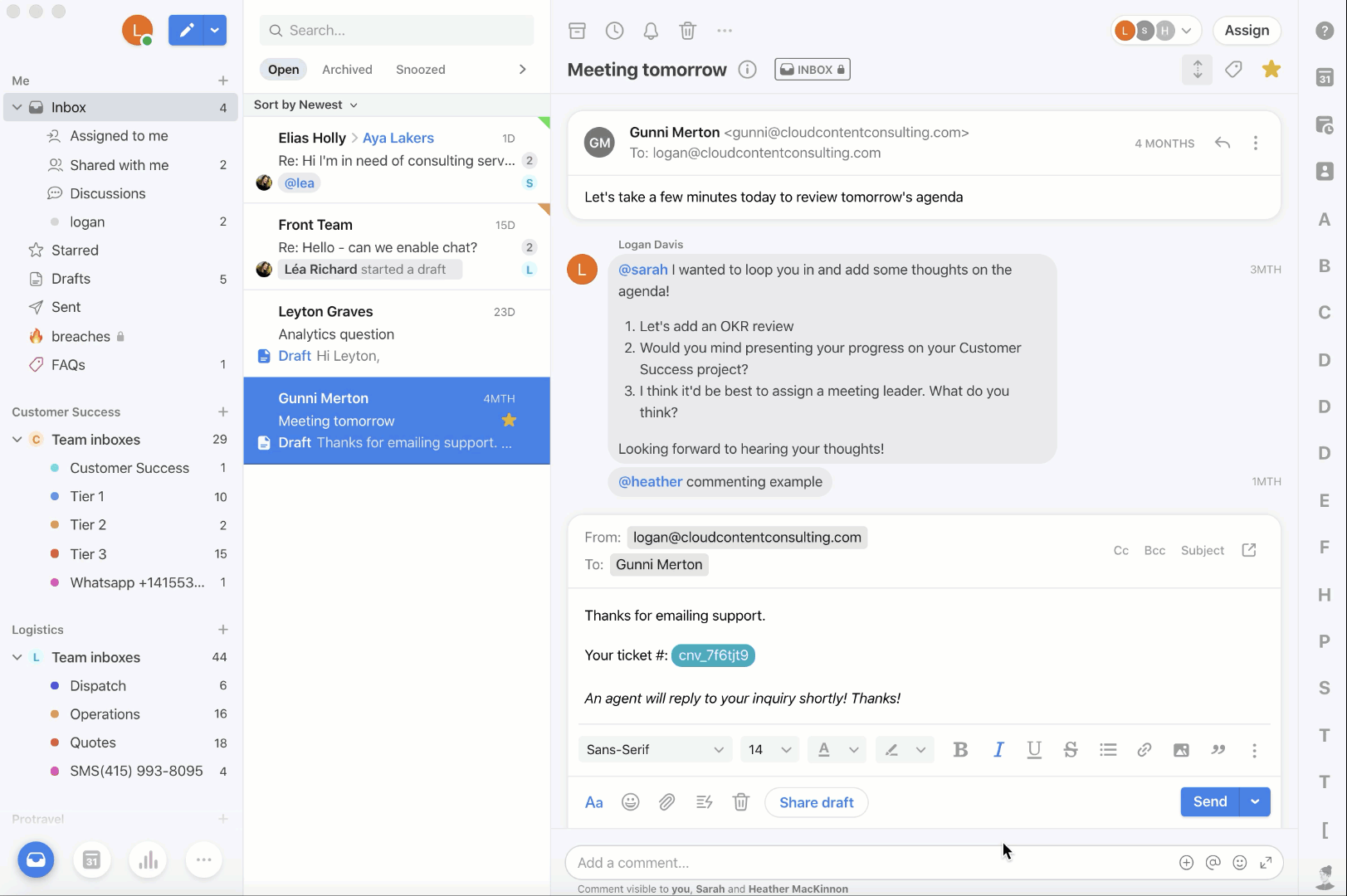 Tag messages to prioritize work
Tags and channels in your team inbox are ways to sort your incoming messages by customer profile, urgency, project, etc. Some common tags for Success teams are:
Accounts at risk

Upcoming renewal

VIP
Once you've done this, and created rules that automatically sort messages into those tags, you can view analytics on each one. By categorizing messages, you'll get a sense of what your customers are experiencing, and you'll be able to prioritize their messages instinctively.
#Universal inbox
Tools and communication channels in a single view
Front offers a universal inbox, meaning all your communication channels – email, live chat, SMS, and more — as well as all your calendar, favorite apps, and more, are all in one place. No more need to switch between tabs or context-switch to get your work done.
All your relevant tools and data in one place
Front has 50+ integrations that help you access all your favorite tools from Front. Whether it's Gainsight, Dialpad, or HelpDocs, you can work faster and smarter by bringing data from other apps into your inbox. For instance, you can reference customer data as you're responding to a message, or move an email to a task in your favorite project management software. If Front doesn't have the integration already, you can use our open API to connect other databases and software so you never have to switch tabs and get distracted.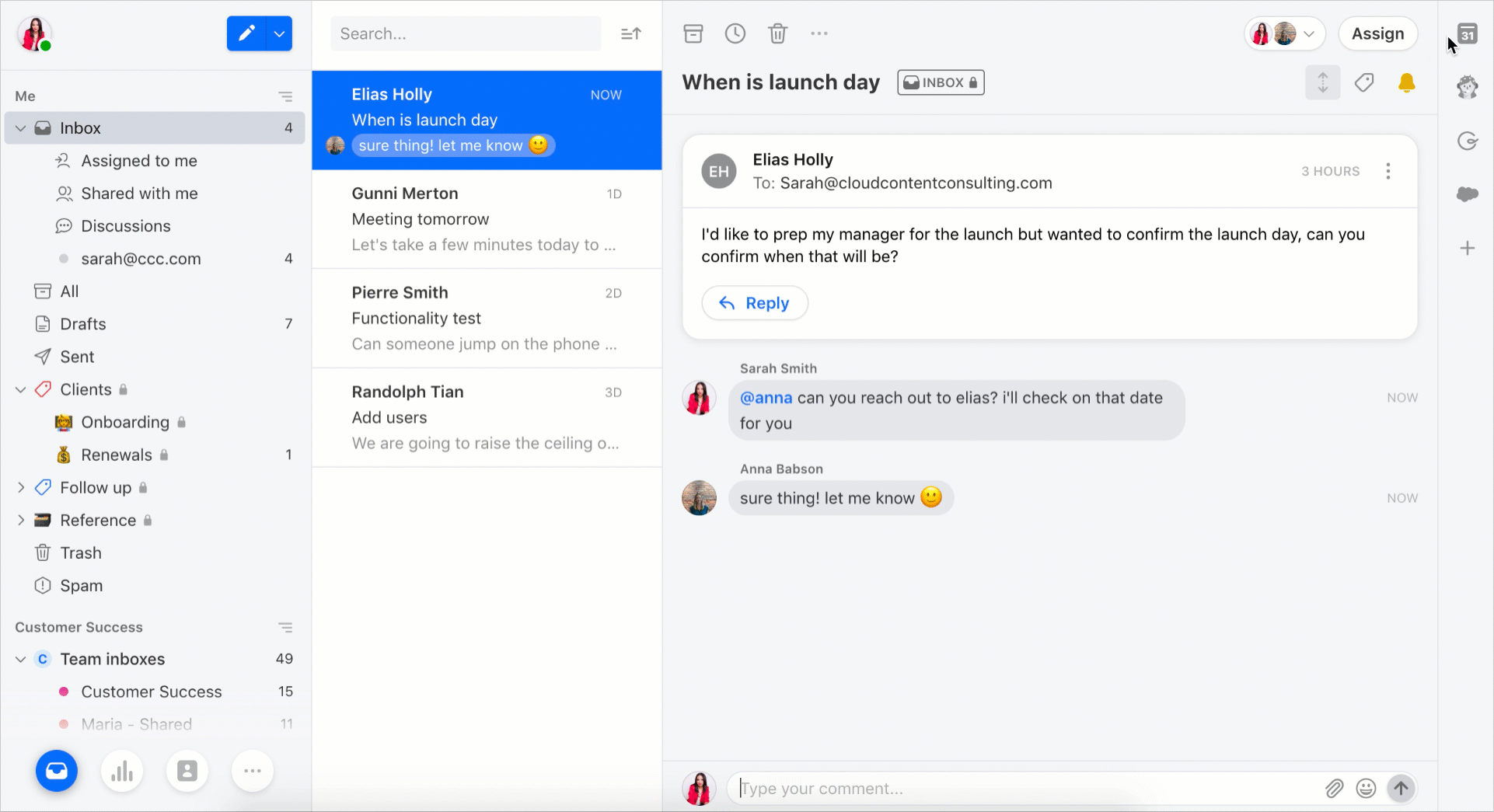 Share this guide
Want to see Front in action? Get started!