Guide - 6 min read
Create a successful Sales team with Front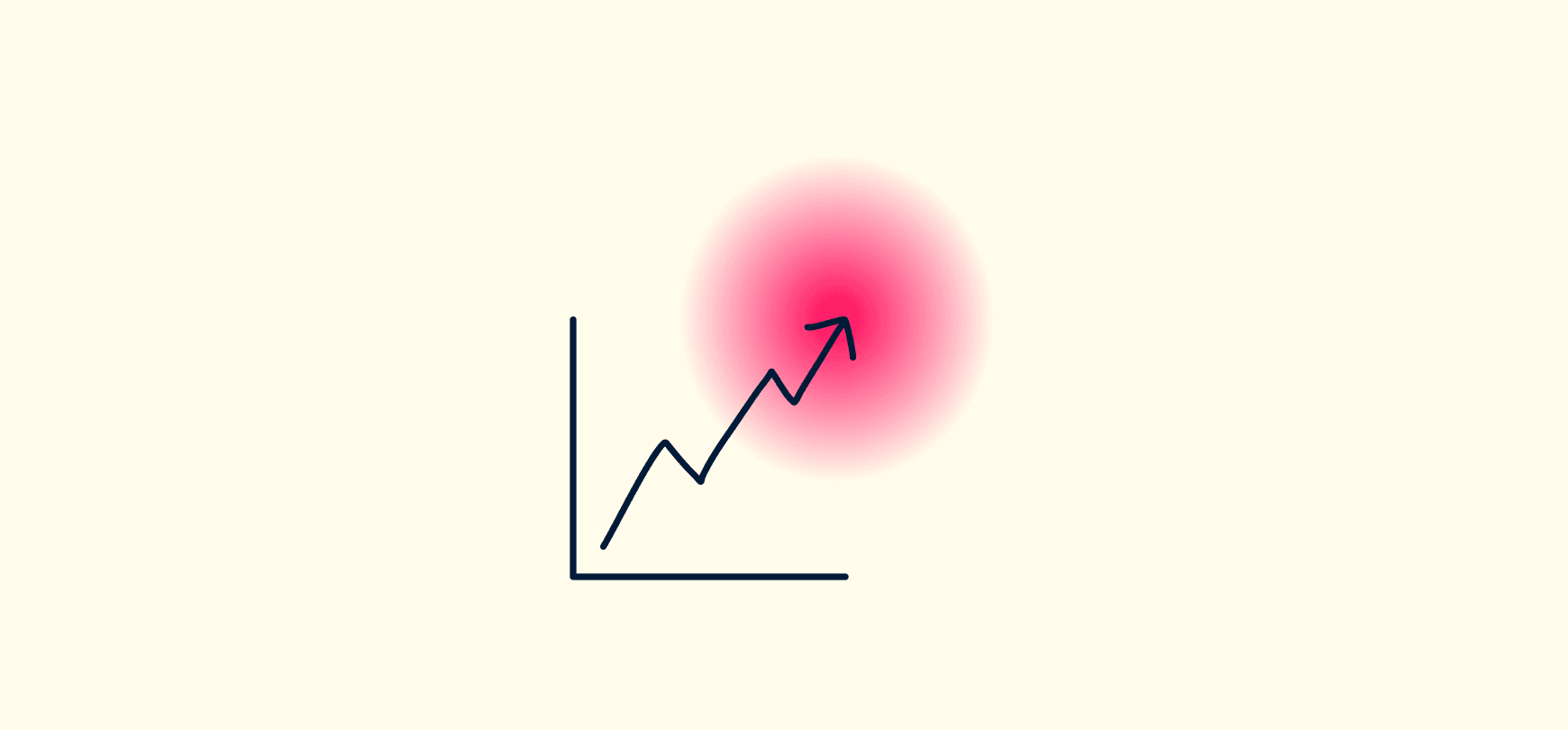 Your customers demand a first-class experience. Front helps you personally ensure your customers' desired outcomes at any scale, without sacrificing customer experience.
The heart of every Sales team is communication between customers and teammates. With high-touch, personalized messages, Front is built to help your team go the distance. In this guide you'll learn how to set up the product to help your team collaborate efficiently, close deals, Once you've set your team up using our getting started guide, it's time to think about a strategy for helping your Sales team thrive. Front is built to be customized to your team's needs, meaning that you can design the workflow that helps close deals faster, work together on difficult messages without leaving your inbox, and get visibility into what you care about most. This is a guide about how to use Front to support and improve your Sales team.
#Automate workflow
A workflow built to close deals quicker
Setting your team up for success means establishing a natural workflow that eliminates busywork and clears the way for higher quality connections with potential customers. Here are 4 actions to take that help streamline your workday.
Team inbox setup for Sales
Front's team inbox is a shared inbox that incorporates all your communication channels into one place. There are a variety of ways your team connects with leads – be it your sales team email or website chat – and by connecting all of those channels to your team inbox, it's easy to get to work. Think about your most commonly relied-upon communication channels and connect them with your team inbox, then invite all your teammates to the inbox. This means everyone will be able to see what's on the agenda each day, prioritize work together, and avoid context-switching by looking at different web pages to communicate with customers.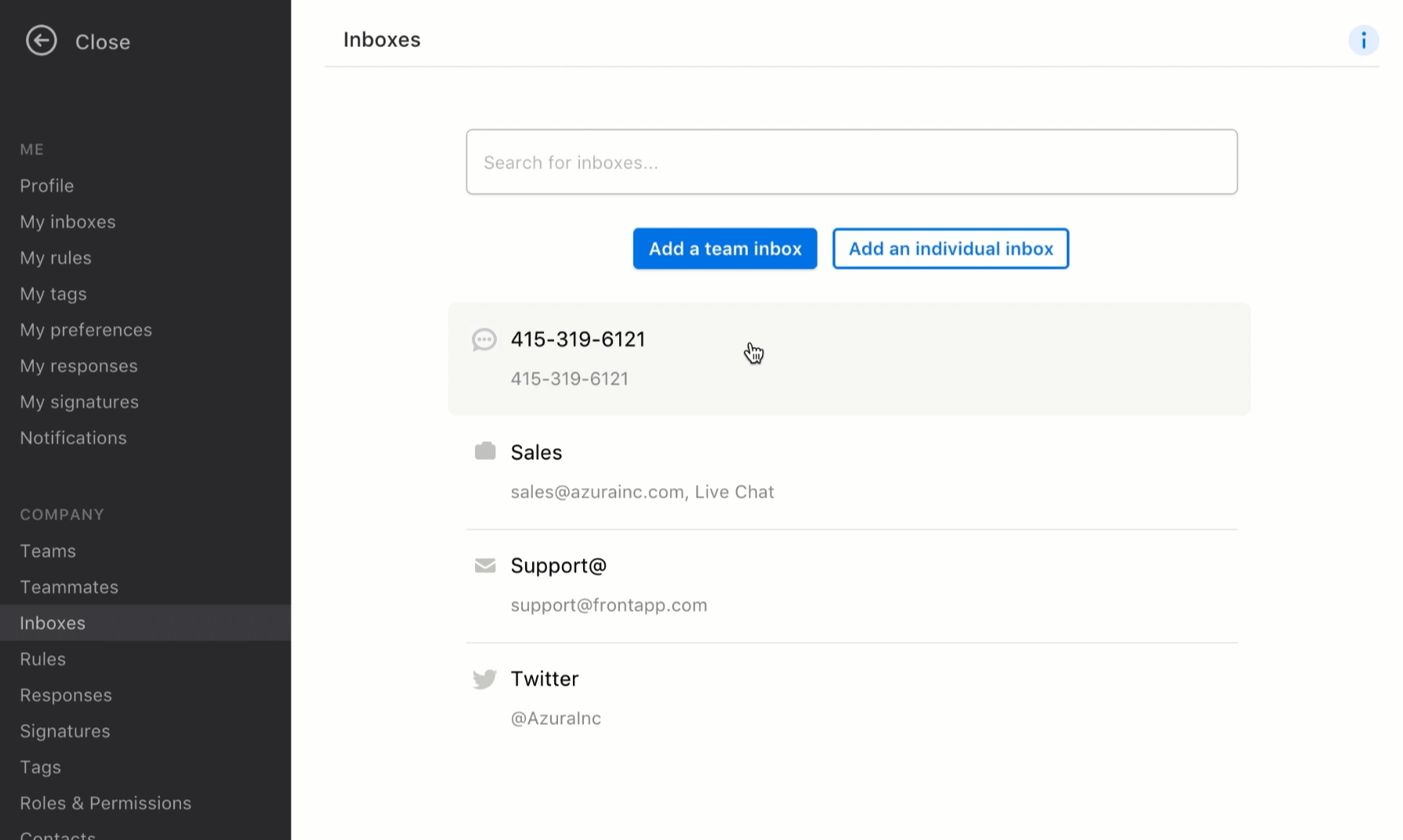 Assign owners to inbound messages
As you watch the messages stream into your team inbox, start assigning them owners. Once someone is assigned a message, it shows up in their personal workspace so they can get right to it. And, you'll be able to see that the message is assigned and feel confident moving onto the next one. If you want to stay in the loop on a conversation not assigned to you, simply subscribe to it.
Automatically sort leads and prioritize outreach
Triaging requests can feel like a tedious task – set up a rule and have it done for you. With rules, you can automatically route, tag, and assign messages by sender or content. Want all demo requests tagged as "Demo" and assigned to Samantha? There's a rule for that. Want to make sure all inbound messages are responded to within 2 hours? Set up an SLA.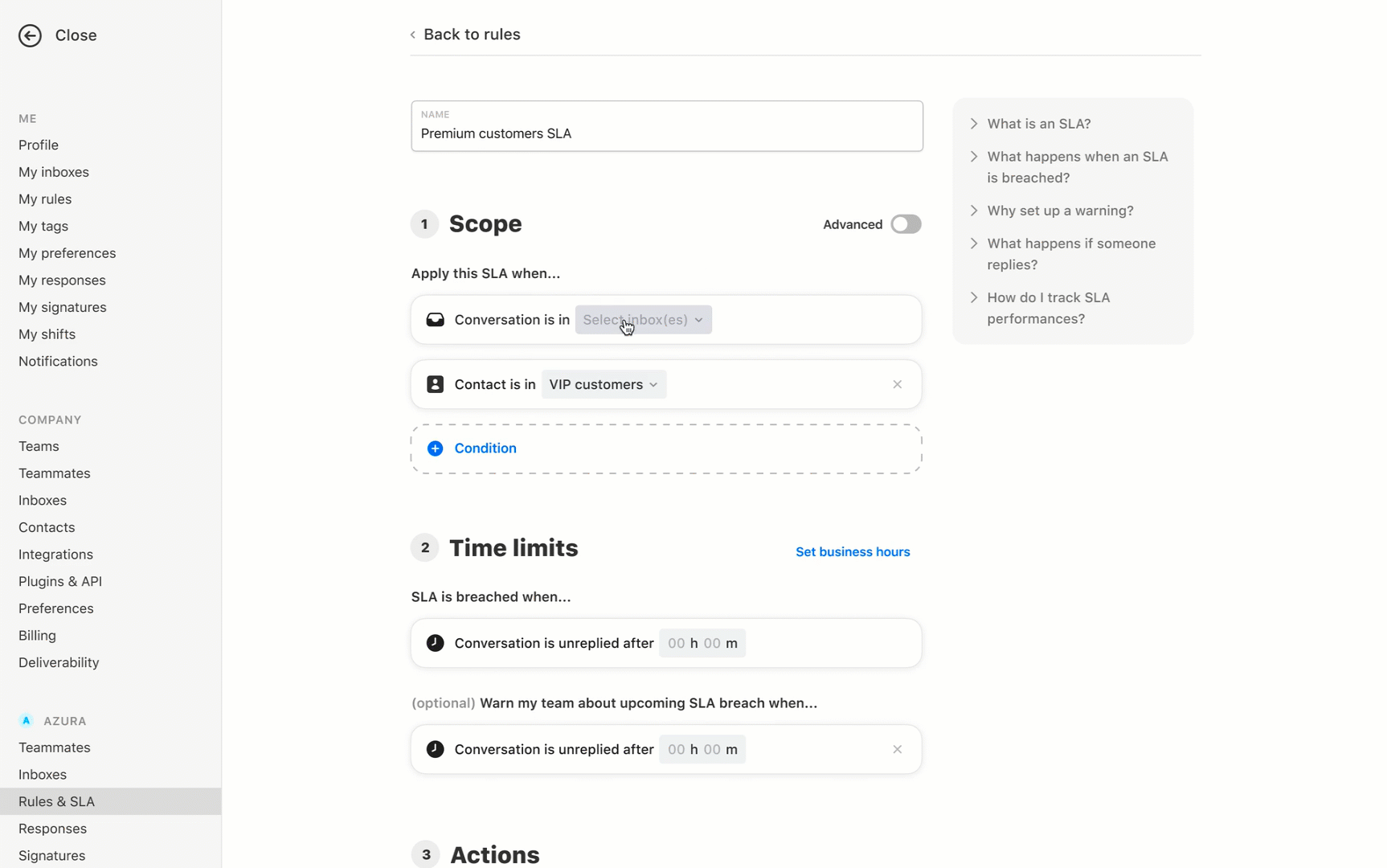 Get reminders to follow up later
Sometimes it takes a couple tries to get a response. By hitting "snooze" on an email, or "send and snooze," you can set up an automatic reminder to check in on a message. So if you haven't heard back on a big deal by tomorrow morning, the message will pop back up in your inbox so there's no chance of you dropping the ball.
#Work together
Work together to enhance customer messaging
Customer communication is a team sport, and being able to leverage the expertise of your team is critical. That's why collaboration is built into Front's product. Here are some ways to use the product to work together, better.
Comment on emails to get help on a deal or align on strategy
Tap a friend for a second opinion, or clue someone in to a deal with a client by commenting directly on an email. This replaces messy forwarding chains and makes collaboration much more actionable; when you at mention someone, they stay in the loop and provide support as you go back and forth with the client.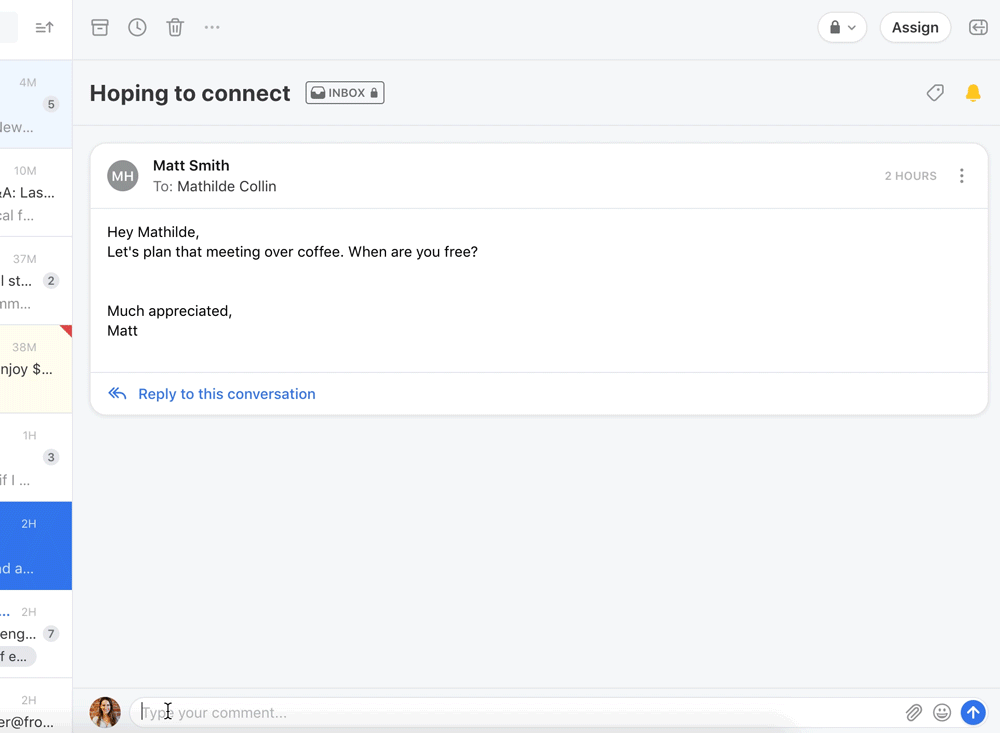 Perfect your outreach by drafting emails together
Closing a deal with a VIP opportunity, or stumbling on how to craft an outbound message? Write up an email draft and share it with a teammate. They can then review, edit, and write the draft with you so there's double the amount of thought put into your most important messages.
If your Sales team is distributed, hop on a quick Zoom call from Front
When collaborating via comments and internal discussions doesn't do it for you and your team isn't all in the office, start a Zoom call from the comment bar. This brings the spontaneous brainstorm with teammates to wherever your team is, and you don't even have to leave your inbox to do it.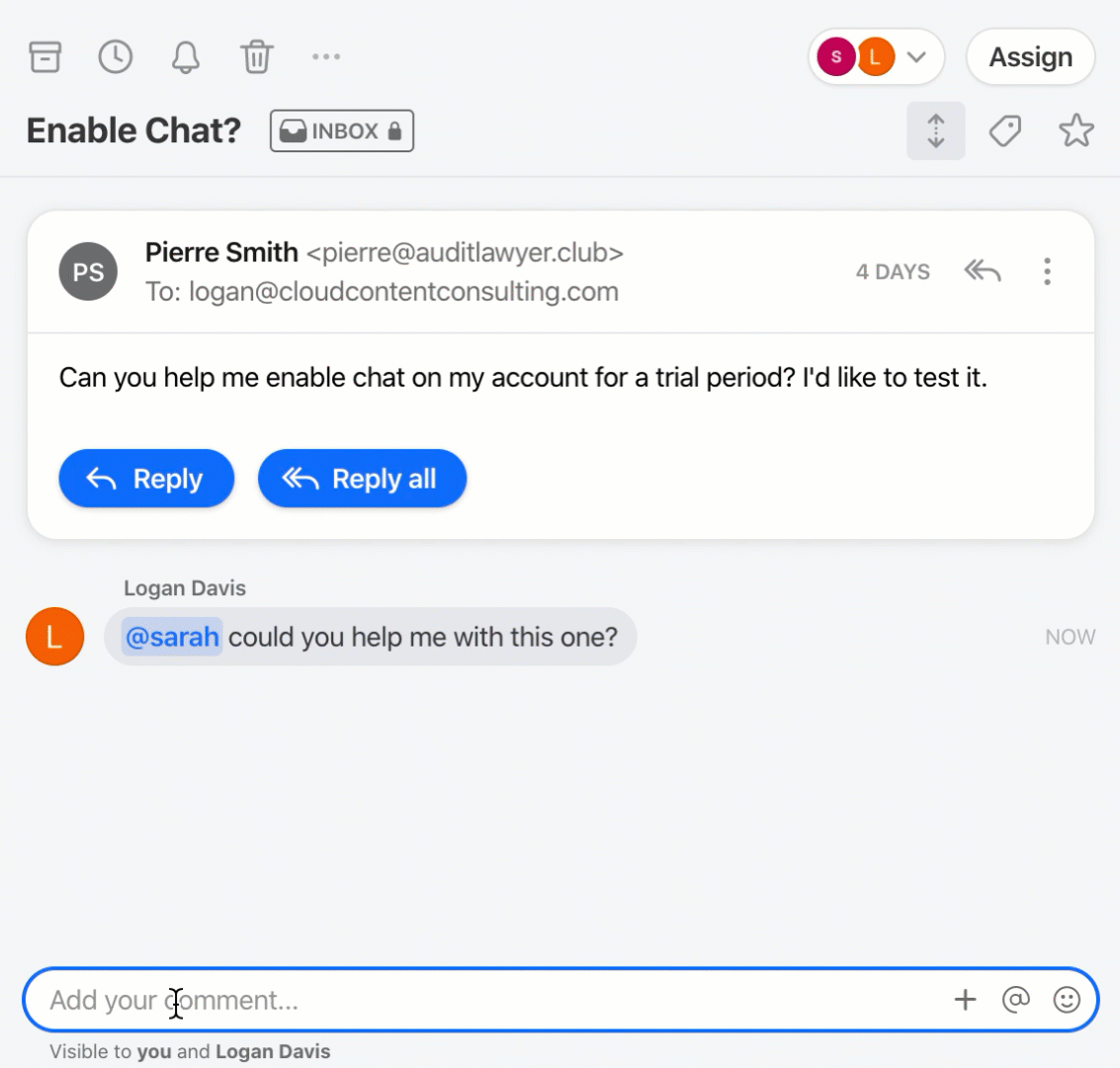 Create message templates for consistent and fast responses
Voice and tone matters when reaching out to prospects or responding to requests. Save message templates for your team to personalize and use for common emails. This helps saves time and keep initial conversations consistent.
#Context at a glance
Get customer context at a glance
Use your team's most critical tools – from Salesforce to Asana – right from Front. Or, create a custom integration with our open APIs.
Integrate your favorite CRM into Front
It's easy to get distracted when switching between tabs or hunting for important customer info. Use your favorite apps from Front with our integrations. Once they're enabled, just sign in using your login info and you'll be able to access your most relied upon tools without context switching. Here are our very own Sales team's favorite integrations:
Salesforce

Outreach

Aircall

Drift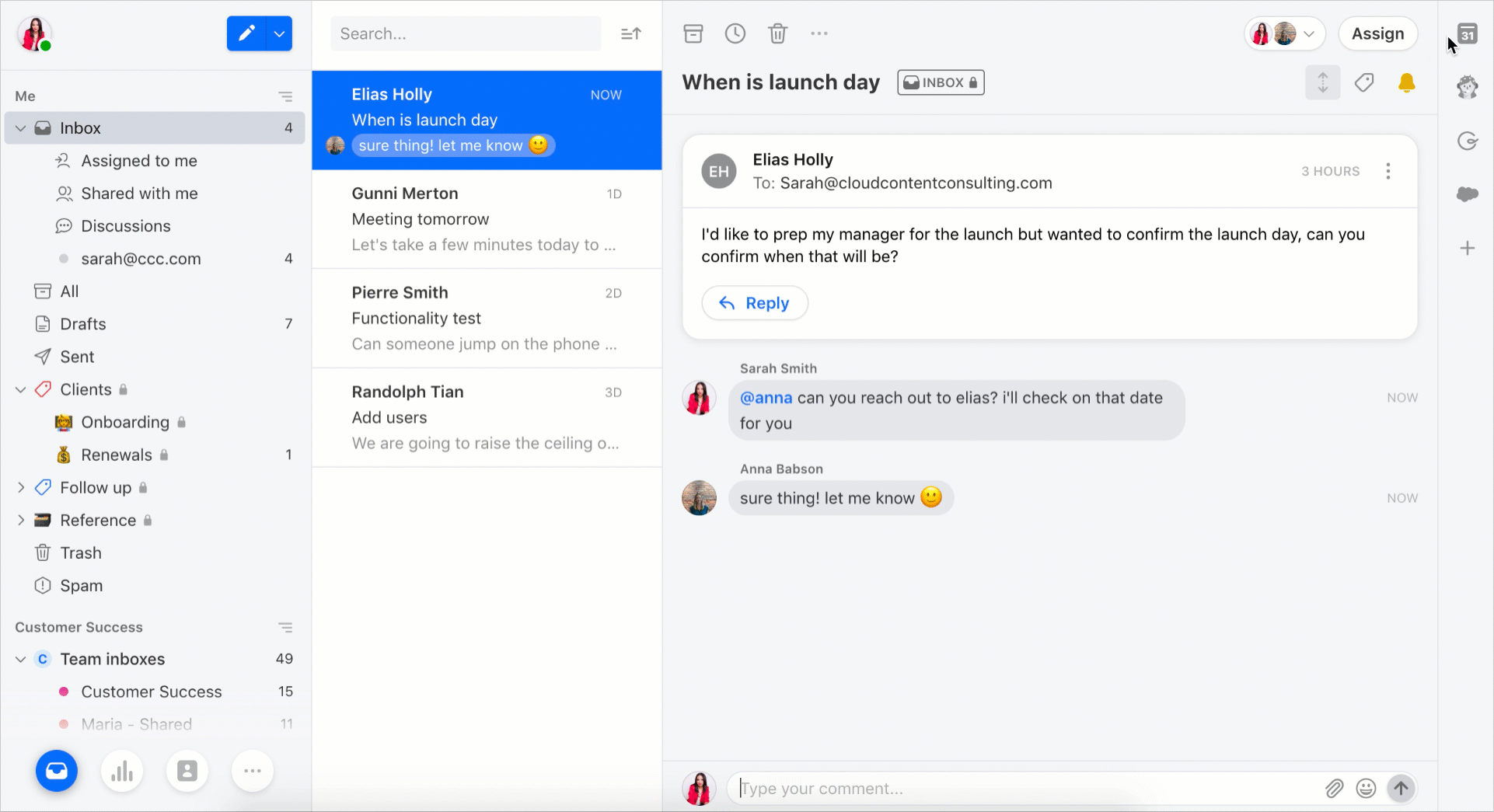 Create custom integrations with Front's open APIs
Front's open API allows customers to build a window into their own systems, whether it's their own in-house database of customer information or building a separate integration into a tool they need.
#Measure success
Track your success
Use tags in your team inbox to organize prospects and get visibility into progress
Tags and channels in your team inbox are ways to sort your incoming messages by type, sender, urgency, project, etc. Set up a tag for hot deals in the works, or create a channel for live chat. Once you've done this, and created rules that automatically sort messages into those tags, you can view analytics on each one. For instance, view how many messages are actually coming into your sales email, or what clients and projects are requiring the most work.
Use Analytics to report on sales activity and response time
Want to see how your team is tracking against your internal goals? Use Analytics to see how quickly teammates are responding, which customers write in the most, or when your busiest hours are. Then, adjust accordingly by finding out who needs more support and where there's an opportunity to create a better customer experience.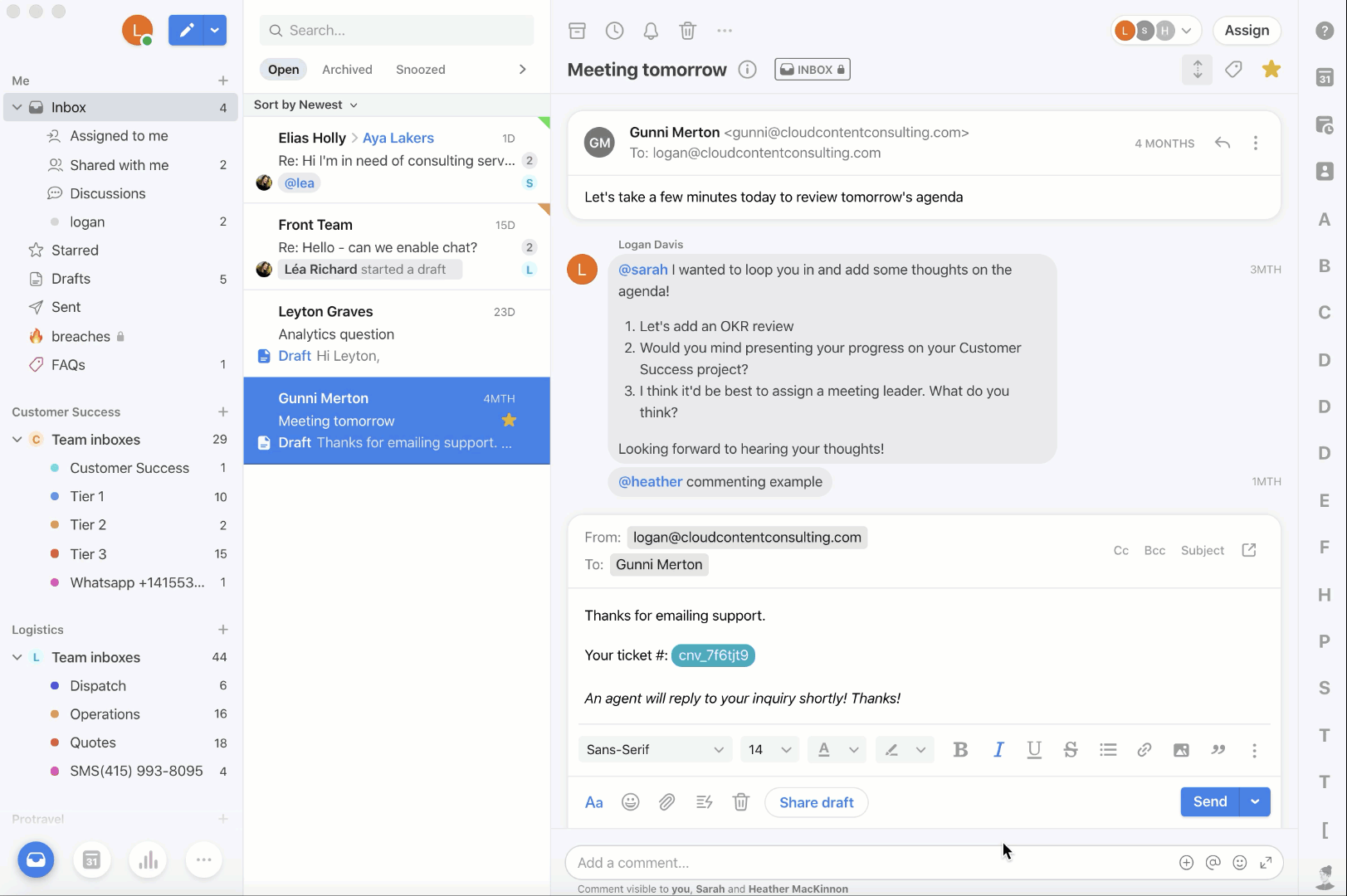 Share this guide
Want to see Front in action? Get started!