Guide - 5 min read
Get started in Front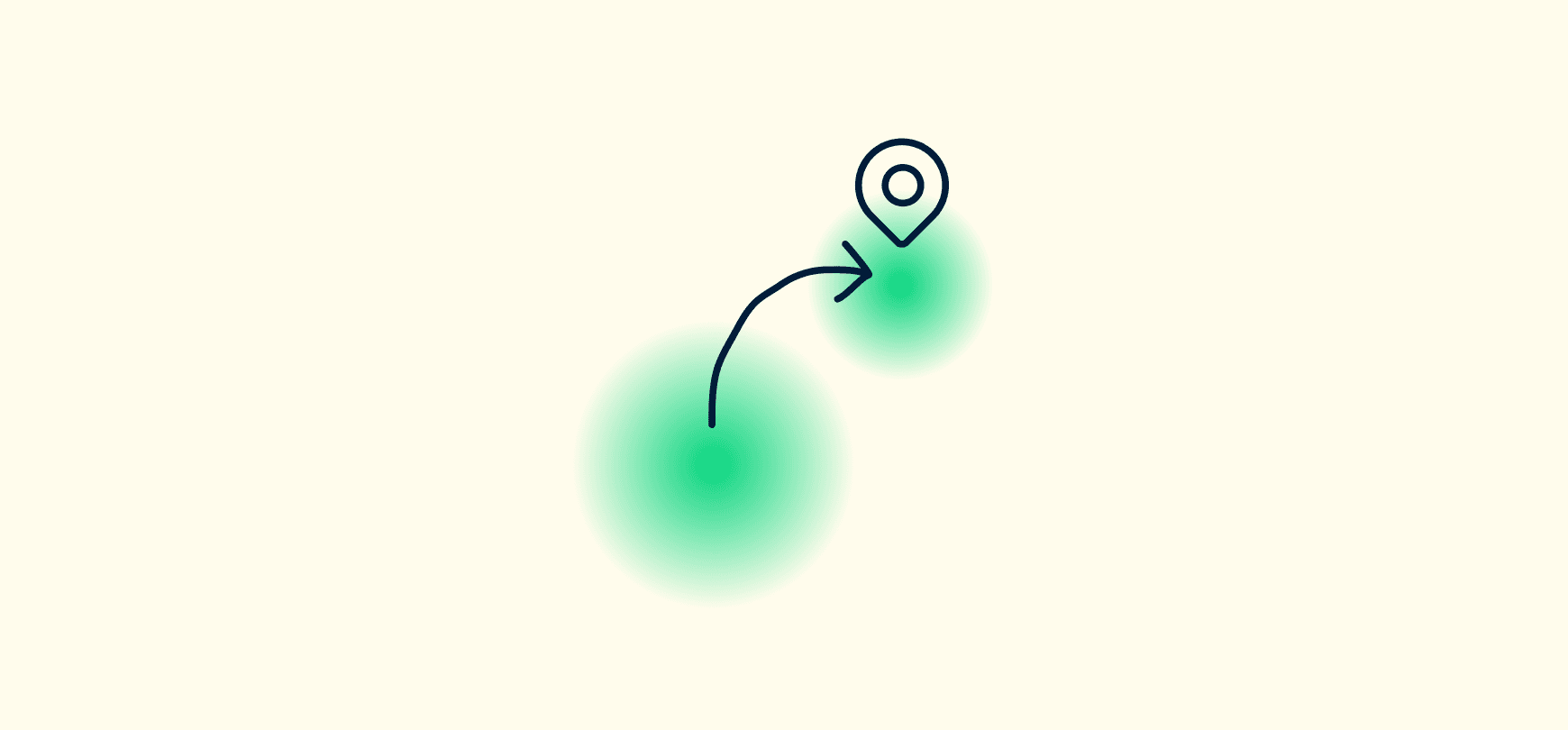 Welcome to Front! We couldn't be happier to have you along for the ride. Here we'll give you all the details you need to know when you're setting up Front for your team. You'll learn how to:
Set up your new workspace

Create shared inboxes

Collaborate with your team

Create team tags, rules, and message templates

Connect integrations
Read through this guide to make sure you set up Front exactly how your team needs. After that, you'll be ready to invite your team to Front. Let's dive in!
#Setup
Set up your new workspace
We'll start by familiarizing you with your workspace. If you haven't already, watch our video on how to navigate Front so you're comfortable here. Begin to play around a bit and personalize your space:
Make your profile personal by adding a picture, specifying your user name, and setting up your personal signature. You can do all of this in your settings.

Set up your notifications so you never miss a message (but you still get your focus time!).

Click into your calendar on the right side panel so you don't have to leave your inbox to schedule or join meetings. If you're a Gmail of Office365 user and have added your personal email (rather than just a team email), you can sign in to get Calendar going.

Try sending an email to a friend! From their perspective, it'll look like a regular old email.

Subscribe to and mute conversations to prioritize your inbox.
#Shared inboxes
Create shared inboxes
In Front, your shared inboxes are called Team Inboxes. Team inboxes are where you and your team will manage and collaborate on messages together. Channels are the different types of messages you can add to Front, like Twitter, SMS text, live chat, and more. Inboxes can contain many different Channels.
Here are some popular inboxes we have set up at Front:
Sales: A team inbox for inbound leads that includes a channel for our inbound sales email and a channel for our business's social pages (e.g. Facebook)

Support: A team inbox for customer support. We add a channel for our support email, and another for our website chat (e.g.Intercom, Smooch, Front Chat, etc.)

Marketing: A team inbox for all inquiries about PR, partnerships, and content.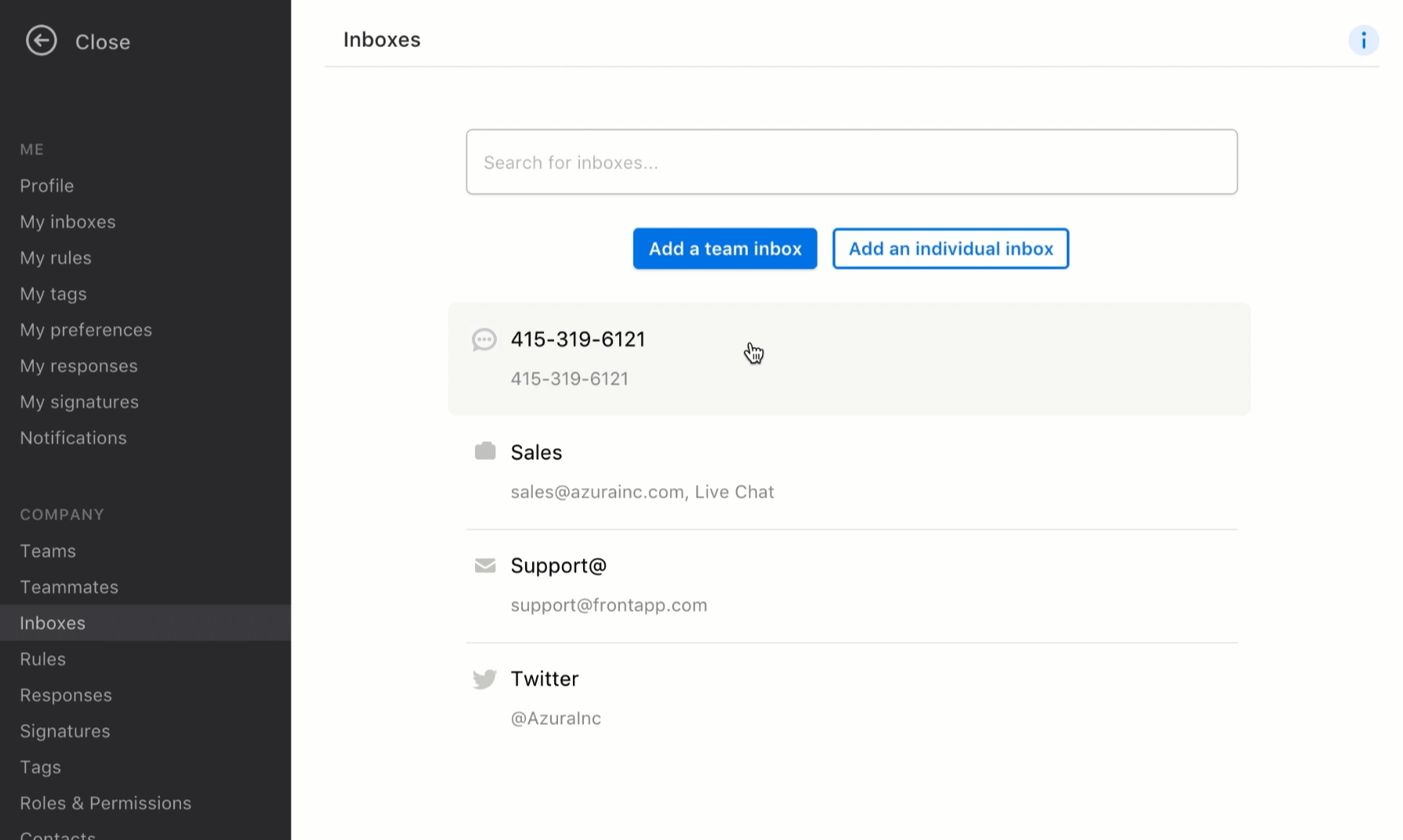 #Collaborate
Collaborate with your team
Now that you've set up the basics, it's time to start playing around with all the different ways your team can work together. Try these actions in Front — they're game-changing features you won't find in regular email: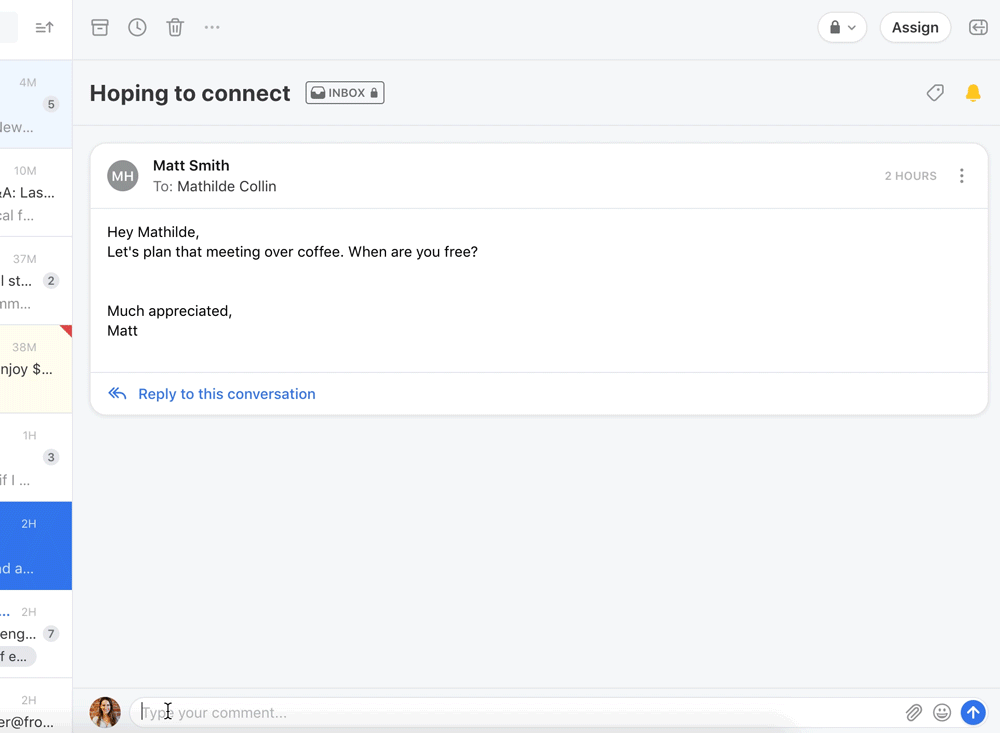 #Automate
Create team tags, rules, and message templates
Once you have a shared inbox set up, it's time to personalize Front for your team. You can start by creating a team tag, a rule, and a message template.
Tags allow you and your team to categorize messages and prioritize work. We like to create tags for:
VIP customers

High value prospects

Refund request

Urgent messages

Bugs
Learn more about setting up Tags.
Rules let you automate communication and assignment processes so you and your team don't get bogged down with time consuming administrative tasks. An example of a rule would be:
When: there's an inbound message
If: the inbox is [inbox name] and from an email address that contains [@domainname.com]
Then: Add tag [select tag]
You can customize rules in a variety of ways to fit your team's needs. Some examples are:
Time-based rules

Routing rules

Archiving rules

Tagging rules

After hours rules
Read this guide for all the details about rules.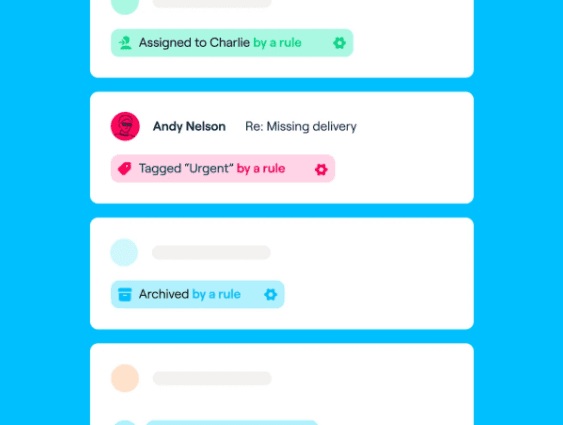 Message templates save you and your team time. When you're writing a reply you write often, you can create and save a message template, then select it next time you come across a similar message. Message templates are especially useful for things like:
FAQ style emails

Billing questions

Meeting requests

Proposals and pricing

After-hours responses
Learn more about creating and using message templates. Now it's your turn: Take a moment to create one of each:
A team tag

A rule

A message template

A personal signature
Read more about automating your workflow in Front.
#Integrations
Connect integrations
The last step is connecting Front to the other apps you and your team rely on. Make sure the tools that your team loves are connected by setting up your integrations. You'll find that there are already some common integrations connected in your integration panel, like Salesforce or Shopify, so all you'll need to do is sign in to those apps to get started. Here are some customer favorites:
Salesforce

Asana

Jira

Github

Nicereply

Hubspot

Pipedrive

Aircall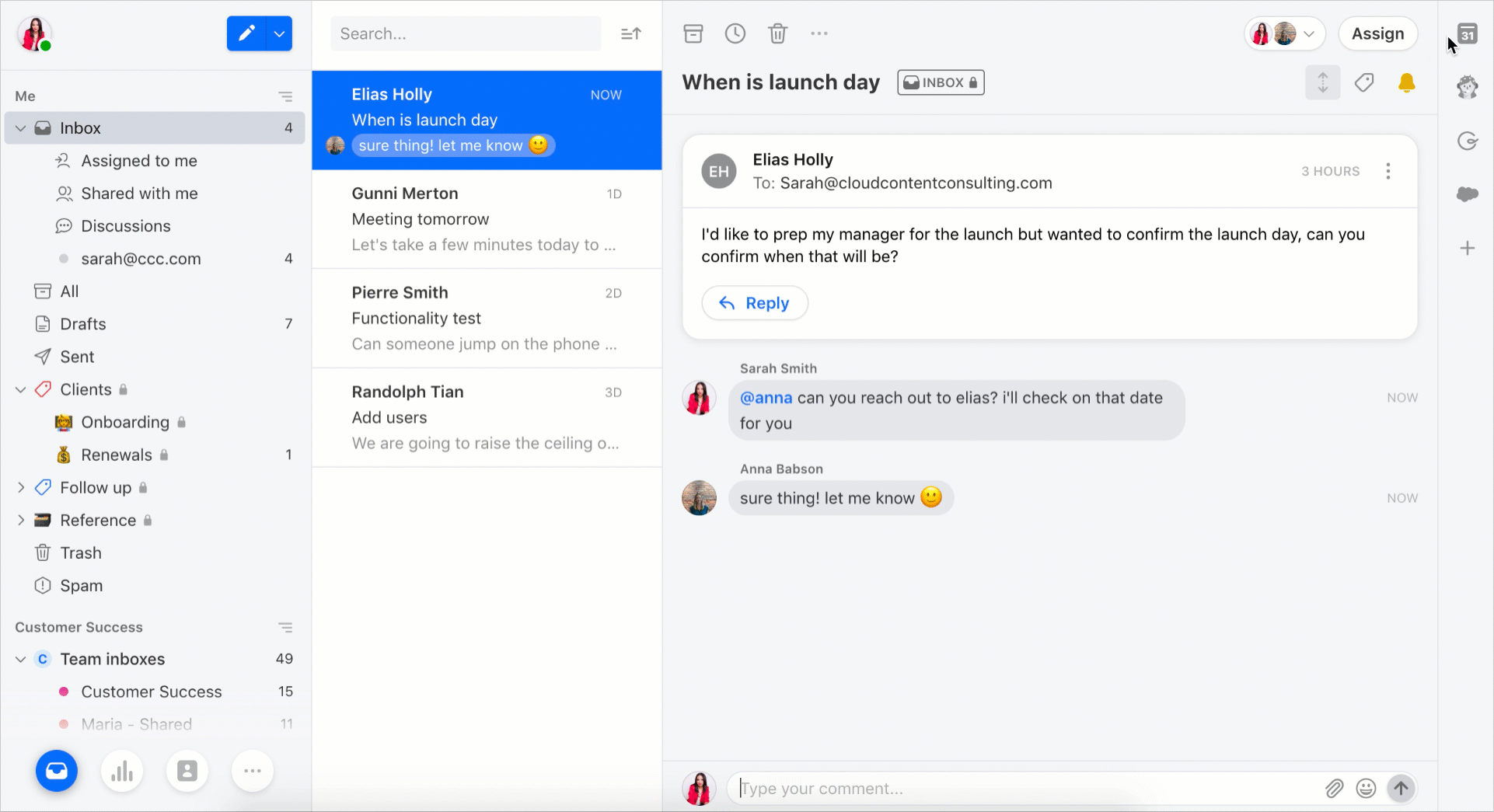 Read more about integrations.
#Invite team
Invite your team to Front
Now, take a minute to congratulate yourself: Front is lookin' good for your team! Double check with this checklist before reading on, where we'll outline everything you need to know to invite your team to Front.
This is also a great time to set up team email signatures for your teammates to ensure email signatures are the same across your organization.
Learn more about creating team signatures.
Next steps
It can feel like a leap to leave behind your routine email structure and communication process, but we know that once you're set up properly your team, clients, and inbox will all be thankful. Take a moment to set your team up for success and make sure nothing's missed. If you're ready for more, check out these resources:
Share this guide
Want to see Front in action? Get started!