Front Glossary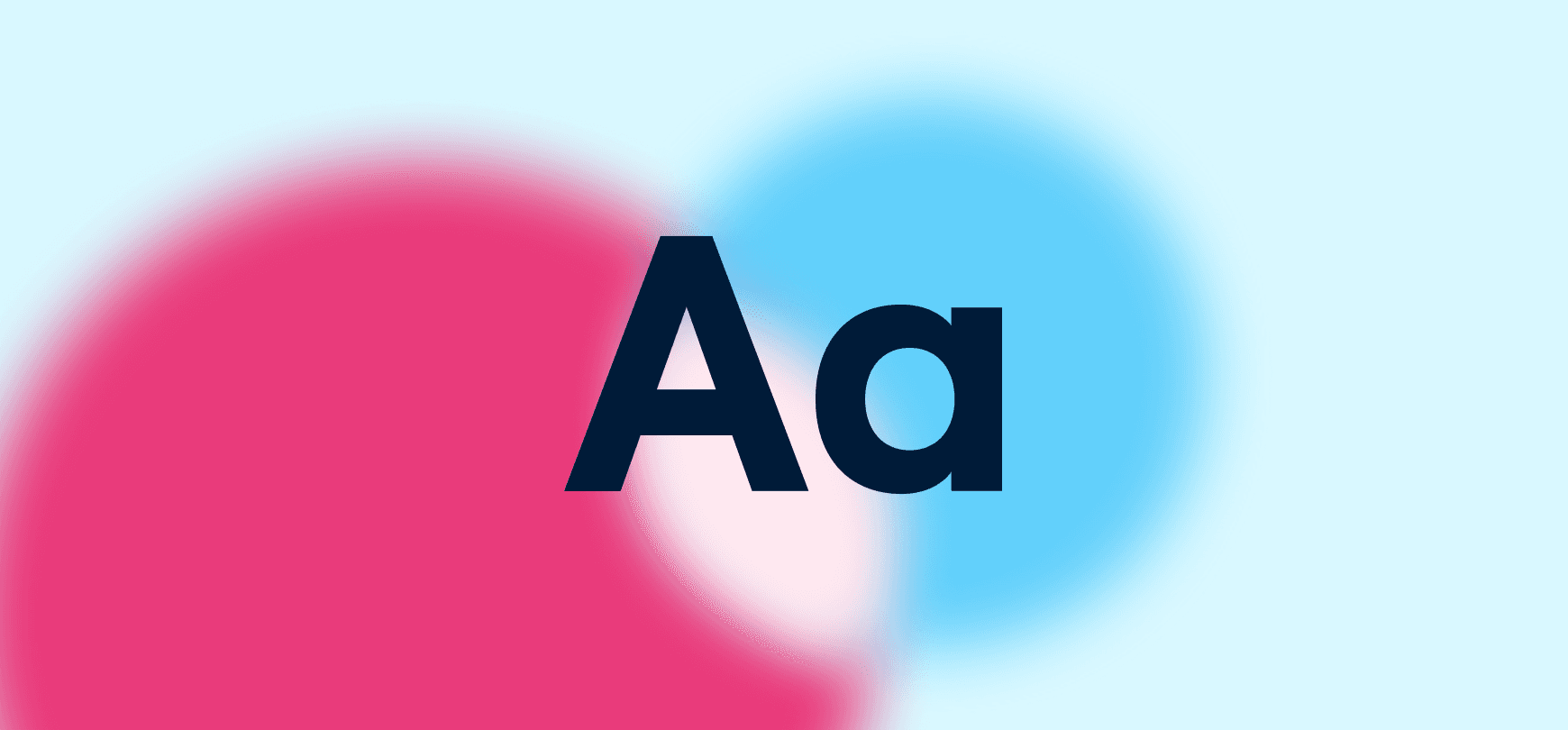 A
Analytics
Front Analytics is a way to measure your team's success, and can be accessed by clicking the graph icon in the lower left corner of Front. It provides a dashboard that summarizes four key metrics: 
Conversations – the volume and type of each message entering an inbox

Team – the performance of individuals, such as response time and how many messages they are handling

Productivity – the experience your customers are having, shown through resolution and response times

Customers - how your team divides time between customers
You can customize the report to view certain times, only business hours, or compare past and current months. Reports are easily exported so you can share them with your team or clients.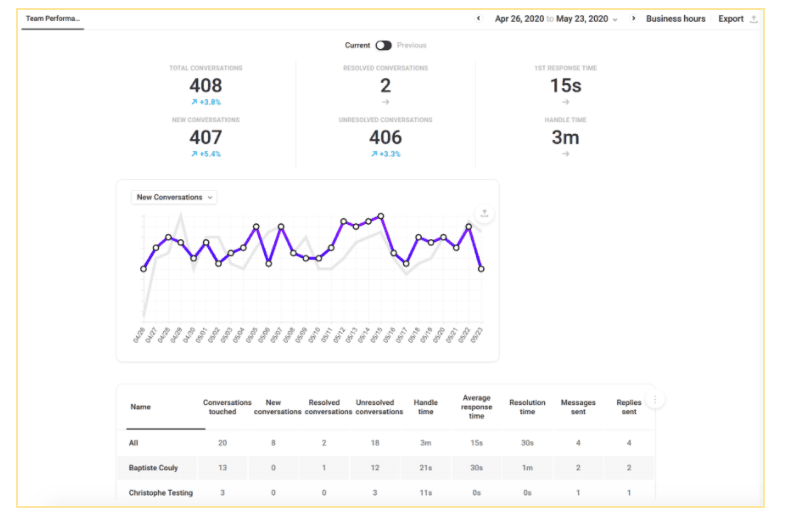 Assigned conversations
A conversation from any channel (i.e. an email or request) that is assigned to someone specific. Once a message is assigned, it will show up in the assignee's personal inbox and be removed from the team inbox. Assigning a conversation is a way to make it clear who should handle the message, and a way to help your team prioritize an influx of messages. 
Assigned to me
A section of your individual workspace that houses all the conversations that are assigned to you from team inboxes or other teammates' private inboxes.
B
Business hours
Business hours are the hours during the day in which business is commonly conducted. Typical business hours vary widely by country. In Front, this is the time range you have set up in your Analytics section, in which your team is expected to respond to customers. 
C
Calendar
Front Calendar makes scheduling meetings and managing your calendar from your inbox easy. It's enabled for your Front account by default. You can schedule, edit, view others' calendars, and join meetings all from Front. 
Channel
An account you add into Front that feeds messages into an inbox and that you can reply from. There can be multiple channels in an inbox. Channel types include email, SMS, Twitter, Facebook, Intercom, Front Chat, and more.
Comments
Under any message in Front, you'll find a bar that says "Add a comment…" where you can comment directly on an email and @mention someone to loop them in. This is called the comment bar. By using comments rather than forwarding or copying someone, you avoid messy email chains that distract from alignment. Comments let you easily collaborate on emails, and are only seen by the people you @mention. That means that external recipients, like the people the email is addressed to, will not see the comments. 
Conversation
A thread consisting of one or more messages from any channel (email, SMS, Twitter, Facebook, etc.).
Conversation list
The list of messages in your personal inbox. You can sort through open, archived, or snoozed emails in your conversation list.
Conversation summary
A popup box accessed by clicking the information icon next to a conversation's subject line, showing the attachments, participants, and details of a conversation at a high level.
D
Delegated inboxes
A feature that allows your teammates to view the conversations in your inbox, and take actions like archiving or snoozing for you. They can also reply to conversations in your inbox but will reply from their own email address (they cannot reply as you).
When you delegate your inbox to a teammate and share all sections of your inbox, they will also see any private tags you've pinned to your workspace. This is a great tool if you're OOO.
Discussions
Internal discussions enable you to have quick chats with your teammates, right in Front. Instead of commenting on an external email or other customer message, you can set a topic and start a new, standalone conversation with your teammates. That way, you handle internal work and conversations without leaving your inbox, so everything is saved and tracked in one place.
Use discussions when you're working with teammates on a completely internal topic and there's no external email or message to kick things off. Set a topic like "Planning for our offsite" or "Final draft of meeting deck", invite teammates, and start chatting instead of sending an email or pinging them in a chat tool.
Do not disturb
Temporarily mute any notifications you've set up by turning on Do Not Disturb, accessed by clicking your avatar and on the bell icon. You can also set up a daily Do Not Disturb schedule
E
Empty inbox
An inbox without any channels within, which you can move conversations into for categorization.
Expand/collapse all messages
A double-arrow icon at the top right of each conversation to allow you to expand or collapse all messages with one click.
I
Individual inbox
Your private, personal inbox It syncs with your email provider (like Gmail or Outlook) and hosts all of your personal emails. It can be found in the navigation panel, and within it you can prioritize your work the way you like with starred emails, personal tags, and more.
Individual or personal workspace
A term used to reference your personal view of Front. This means all the personal tags and shared inboxes you have pinned, the integrations you have, etc.
Integration panel
The expanded vertical sidebar on the right edge of your Front inbox. You can access, view all content, and take action on all integrations from the integration panel. 
Integration switcher
The collapsed vertical sidebar on the right edge of your Front inbox. You will see a list of icons that represent each integration you have pinned as a favorite.
Integrations
An API enabled connection between Front and another software. You can integrate with your favorite tools for easy access to customer data and other apps from your inbox. For instance, Salesforce is a common integration, meaning it can be accessed in the integration panel and the tool — including its data — can be seen and used without leaving Front or opening the separate application.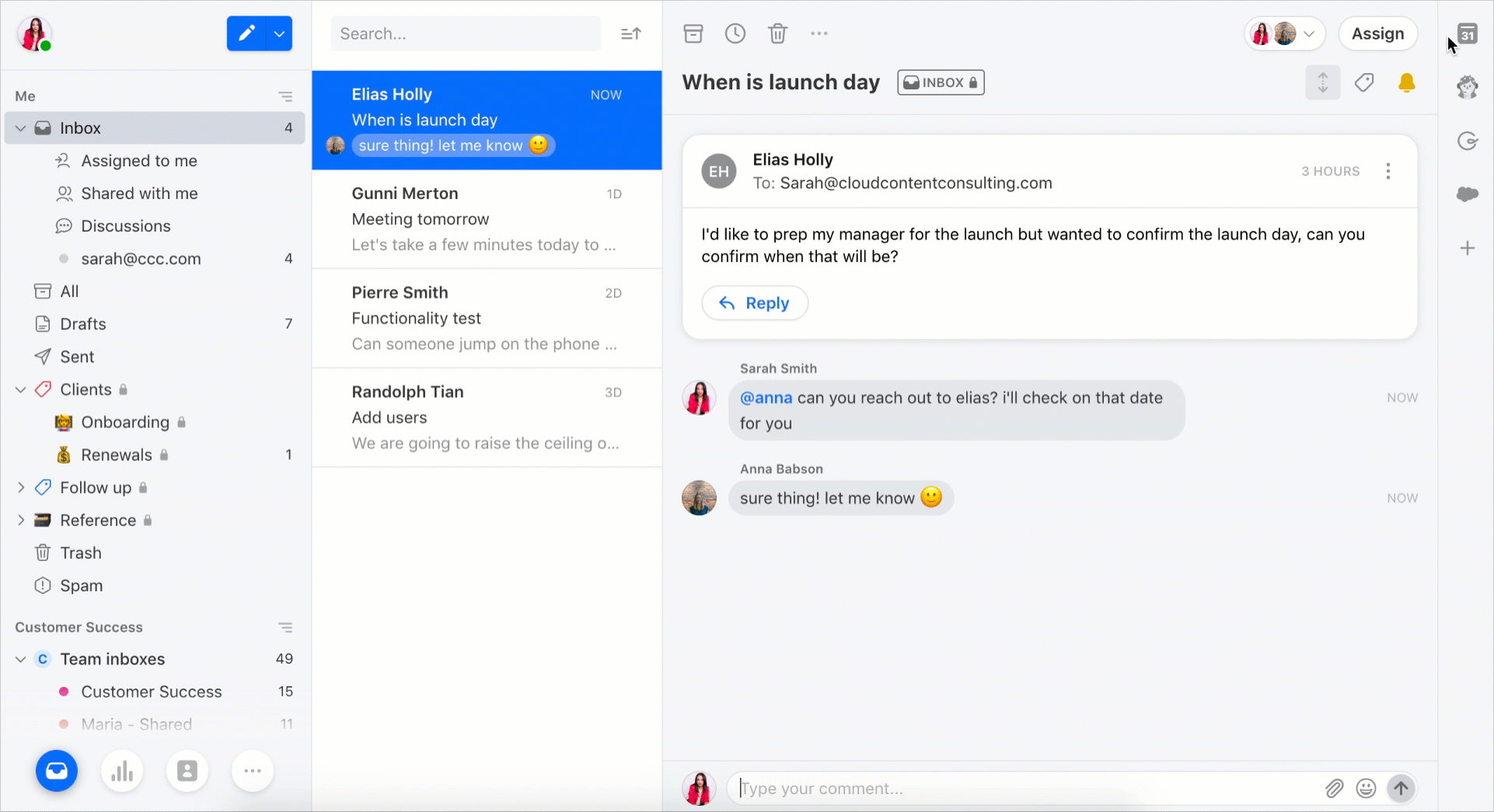 M
Mention
A term for looping another teammate into a comment or thread. For instance, if I wanted Sarah to chime in on a conversation, I would mention her by typing "@sarah."
Message list
The vertical section of Front to the right of the navigation panel. It features a list of all opened, archived, and snoozed messages and conversations. You can sort it by Newest, Oldest, Newest Unreplied, and Oldest Unreplied.
Message panel
The vertical section to the right of your message list. This is where you'll find a close-up view of conversations you click on and all the details, or it will be empty if you're at inbox zero. 
Message templates
Message templates (previously known as canned responses) are your saved responses to common questions. They allow you to respond faster to inbound messages, to lessen the repetitive nature of replying to frequently asked questions, and for your team to have a unified voice in what you tell your customers.
Front allows you to create individual and team message templates. Individual message templates are visible to only you, and team message templates can be visible to your teammates. Both admins and regular team members can create message templates, and they can be edited anytime. 
N
Navigation panel
The vertical sidebar on the far left side of Front. It features all of your personal inbox — including starred messages, drafts, discussions that are shared with you, and personal tags — as well as any pinned shared inboxes and assigned conversations. 
Notifications
Alerts you can enable and receive when activities occur in Front. For instance, a ping when you receive a new email.
Notify
An action from a rule that will create a copy of the conversation in a user's "Shared with me" section for them to read and action on.
P
Participants
The people involved in a conversation on Front. Participants are listed in the participants menu.
Participants menu
A list of all people involved in a conversation and when they've last read it. The participants menu is found at the top of the conversation and will have a variety of icons or images of the people in a conversation. When it's a private conversation in your individual inbox and no one else has access, you'll see a lock icon, and when it's a conversation in a team inbox, you'll see a people icon.
Personal tag
Personal tags are ways to categorize, organize, and prioritize messages. When a message comes into your inbox, you can move it to a tag (which functions similar to a folder) or create a rule that automatically tags a message by keyword, sender, or more. 
Plugin
A type of integration that is shown as a widget in the expandable integration panel on the right side of Front.
Private signature
A signature you set and select as your sign off for messages. 
R
Rules
Front's rules engine allows you to automate your workflows. Rules can help you handle repetitive tasks to save time and increase your team's efficiency in Front. You can create rules for your team, your personal workspace, or your whole company. Team rules are applied to any shared inbox and can only be created by Admins. Individual rules will apply to your individual inbox, but not internal discussions. Company rules can apply to all individual and/or shared inboxes and can only be created by company admins. Like other advanced rules, company rules are available on the Prime plan and above. 
S
Sent folder
Messages that you have sent specifically from Front will show here. If you have a two-way sync with Gmail or Office 365, the messages you sent from Gmail or Office 365 will not show here. 
Service Level Agreement (SLA)
An SLA, or Service Level Agreement, is a goal or agreed-upon amount of time for businesses to respond or resolve client messages. SLAs help ensure businesses hit their service goals and meet their customers' expectations. Front's email SLAs enable your team to respond to every message on time and easily share specific response time metrics with your clients — without giving up the personalized experience of email. Think of email SLAs as an extension of Front's custom rules that simplify creating, managing, and reporting on client communication performance.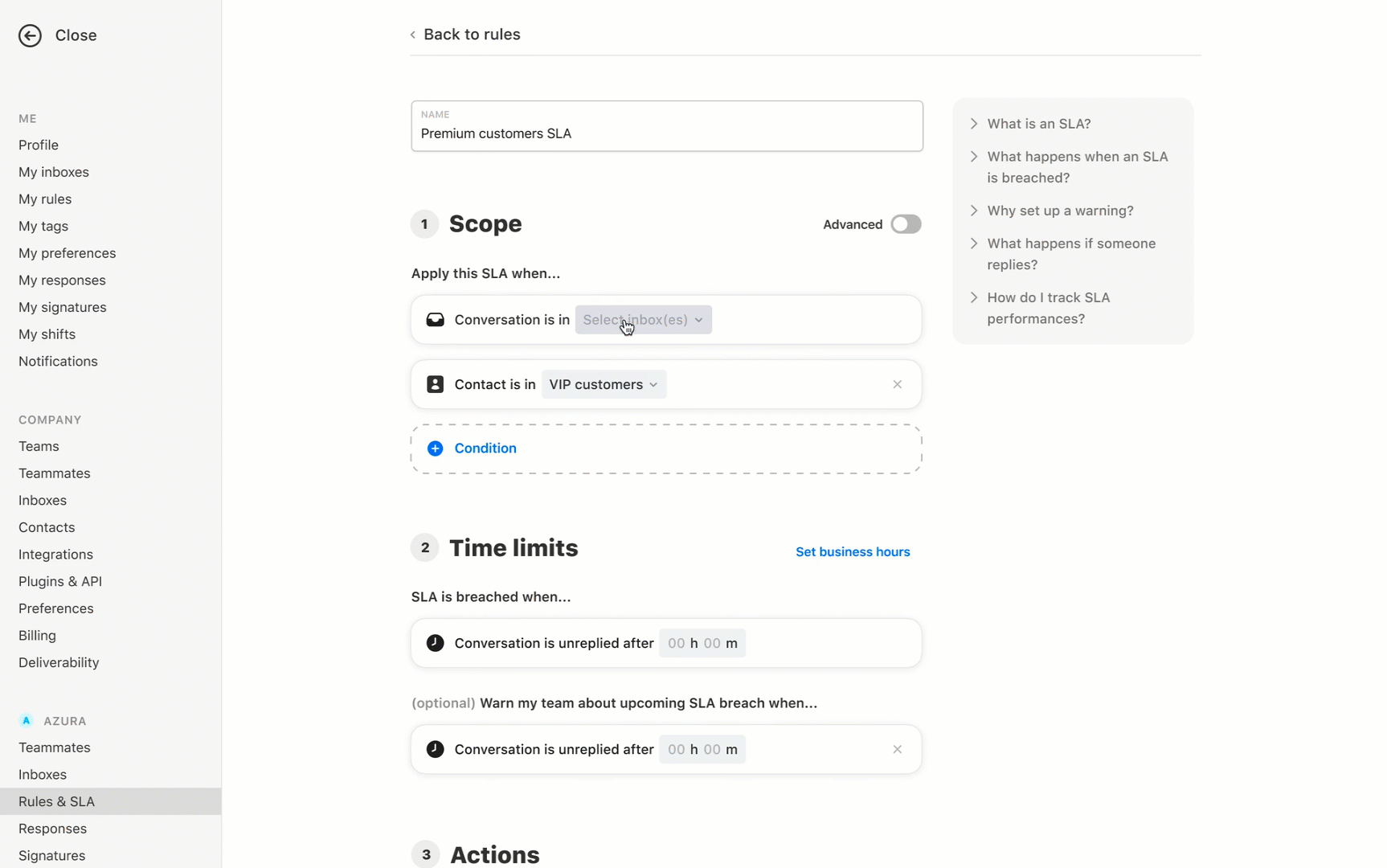 Shared inbox
A shared inbox is an email inbox that many teammates can access to send and receive emails from the same group address, like [email protected]
Shared with me
A sub-section of your individual workspace that shows all the conversations that you are following or where someone mentioned you. 
Shifts
Front's Shifts allow admins to easily set shift schedules for your team. Shifts are available on our Enterprise Plan. Shifts automatically manage when teammates are available to be assigned conversations, so new customer messages aren't missed when shifts change.
Snooze
A feature that allows you to hide a message in your inbox until later, or make a sent message reappear for follow-up. With snooze, you can set a time for a message to reopen in your inbox exactly when you want it to. The snooze is available in two ways:
Snoozing the conversation using the clock icon at the top of the conversation.

Using the Send & Snooze button in your composer when you send a message.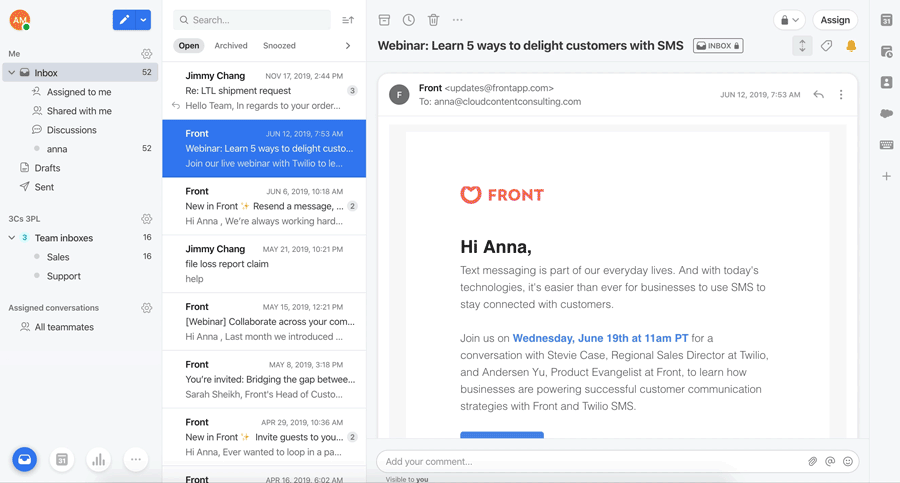 Starred
You can quickly star any conversation that you want to find later, and those conversations will appear in the Starred section below your individual inbox. You can also drag and drop conversations into the section to apply the star, which will move the conversation out of the original location and file it into the Starred section. You can unstar the conversation to return it to the original inbox.
Status
Your availability status in Front that is set by clicking your avatar, and on the bell. You can set yourself to Out-of-office or Available. If you set to Out-of-office, any new inbound messages in your assigned conversations will cause the conversations to unassign so that your teammates can handle them. When teammates mention you and look on the Teammates list, they will also see a red bubble to indicate that you are not available.
Subscribe vs. Mute
When you're a participant in a conversation in Front, you have two options: to subscribe to the conversation, or to mute it. You can think of this like "following" or "unfollowing" a thread on social media. If you're subscribed, you will see all new replies and comments in the conversation in your inbox. If you've muted, the conversation will archive and only pop up again in your inbox if you are @mentioned specifically.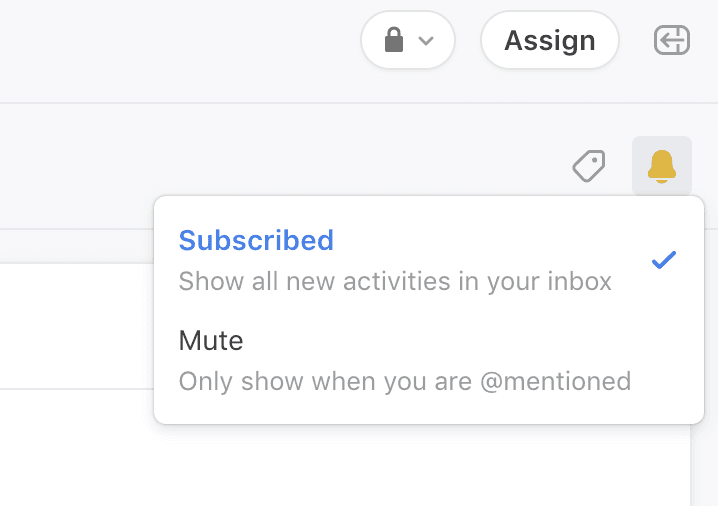 T
Team inbox
Front allows your team to manage shared inboxes more effectively. For addresses similar to [email protected] or [email protected] , multiple teammates can collaborate on replies and, ultimately, provide faster resolution times. Team inboxes can include multiple communication channels.
Emails arriving in a team inbox will be visible to all teammates who have access to the inbox. Only admins can give a teammate access to a team inbox. If one teammate reads an email in a team inbox, it still appears as unread to other teammates. However, if one teammate replies to and archives an email in a team inbox, the email is archived for all teammates. That way, work is never duplicated.
Team rules
Front's rules engine allows you to automate your workflows. Rules can help you handle repetitive tasks to save time and increase your team's efficiency in Front. Team rules are applied to any shared inbox and can only be created by Admins.
Team signatures
Admins can create multiple team signatures for all teammates on their team to use for email channels so they have a unified response. Signatures are only for email channels and not chat, SMS, Twitter, etc.
Team tags
Team tags are ways to categorize, organize, and prioritize messages. When a message is in a team inbox, you can move it to a tag to prioritize work or create a rule that automatically tags a message by keyword, sender, or more. Common team tags are "urgent" or "VIP."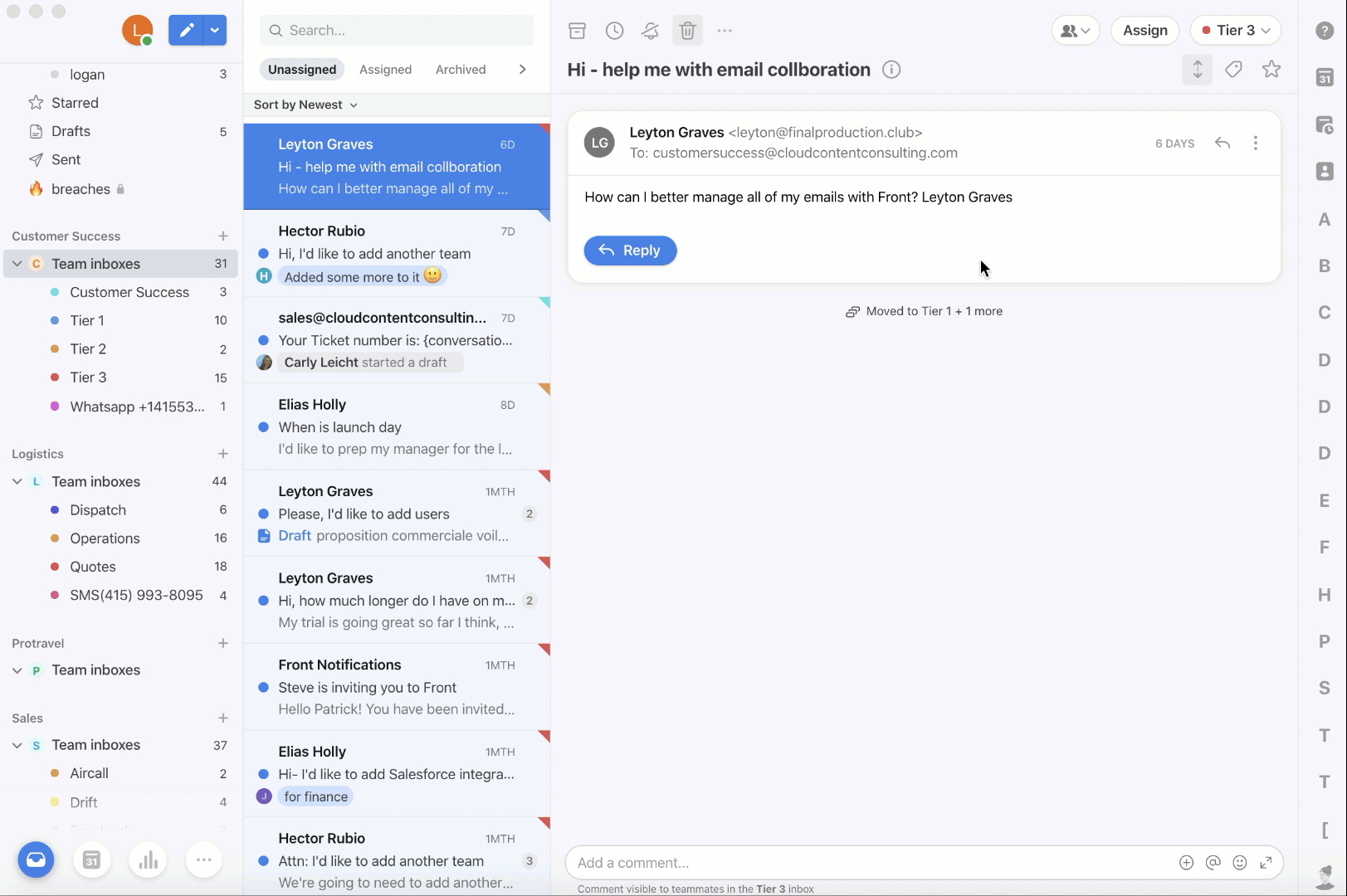 Team workspace
All the tags and inboxes that show up on the left side panel of Front that live under a team inbox. You can curate the list of team inboxes that show on your navigation panel.
Teammates list
The list of teammates on the bottom left of Front. You can pin and unpin teammates to show here, and you can see their assigned conversations that you have access to.
Was this content helpful?
Want to see Front in action? Get started!