Customer Story - 3 min read
How MNX uses Front to manage high email volume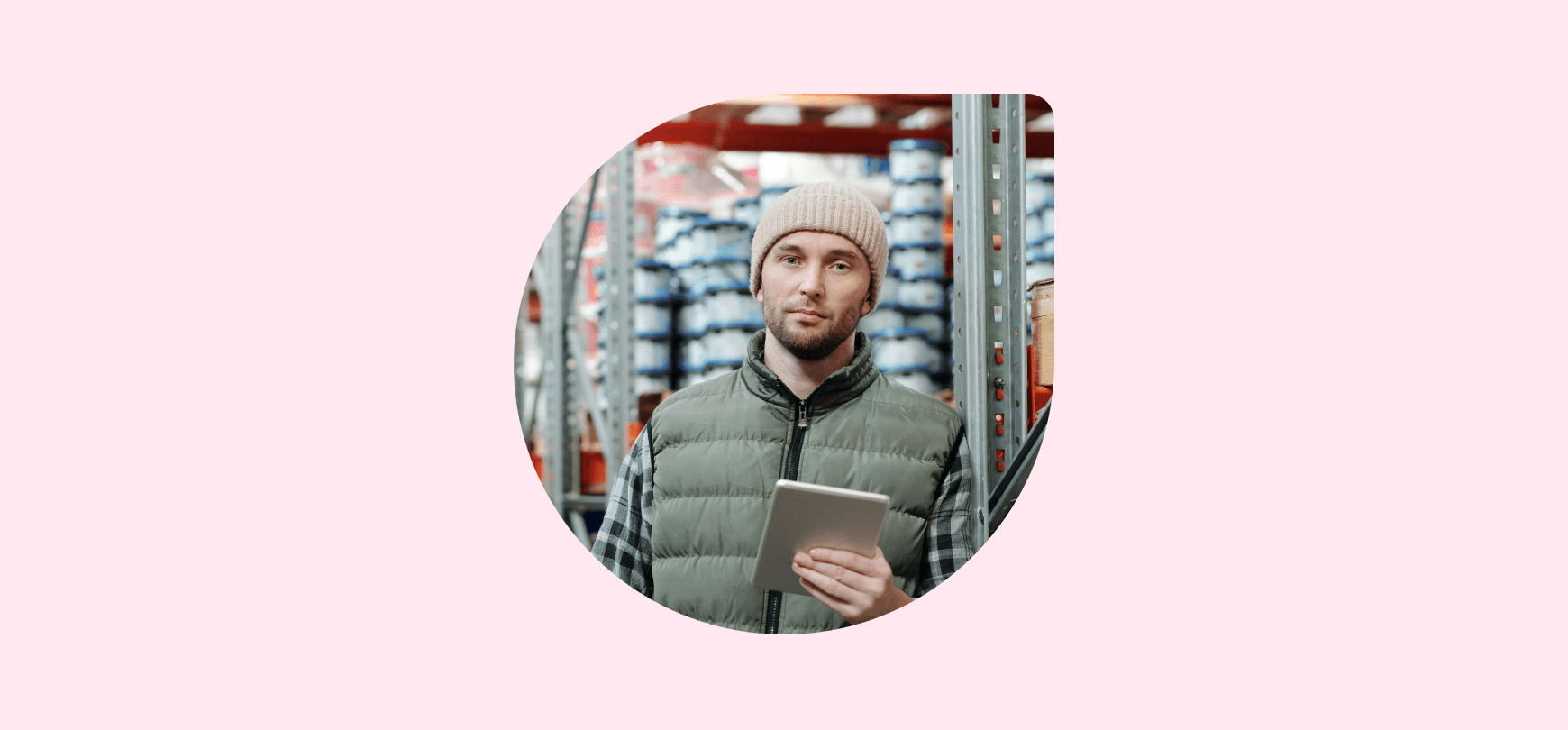 MNX Global is a premium logistics provider that provides customized, expedited transport for the biopharmaceutical, life sciences, medical device, aviation, and entertainment industries in more than 190 countries. With 24/7 client service spread across multiple continents, they use Front to manage high email volume and stay on top of response time goals.
Originally, they used Outlook to manage high email volume. According to Director of Aviation Services Douglas Kurtz, Outlook couldn't quickly triage or assign emails, or provide them will visibility into the audit trail of a message or success metrics. They switched to Front so that could collaborate effectively and work more efficiently. They've used Front's automated Rules and SLAs to help their team reply faster to customers, and they rely heavily on Analytics to give them insights to make more informed decisions. All this automation enables them to be more productive and stay on top of demand. Automate message routing with Rules that will triage, categorize and assign messages for you. When there's high email volume, there's no time to comb through the messages manually and give them an owner or categorize them – that's where rules come in . SLAs make it easy to reach response time goals by escalating messages – with a direct assignment, 'Breach warning' tag, or even sending them to an 'Urgent' Slack channel – that are close to a breach. Analytics turn insights into improvements to help teams understand how their team is performing, their customer needs, and busiest hours, among other things. By paying attention to these insights, teams can know when to hire, who needs more support, and how to improve customer experience.
Rules and SLAs have helped MNX ensure every time-critical message gets into the right hands so they can reply quickly, while analytics has helped them track business-critical metrics, set team benchmarks, and make informed decisions for the future.
Do it yourself
Rules
Automatically assign or move emails based on message content. For example, if your teammate, Sarah, responds to all billing questions, create a rule to assign any message containing "billing" to Sarah. Step 1 Go to Settings by clicking on your avatar in the top left → Rules & SLA → Add team rule Step 2 Set the When trigger to Inbound messages. Step 3 Set the If condition to:
Inbox is the team inbox this rule should apply (e.g. Support inbox), AND

Subject contains and Body contains to the word of your choice (e.g. billing). Ensure these are connected by an OR condition.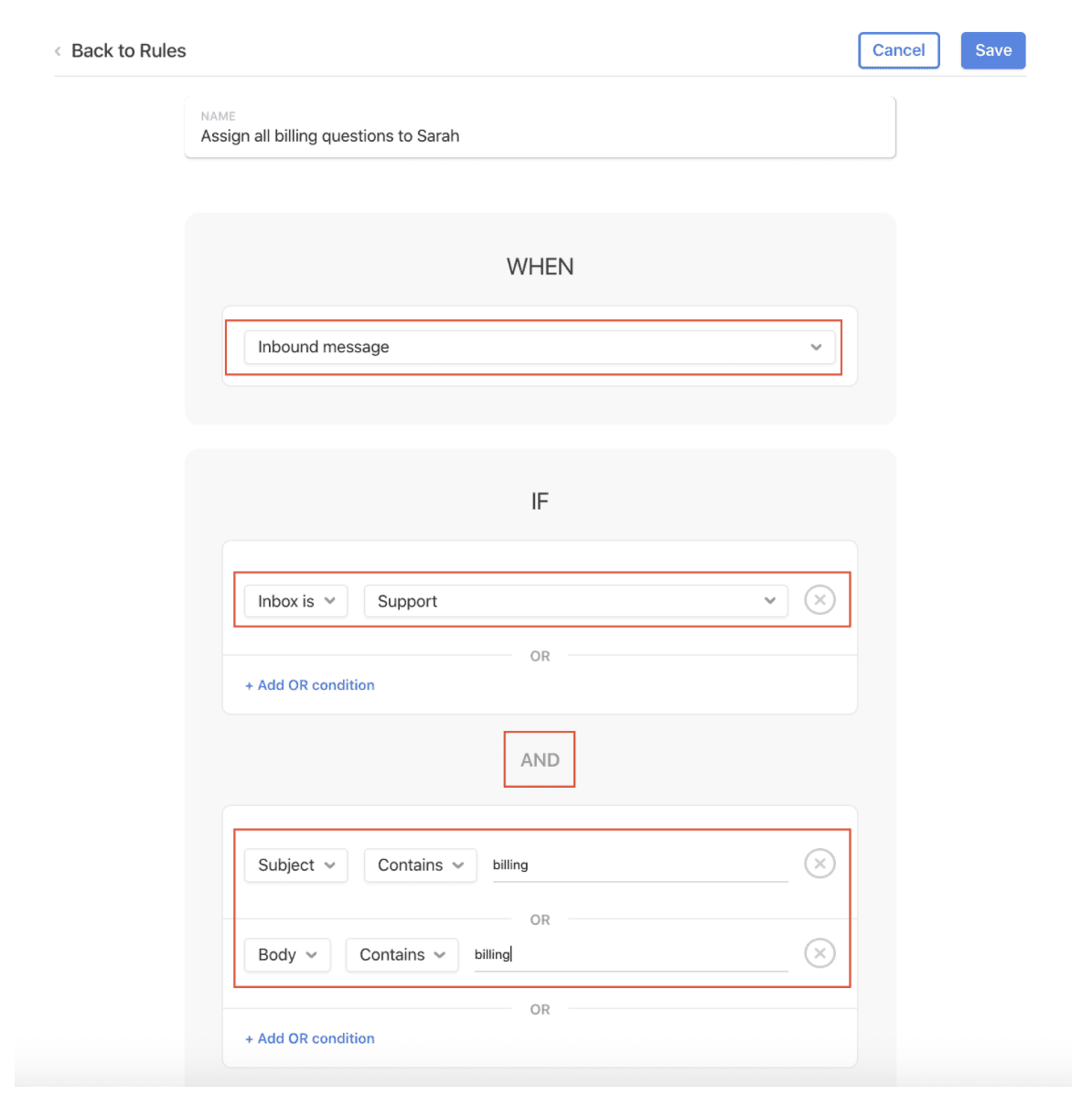 Step 4 Set the Then action to either of the below:
Assign toteammate action to assign it to one specific person. Alternatively, you can also Assign in group to distribute the emails amongst several teammates (an advanced rule condition).

Move to inbox action to move it to a different inbox.
Tip: Click Add action and add a tagging action. This will help with general organization and future analytics reports.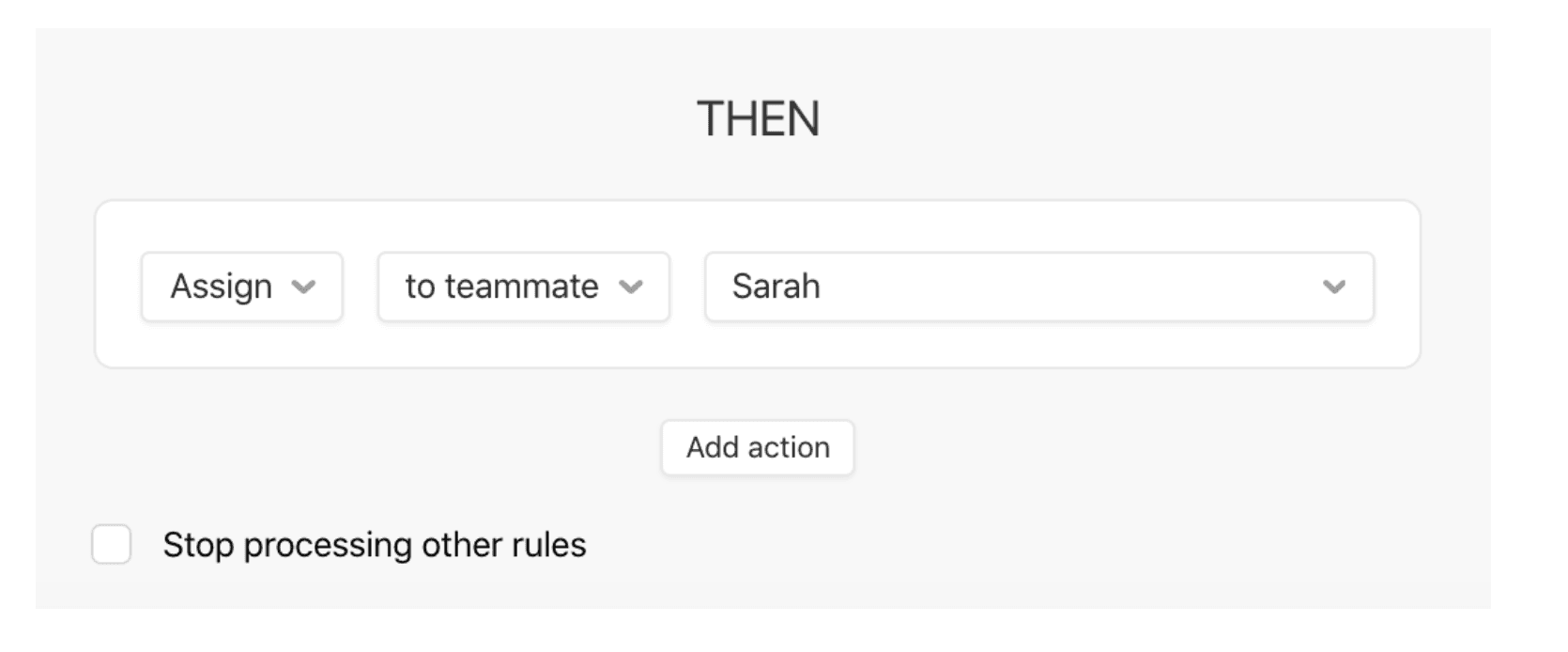 SLAs
Front's SLAs help teams create and achieve response time goals. You can customize your escalation path and have messages on the brink of a breach prioritized:
Tag it to alert your team

Set up custom notifications

Reassign to another teammate

Move to an urgent inbox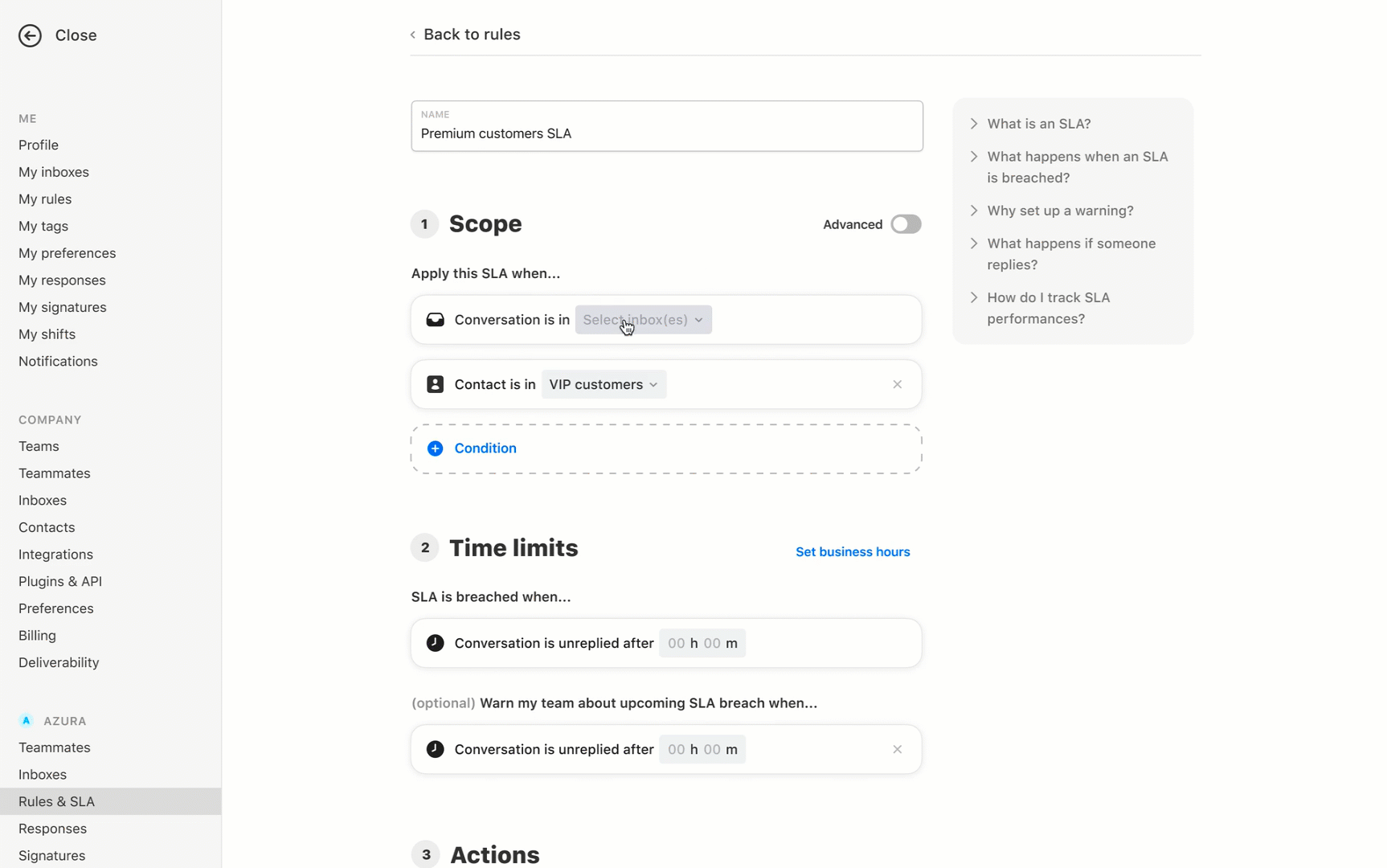 Then, view your SLA report to view analytics on how your team is tracking towards their goals. You can even share your SLA report with your team or customers to showcase how amazing your team is doing.
Analytics
MNX uses their Analytics tab to get insights into employee performance, customer needs, and more so they can constantly be improving their workflow.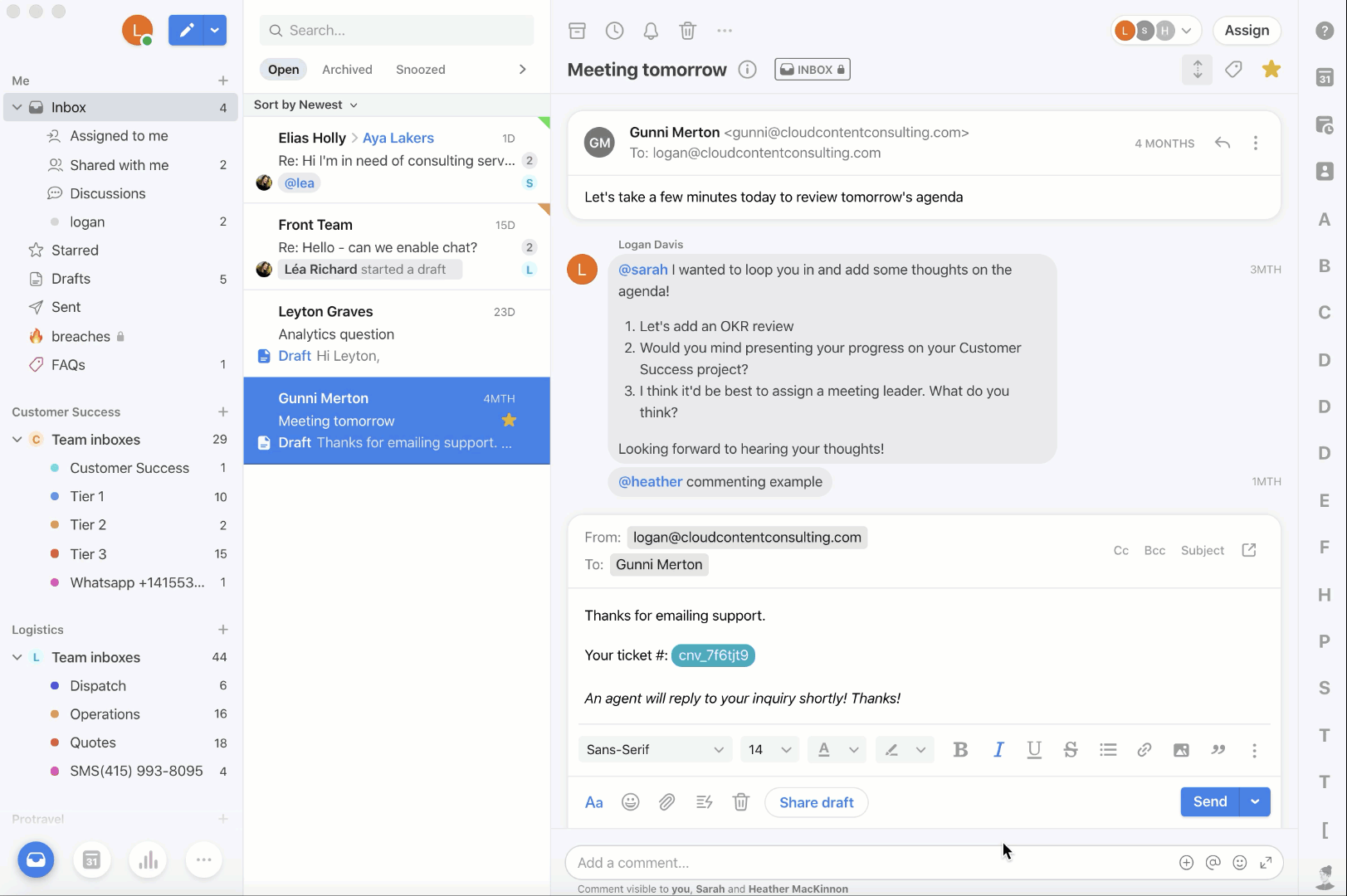 They're able to anticipate when it's time to hire by evaluating when their team is overwhelmed, see who's equipped to handle the largest deals, and anticipate their busiest hours.
Share this customer story
Was this customer story helpful?
Want to see Front in action? Get started!