One Pager - 4 min read
How to give your inbox a brain: Using rules in Front
Our inboxes make us do the same tasks, over and over, every single day.
We reply, archive, label, and delete. We mark as unread, forward, cc, enter data into CRMs, copy ideas into project management tools…the list goes on. Wouldn't your productivity skyrocket if you didn't have to worry about those time-consuming, repetitive tasks – if your inbox could handle them for you?
Good news! Using "rules" in Front is like giving your inbox a brain, so when you go to plow through your email everyday, some of your work is already done for you.
Rules come with endless possibilities for customization, and our customers use them to create amazing automations all the time. Here's everything you need to know to start making rules (you'll be whipping through your inbox at lightspeed!)
What are rules?
Rules let you automate workflows you often repeat by using "if, then" statements – guidelines that tell your inbox what to do with certain messages. For instance, "if an inbound message contains "urgent support", then add the tag "Urgent".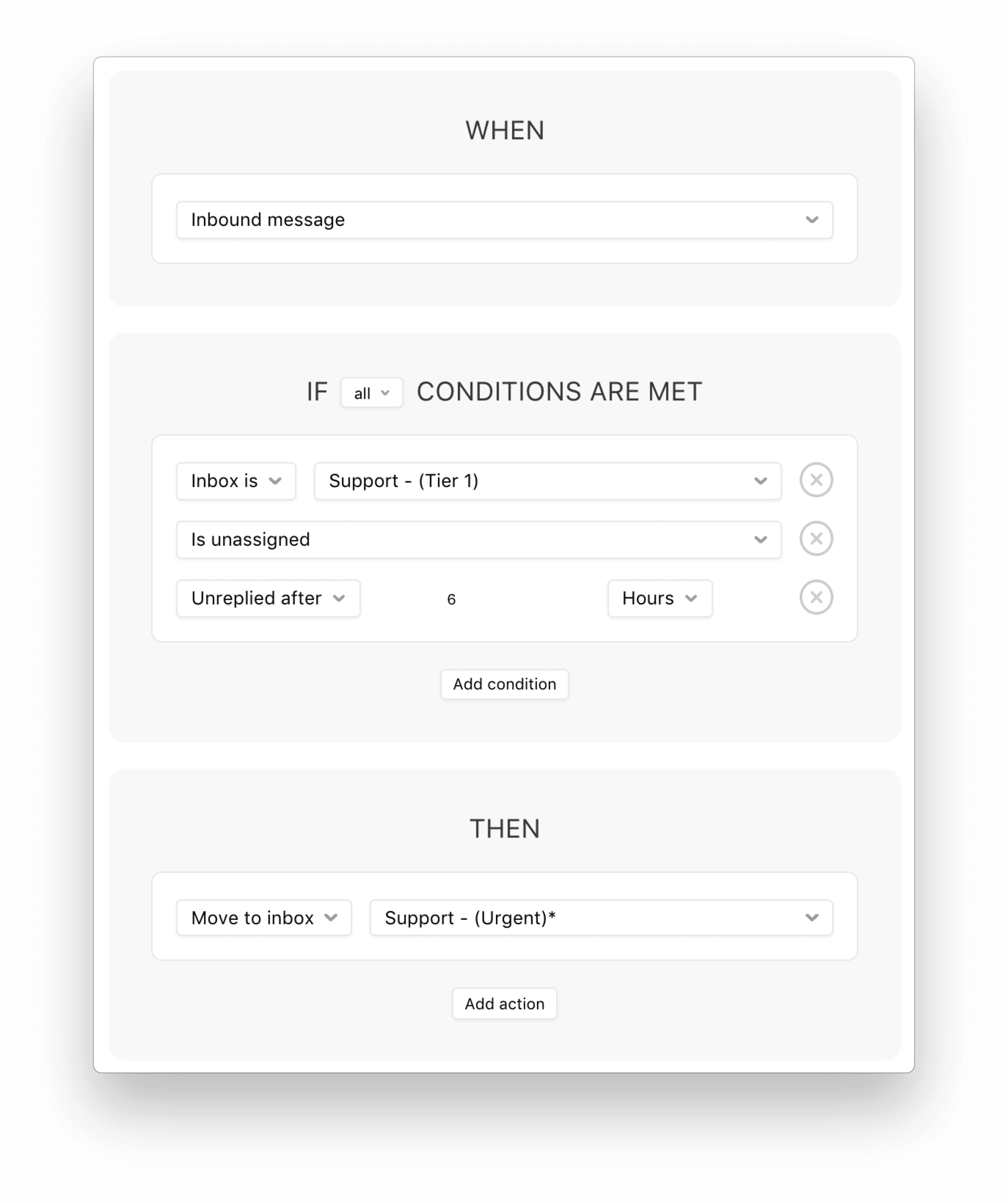 Types of rules
There are three kinds of rules: team rules, individual rules, and company rules.
Individual rules: only apply to messages in your individual inbox

Team rules: apply to messages in shared inboxes (only Team or Company admins can make these)

Company rules: apply to all messages in individual and shared inboxes (can only be created by company admins)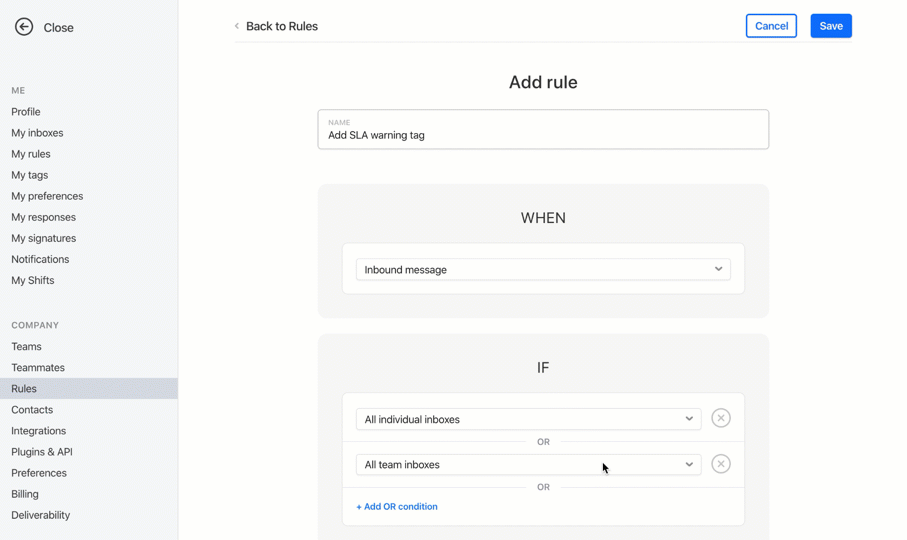 Above is a company rule, so it apples to individual and shared inboxes.
How to make a rule
1 - Select what type of message you'd like to apply the rule to – an inbound message to your support inbox, for instance.
2 - Add specific conditions – maybe when the message is from your VIP client, in the middle of the night.
3 - Set the outcome you want for it – say, the message automatically gets "assigned" in Front to your night-shift support agent.
4 - Voilà! Your inbox is now on autopilot.
Our most popular ways to use rules
Read on to discover some of our favorite ways to use rules, then browse our Front Rules Directory for more examples that can boost your team's productivity.
1. Route messages
Move messages exactly where you want them, as soon as you receive them. These rules help divvy up messages from group aliases evenly among team members, so everyone knows exactly what they're in charge of.
When to use it
Distribute new leads in a round-robin to members of your sales team.

Assign all support messages containing "refund" to your agent who handles refunding.
2. Auto-reply
Send a custom canned response to a message based on its body text, subject, sender, or time of day.
When to use it
Send a "We'll get back to you soon" to any message that's received from 9pm to 6am in your Support inbox.

Give a "thanks for applying" note to any message tagged as "Job Application."
3. Organize & categorize
Automatically add "tags" to incoming messages so your inbox always stays neat and tidy. You can also make rules to trigger actions to those tagged messages.
When to use it
Instantly tag anything that's from a @smith.com address as Urgent Support.

Automatically assign anything tagged as "Recruiting" to your recruiting coordinator.
4. Notify teammates
Make sure the right parties know about certain messages, every single time, without having to forward them the message. Teammates will get notifications in Front, as if you @mentioned them on the message yourself.
When to use it
Loop in your boss every time you get an email from a VIP client.

Give a heads up to the sales team when someone sends a message requesting a demo.
5. Set timers
Create time-based rules to send emails when it works best for you, and set time limits and follow-up reminders to make sure every message gets a prompt response.
When to use it
"Unassign" any messages your team receives between 3 and 5am.

If a message is unreplied after 2 hours, assign it to a specific teammate.
6. Auto-archive
It's like having a personal assistant who sweeps up your inbox before you open it each morning: automatically archive messages based on specific qualifications, so you only see what you really need.
When to use it
Archive a Salesforce record update message.

Archive retweets received from Twitter.
7. Integrate with other tools
Rules even help for parts of your workflow outside your inbox. Set rules to send information to some of your other apps – like Salesforce, Hipchat, or Slack.
When to use it
Automatically create a new opportunity in Salesforce when you receive a message from a potential lead.

Send your support team a Slack message when you get emails that contain the words "help" and "credit card."
With rules, you can make your team more productive, clear out your inbox, and let technology do a little work for you.
➡️ See how to set up rules like these in the Rules Directory.
Share this one pager
Was this one pager helpful?
Want to see Front in action? Get started!