One Pager - 4 min read
Integrations – all your apps in one place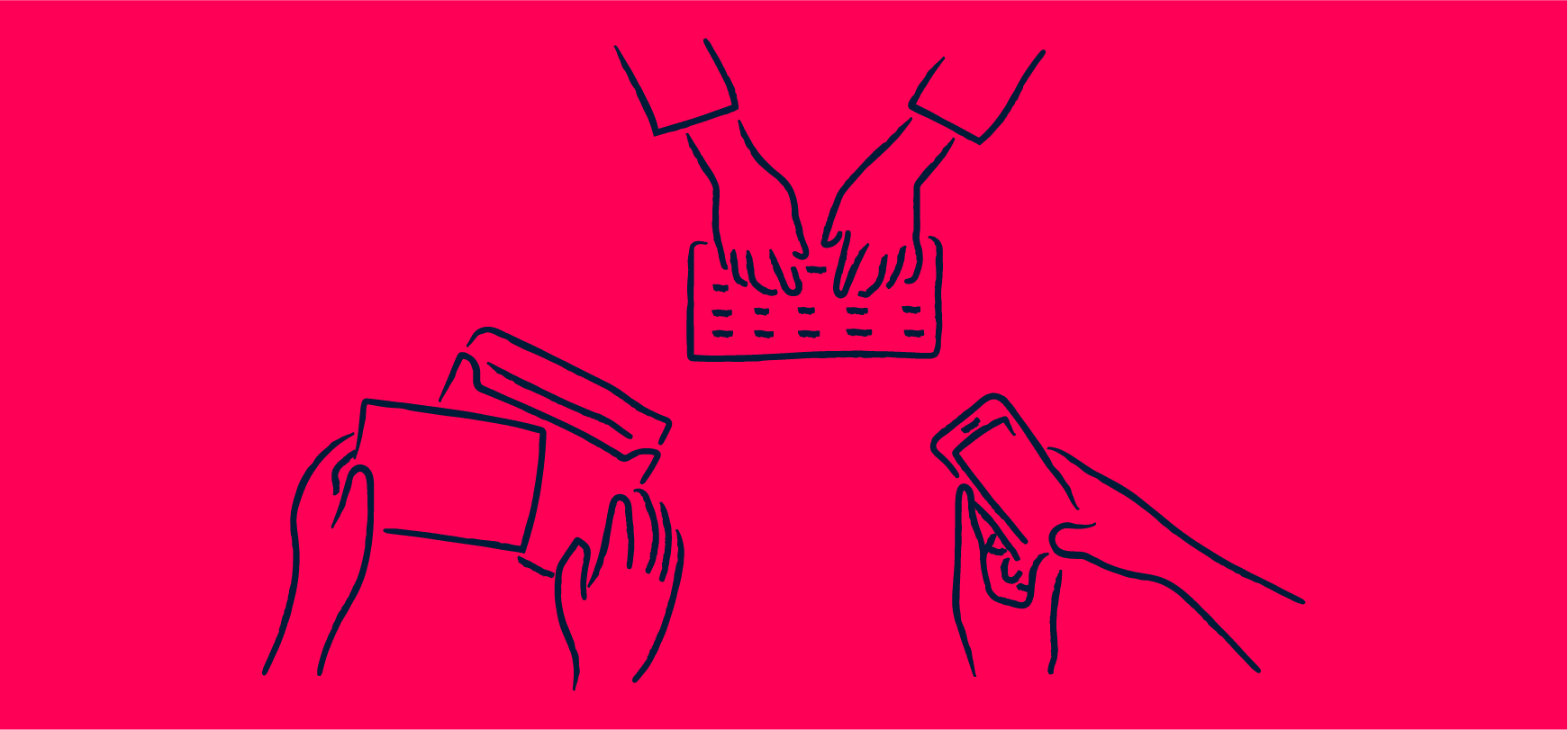 Every team relies on a set of tools to get work done. CRMs, project management tools, knowledge bases, and more — these are all critical parts of your business's unique puzzle. With Front, you can connect all these tools into one central place: your inbox.
Connect Front with your most trusted tools
When you start with Front, you'll have access to many integrations right off the bat, Some of the most popular integrations are:
CRMs: Log activities and update opportunities without needing to switch back and forth between tools.
Salesforce

Pipedrive

Base CRM
Project management apps: Create or update tasks right from your inbox –
Company admins can enableintegrations for all teammates. Each integration differs very slightly in set up, but in general it's a very simple process and can be done in a few clicks. You can also create a custom integration using our API.
Once enabled, all teammates will be able to access and use the integrations in Front by simply signing in with their individual credentials for that app the first time they use it. This will sync the data from the third-party app into Front.
How do integrations streamline your workday?
There are several ways that integrations can integrate (pun intended) into your workday. You may want to refer back to data held in another app, or maybe you'll want to create a project or task right from your inbox. Here are popular ways teams use integrations in Front to work more efficiently:
Salesforce: View information about a contact, update details on the account, or view open opportunities —all without leaving your inbox.

Asana: Easily create tasks from Front so you can track and prioritize work or change project status, without losing the context from your email.

Jira: Easily escalate issues or bugs to Product or Engineering directly in Front. Attach the customer message directly to the issue so the team can read real customer feedback.

Zapier: Trigger an action in another tool that Front doesn't integrate with or vice versa. Internally, we use it to do proof-of-concept testing: for example, when a conversation comes into Front, we use Zapier to look at the from recipient, cross-reference Salesforce to find the account they are associated to, and then apply a tag based on the segment so the support team can more easily prioritize their queue.

Slack: Send a notification to a Slack channel, get a Slack alert for urgent messages in Front, or send a Slack message to Front — that way you won't forget to take action on it or follow up.
Accessing integrations from Front
Your apps can be accessed in Front in several places.
Tag menu
When you click the tag icon on a message, you can do more than just tag! When you enable project management integrations like Asana, Github, Jira, and Trello, you'll be able to link the open message with an existing task or issue in these apps, or create a new one. And, when you mark a task or issue is complete in Jira, Github, and Asana, it will reopen the conversation in Front so you can get back to the customer and let them know the issue is fixed.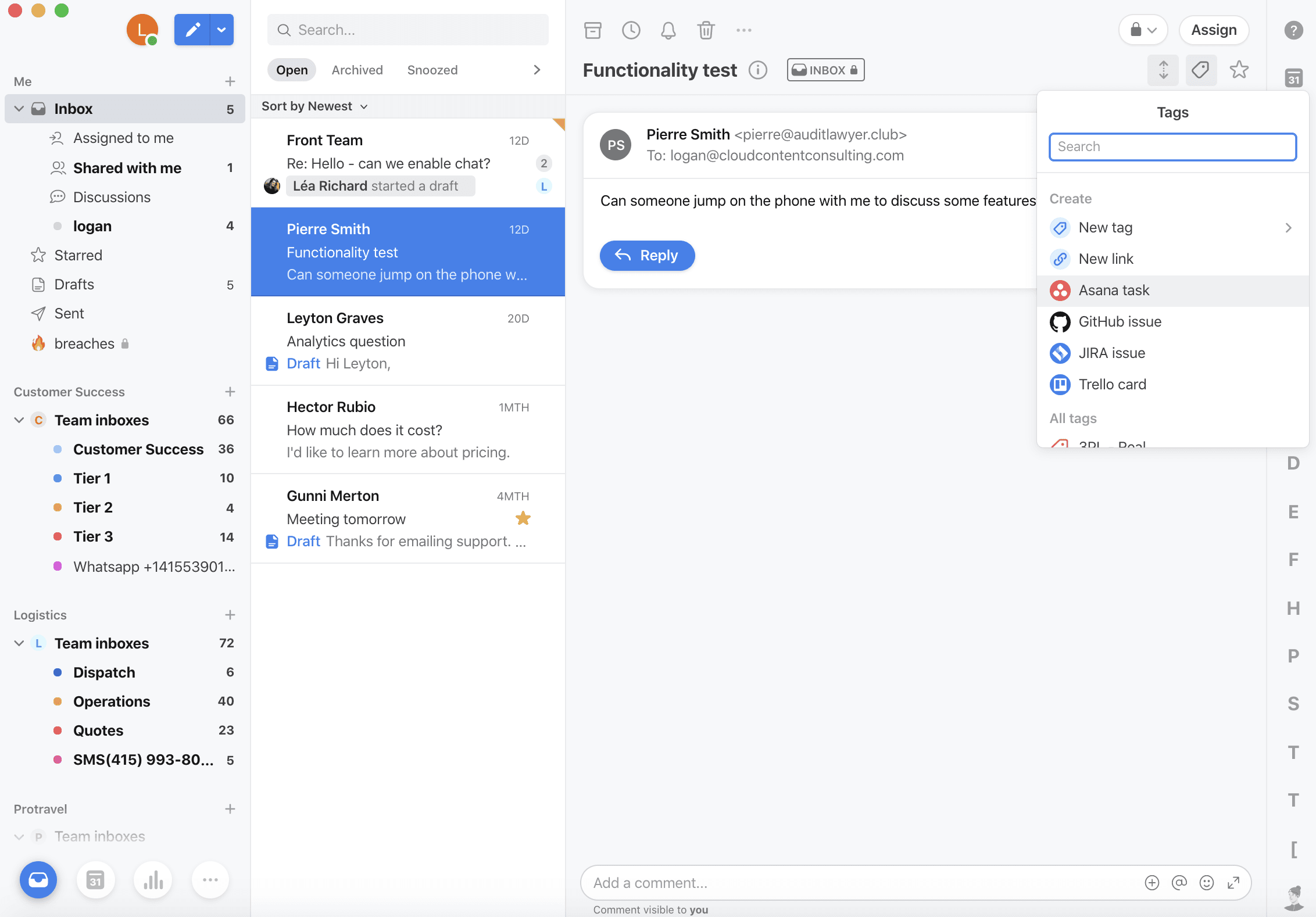 Integration panel
On the far right side of your Front inbox you'll find the integrations panel. Use the arrows to have it expand or collapse at any time. This is where all your enabled integrations can be found. When you click on a tool, it'll open so you can reference the information in that app or make updates in real time.
For example, if you open an email in your inbox and want to consult your trusty CRM, you can pop open the integration panel and scroll to the app of your choice. Most integrations will display information directly related to the open message based on the email address of the sender. Then, you can view important context or update an opportunity — all from Front.
Set up an integration channel
You can also integrate certain message channels with Front, such as Chatra, Aircall, or Delighted. These allow you to send or receive messages through that app in Front. These are set up in Front from your integration settings in the partner app – here's an example from the Chatra integration.
For example, the Aircall integration logs your call activity and voicemails in an inbox in Front as messages for follow up, or the Delighted integration will sync all your NPS surveys as messages in Front for you to reply.
You can organize integration channels into any team inbox, like a "Support" inbox for your [email protected] email channel and Aircall calls, or you can create a separate inbox for each.
Share this one pager
Was this one pager helpful?
Want to see Front in action? Get started!