Checklist - 2 min read
Sales team setup checklist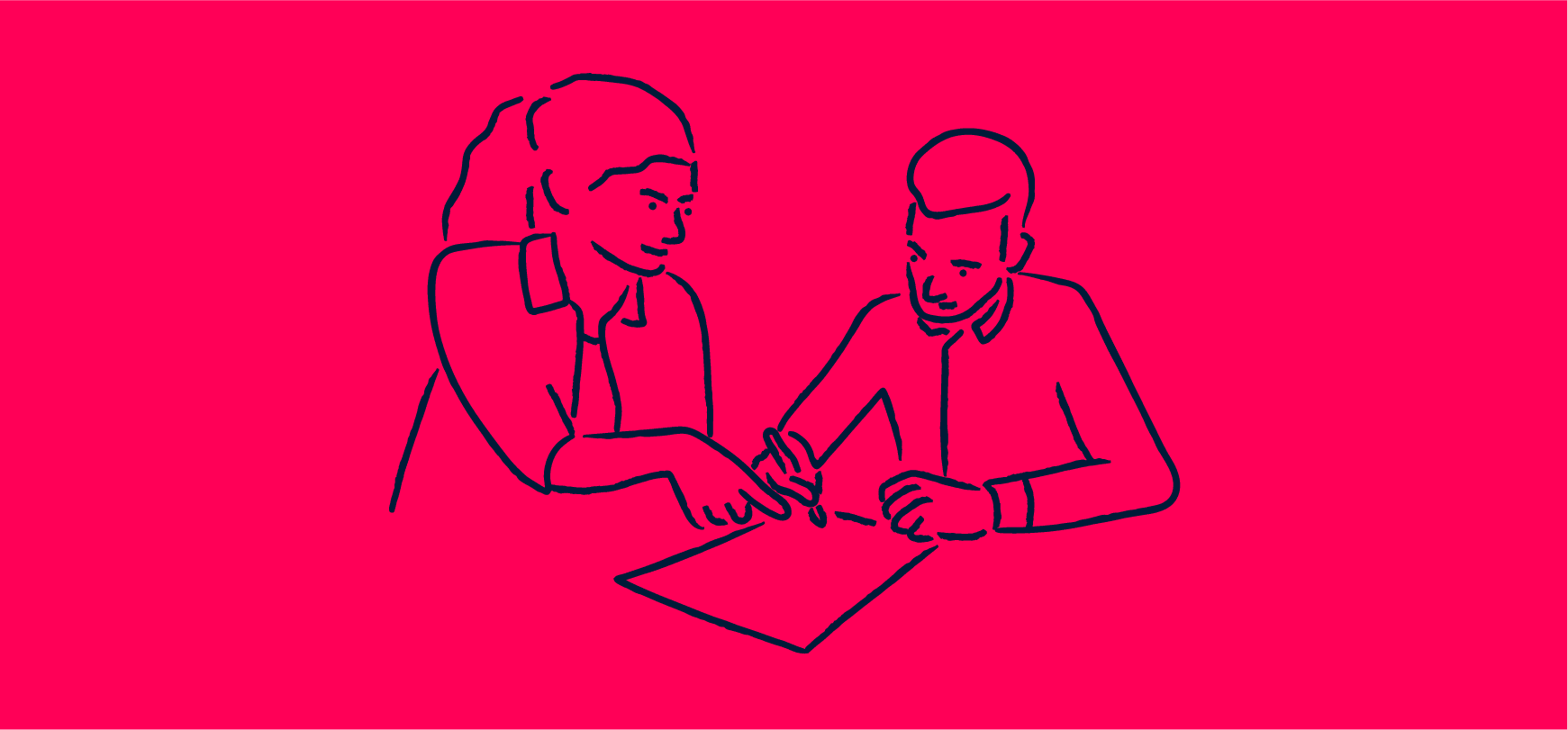 Add your team
Giving your team access to your Front account is the first step. Then set them up with the proper permissions and access for efficient sales management.
Invite your teammates

Promote any teammates to admins if they will help manage your Front account
Create inboxes
Inboxes keep you and your team stay organized and help get more work done. Inboxes can contain multiple communication channels.
Add your individual work email to Front

Add a team inbox for inbound leads

Add a channel for your inbound sales email

Add a channel for your company's social pages (e.g. Facebook)

Add a channel for your company's website chat (e.g. Intercom, Smooch, Front Chat, etc.)

Give your teammates access to the inboxes and folders they'll be working in
Determine tags and message templates
Tags allow you and your team to categorize messages to receive valuable analytics and create customized workflows. Message templates save you time so you can spend less time typing and more time selling.
Create tags

Your existing email client's folders

Hot lead

Customer tiers

Customer industries

High value prospects

Customer feedback

Refund request

Pin your most frequently used tags to your sidebar

Build message templates for your most frequently asked questions

Inbound leads

Scheduling a demo

Demo follow up

Meeting request

Prospecting

Introduction and marketing materials

Proposals and pricing

New feature announcements

Existing Customers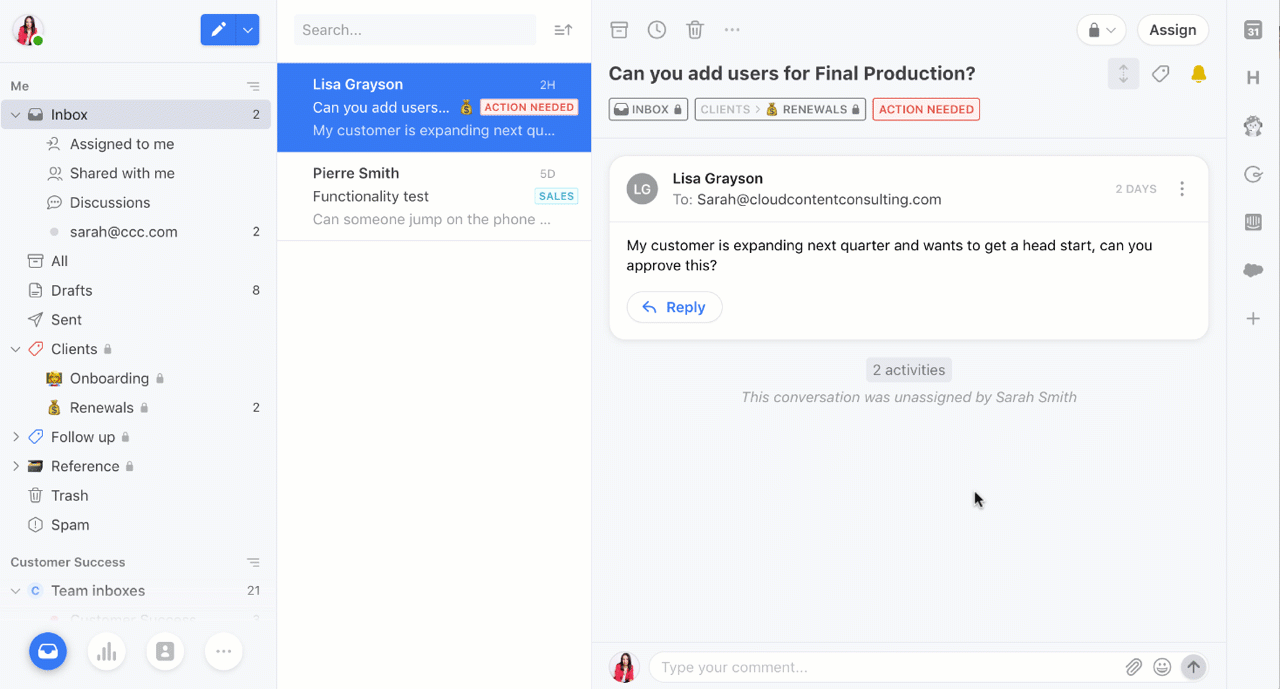 Build rules
Rules let you automate communication and assignment processes so you can your team don't get bogged down with time consuming administrative tasks.
Round-robin lead assignment

When: Inbound message

If: Inbox is [email protected]

Then: Assign in group > Round-robin > Sales team members' names
Auto-tag new customers based on lead generation channel
Prioritize your leads

When: Inbound message

If: Body contains "I'm interested"

Then: Add tag Hot Lead
Connect integrations
The last step is connecting front to the other apps you and your Sales team rely on.
Under Settings > Inboxes opt to Auto BCC your emails to Salesforce or your CRM

Integrate with any of the 50+ apps available (e.g.Shopify, Salesforce, etc.)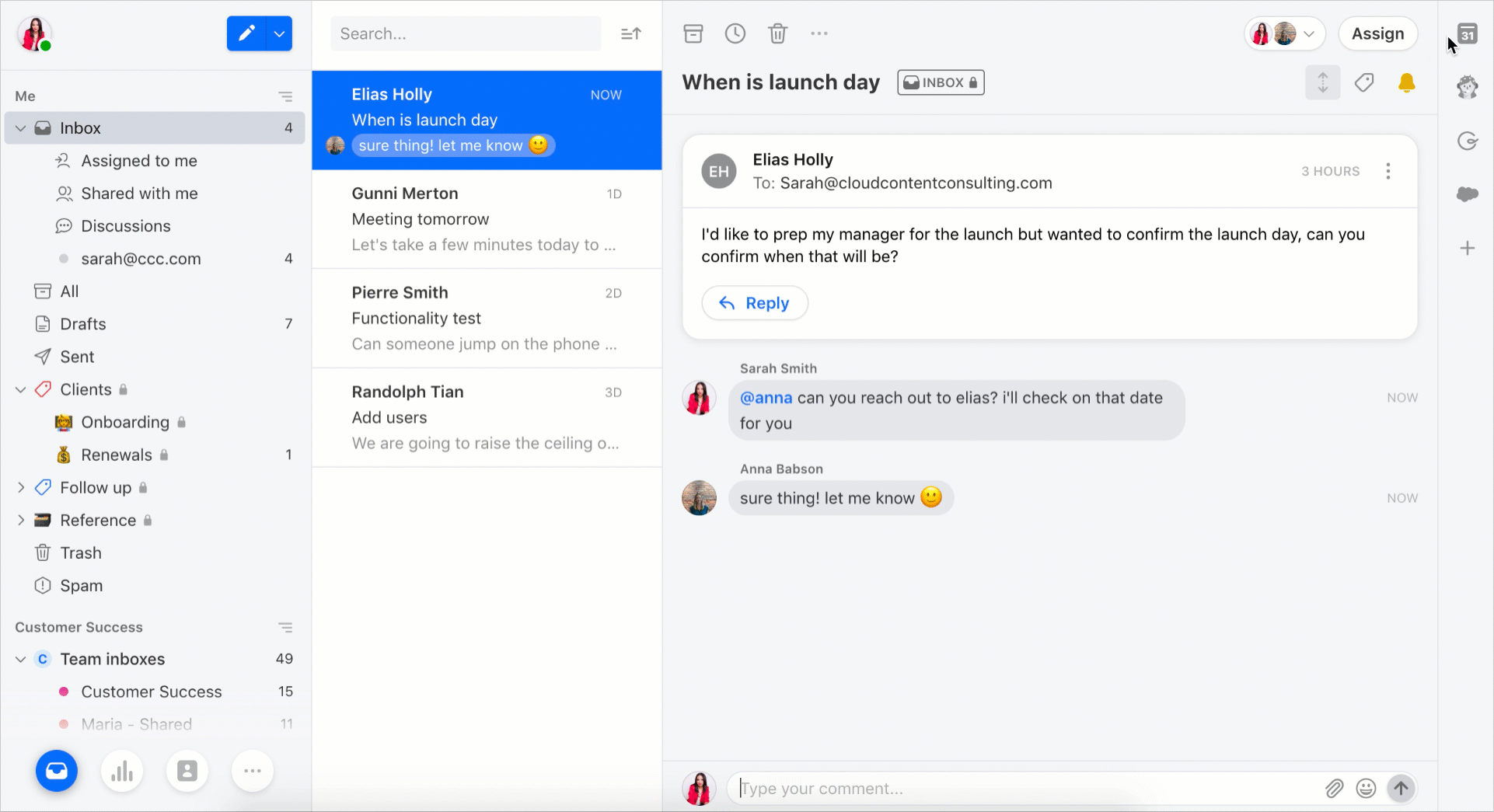 Ready for more?
Your Sales team might also enjoy the following Front features.
Assigning messages from your individual inbox to teammates

Reminders on individual messages to follow up

The option to Send later for staging messages

Sharing Drafts with colleagues for collaborative editing and feedback

Update your Signature options with relevant announcements and meeting options

Launching Sequences for coupons, sales, and promos
Share this checklist
Was this checklist helpful?
Want to see Front in action? Get started!