Guide - 6 min read
Set up a team inbox
Front's team inboxes are shared inboxes that integrate multiple channels and allow new possibilities for automation and collaboration. Here's an example:
Your sales team is trying to manage an influx of emails from prospects, existing customers, and new leads from your company website. You use different apps to get the job done: like Slack to collaborate, Salesforce to close deals, and Gmail to decide which messages should take priority. Now, you find yourself switching back and forth between all these applications just to support your customers - all while teaching new sales reps the ropes.
Once you download Front, things get much more seamless. All messages and requests enter into one team inbox that your whole Sales org has access to. With rules and tags, messages are prioritized and categorized. Your demo requests are tagged by keyword, enterprise prospects are tagged as urgent, and clients with a long history of working with a specific AE are automatically assigned to that person. Though all the messages are seen in the team inbox, they are immediately filtered to encourage prioritization while encouraging transparency and accountability. New reps can keep track of how vets are handling messages, you can assign all messages to the right person, and teammates can @mention each other on emails to comment and discuss what should happen next. Suddenly, inbox zero is the new norm, and all prospects are dealt with in a personal, fast, and thorough manner.
Team inboxes dramatically simplify the way you work. But like all change, it can take some getting used to. Here are some best practices to help you make the transition painless. They'll help you set up your team inbox, start working efficiently right away, and start measure your team's performance. Want to know more about team inboxes before you get started? Check out our guide on how your team can find value in a team inbox.
#Setup
Set up your team inbox
Admins can set up a team inbox in five easy steps.
Click your profile picture in the upper left corner of Front.

Select Settings, then click My inboxes.

Select Add a team inbox. You can choose to connect a channel, or leave it as an empty inbox.

Give your inbox a name and click Next.

Select the teammates you want to add to the team inbox, and click Create inbox.
You may want some help creating message templates or tags, so now is a good time to set permissions and give certain teammates admin access to the team inbox. You can set up default permissions and make everyone either an Admin or Member, or customize permissions to control exactly who can edit what.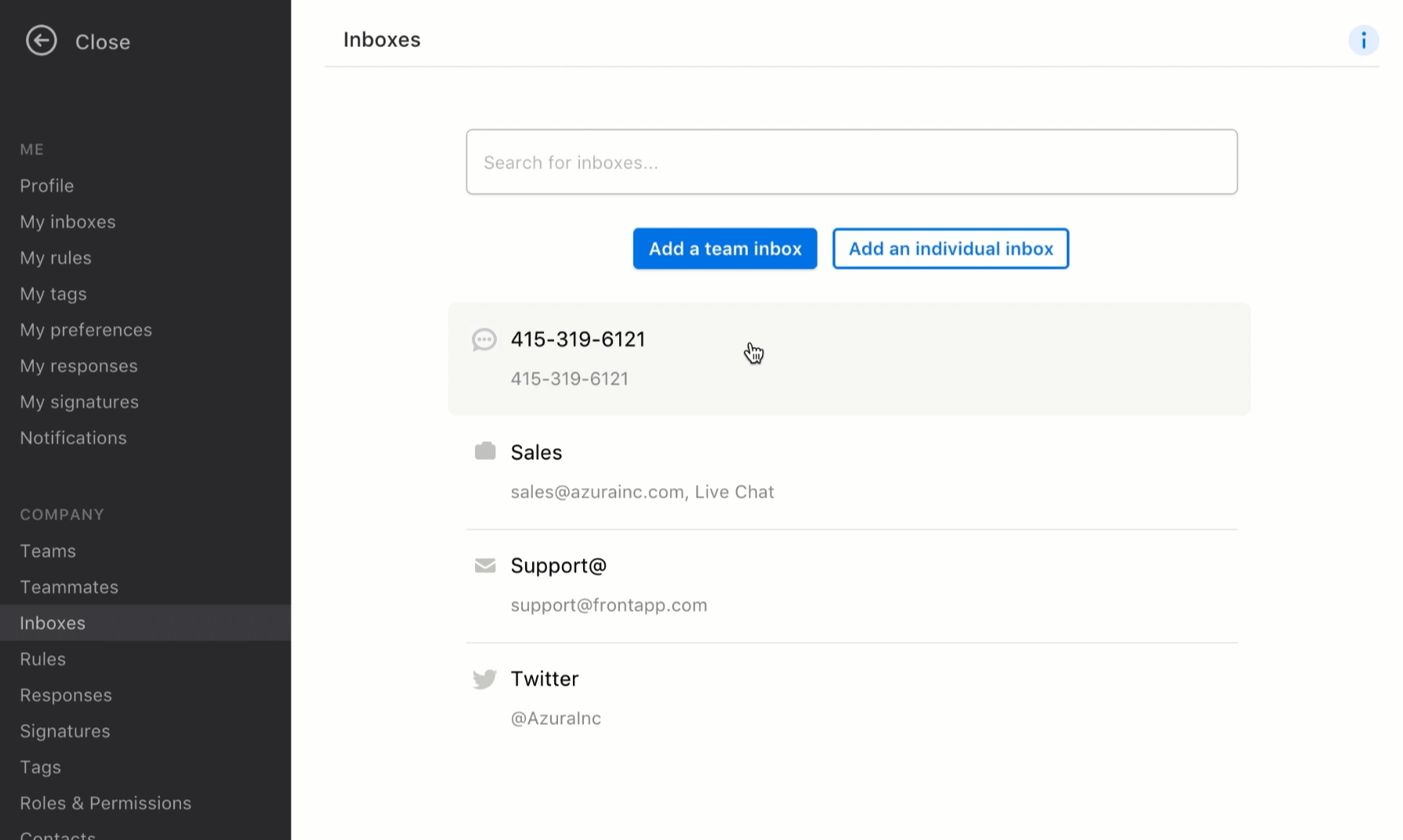 Once you're done, the team inbox will automatically show up in the team workspace on the left panel of Front. Then, you can start adding some simple but highly effective automation and organization techniques like tags, rules, and signatures.
#Work together
Work as a team
Shared inboxes function a little differently here, so it's helpful to establish some processes for your team. Here are some team inbox tricks that nearly all teams use to give their workflow a much needed boost:
Assign owners to emails
Give each email a clear owner to help your team prioritize their day, and to help your team get to inbox zero. Your team can start by going through the team inbox and assigning messages they can handle to themselves.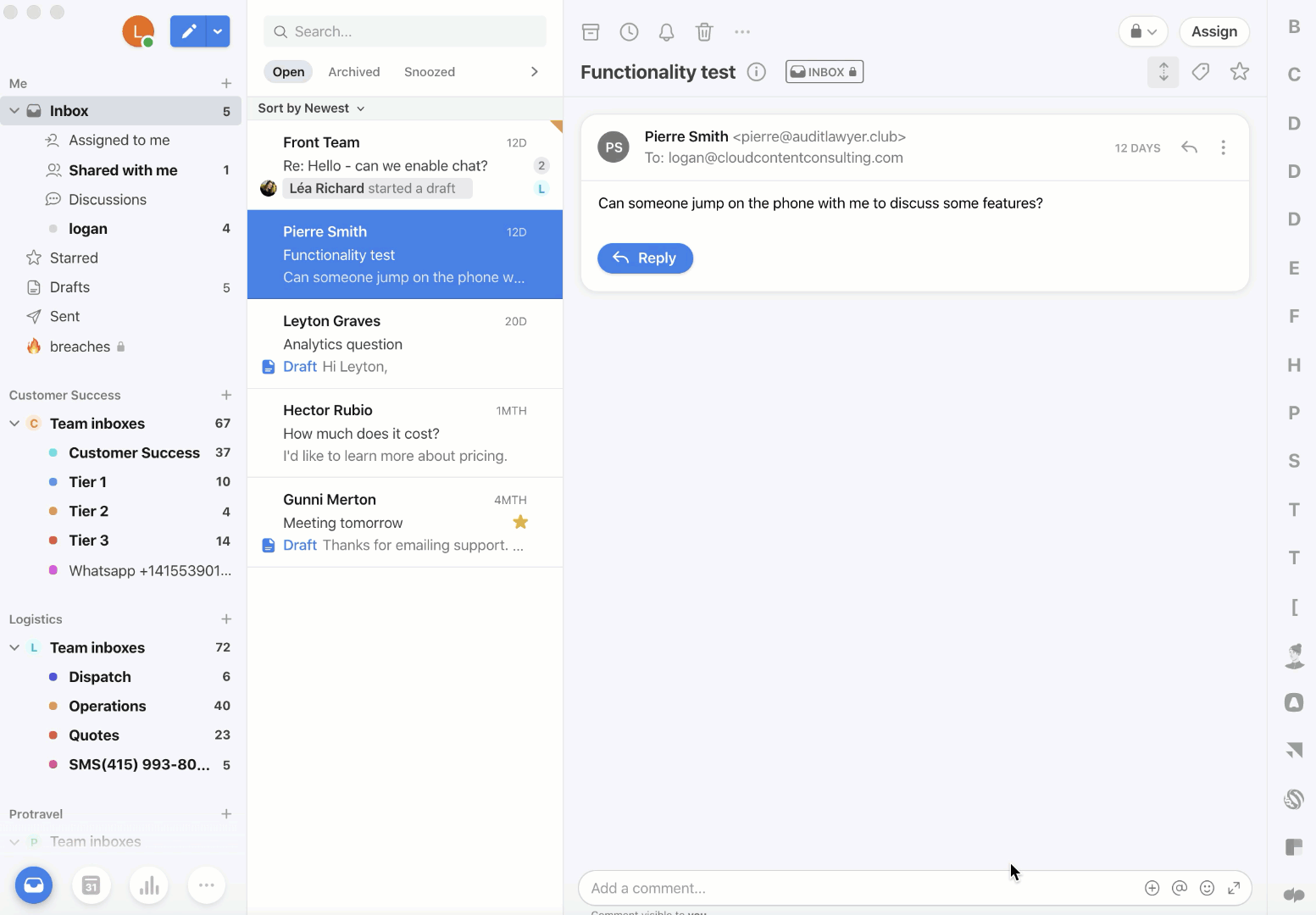 Archive wisely
When a message is archived in a team inbox, it's archived for everyone (besides the assignee or whoever is subscribed to it). Encourage your teammates to only archive if they're confident the team is done with a conversation. If you ever need to find something that has been archived, simply click into the 'Archived' tab or use the search filter "is:archived."
Organize & prioritize with tags
You and your team can create tags (similar to folders) to sort incoming messages. You can automate this process with rules (for instance, route all emails from an important client to a VIP tag) or move them manually. We like to create tags for different projects, clients, and priority levels.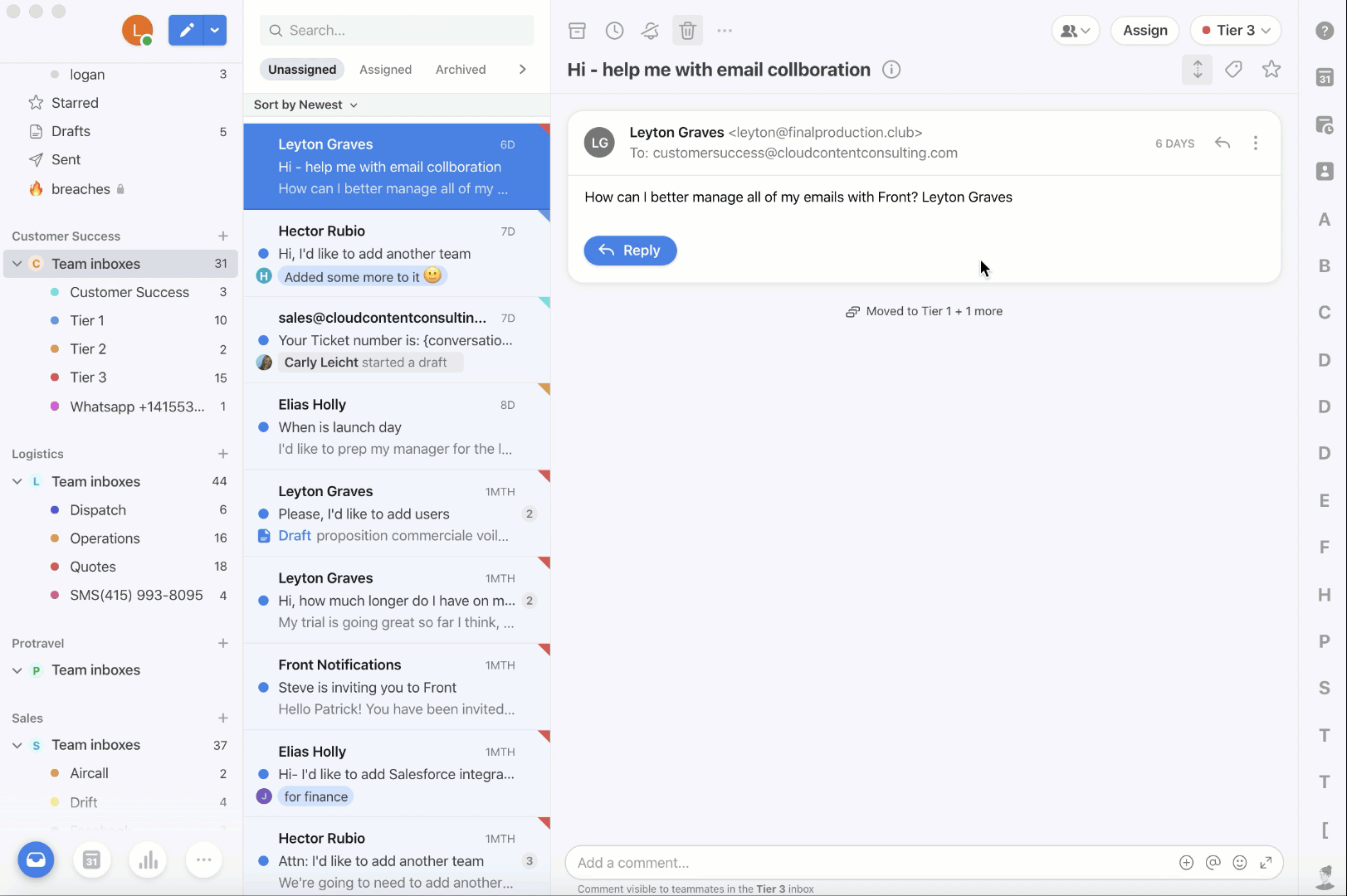 Manage time zones, shifts, and out-of-office through preferences
Team inboxes are great for teams who are working remotely or across different time zones. You can set shifts and working hours in your preferences so that when one person heads home for the evening, another person can pick up where they left off. And, when someone goes OOO (out-of-office), you can make sure all messages that would typically show up in the vacationer's inbox pop up in the team inbox instead. That way, you're never worried about emails getting trapped in an inbox with no answer.
Trust in the team inbox
Need an update on a project or customer? Let your team inbox be your source of truth. Teammates can look to the various tags and messages to get the context they need before interrupting the team.
#Enrich your workflow
Add the bells and whistles
The magic in team inboxes lies in the automation that you can customize, the seamless workflow you can create for your team, and the personal experience you can create for customers.
Use message templates for quick replies
Do you find your team is writing certain common responses all the time? Save them as message templates so you can easily reuse them. Message templates help you send consistent responses faster and focus your attention on personalizing the email.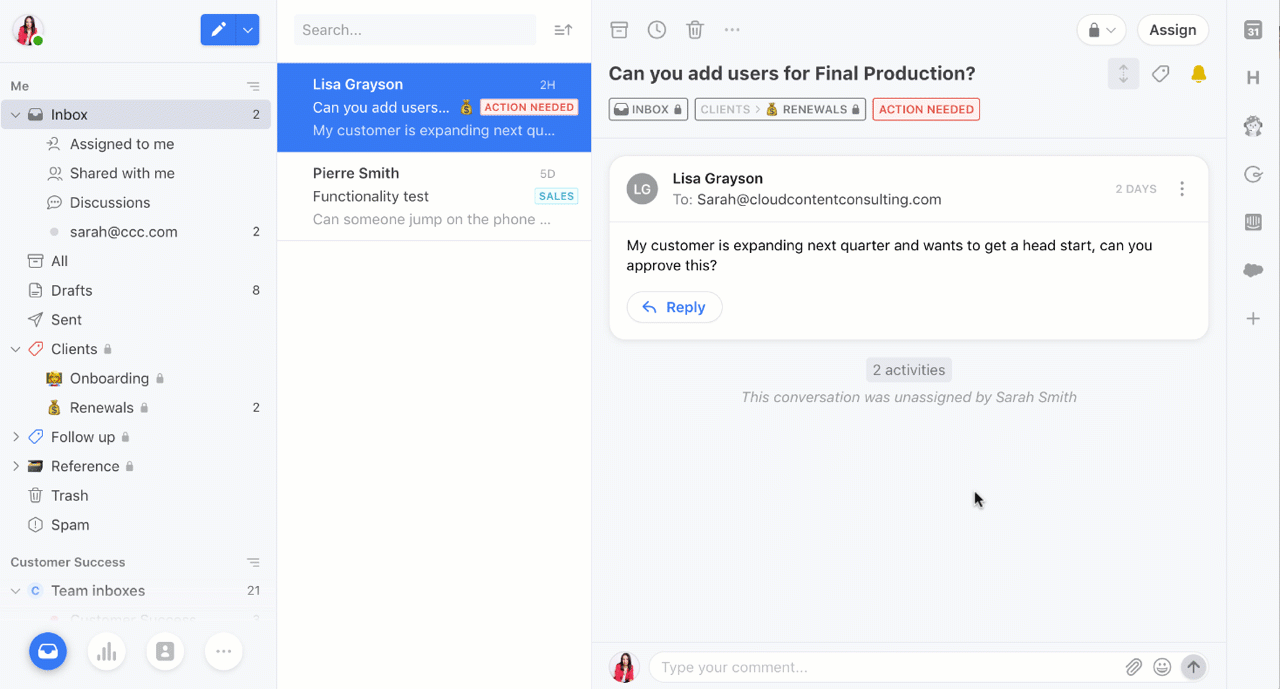 Save time spent on mindless tasks with rules
Automatically route emails by keywords, sender, or other triggers to get messages in front of the right eyes immediately. You can create a variety of rules that help you save time doing administrative work on your inbox.
Reach response time goals with SLAs
Create an SLA to make sure your customers are receiving the fastest, most thorough service. Help keep your team on track by sending emails that are at risk of an SLA breach to an "Urgent" tag.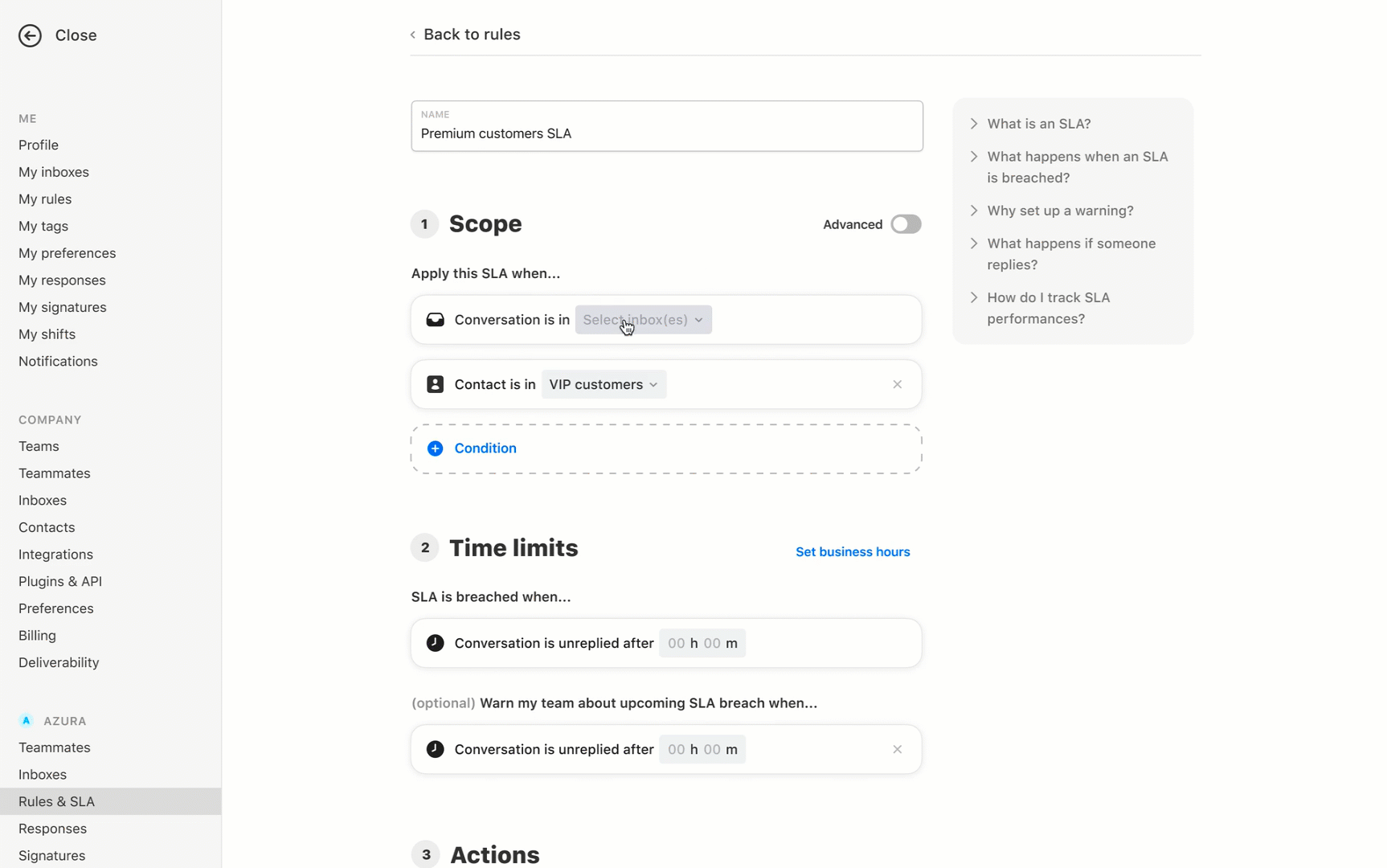 Sign off with team signatures
Save several signatures so your team can sign off appropriately depending on the client you're communicating with. This helps keep correspondence professional while allowing for brand flair and personalization. You can also use team signatures to personalize a correspondence from a teammate by having the display name and signature show a teammate's name even though they're sending from a team address.
Access all your other apps from your team inbox
You can connect your team's favorite tools and apps to Front through the integration panel. This means your team can reference Salesforce or create a Jira ticket right from the team inbox. There are dozens of integrations, and more are being added all the time!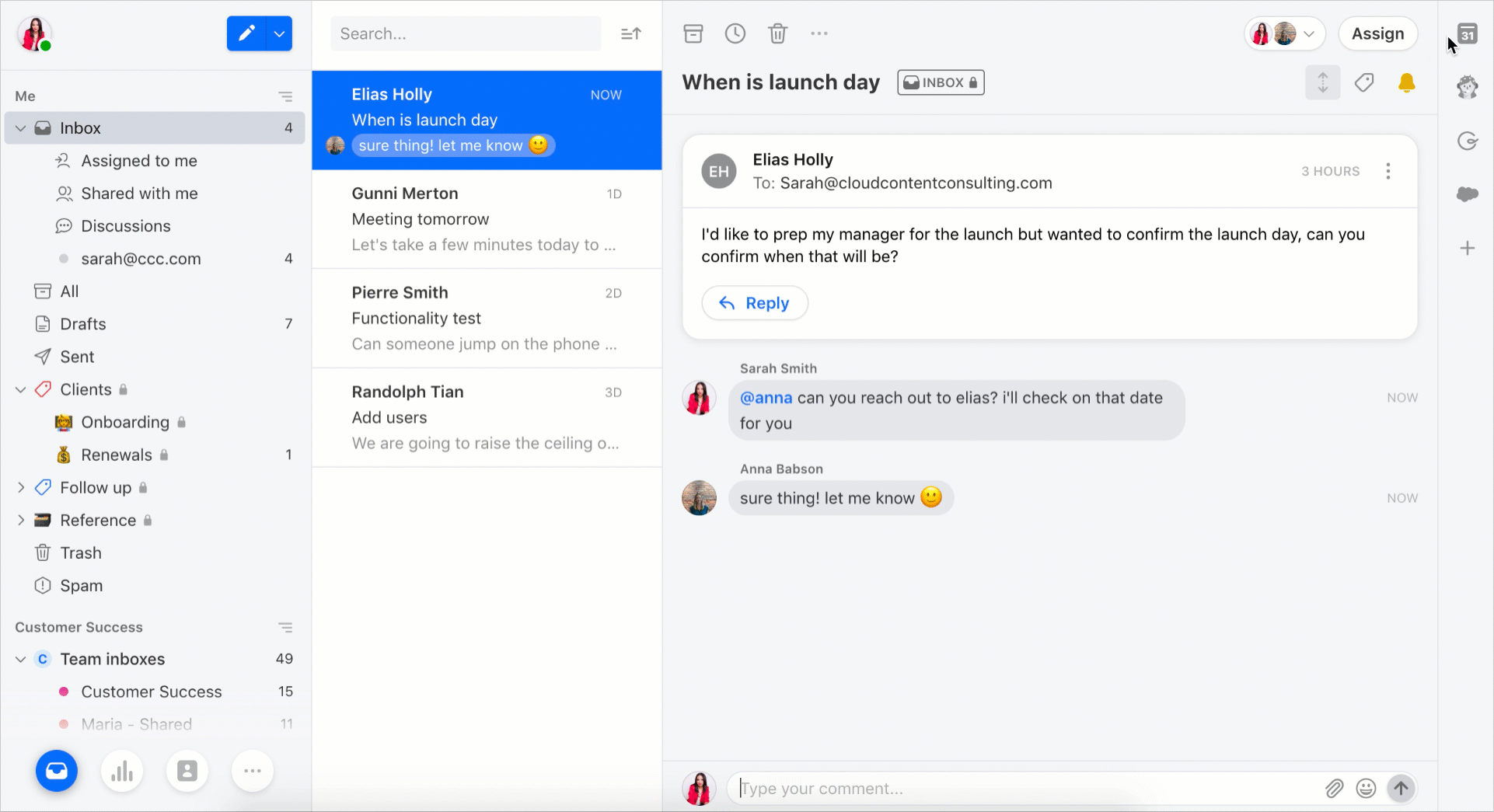 #Track success
Set goals and measure success
Front Analytics make it easy to measure how your team is performing and identify ways to improve or have your team inbox work harder for you. Keeping an eye on the metrics of success for your team inbox helps you continuously improve customer experience and build motivation for your team.
Individual performance
Get a glance at the workload of a specific teammate and understand how they're handling it by viewing metrics like response time, replies to resolve, and conversations handled.
Team performance
Help your team feel more engaged and united by sharing success metrics and patterns with them. Tracking team-wide messaging metrics allows for accurate, exciting goal setting and helps you know when it's time for a morale boost or additional headcount.
Customer insights
Build a more personal, in-depth understanding of each customer's needs by viewing what kind of workload they require and the amount of times they write in so you can set them up with the right team member.
Share this guide
Want to see Front in action? Get started!