Guide - 4 min read
Track team impact & progress with the Teammate Performance report
As a team admin, manager, department head, it's crucial to understand the impact your team is having. The Teammate Performance dashboard clues you into which teammates need coaching, overall team efficiency, and how you can improve your team processes to better reach your business objectives.
What's the teammate performance report?
At Front, we wholeheartedly believe leaders help to shape a positive team culture, and this report will help you do just that. Validate top performers, identify opportunities for coaching, and learn when – and how – to step up and support your team through busy hours. Many leaders like to share this report with their team to create a sense of gamification, solidarity, confidence, and motivation.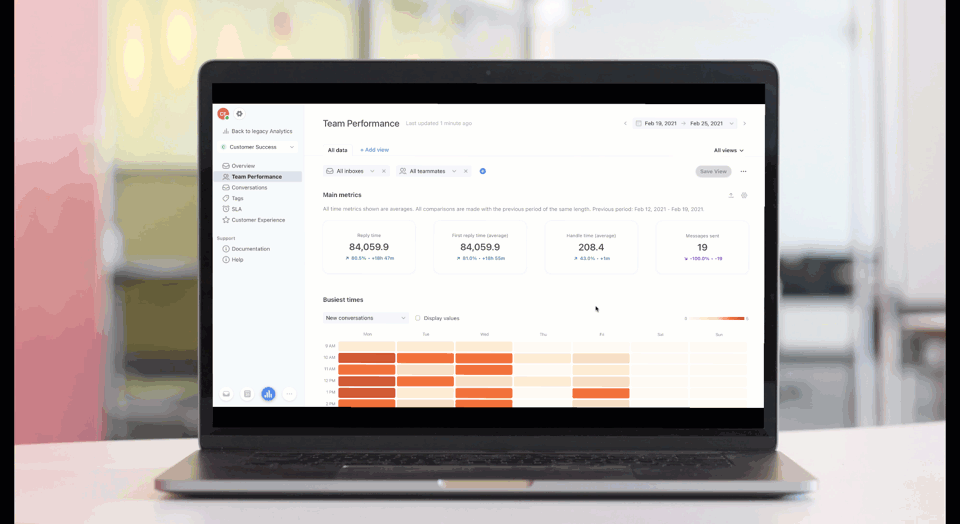 To view the definition of every metric you can measure in the Team Performance dashboard, visit our Analytics Glossary.
What can be measured?
The teammate performance report helps you answer questions like:
How efficient is my team overall?

Have there been notable changes in my team's performance?

Which teammates are performing best or worst – and why is that?

How is a specific teammate performing?
Here are the 3 main sections in the report and how they can help you visualize and understand teammate performance.
Main metrics
This is a similar section to the one in the Overview dashboard – but with some tailored tweaks. It's an at-a-glance view of how your team is doing now verses the previous week. You can select which metrics you'd like to highlight by clicking the gear on the right to view what matters most to you. Ultimately, this section helps you understand the bigger picture – the good and the bad – of what's happening within your team.
Key use case Want to quickly pull up your team's progress at a meeting with fellow managers? Select your key metrics, and share the update from the last week to quickly clue everyone in on the high-level success and areas for growth.
Busiest times
Anticipating when your team may be stressed or overwhelmed with work helps you be a better manager and plan ahead. This section shows you exactly when your team is busiest. The section features a heatmap that shows the busiest times based on three key metrics: messages received, sent, and new conversations. The darker the square, the busier the team is for that key metric. By understanding the volume of communication coming in and out for your team, along with open conversations, you can make important decisions, like staffing and timing when a new feature is shipped, or making a business case to advocate for more funding. When hovering over a cell/metric, additional insights will display. Based on the metric selected, the insight section will show three top values from that time period. For example, for the 'Longest response time', the three values will be the three longest response time periods.

Key use case Your hottest season is coming up. You dig into the heatmap from the last few weeks to investigate the busiest hours of your workday and the most demanding days of the week. To go one step further, you change the date to the busy season of last year and gather some insights. With this knowledge, you create a fresh, informed staffing schedule that bumps up support during the company's busiest hours so your customers stay satisfied and your team doesn't get burnt out.
Teammates
This section helps you monitor team productivity, identify when your team is overloaded, and make the right decisions to best serve customers. The teammate performance table shows how an individual is performing based on the metric of your choosing. You can click into the calculation to see all the conversations that contributed to it, and customize the metrics displayed in the table using the gear icon. If you have a large team, search for a teammates name to view their performance, or reorder the table based on your needs. Some popular metrics to stay on top of are:
Reply time: The average time it takes for a teammate to send a response

Handle time: The average time it takes for a teammate to compose a reply, from when they open it to when they send a message

Archived conversations: The number of conversations that teammate has closed, which gives you a sense of the work they've handled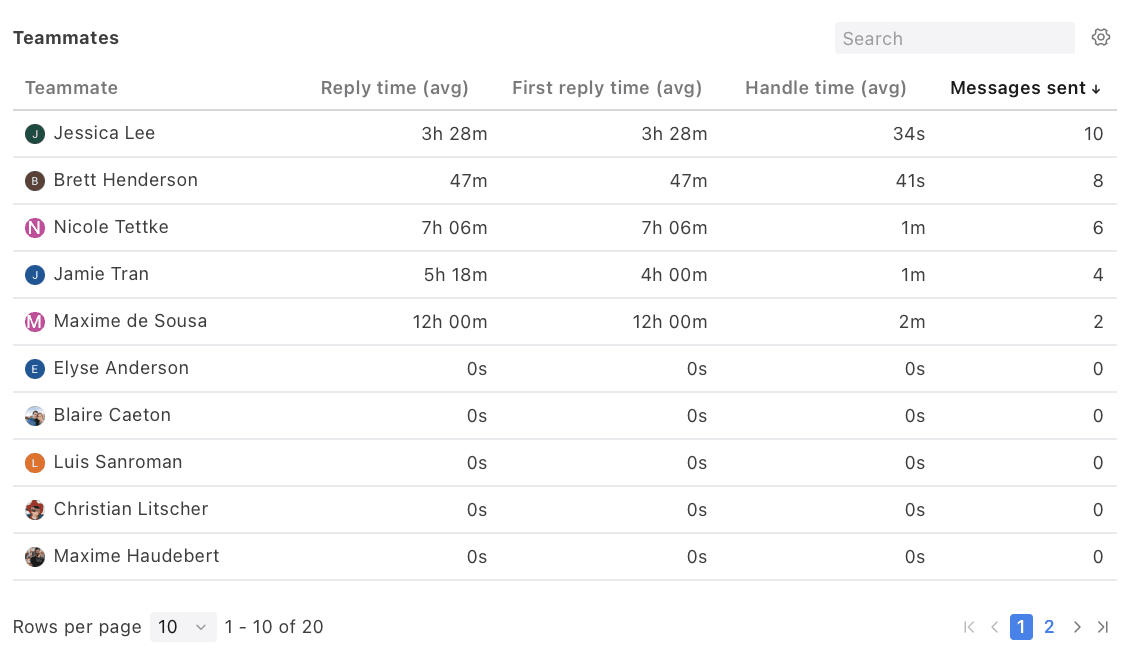 Key use case Curious as to how a team member has been faring with your new SLAs? Change the metric to "SLA breaches (when assigned)" and search for the team member you want to look into. There, you'll be able to see exactly how many breaches they avoided or contributed to, and will be able to click into those conversations to know which client was impacted, what conversations were causing trouble, and more.
Share this guide
Want to see Front in action? Get started!