One Pager - 6 min read
The newest improvements at Front–and a sneak peek at what's to come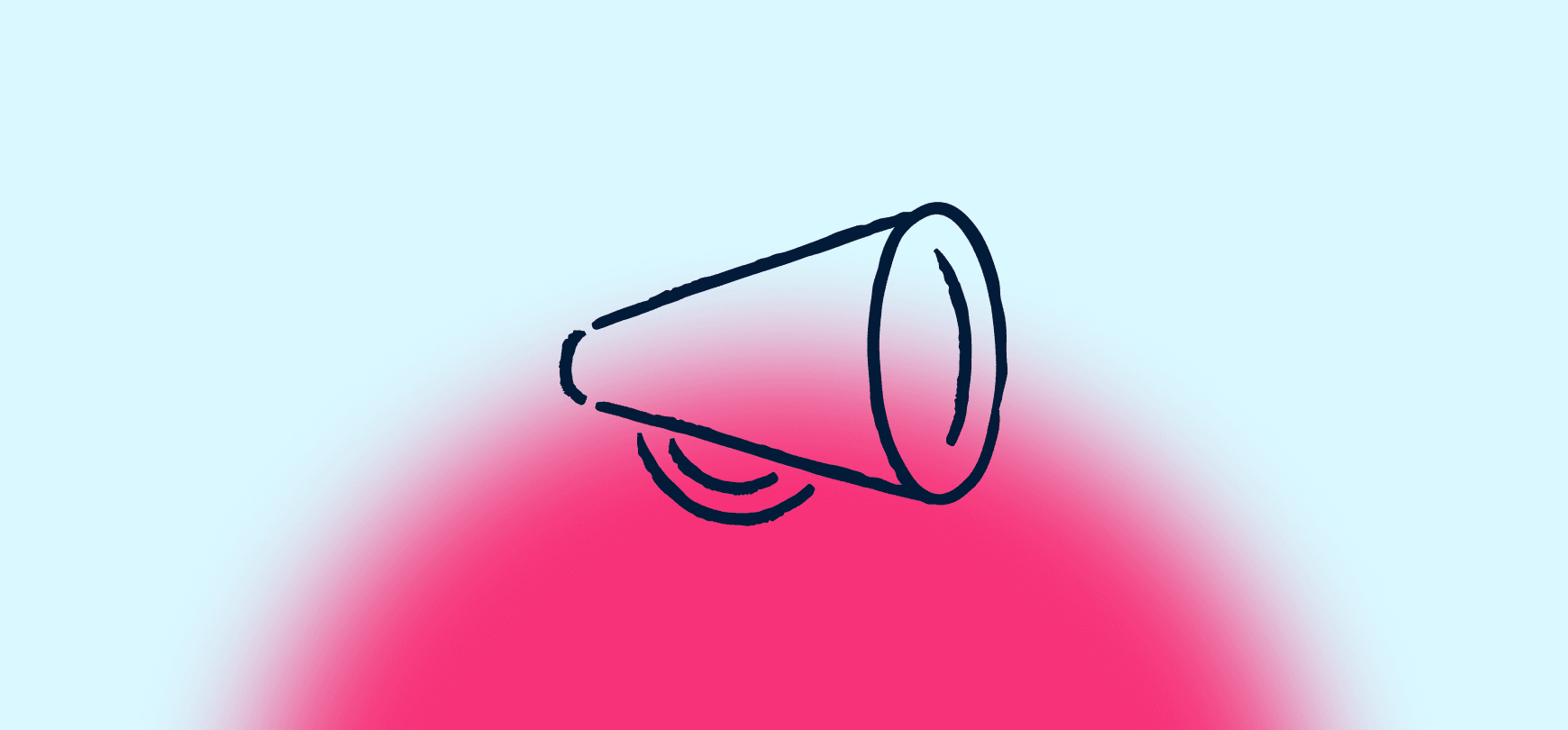 The newest improvements at Front–and a sneak peek at what's to come
Over the past several months, we've focused product development on enabling natural customer conversations that drive business impact. With every improvement, we aim to deliver greater focus, bring transparency to team efforts, and make working together easier. See below for a highlight of what we've recently released, and a preview of what's ahead. If you want to hear (and see) even more about these latest updates, watch Nate Abbott, Front's Head of Product on-demand webinar: An Inside Look at Front's Product Roadmap.
Improvements that cut the busywork so you can focus on what matters
New SLA (service-level agreement) Workflow: Front's SLA rules are like guardrails for your inbox, so you and your team can respond to every customer in time. We've greatly simplified the process of creating these workflows, so you can more easily set your response time goal and let Front take care of the rest. We'll surface urgent conversations for your team to reply to—even before a breach happens. You can also more easily use automation to tag any breached SLAs for effortless reporting. Learn more about SLAs here.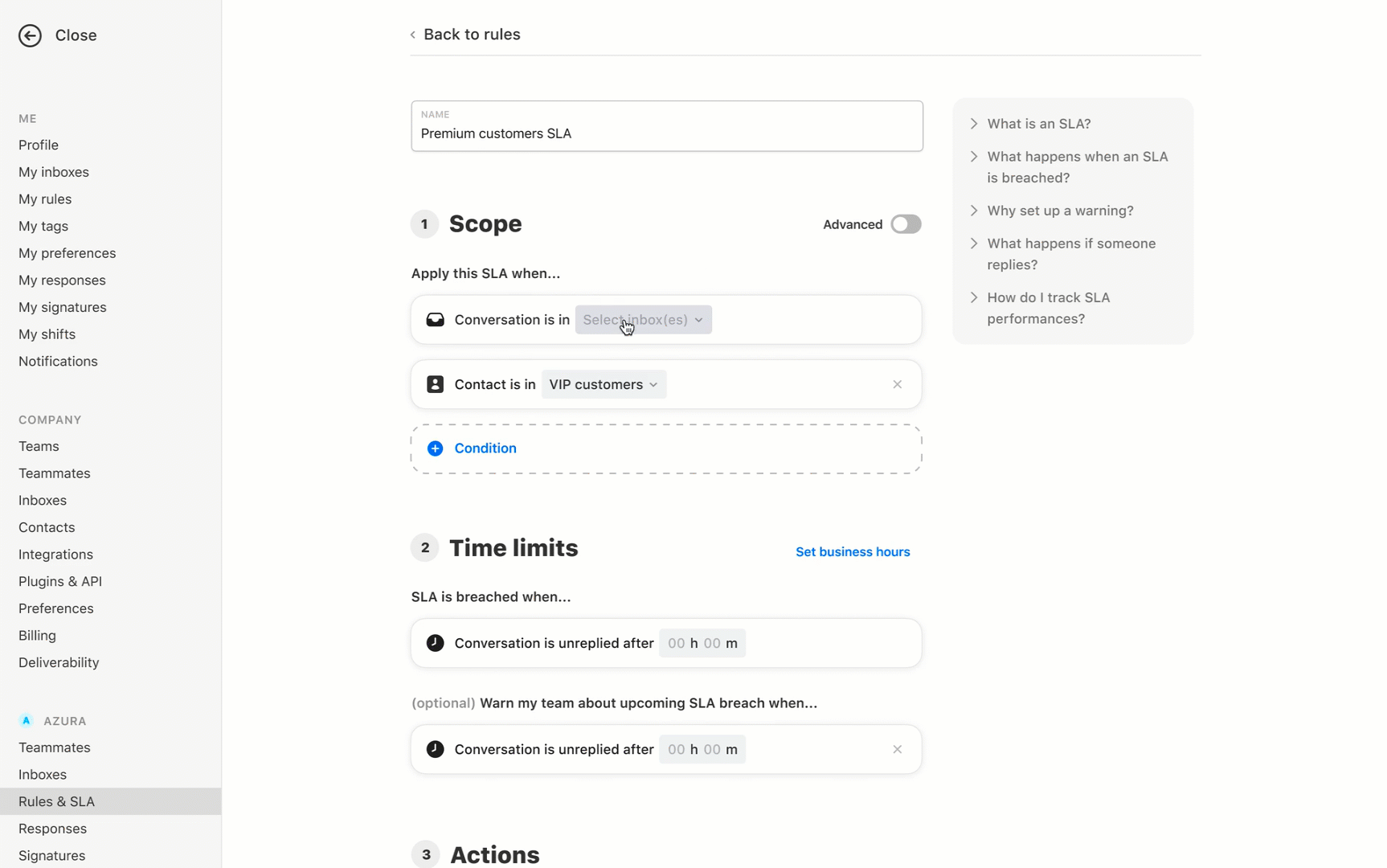 Custom Views: Sometimes you want to see the full picture, other times you only want to focus on what matters most to you. Custom views enable you to define what conversations you want to see, proactively push them to you and your teammates' workspaces. Set a custom view for team leads, monitor communications with specific clients, or even setup multi-tag tracking to only surface conversations up for renewal, or a critical bug issue. Learn more about Customer Views here.
Load Balancing 2.0: Load balancing is a specific type of auto-assignment rule, which allows you to set assignment limits for each teammate. Front made several improvements such as:
Assigning will be lightning-fast compared to the 60-second update cycles before. This makes real-time chat support in Front an even more delightful experience for users and their customers.

Multiple Rules can be used for different load balancing priorities. For example:

Rule 1 Assigns chat

Rule 2 Assigns email

Rule 3 Always execute Rule 1 before Rule 2
Learn more about this update here.
Rules Library (Sneak Peek): Complex workflows can require creating multiple rules that need to interact with each other. This update to the Rules section of Front introduces "recipes" so users can easily modify an existing pre-built Rule rather than building from scratch. Once a recipe is selected, users will be taken through a step-by-step guided finalize and deploy it. Keep your eyes peeled for this feature that's coming in 2020.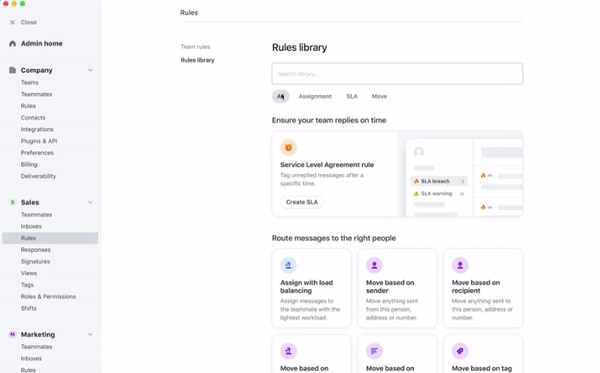 Get the full picture of every situation to make better decisions
New Report Type: The Inbox report allows you to look at all your inboxes at once to ensure nothing falls through the cracks. We've added a new "heatmap" visualization to better understand communication volume received and sent across time. This new report will help you better manage resources and proactively identify opportunities to improve. Learn more about the latest report types here.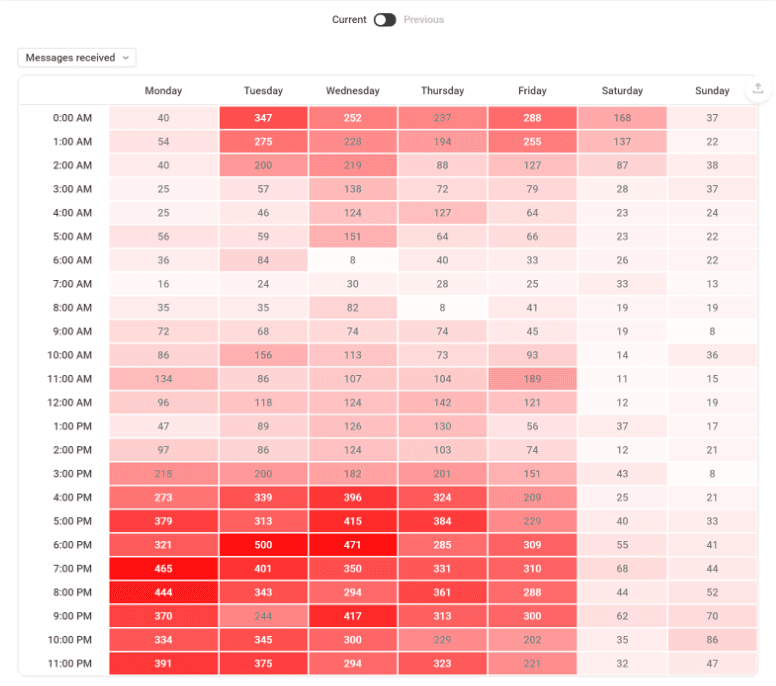 Scheduled Reports (Sneak Peek): We're expanding the way users, and non-users, can consume Front's Analytics reports with scheduled reports delivered right to an inbox–automatically. This enables users to do things such as, send a weekly team report to your executive team, create a daily SLA VIP customer report for team leads, and more. Except to see this new feature live in your instance within the coming weeks.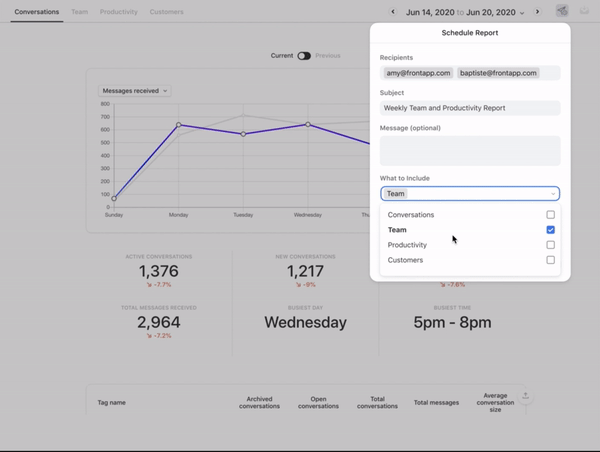 Reimagined Analytics Experience (Sneak Peek): The team is working on incremental improvements to create an entirely new analytics user experience–making it easy for you to find exactly what you need. In the near-term, expect a more intuitive analytics navigation experience, and improved Filter, Tab, and Report types.
Working together has never been easier
Comments, conversation previews, and more: From streamlining team communication by starting an internal discussion within a team inbox to pinning important comments for easy reference later on, Front's introduced several improvements to make working together easier than ever before. You can now also get context at a glance with conversation previews in comments, and use a new comment composer that allows you to fully customize comments (bold, underline, bullet, and more). For a more detailed update on these improvements, read this blog post here.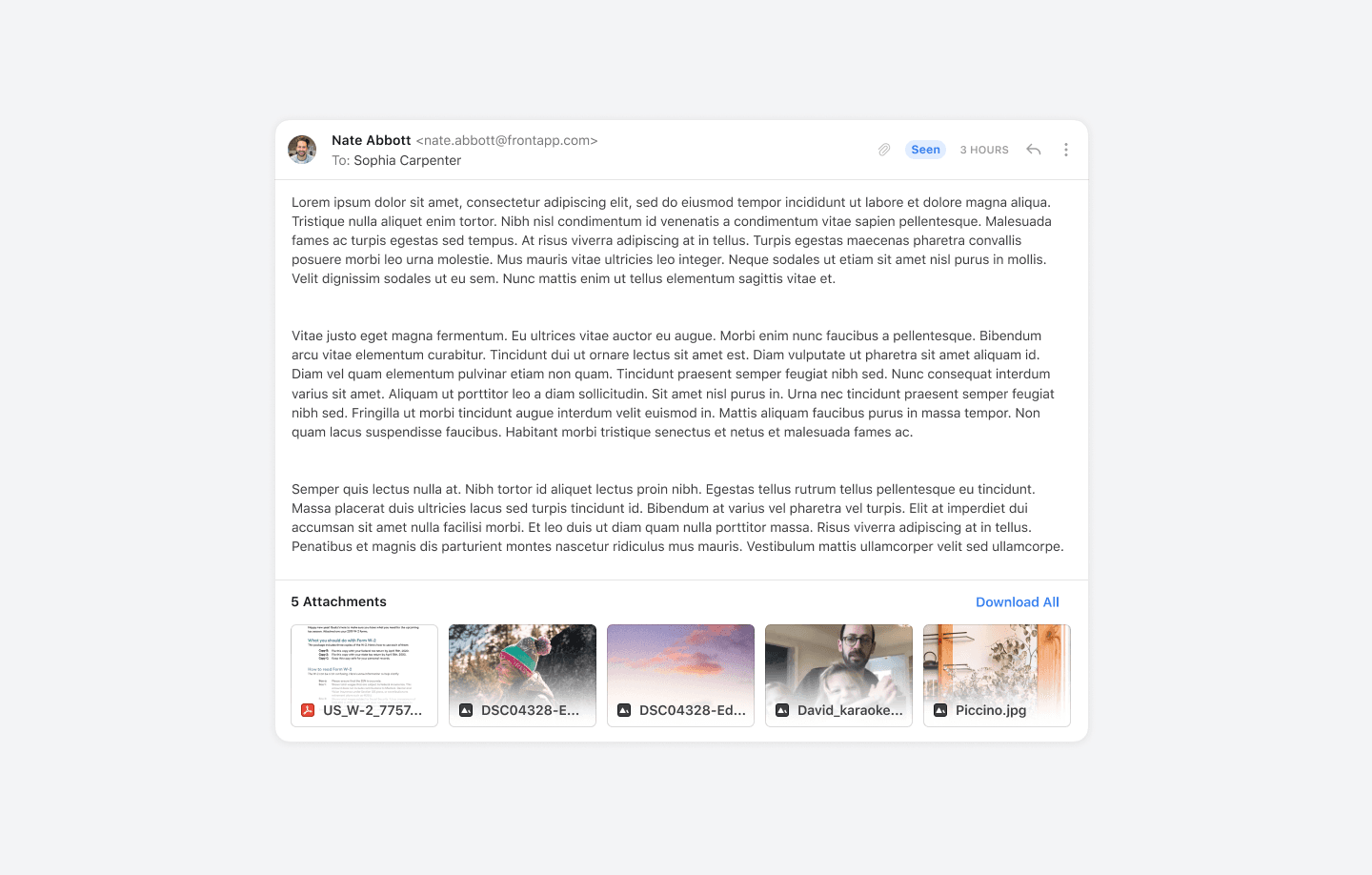 Contacts (Sneak Peek): Throughout the remainder of 2020, Contacts will see improvements across three core areas:
Improved visibility of communication context across channels and companies

Improved contact data quality within Front

Improved functionality of high-impact non-email channels in Front
We'll also be making several design improvements to the Contacts Pane such as:
Improving information density of conversation preview cells

Showing more contact information without needing to click on the Details tab

One-click action to add a contact to the contact manager

Making it easier to update contact information

Making it easy to merge and deduplicate contacts
Recent Communication Indicator (Sneak Peek): You'll soon be alerted of recent communication with contacts. This can provide valuable context and change the actions you'd take to ensure optimal outcomes. For instance, you could be notified of recent communication between a customer to get caught up to speed on a particular issue, order, etc. without ever having to click into a timeline or searching for contact details.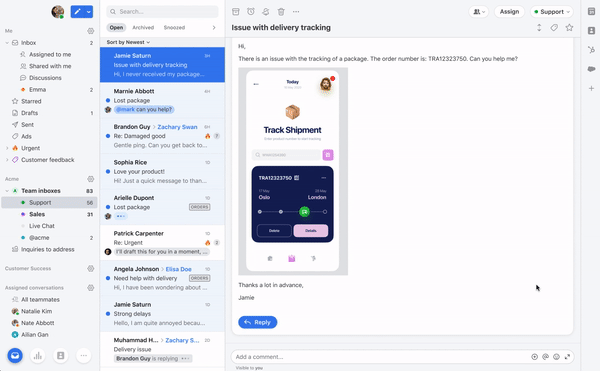 Admin Homepage Improvements (Sneak Peek): The new Admin Home page provides Front Admins direct access to important settings and helpful resources. The elegant new design highlights the most common access settings to:
Manage inboxes

Manage teammates

Create rules
You'll also find an ever-evolving repository of helpful resources from the Help Center, blog, and more.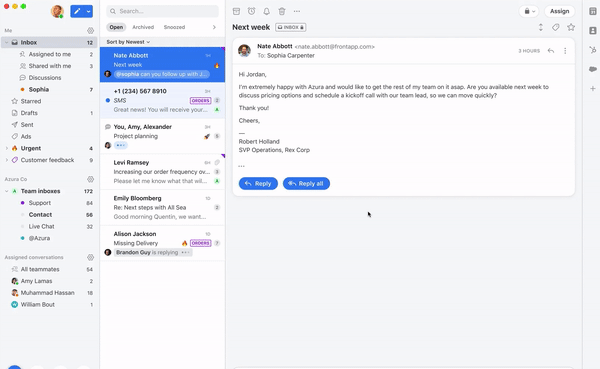 Keep everyone on the same page
Timeline Activity Refinements: We've made it easier to scan and understand important activities, such as Assignments, Moves, Archive, Unarchive, etc. The redesigned Activity user interface now incorporates icons and avatars, and refined visual prominence for activities. All these changes make it easier to quickly grasp the necessary context to effectively take action.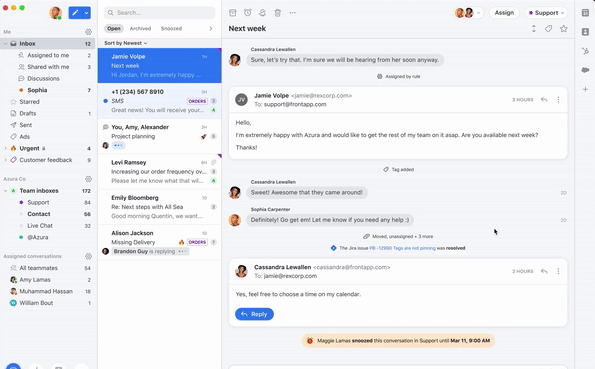 Message Template Categorization (Sneak Peek): As companies accumulate more Message Templates over time, they need an easy way to organize them for easy reference. This update will enable users to create folders that can belong to either a teammate (for private message templates) or a team (for shared message templates). Also notable, access levels for folders can be applied so only specific teams can access specific Message Template Folders. This is slated to release in the coming months, and will certainly be a fan favorite.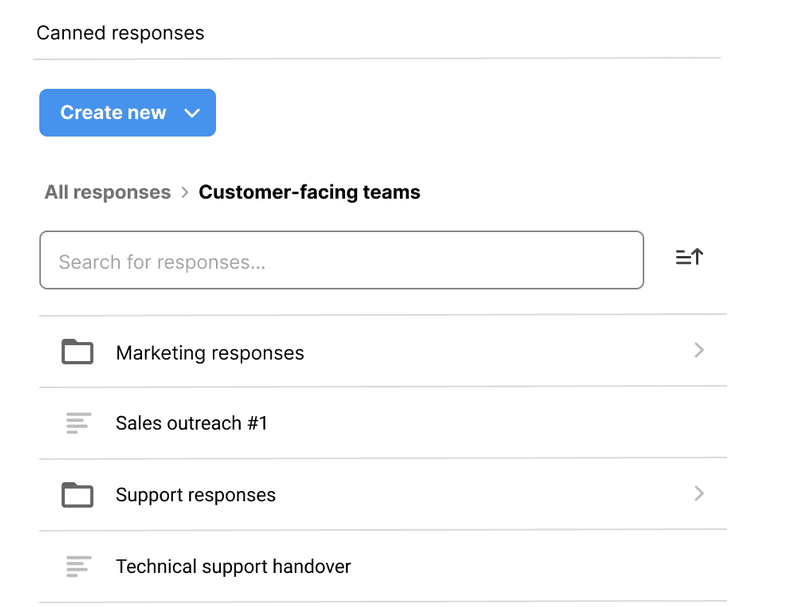 Data Retention (Sneak Peek): Front Admins will be able to set parameters to automatically move communications to a users' trash, and even automatically purge data. This makes data management across the entire org scalable and secure.
Share this one pager
Was this one pager helpful?
Want to see Front in action? Get started!