One Pager - 7 min read
What's Front, and why is it a better way to work?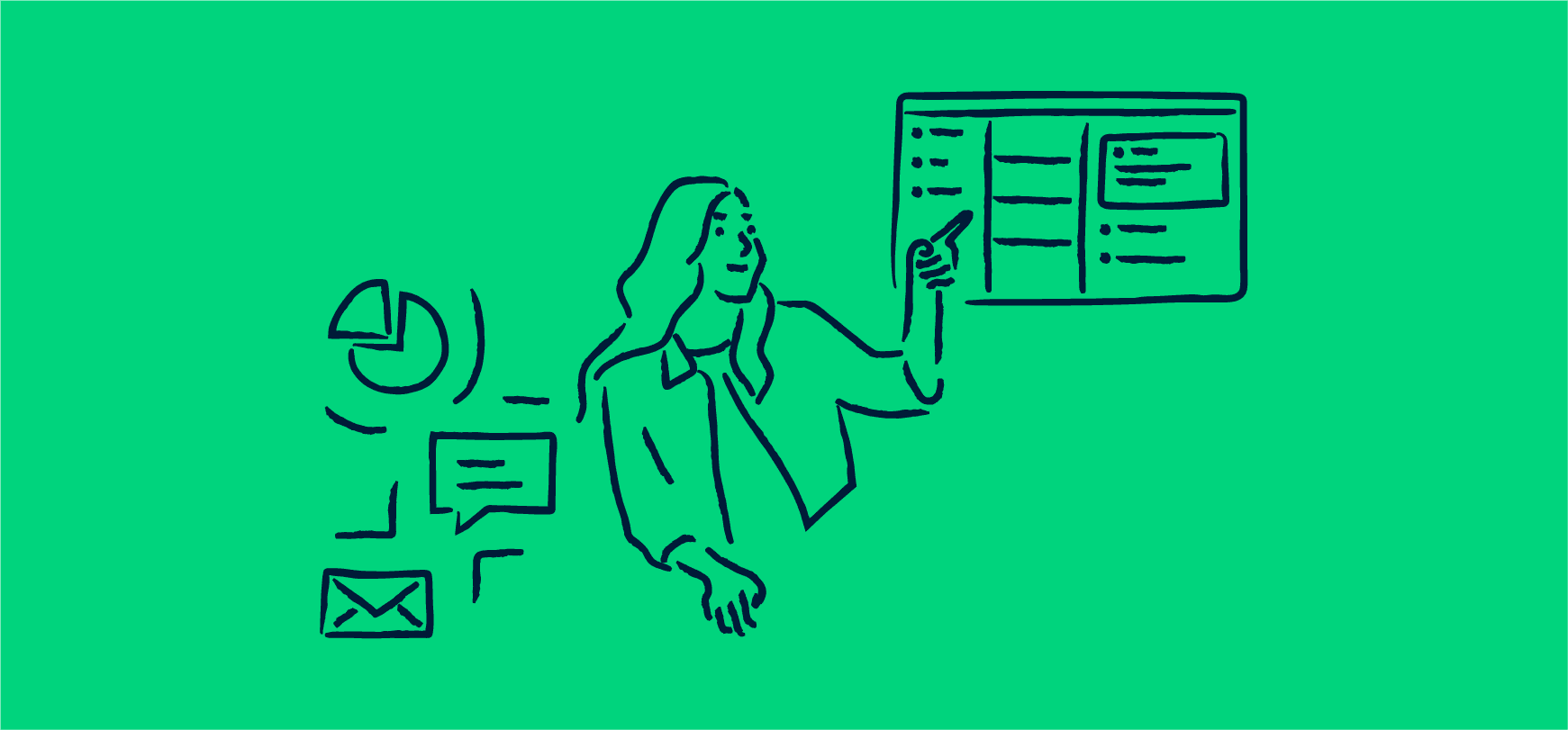 All about Front
The problem with work today
Email seems to be both the most relied upon communication tool in work as well as the most common workplace woe. Originally built for 1-to-1 communication, it isn't designed to support large teams or customer communication, and too often work that should be tackled by a team becomes siloed or chaotic as a result.
These days, customer-facing teams look to a variety of other apps to fix the workflow that email lacks, like help desks. But the clunky software experience and impersonal communication that results takes the humanity out of work, and often causes teams to feel out of touch with their impact. People find themselves bouncing between different tabs consistently, draining productivity.
But there's a reason teams still use email. It's familiar and personal, and in many ways the backbone of workplace communication.
Front is reinventing email for the way teams work. We wanted to solve for a dated, siloed email experience and robotic help desks, so we started from scratch. Front takes your email provider – like Gmail or Outlook – and adds all sorts of good stuff:
Automated workflows

Analytics built for visibility

Internal coordination tools

Integrations with all your important apps

A shared, company wide view of customer context
And that list isn't comprehensive. Front helps you make more impact as a company and scale customer communication without losing the personal touch of email – all from your inbox.
Front – making missions possible since 2013
Front is a customer communication hub thatpowers effective engagement at scale by combining email, apps, and teamwork into a single view. It transforms work into impact by meaningfully connecting your teams and customers and taking away the clutter, chaos, and impersonal customer experience that so often comes with today's workflows. Ultimately, Front makes more missions possible by removing the inefficiencies of today's work and supercharging personal customer communications.
With Front, you get the automation and customization of a help desk, with the personal and familiar touch of email. Front integrates with all your favorite tools – Salesforce, Jira, Asana – so you can do all your work from your inbox.
Who uses Front?
Front works best for customer-facing teams, though we find that all companies appreciate the fresh take on email. Below are some guides designed for specific customer-facing teams that don't look back after switching to Front:
Email is the most widely-used workplace technology on the planet, but it could use a facelift. Front is your reliable, dependable email — redesigned for today, so that you and your team can work more efficiently.
How teams make a bigger splash with Front
Front's mission is to help teams make a greater impact. There's a few ways that teams see huge improvements in collaboration and productivity, and most importantly, customer experience, right away.
1. Access every message and app in one inbox.
From CRMs and file storage, to customer support and project management, new tools pop up every day. And with time, there will be more. If we're going to get work done, our inboxes need to integrate with these new tools.Since traditional email is separate from our other message platforms and apps, we spend time searching for context, switching tabs, and copy-and-pasting critical information. To save you time and make it easier to get work done, Front brings this context into your inbox:
Manage all your messages in one place.Send an SMS text, reply to a Tweet, or start an internal discussion to hold a chat conversation with your teammate — without switching tools.

Access your apps and tools in your inbox. From customer data to important context from past conversations, Front's integrations pull all your critical information right into your inbox. You can create tasks in Asana, update customer records in Salesforce, or manage issues in JIRA directly from Front — so you don't have to switch tools or enter information twice to get work done.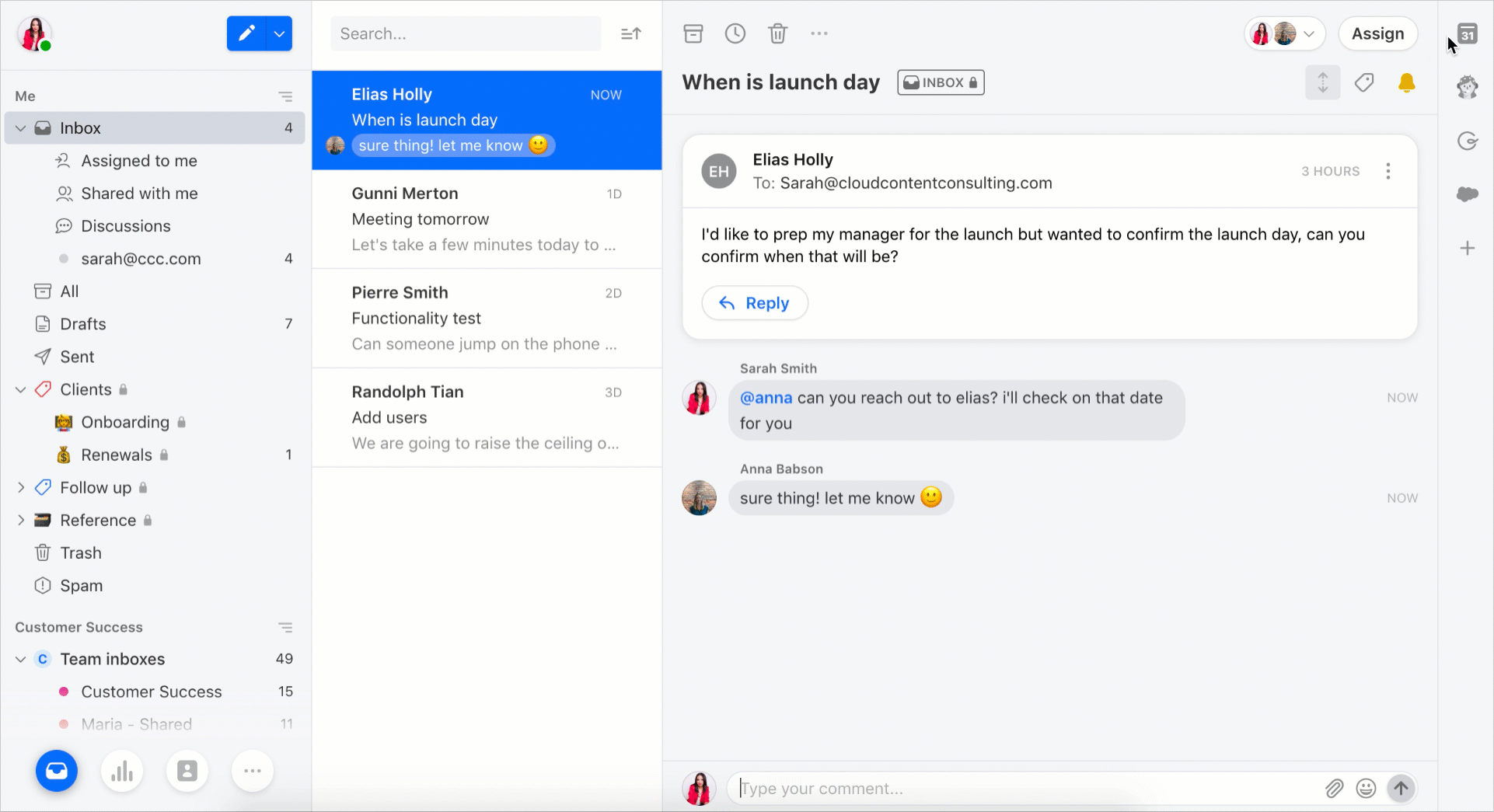 2. Mention teammates on emails and work on drafts together.
Whether you're forwarding a message to your boss to ask a question, or shooting an FYI to your entire team, you need to be able to discuss and share emails with teammates. That's why many teams turn to chat apps like Slack to ask quick questions and discuss issues in real-time. This creates a few problems:
The conversation happens separately from the original email, so when you look at it later on, you have no context on the situation.

When you go to find that context, you have to search through multiple apps to find it.

Chat messages can be distracting, and when they happen separately from the email itself, you have to message more to explain the email's purpose.
Front brings the discussion to where it should be: with the original message. Loop teammates in on a conversation with an @mention, or get a second opinion on a reply by sharing a draft. With Front, you can get the context you need to work more efficiently.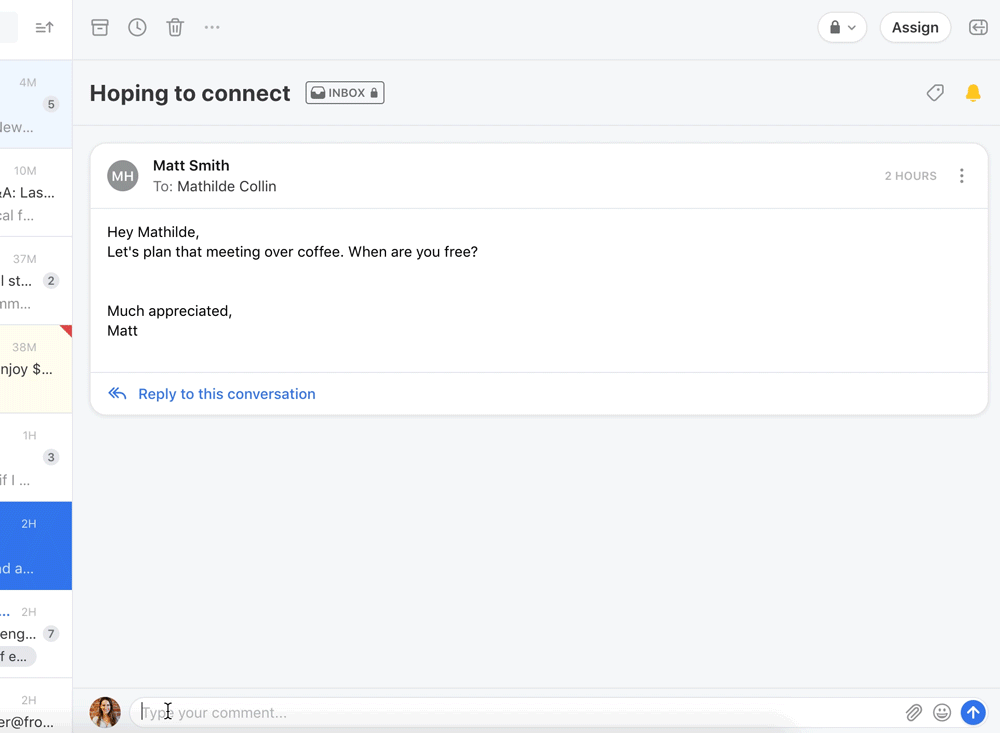 3. Automate the tedious tasks that suck up time.
We do the same things over and over with traditional email. We move emails into folders, forward emails to teammates, reply with similar answers — the list goes on. Front can do repetitive work for you with rules.
Using "if, then" statements, you can organize your messages based on trigger words, or route messages to certain people on your team at specific times. With Front, your email knows where it should go, and what it should do, all on its own.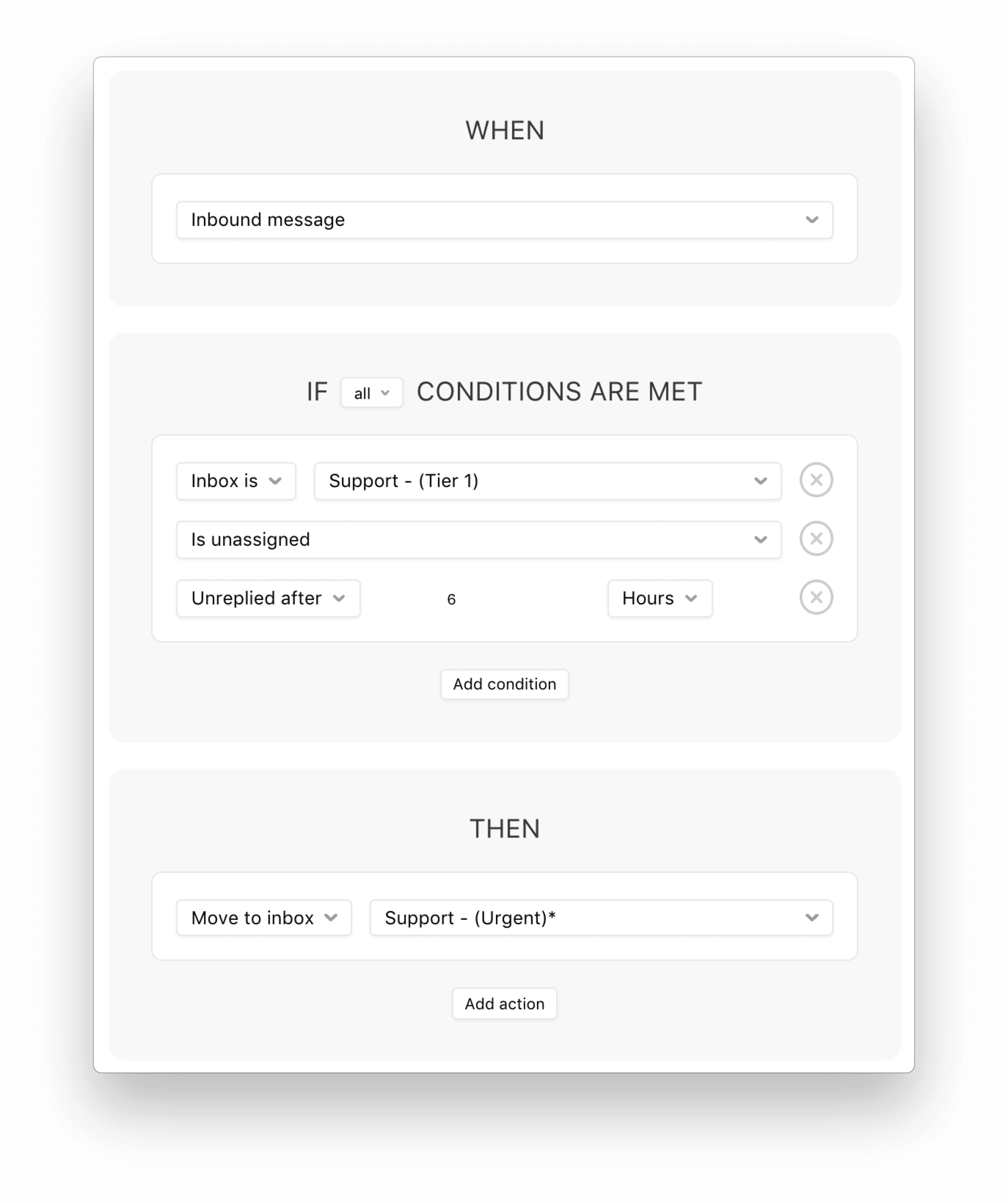 Teams come up with amazing time-saving automations using rules. Some common favorites include:
Assign emails containing a certain keyword to the right teammate: If the message contains "billing," route it to the accounting manager.

Add tags to emails so you can quickly scan your inbox for urgent items: If the message is from Acme Corp, add the tags VIP Customer and Urgent.

Archive emails you don't really need to read: Auto-archive calendar accepts or CRM record updates.
For more ideas, check out the Front Rules Directory.
4. Manage group email in team inboxes to save time.
Our claim to fame is our team inbox. It's a supercharged shared inbox (an inbox like [email protected] that allows multiple people to send and receive email from the same address) with the following superpowers:
Got emails to distribution lists, Google Groups, Outlook shared mailboxes, or some other group alias, like [email protected], [email protected], or [email protected]? Front completely changes the way your team manages these emails to save you hours every week. With Front, you can create shared inboxes to manage messages as a team.
1) Create a shared inbox for anything, like "Success," "Support," or "Marketing," for instance. The shared inbox lives in Front right below your individual work email, so it's easy to find. 2) When someone sends an email to these inboxes, like "[email protected]," any teammates who's part of that inbox can see the same copy of every email. 3) When one person replies, everyone can see that it's been answered, without creating any additional copies or duplicate work for other teammates. 4) If you know the best person to respond, you can assign it to them so everyone knows who's responsible for what. 5) When you reply to an email in a shared inbox, it's archived for everyone and moved out of the queue. Poof.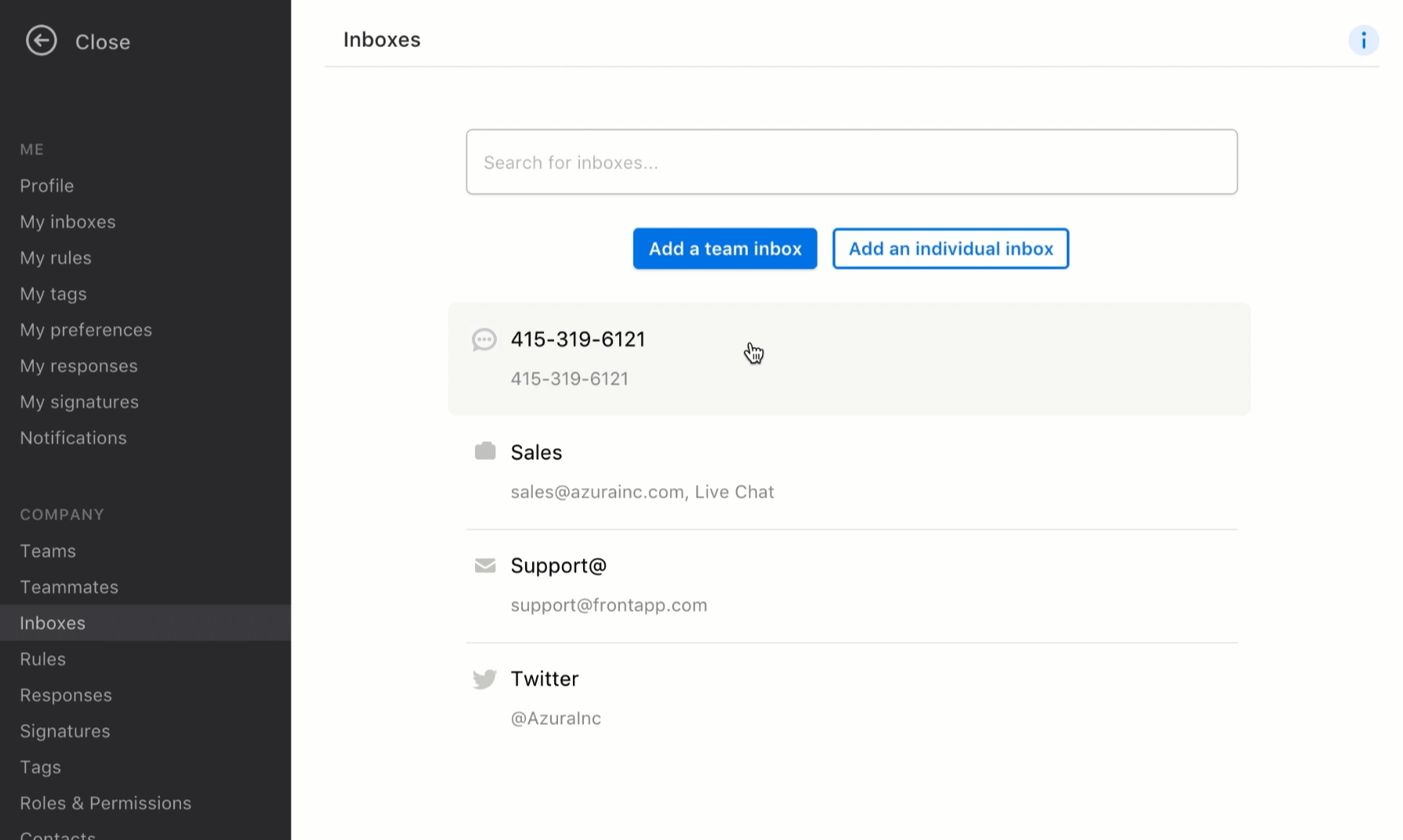 Shared inboxes drastically cut down on the number of emails you need to look at every day. Instead, you're working through your group emails together. No need to read every single customer email; what's important is that every customer gets a reply from your team, from whomever is best equipped to answer it.
5. Organize your inbox to work more efficiently.
With endless messages and very limited attention spans, we need a better way to organize our inboxes. Gmail and Outlook have tried solving this with spam, folders, and labels like "important." These depend on teammates to sort messages individually, though, so everyone has to spend time organizing messages. The way you organize your inbox is probably very different from the rest of your team.
With Front, your team stays organized as a whole and can find information you need faster with team tags. You can make tags stand out in your inbox with colors and emojis, or view tagged messages at once like folders. You can also create your own private tagsto organize messages for your personal workflow.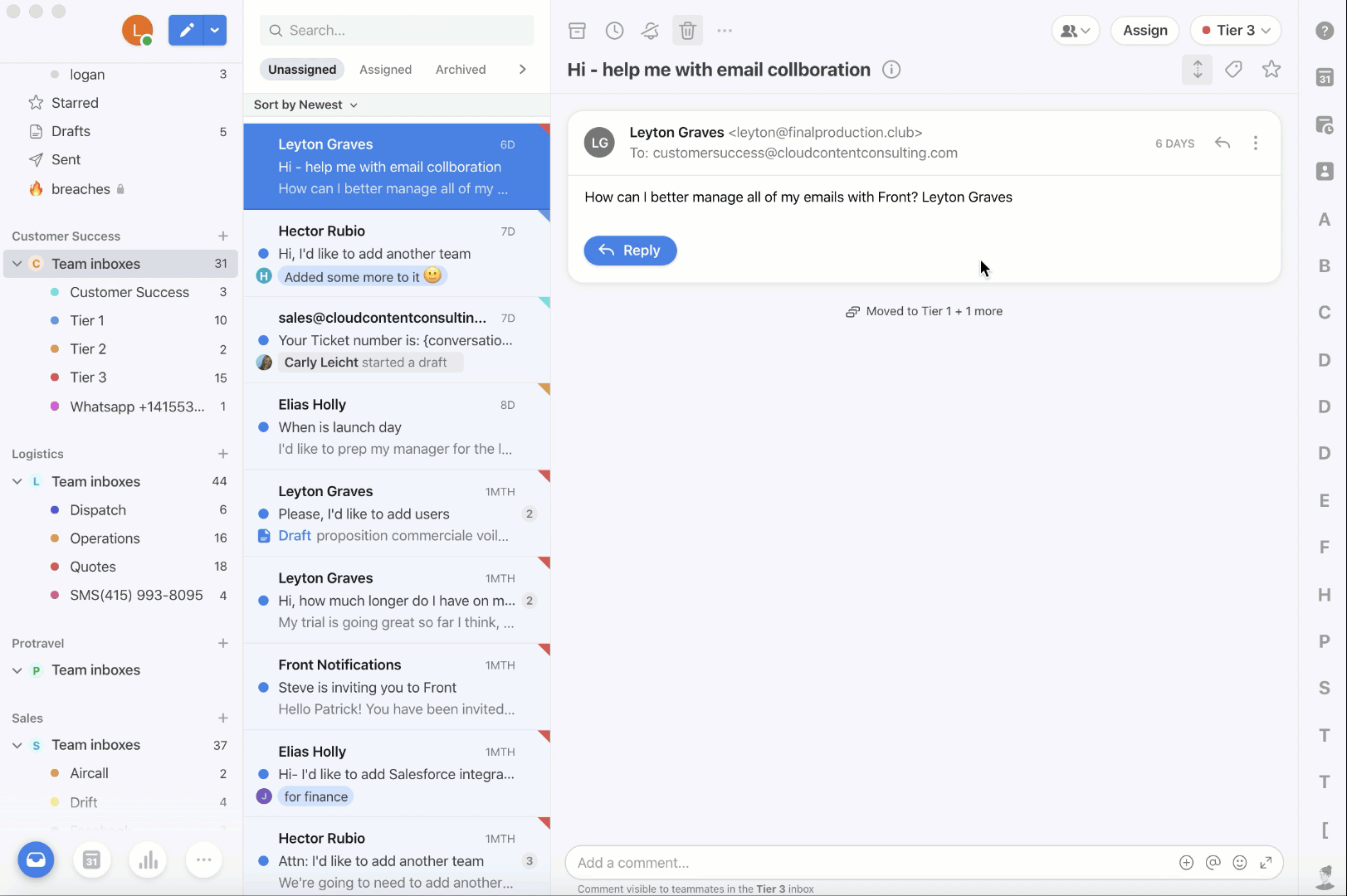 Share this one pager
Was this one pager helpful?
Want to see Front in action? Get started!