One Pager - 5 min read
Front's Rules Library: A collection of 26+ workflows to discover and customize as you scale
Typically, Rules aren't that fun to talk about; like when you weren't allowed to have dessert until you finished your broccoli. Rules in Front, on the other hand, aren't about restriction at all. We like to think of them as an invitation to customize Front to bring out the best in your team. Front's Rules are essentially the building blocks to automate customer communication and team workflows. They're simple "if-then" conditions that reliably automate tasks to save time and increase your team's efficiency. In the backend, they look sorta like this: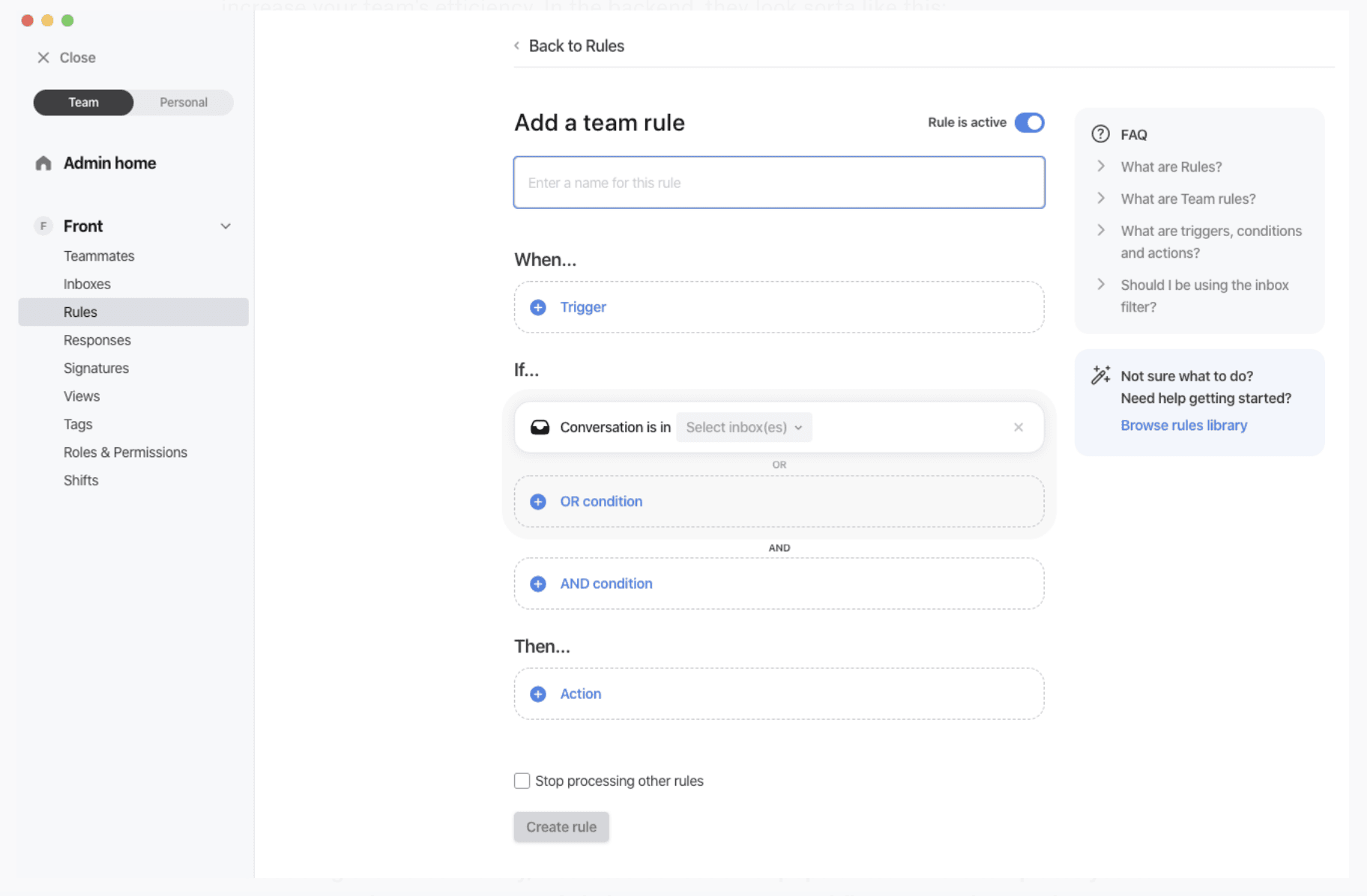 Creating team Rules makes your workflow more efficient and helps you scale by automating tasks so you can spend time on your customer interactions instead. But we don't want you to have to start from scratch. Introducing the Rules Library, a curated collection of popular team Rule templates you can customize and use in a matter of clicks. Discover new workflows to implement for your team, and save time writing the recipe.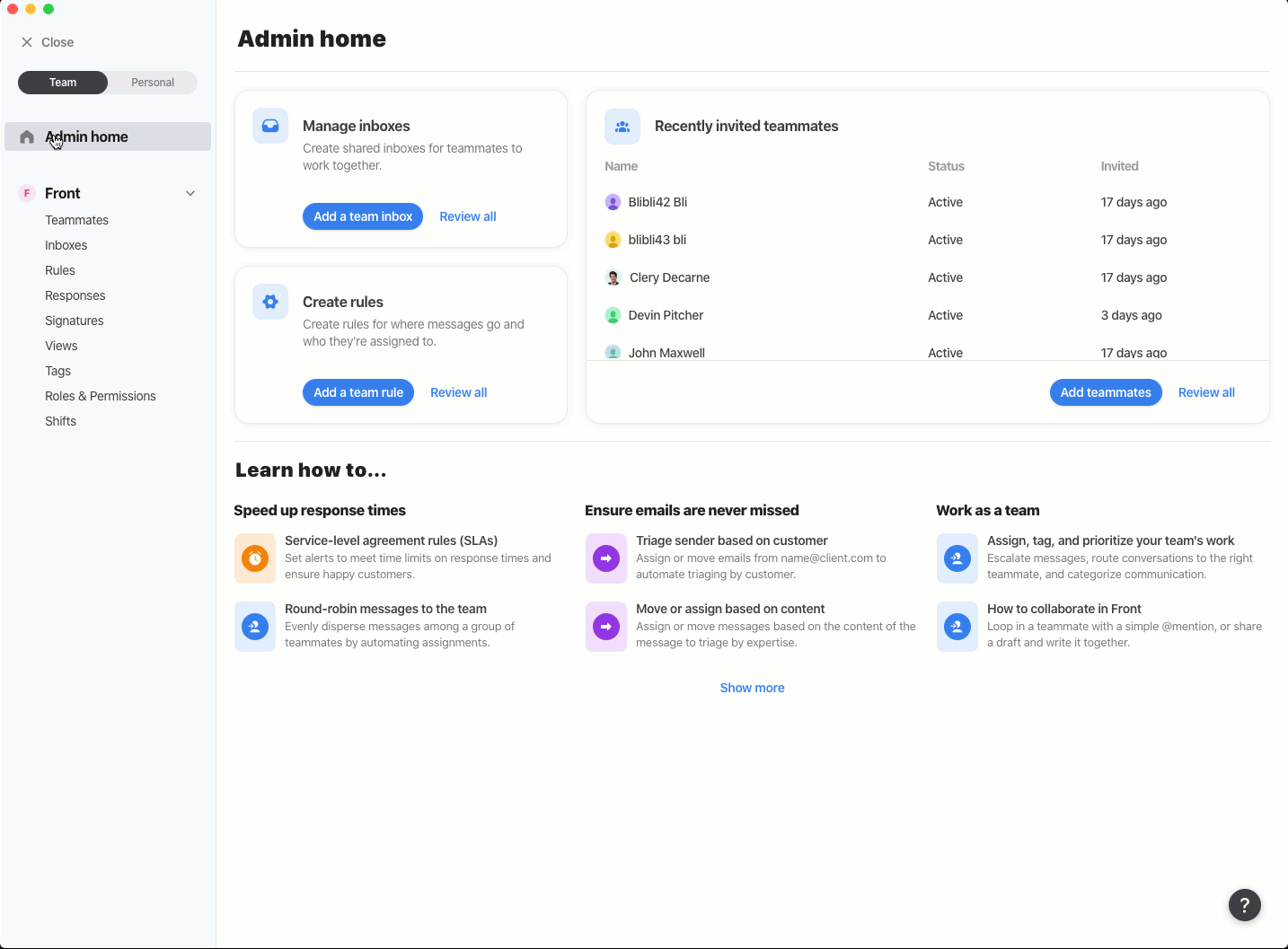 The Rules Library serves as a source of inspiration, highlighting 26 of our most popular Rules. Not only can you discover new Rule templates for your team, but you can activate them in a snap – making managing your team much more efficient. The library is full of templates to help:
Ensure your team replies on time

Route messages to the right person or team

Give your team appropriate visibility

Keep your inboxes tidy

Increase your team's efficiency
Ready to find new Rule templates and scale your team's workflow? Here's a preview of 6 actions you can automate from a template in our new Rules Library.
1. Never miss your Service-Level Agreement (SLA)
Tag un-replied messages after a specific time elapsed to surface possible breaches. For example, if a support team has a 24 hour response time turnaround, you can automatically apply a tag like "SLA warning " to messages approaching a breach to escalate them and signal to your team to prioritize that work. Or, automatically assign messages at risk of a beach to a specific teammate so they can tackle it right away.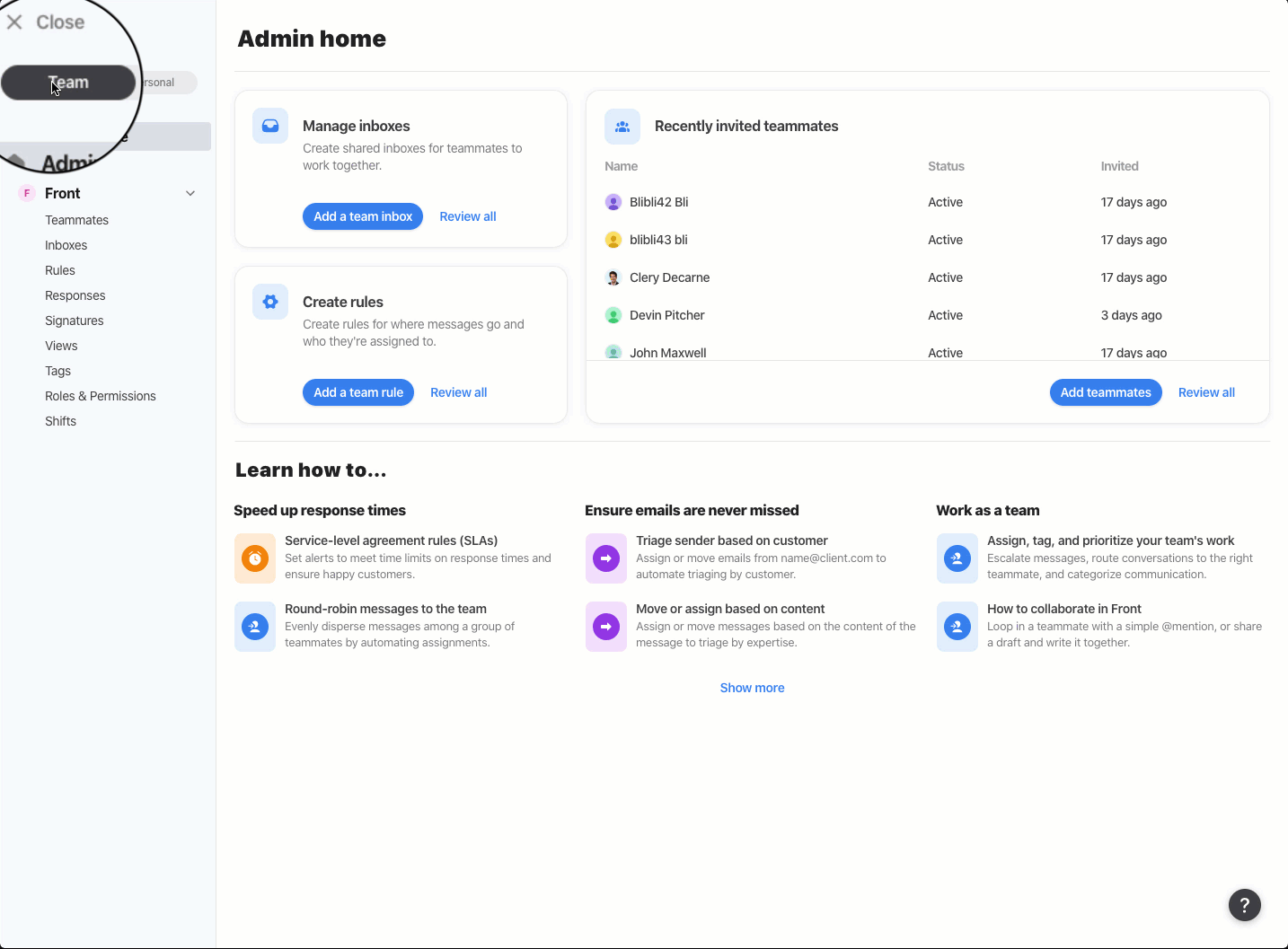 2. Automatically assign messages to a teammate after applying a tag and take that task off everyone else's plate
For example, perhaps Shanice handles all communication with Disney, a VIP customer. You can automatically tag their messages with a "VIP" tag, then assign them to Shanice so it's the first thing she'll see in her inbox. Or, let's say Tommy handles all escalated support inquiries related to a specific high-end component called 'MDJ-11'. This Rule template could automatically assign him messages anytime someone on the team applies the tag 'MDJ-11'. This saves the team time from having to manually apply the escalation tag and then also manually assign the messages to Tommy.
3. Get a notification when extra-important messages arrive
Alert teammates to messages sent from a person or address. For example, Mike is the CEO of a critical account; you can use a Notify Rule template to ping your inbox whenever Mike emails any team inbox, be it [email protected], [email protected], or [email protected], so you can keep an eye on, or even intervene, when needed. You could also configure the Rule to notify a CSM whenever their account writes into support, so they can reach out and make the personal connection.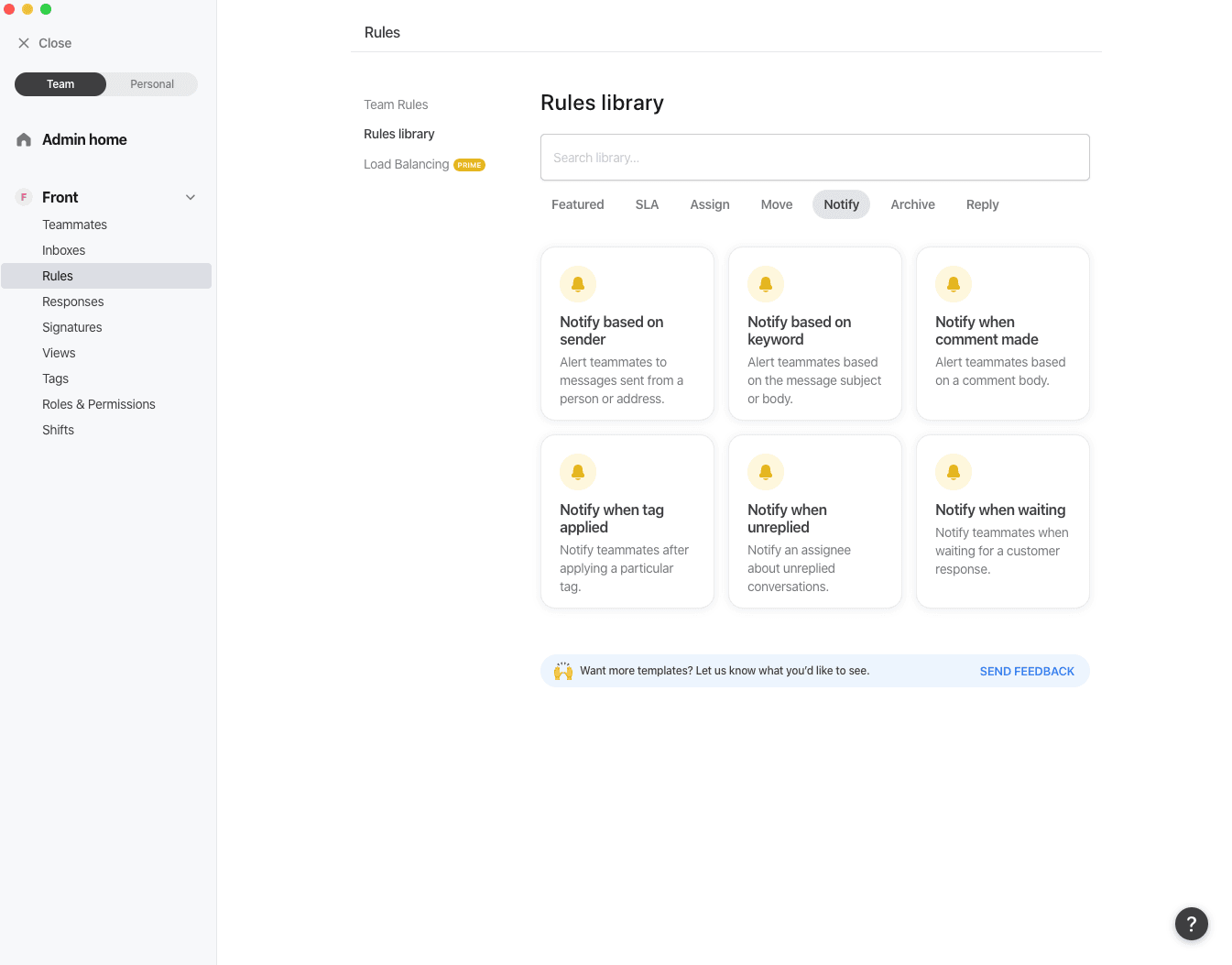 4. Move messages to organize your team's work
Move emails to another inbox when needing to escalate an issue. For example, if a support request tagged as 'tier 1' can't be addressed by that team team, the rep could apply a 'tier 2' tag, triggering this Rule to automatically remove the 'tier 1' tag and move the message to the tier 2 support inbox for that team to address. You can even customize it to un-assign the message in the process, and route it to someone else. This saves that rep valuable time from having to manually remove a tag and move the message. Tag it and let Front do the rest so you can move on with your work.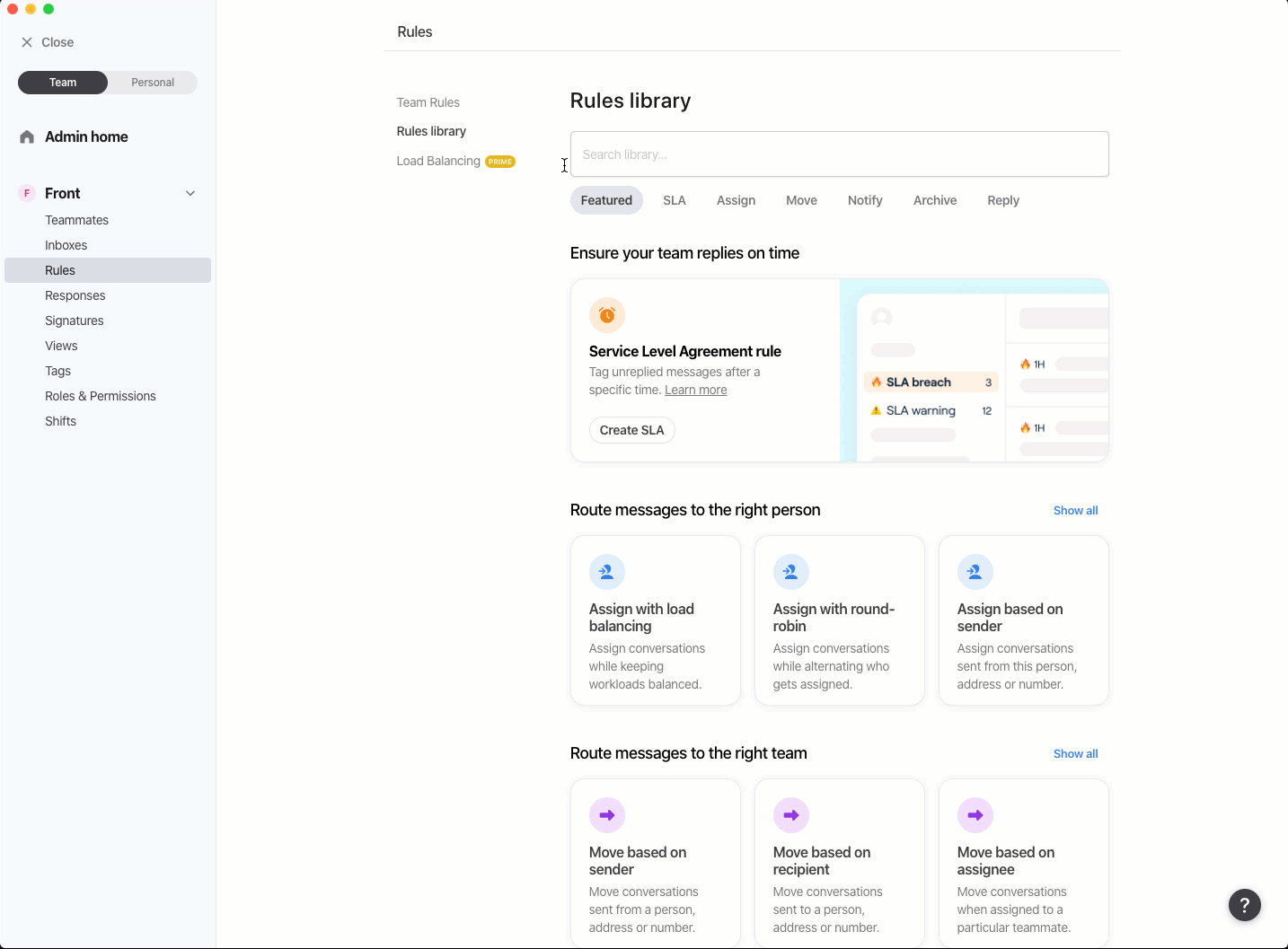 5. Archive messages to clear up inbox clutter
Archive email that don't demand your team's prioritization based on content. For example, if you want to filter out non-urgent newsletter emails, you can use an Archive Rule template to archive messages containing the word "newsletter." Remember that in Front, your inbox is your to-do list, so archive messages that don't require action – you can always browse through 'em later! You could also choose to automatically archive all dropbox edit notifications, calendar confirmations, or other non-personal emails that don't require immediate attention.
6. Reply to messages that can't wait
Send message templates to messages with a predictable reply, like when a message is received outside of business hours. For example, Rob's shift is from 8 am - 5 pm M-F, and he wants to highlight specific resources for different accounts while he's out. He can use the Reply Rule template to ensure each account receives an auto-reply with their personalized resources. We also like to automatically send a message template if a message hasn't been replied to right away. We'll let the customer know we're on it if they haven't heard from us within 12 hours, and then will tag the email with an "Urgent" tag so we know to look there first.
We'll be adding more Rules to the library regularly, so check it out regularly. If none of the Rule templates in the library work, no problem; you can always create custom Rules leveraging 'if-then' conditions. Head on over to the Rules Library now to explore the templates and get inspiration for your next game-changing workflow. Here's to more time spent on what matters – we'll take care of the rest.
Share this one pager
Was this one pager helpful?
Want to see Front in action? Get started!