Customer Story - 3 min read
How a Support team uses Front's escalation and collaboration features to reduce response time by 67%
Industry: Financial Services
Team: Sales, Operations, Customer Support
Learn how Lydia, a mobile payment app popular in France, has used rules, message templates, and built-in collaboration tools in Front to improve their workflow, scale personal customer communication, and boost their KPI metrics.
Over 30% of French people between 18 and 30 have a Lydia account. The mobile banking app allows peer to peer payments, personal bank account monitoring, transfers, and shared accounts. Any company that deals with banking knows the importance of fast, personal customer communication, which is why the entire Lydia team uses Front to manage customer messages. Lydia uses 3 key features in Front to give their daily workflow a makeover – and increase their customer satisfaction rate, improve response time, and boost their KPI metrics along the way. Automatically assign and categorize messages with Rules so that each customer message gets dealt with swiftly. When a message is assigned, it shows up in someone's personal inbox so they can tackle it right away. If a message is routed to a VIP tag, for instance, the team knows to prioritize it. Save time by creating message templates, which act as email templates that can later be personalized to keep a human touch. This helps the Lydia team get back their customers quickly while not forgoing high quality responses. Collaboration is built into their workflow in the form of comments, which allow the team to loop in others to an email and get help on tricky support issues.
Rules, message templates, and comments are now the foundation of the Support team. They rely on them daily to triage messages and get them in the right hands, save time, and collaborate. By switching to Front, Lydia's Support team has been able to reduce response time by 67% on average – without losing high-touch communication as they scale.
Do it yourself
Rules for tags
Rules automate workflows to make sure every message gets in the right hands or inbox right away. To automatically tag messages based on content, start by creating the tags that will help prioritize, triage, and categorize work for your team. For example, if you want to tag newsletter emails, create a rule to archive messages containing the word "newsletter." Tag based on content Step 1 Go to Settings by clicking on your avatar in the top left → Rules & SLA → Add team rule Step 2 Set the When trigger to Inbound messages. Step 3 Set If conditions to:
Inbox is the team inbox this rule should apply (e.g. Support inbox), AND

Subject contains and Body contains to the word of your choice (e.g.newsletter). Ensure these are connected by an OR condition.
Step 4 Set Then action to:
Archive conversation

Add tag and fill in the tag to add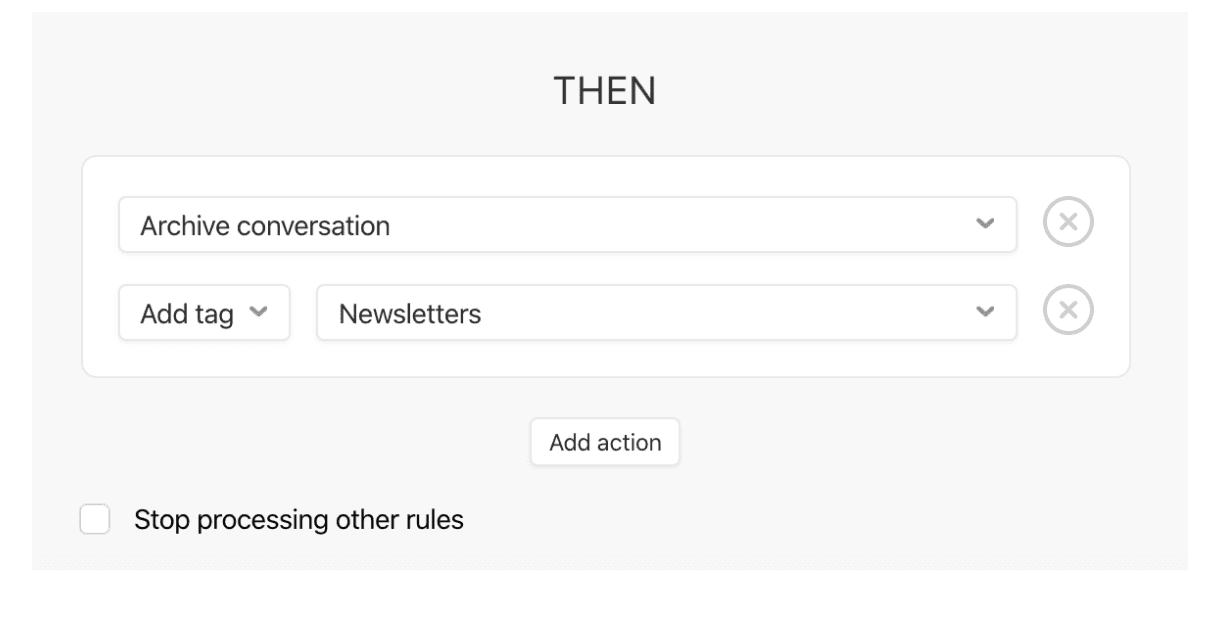 Message templates
Create a variety of message templates to help train your team how to respond, keep tone and voice consistent, and save time. Teammates can then go find the message template that fits their need and spend more time personalizing the message. This ensures that the quality of customer communication doesn't dwindle as your team becomes busy, and lets the emphasis always be on personalizing the message.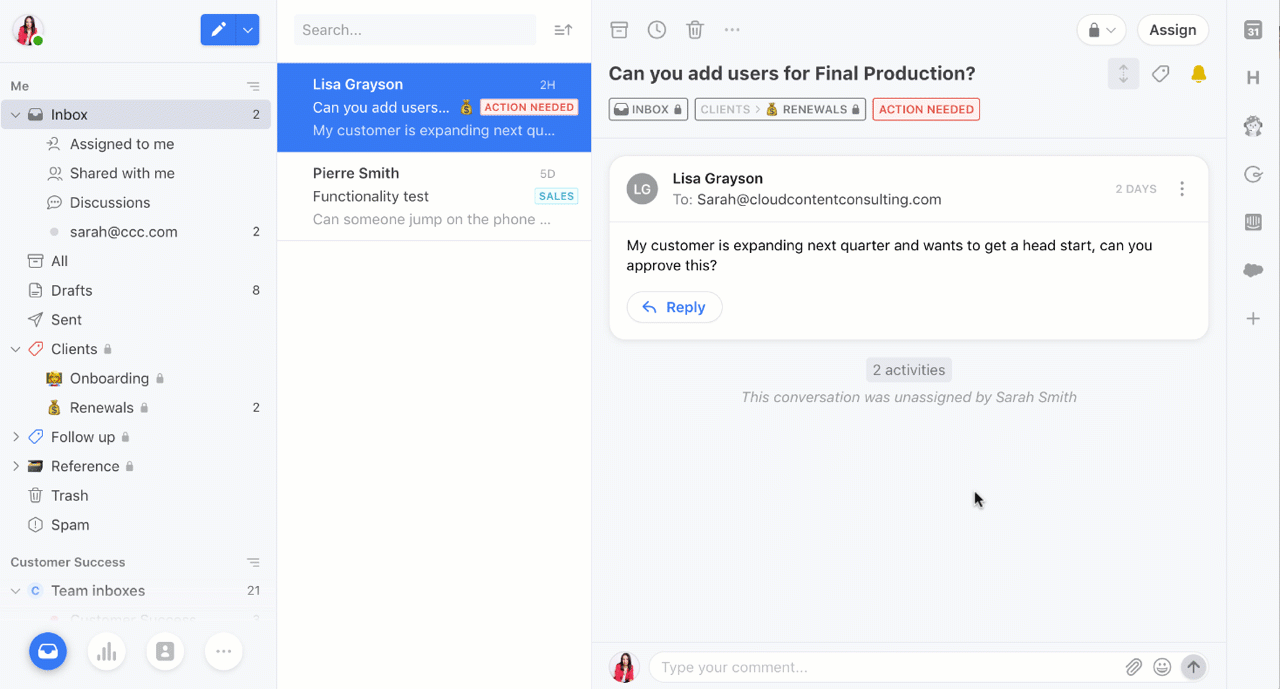 Collaboration tools
Commenting is an easy way to loop in teammates, flag a message, or phone a friend for help. Just at-mention someone's name and they'll have access to your full conversation. Still need support? Share a draft with them as you work on your response.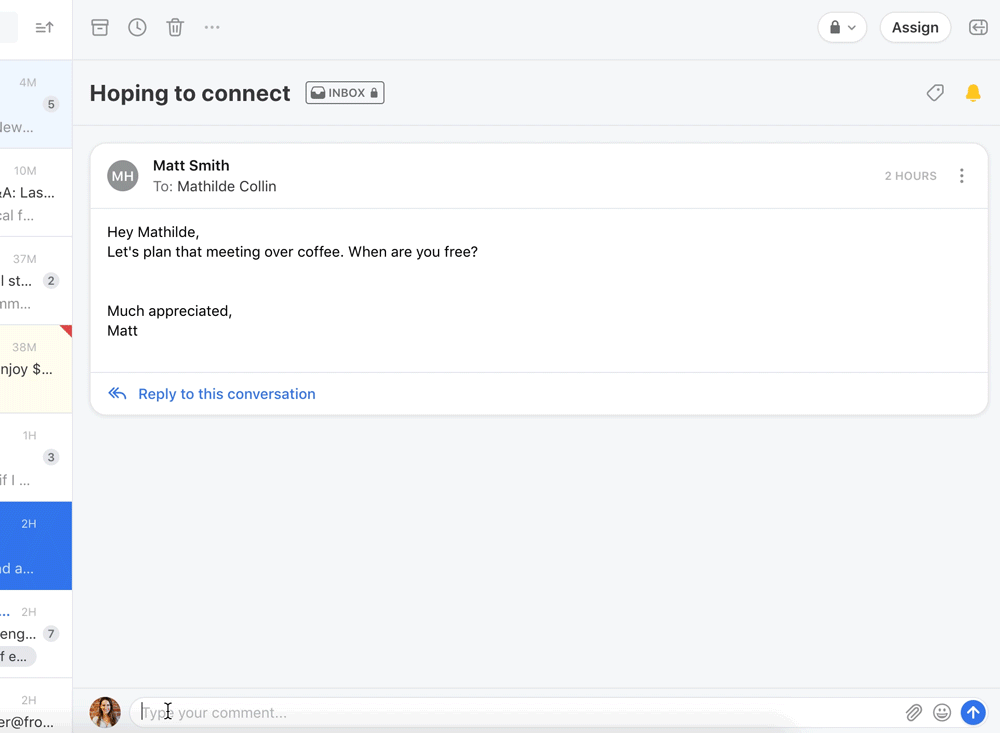 Another way to collaborate in Front is to start an internal discussion. This is a casual, yet still advanced, way to chatting with coworkers. Write to one person, a few, or an entire team inbox so that you don't have to leave Front and context switch, or lose track of important topics, as you chat.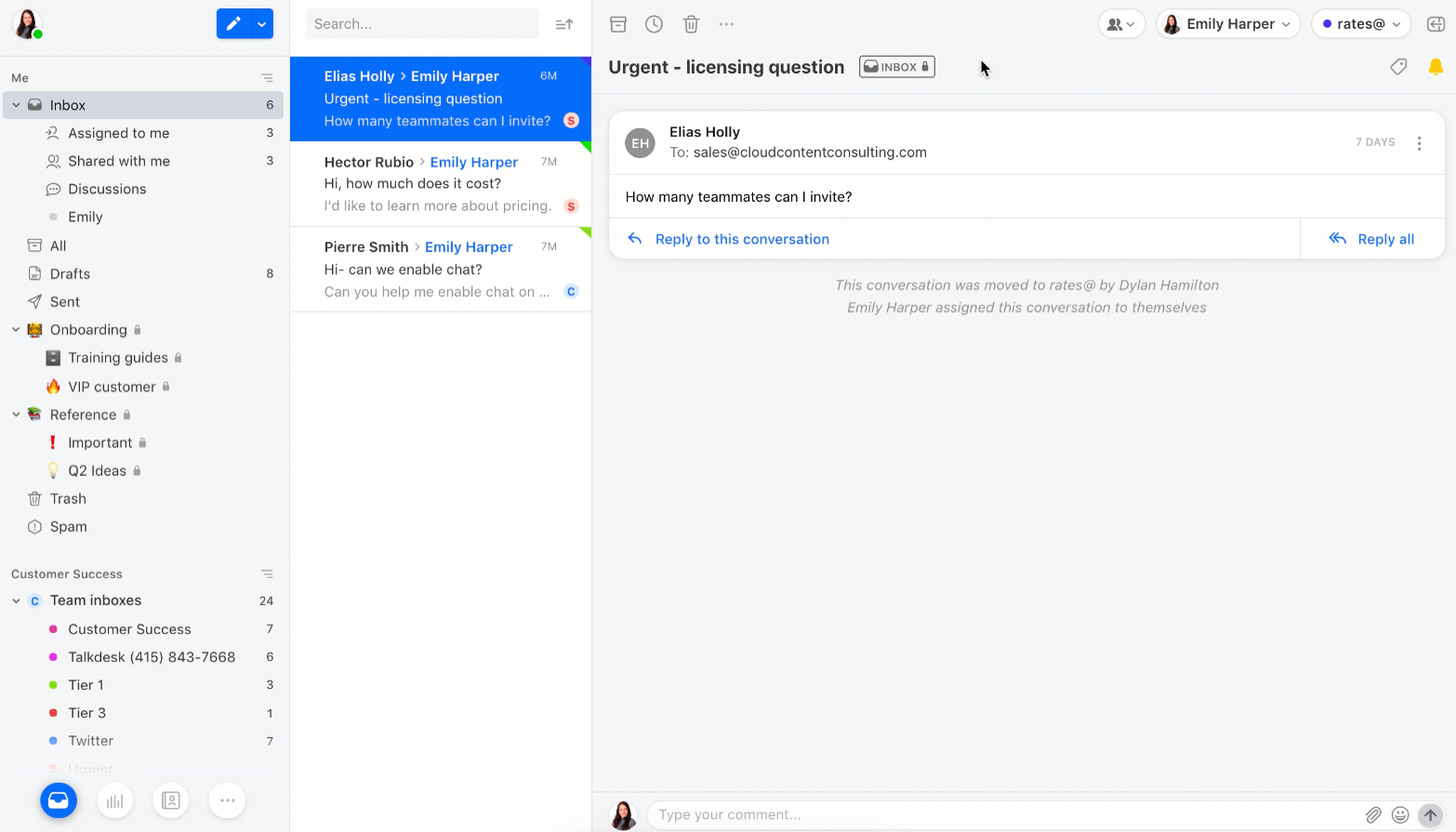 Share this customer story
Was this customer story helpful?
Want to see Front in action? Get started!