One Pager - 4 min read
Improve customer experience with Front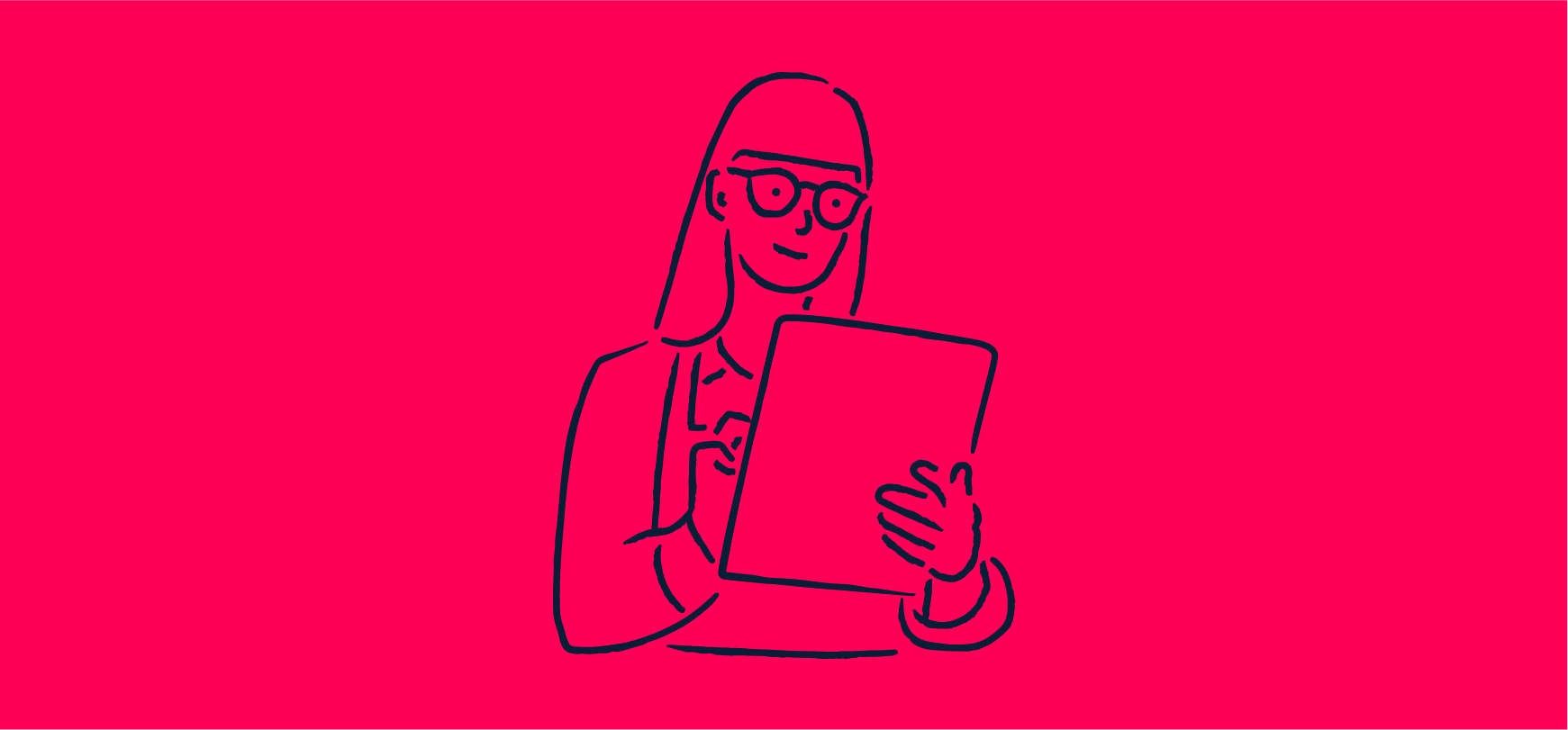 World-class customer communication starts with well-organized internal processes. If your inbox is a mess, or your messages are scattered amongst people, customers will feel the chaos through longer response times, less thorough responses, or an impersonal experience.
These 5 features — signatures, tags, SLAs, rules, and analytics — are proven ways to create a seamless system for your team to manage customer messages.
Personalization at scale
When your customer receives a ticket number rather than a reply, they feel like one of millions rather than one in a million — no matter what follows. Front has multiple ways for you to manage messages so your team doesn't get underwater, and all your customers still feel like VIPs. Here's a couple ways to give them all the white glove experience they deserve:
Create multiple signatures to help create a personal, and credible sign-off that shows there's a human on the other end rather than a robot. Adding multiple, unique signatures to your team's toolkit allows for personalization that scales.

Create message templates for your team to use. Think of these as saved message templates for your most common responses to customers. When you save a message as a message template, anyone on your team can use it in a single click, and spend their time personalizing it rather than typing out a common reply.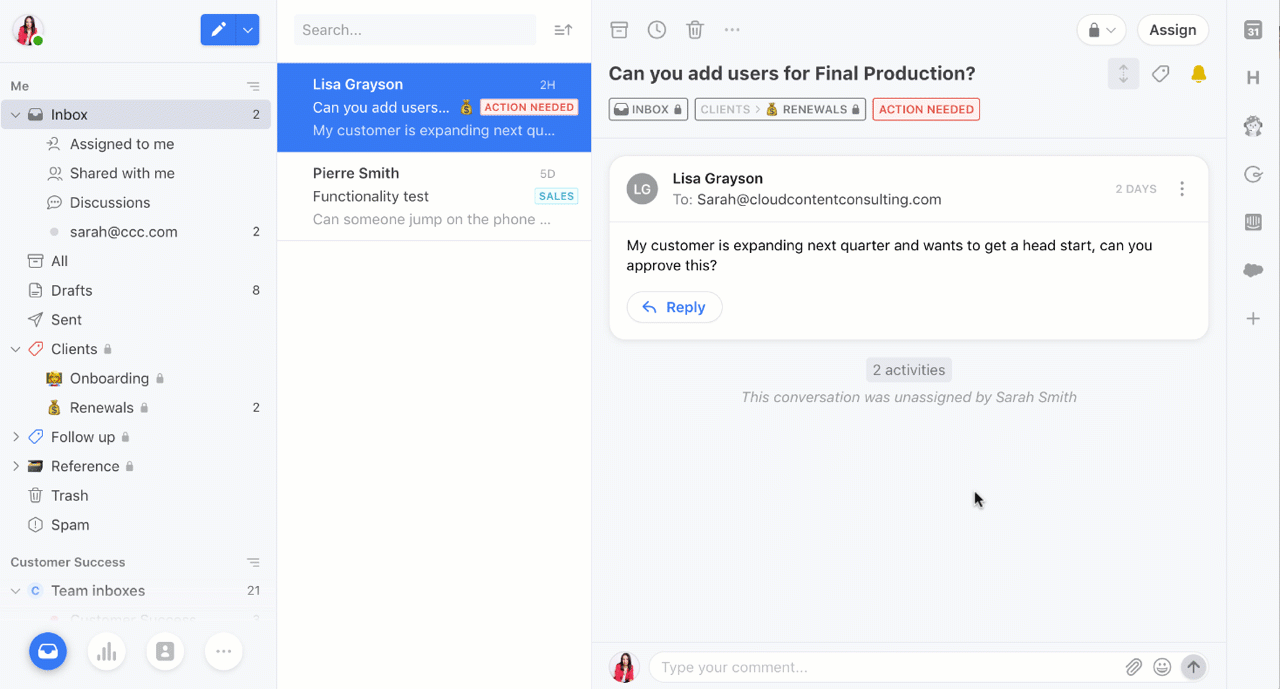 Organize messages with tags
Team tags are ways to categorize and prioritize messages. They're similar to folders, but aren't intended to house messages that eventually get forgotten (we see you, 'save for later' folder ). Rather, we like to create tags that are correlated with an action, like the following:
VIP 👑 – for your largest or biggest customers who require immediate attention

Urgent 🔥 – to escalate messages that demand immediate attention

Feedback 💙 – a place to gather and respond to both positive and negative customer feedback
When a message is in a team inbox, anyone can add a tag. In an ideal world, all messages in your team inbox are either assigned or given a tag so that your team can focus and manage their time better.
Route messages to the right person with assignments
Assignments give every message a clear owner so they can be handled quickly and with continuity. Rather than letting messages sit in a team inbox — and fall behind as new ones come in — assign each message to the person best fit to handle it, and rest assured that it'll be taken care of. You can even automatically assign messages to people and make sure loads are balanced with rules — which is conveniently coming up next in this guide!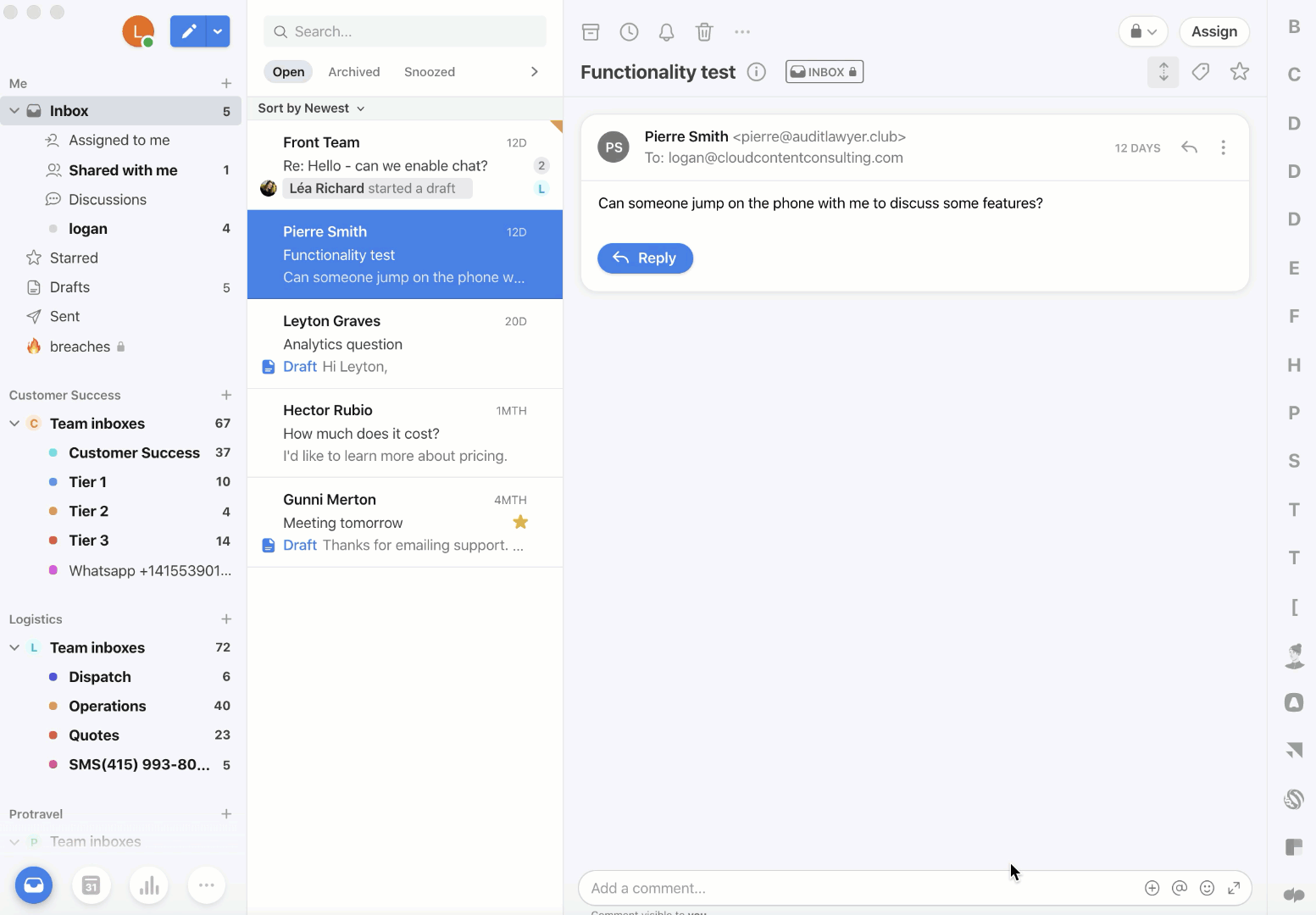 Rules prioritize messages for you
Rules automate the administrative task of routing messages, looping relevant people in, or responding to FAQs. They follow a "When _____, if _____, then _____." For example: When: there's an inbound message If: the inbox is [inbox name] and from an email address that contains [@domainname.com] Then: Add tag [select tag] You can customize rules in a variety of ways to fit your team's needs:
Time-based rules – Like SLAs, or after-hours rules that automatically send a message template to let your customers know you'll get back to them first thing in the AM

Routing rules – Routing messages from a specific customer, or that include a specific keyword, to the correct tag or assignee

Archiving rules – Archiving spam, document sharing email updates, or project management tool updates

Tagging rules – Tagging messages that include a specific keyword or are from a VIP customer to an urgent tag

After hours rules – Sending a message template to messages that come in after hours
Dream big here – there are countless rules to create that help your team save time.
Create SLAs to improve response times
A Service Level Agreement (SLA) is a goal or agreed upon amount of time for businesses to respond or resolve client messages. With Front's SLAs, you can ensure that goals are met and no customer gets left behind. Setup is guided and easy, and there are some key features that help prevent breaches before they happen:
Customize your escalation path by sending messages that are at risk to a "breach warning" tag or even alerting an "SLA" Slack channel.

Front Analytics reports on your SLA success to show how your team is performing, help set realistic goals, and motivate your team to improve.

Create multiple unique SLAs for different criteria like account value or client contact groups, and Front will automatically apply the right SLAs to the right conversation.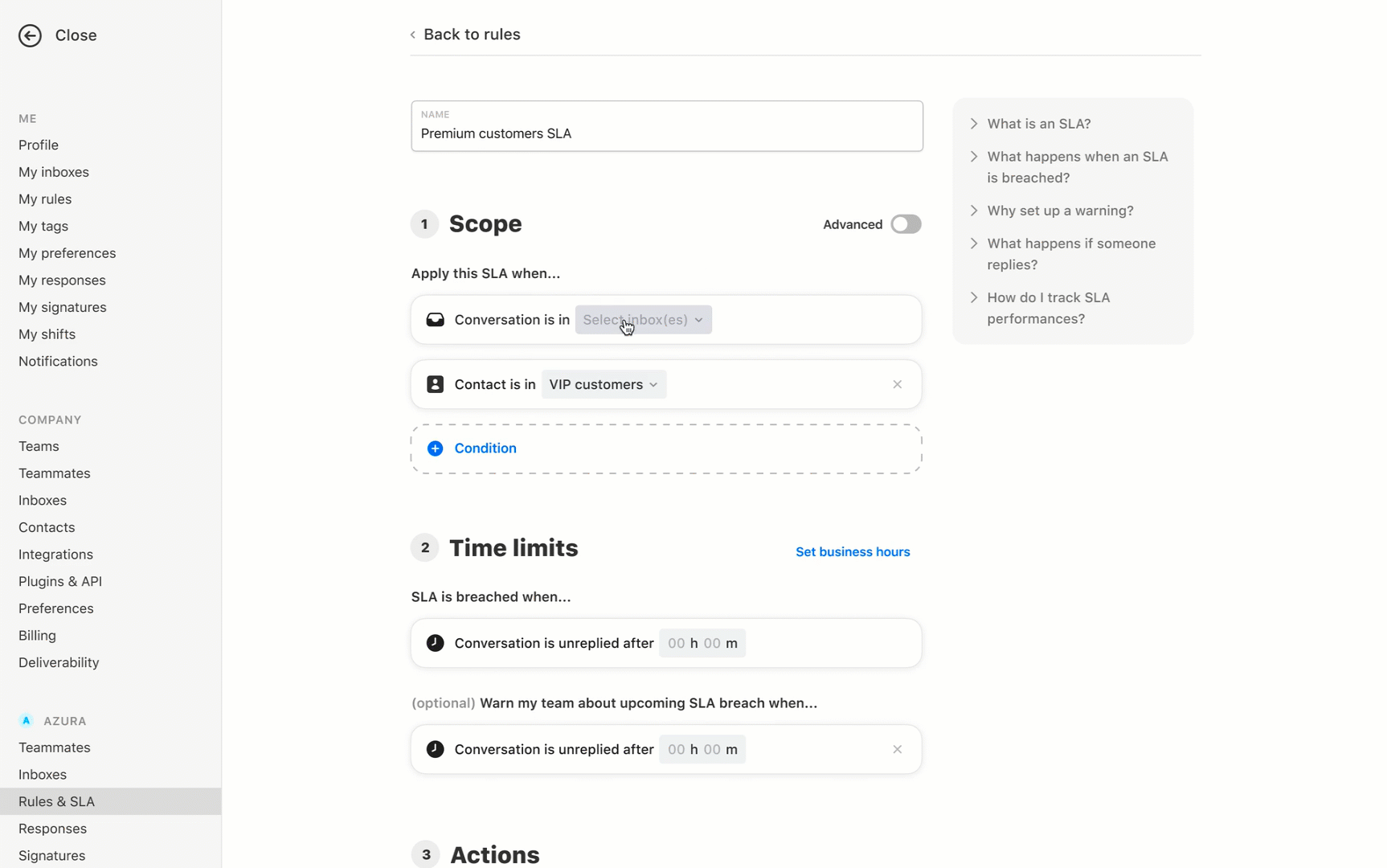 Front's SLAs are the guard rails your team needs to ensure every email is handled on time and every customer has a great experience with your team.
Track progress and improve with analytics
Whether you're motivating your team or strategizing how to reach goals, it always helps to back things up with data. Front analytics give you success metrics on team and individual performance, plus customer experience. You'll be able to view and create reports on:
Resolution time

Team performance

Inbox performance

Load balancing

Specific customers
Share this one pager
Was this one pager helpful?
Want to see Front in action? Get started!