Guide - 8 min read
Inviting your team to Front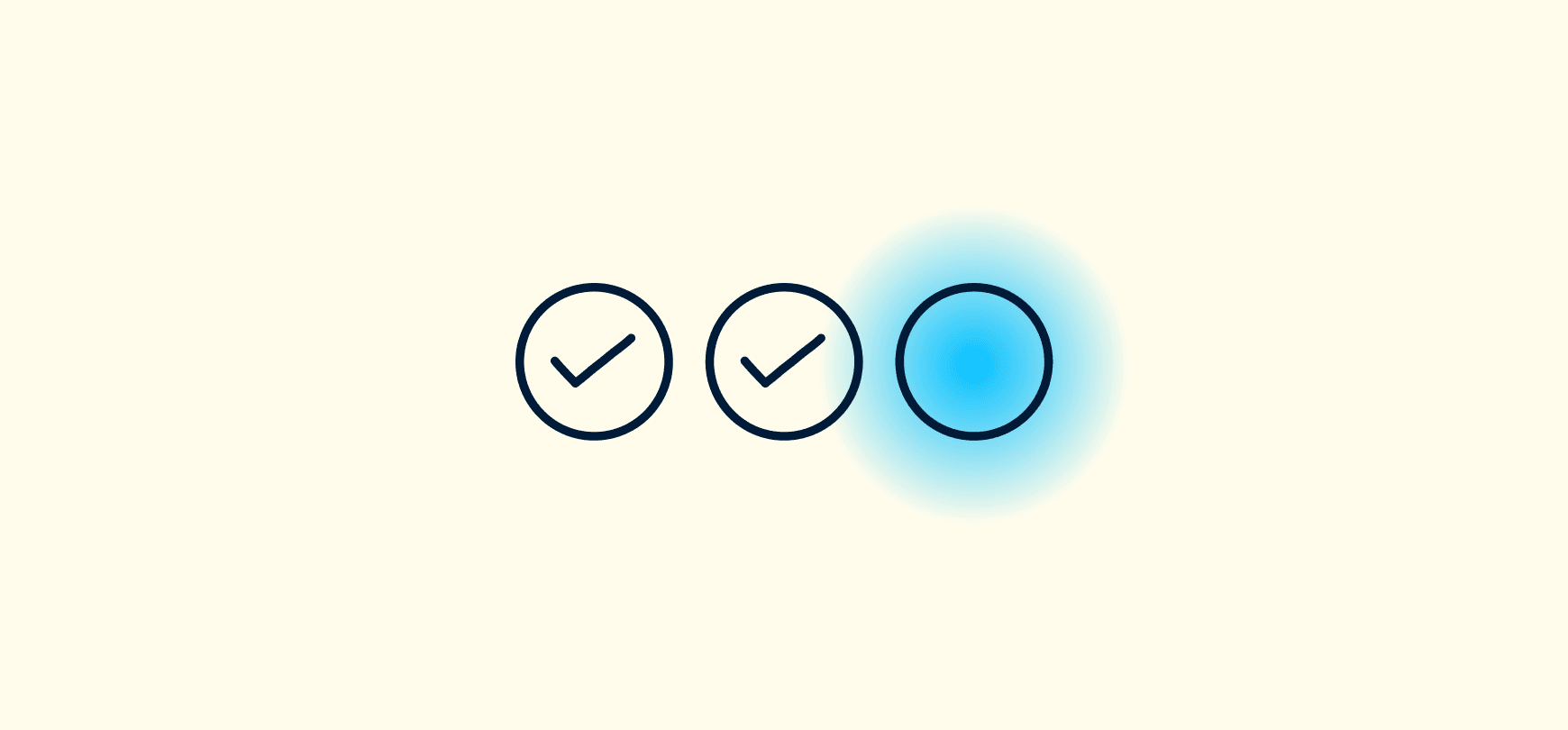 Motivating a team to adopt a new tool and form new habits takes work, and we want to be a partner in that transition. Here are some things we've learned about change management, and a step-by-step guide to onboard your team deliberately and successfully. This onboarding plan also works well for remote or distributed teams – Front actually makes remote work much easier – so no matter where your team is, you can get started today. We recommend the following schedule for adopting Front: Week 1 – Distribute email about switching to Front, and give the team a week to digest the change and ask questions. Take this time to complete your set up and create team inboxes. Week 2 – Have your team complete their onboarding and distribute resources. Week 3 – Try the 1 week challenge (more on this below!). Week 4 – Work out the kinks and gather and response to some FAQs. Week 5 – Fully commit.
#Change management
Change management techniques
It's normal for teams to be reluctant to change, especially when an app is replacing a system they're already comfortable with, like email. Some common complaints are:
I don't have time to learn something new

We're comfortable and used to doing it this way

Things move quickly enough here, we don't need another change
We want to help ease the pain, and the first part of that is acknowledgement and acceptance that this may take some prep. But don't worry, that's why we've written up this guide for you!
1. Awareness
Clue your team in on what problem you're solving for by switching to Front.
What are some metrics you hope to fix?

What is and isn't working within your current system?

What are some past complaints from your team that you think Front will help solve?
2. Desire
In order to get your team on board, consider figuring out the source of the resistance to change. One way to do this is to gather objections and recognize them, so that you don't dismiss concerns and can understand what you're up against.
Then, it's important to get people excited! Consider sending a demo and some resources, identifying one major win of having Front for each team, and sending a hype email. Here's one we like:
"Hi team, How do you feel when you log into email? The answer probably isn't "Yes! I get to check email!" You might also be using any of these tools too to manage the ocean of communications:
We want to make sure that everyone at our company can work happier – with less stress and noice. And, we're determined to make our customer communication the greatest it can be so we can all make an impact – individually and as a team. That's why we're excited to announce that on INSERT DATE we'll be making Front available to everyone at the company.
Front will allow us to:
Business Solution 1

Business Solution 2

Business Solution 3
The project team is:
Team member 1

Team member 2

Team member 3
We'll be hosting a demo on INSERT DATE so you can get the full picture of this powerful tool, and so we can answer any questions you may have. We'll share what support we'll need closer to the go live date, but in the meantime, feel free to peruse these resources:
We're really excited about this change, and look forward to tackling it as a team."
3. Knowledge
Now it's time to put your team in the driver's seat. Let them know how this change will be happening by distributing some onboarding resources for them to examine, mapping business processes in Front, and sharing a rollout calendar.
This is also a great time to give your team some agency and let them provide input on:
Which integrations should be set up

Which rules they'd like to use

How they can see Front's collaboration tools helping their team
The keys to success here are building knowledge, easing the transition and acknowledging the benefits.
4. Ability
This is where the magic happens ✨ Come up with some reliable ways for your team to adopt and succeed with the product. Here are some things we suggest:
Schedule training sessions led by yourself, admins, or team managers. One of the best ways to learn is to teach, so after everyone has completed their initial onboarding with the resources you distributed in step 3, have someone teach a demo of how their team is using Front's features.

Schedule a weekly team tip share, where teams come up with a new function they learned and are benefitting from that week.

Create a shared FAQ sheet for teammates to add questions when something confusing comes up. Try to respond to these regularly, or empower other members of your team to do so. Sharing the link to our tips & tricks page will likely help your team answer a lot of these questions on their own!
5. Reinforcement
Habits succeed through repetition and reinforcement, so come up with some ways to keep your team engaged with the product. Here are some examples:
Give out awards for a full transition to Front, like completing the 1 week challenge (explained below).

Have a first month review of the product to discuss what's going well and what areas for improvement there are, and to build a supportive environment throughout the change.

Gather stats via Front Analytics about how your team has become more successful, responsive, collaborative, and efficient since using Front. The reports are easily exported and made to be shared.
#Onboarding guide
Onboarding guide
Finding comfort in a new workspace
Before we dive in to managing your team onboarding, it's important to make sure they're set up for success. Check out our guide on getting started in Front to set the right foundation for your team. Once those steps are complete, have your team take the following actions to gain some comfort and familiarity with Front. This can serve as their first step in onboarding. Instruct everyone to…
Download the Front app for desktop and mobile, and sign in.

Watch our video on navigating Front so they understand the basics.

Personalize their workspace by:

Adding a photo and signature

Adding 1 or 2 personal tags to their personal inbox

Click into their calendar on the right side panel and schedule a meeting
Collaborate in shared inboxes
Time for your team to start seeing Front in action, and exploring all the different ways they can work together. Have each person on your team (including yourself!) try the following actions: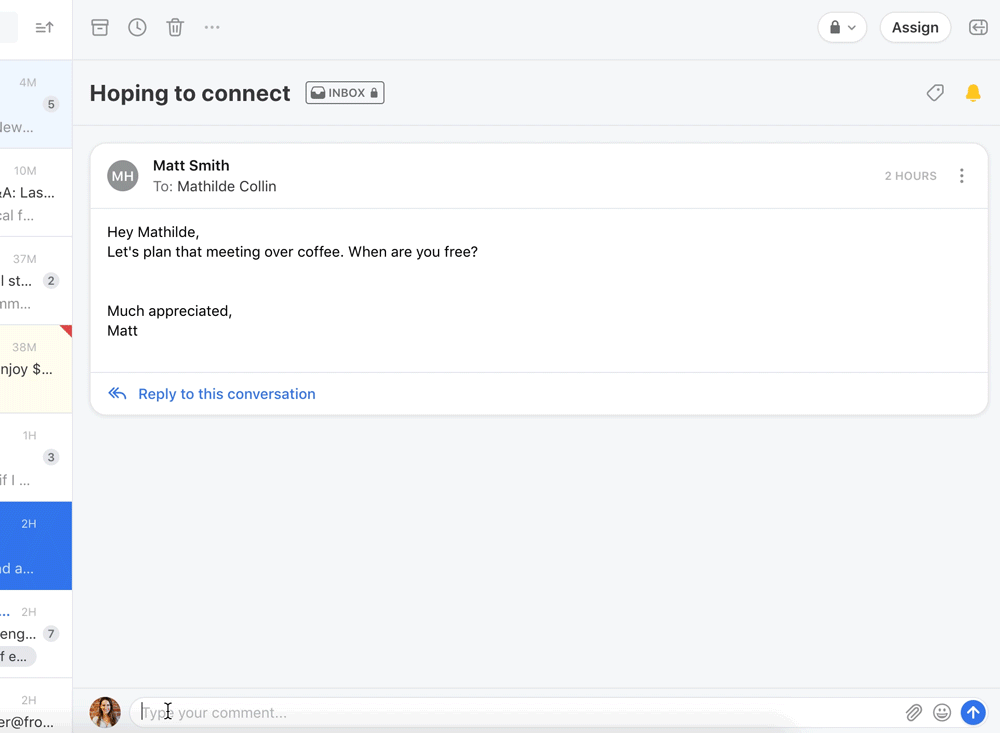 Create rules and message templates
It's up to you if you want all members of your team creating rules and message templates for a shared inbox, or if you prefer to leave that in the hands of an Admin. Regardless, it's great to have each person create one of each so they understand the workflow and value. It's the same process to create a personal versus team rule or message templates, so once you decide which you'd like them to create, encourage them to dive in.
Have everyone on your team…
1. Create a personal or team rule, and then work with a partner to activate the rule. For instance, they could create a rule along the lines of…
When a message comes inbound If it's from ABC colleague Then tag the email with VIP and send message template XYZ
Once the rule is set up, make sure they test it out! And be sure to delete it if you don't need after the test.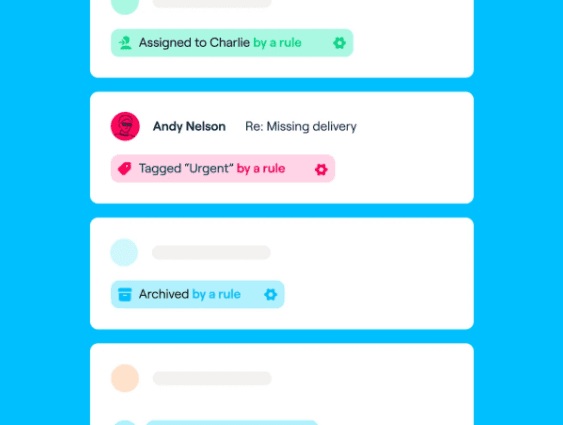 2. Create a message template. Encourage your team to think about a common email response they write, be it a response to an inquiry or saying that they'll review and get back to someone. Have them test the message template on a teammate.
Play with an integration
It's crucial that your team knows how to use the integration panel and that it's set up properly, so take a moment to connect important tools and apps to your team's workspace. Then, choose one that you hope your team will use often, like Salesforce, Trello, or Jira. Ask your team to sign in and complete a task within the app using only Front. This will help build the muscle of doing all work in one view, which will help your team staying focused and make an impact.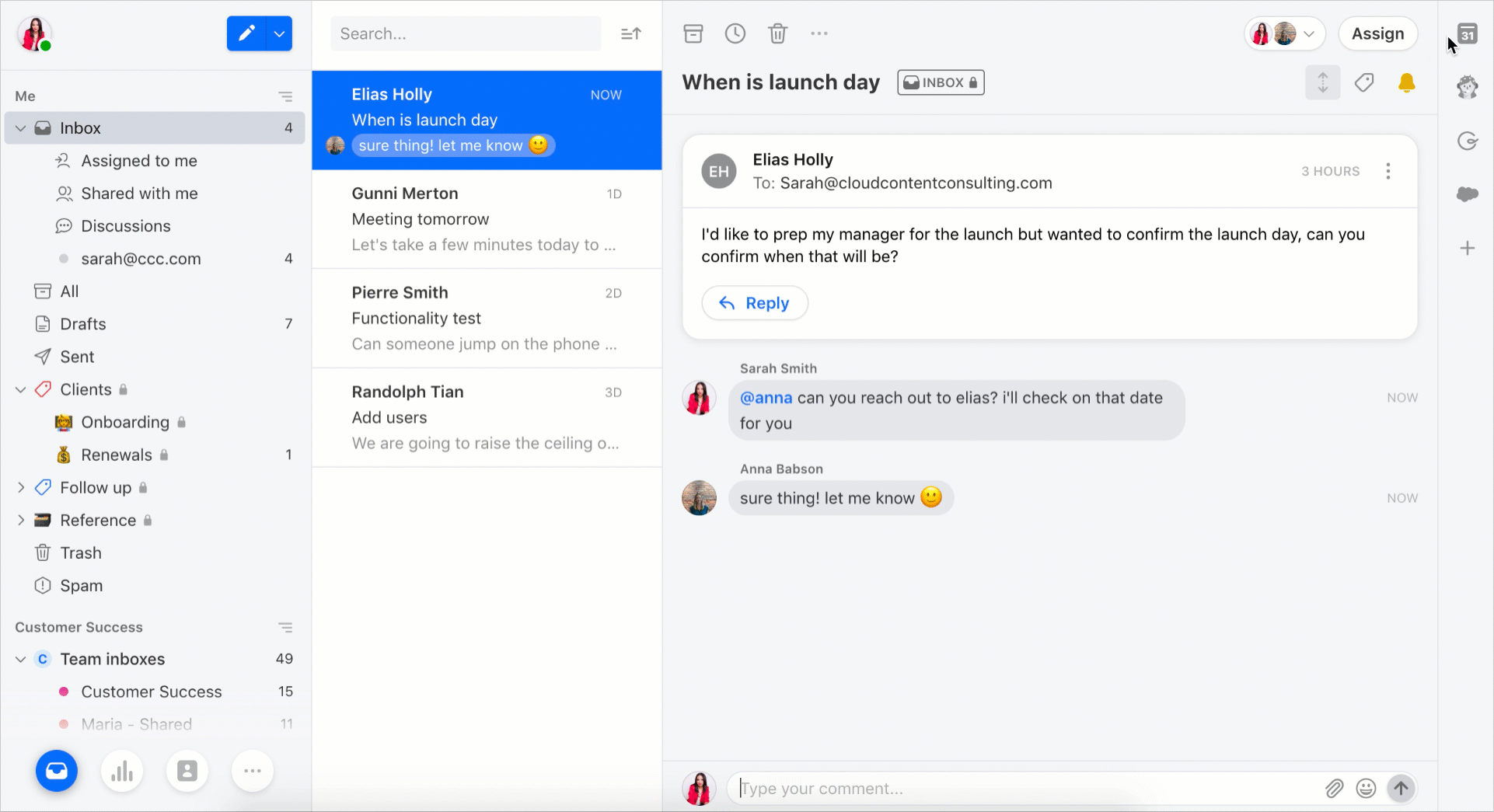 #The 1 week challenge
Take the 1 week challenge
Time and time again, we've seen the most problems with team onboarding in Front arise because teams are switching back and forth from Gmail or Outlook to Front to manage email. Switching back and forth from your email provider to Front doesn't work because the systems and processes differ.
To prevent that, we encourage teams to switch to Front completely. So once you and your team have completed the onboarding tasks, and worked out some FAQs, try a 1 week challenge! Everyone only uses Front, not their other email provider, for 1 full week. Keep a running list of FAQs that come up during the week.
We recommend the following schedule for adopting Front:
Week 1 – Distribute email about switching to Front, and give the team a week to digest the change and ask questions. Take this time to complete your set up and create team inboxes.
Week 2 – Have your team complete their onboarding, distribute resources.
Week 3 – Try the 1 week challenge.
Week 4 – Work out the kinks.
Week 5 – Fully commit.
Share this guide
Want to see Front in action? Get started!