Guide - 6 min read
Manage customer messages with ease
When it comes to managing customer messages, our approach is to save time sorting through, escalating, and assigning messages and spend it instead on improving the quality of the engagement with your customers. This is a guide on how to adopt that philosophy and make it simple to manage customer messages.
#Setup
Set your team up for success
Make it easy on yourself and your team by doing some quick work on the backend that'll make it simple for them to handle incoming messages.
Roles and permissions
As you add new teammates to a team inbox and expect them to tackle customer communication, be sure to choose the right permissions for each person. Default On any Front plan, you'll be able to assign each teammate one of two default roles: Team Admin or Team Member. Here's a table that covers what permissions are enabled for each role. Many leaders choose a selection of teammates to be Team Admins so they can help you create rules, track success with analytics, and keep the team inbox in check.
Custom If you have an Enterprise plan, you can create custom roles and permissions. Say you want the Team Lead to be responsible for creating all message templates and rules. Custom roles and permissions allow you to create a role with those unique abilities in Front. Then later down the line, when you want 2 other teammates to do the same, you can simply give them that same role and be on your merry way.
Shifts and load balancing
Shifts and load balancing prevent customer messages from getting backed up in your queue, while also preventing individual teammates from being overloaded with work.
When you set up shifts, messages that are typically routed to someone who happens to be off duty will be flagged for someone who is on duty, so customers don't have to wait for a reply. And, this means that when your teammate returns to work the next day, they aren't immediately swamped with day-old emails. Another way to support your team is to set up load balancing, which places a limit on how many messages can be assigned to an employee at a given time .
You can monitor how much work each employee has in your Analytics tab. This way, you have an accurate sense of how much is on someone's plate and can help distribute the work before your customers start to feel the impact of an overworked team.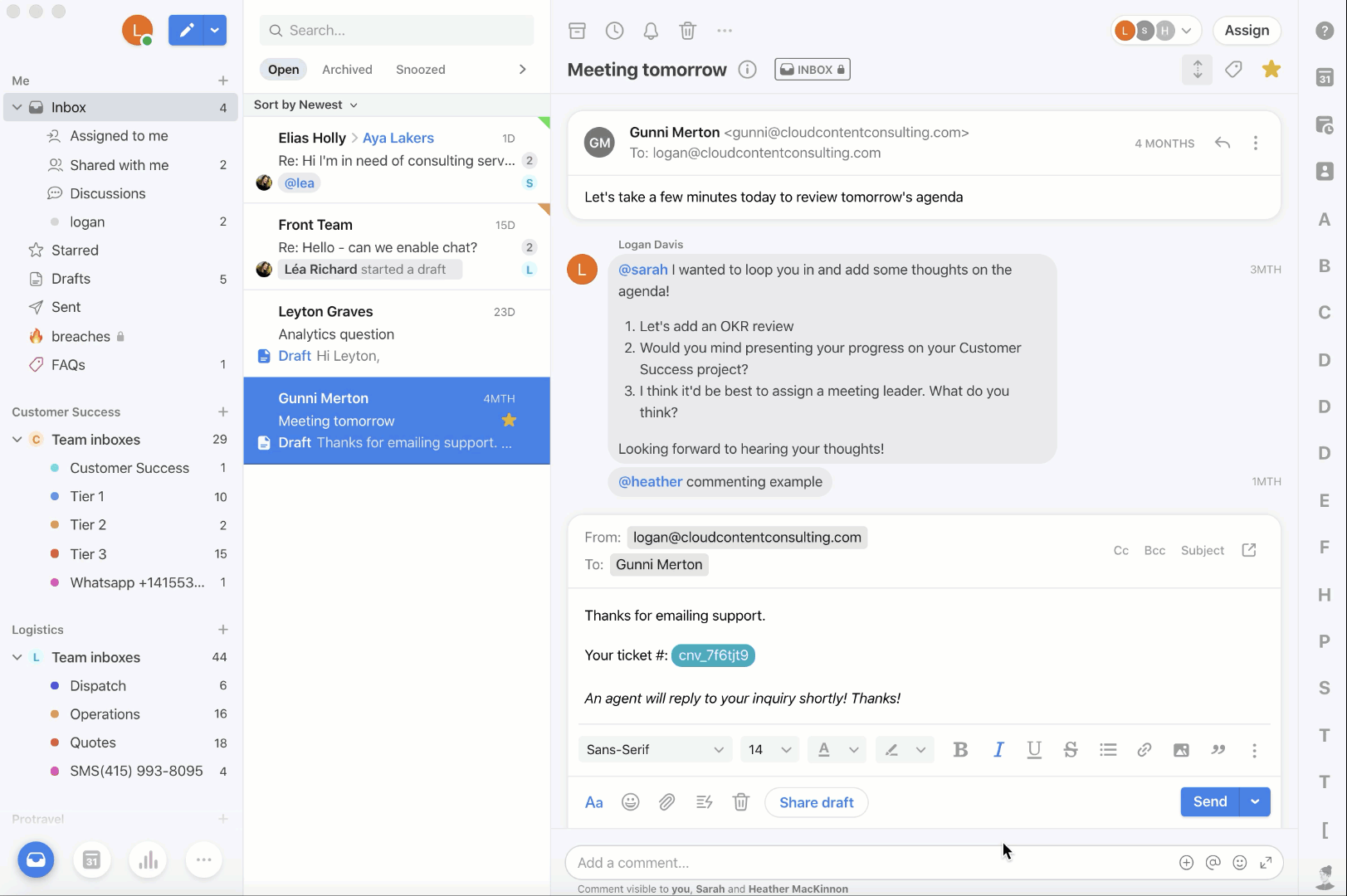 Turn your inbox into your to-do list
With Front, you don't use a Read/Unread mentality. Instead, we use Open/Archive. With Open/Archive, your inbox is designed to be more of a checklist rather than a catch all. That way, there's no confusion around what needs to be done: every message that's in your inbox's 'Open' tab needs to be worked on. So instead of leaving read messages left to cause clutter, snooze the ones you'll get to later, and archive the ones that you don't need to take action on. Easy emails to archive are:
App notifications or reminders

Emails informing you of something, but that aren't prompting anything (think newsletters, daily reports, etc.)

Conversations that seem to be ending (they'll always pop back up if someone pings them again!)
You can find any email in your Archive tab, so rest assured they won't go missing. This way your open messages can be treated like your daily agenda, you inbox won't stress you out every time you open your computer, and you won't accidentally miss messages.
#Organize & prioritize
Organize your inbox
There are many ways to sort and triage messages as a team in Front. You get to choose the methodology that works best for you.
Assign messages an owner
With Front you can give every message a clear owner so everyone knows what they're responsible for handling. When you assign it, the message will appear in that teammate's "Assigned to me" section of their inbox and will no longer be in the "Unassigned" tab in the team inbox. Your team can move on and rest assured it's taken care of.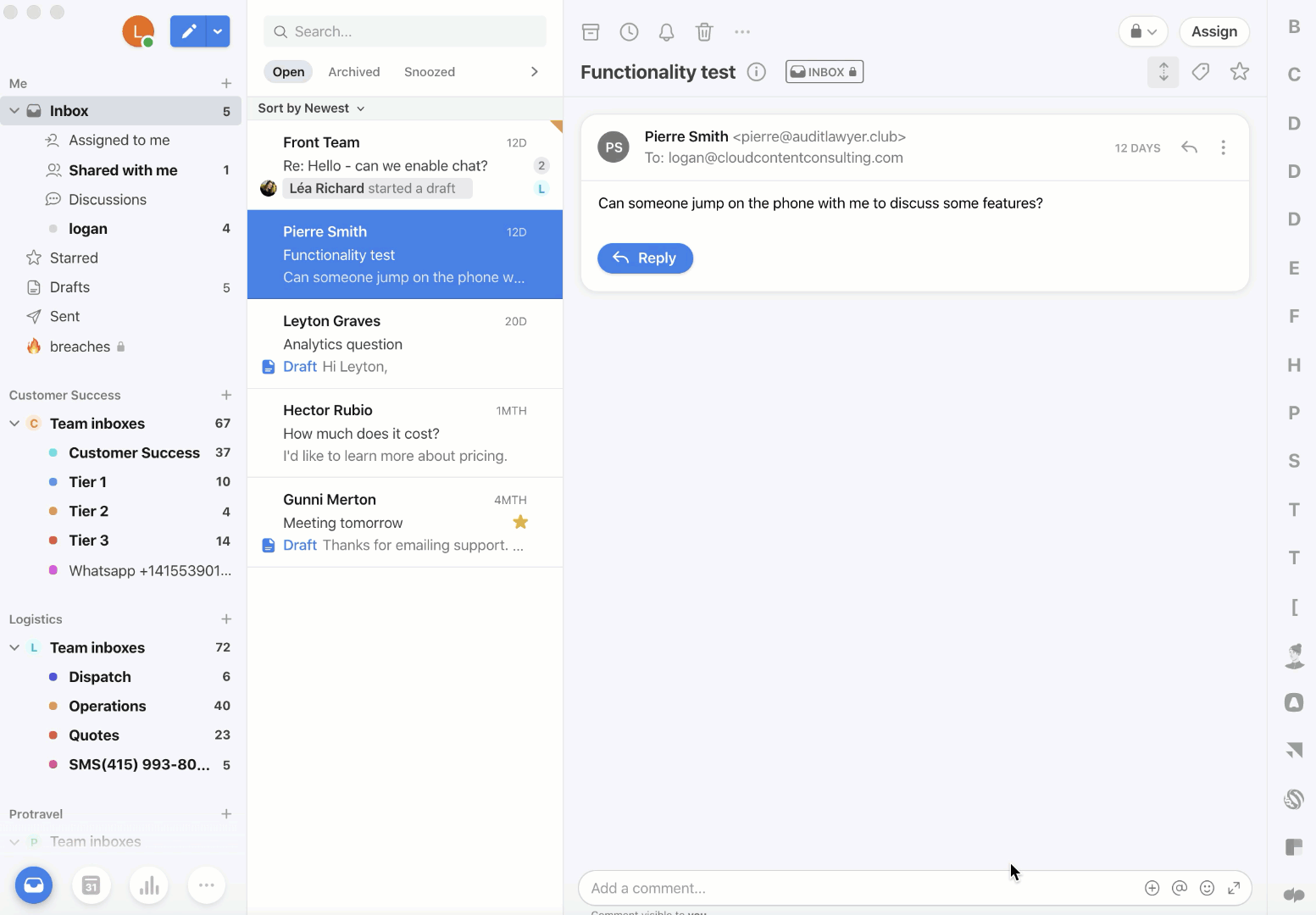 Tagging
Create tags to categorize messages by project, client, or urgency. Then, you can pin them to your workspace and drag messages into them. This way your whole team can see how to prioritize their work and what's on the docket for the day.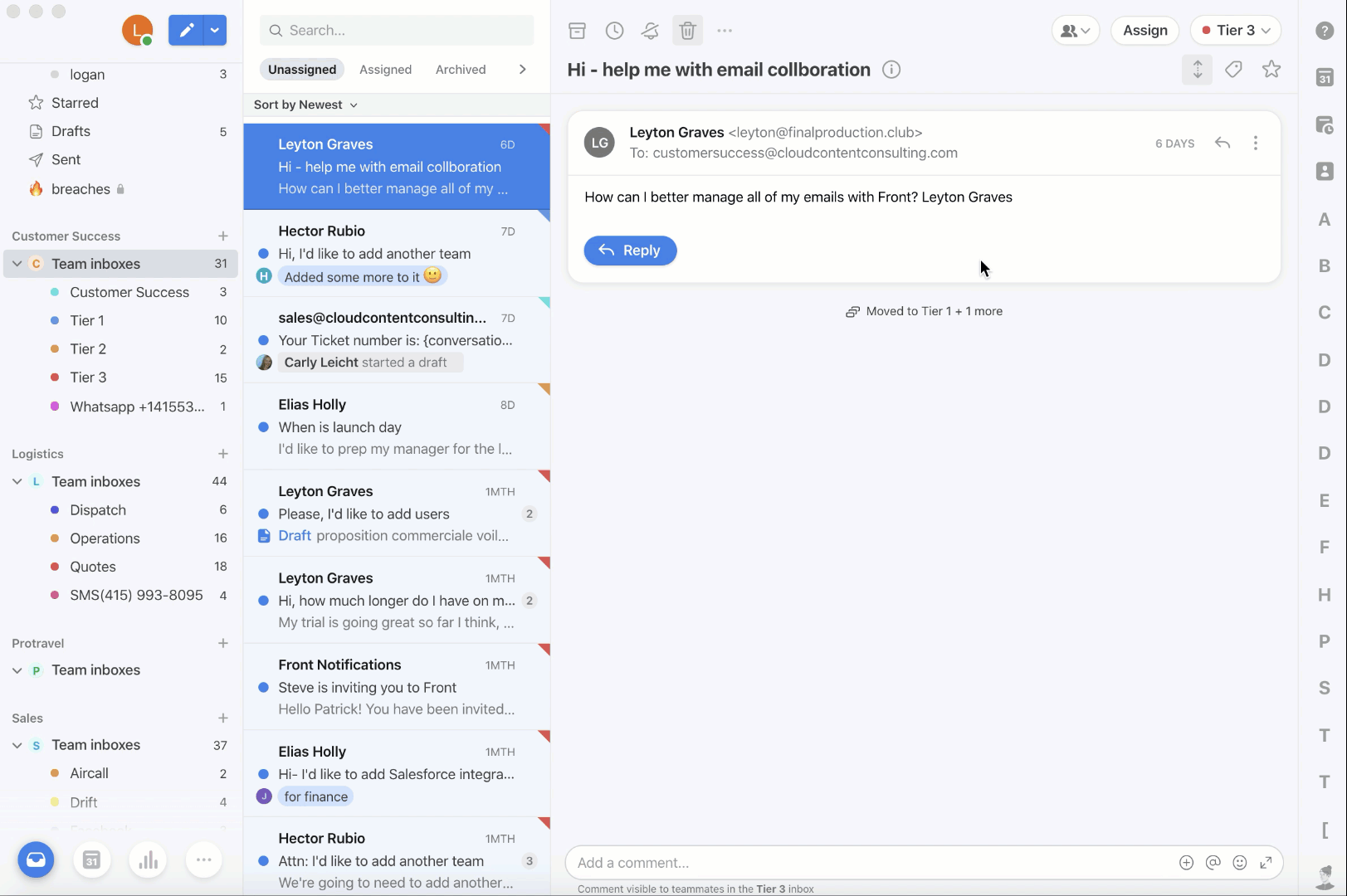 #Route messages
Triage and route messages
No need to spend your time tagging messages, routing them to the right person, or flagging them as urgent to the team – set it up to happen automatically with rules and SLAs.
Rules
Rules are if-then automations that let you put certain actions on autopilot. Set up rules to automatically triage and route the messages for your team, so you can spend more time on your customer. There are a variety of ways that rules come in handy:
Route messages to tags based on the content in the email or the sender.

Automatically assign messages by sender, subject, or keyword to a teammate with the expertise to respond.

Avoid overwhelm and get back to customers faster by setting conversation limits for each teammate and automatically assign new messages to the teammate with the fewest open messages.
SLAs
Service level agreements (SLAs) are agreed upon response times between you and a customer, because people want to trust that they'll get taken care of. Front's SLA rules help your team meet these goals and stay on track. Set up SLAs and tags like "SLA breach warning" to make sure you never let a customer message fall through the cracks.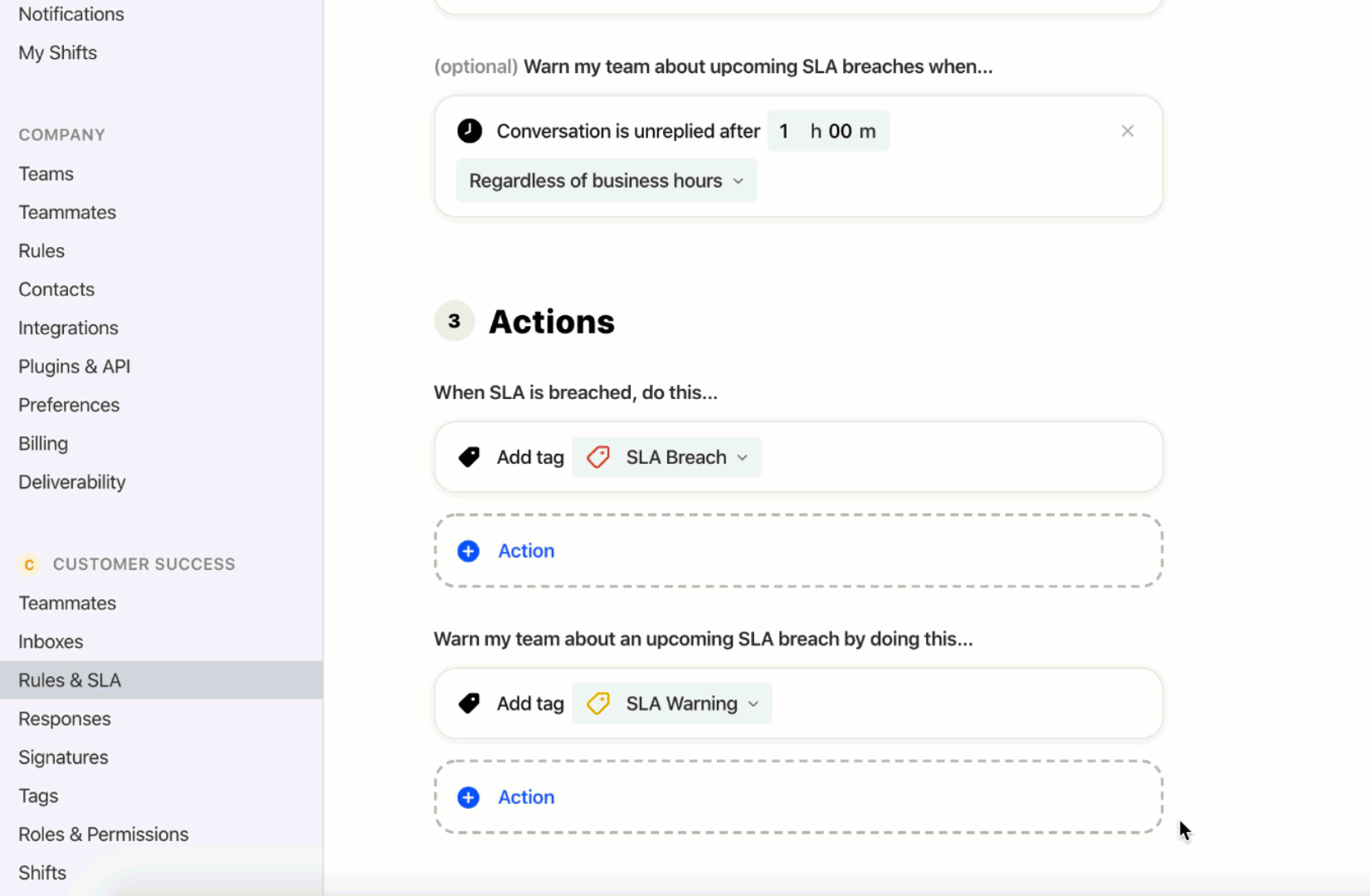 #Audit & Improve
Audit and improve
So, you've set your team up for success, created rules to automate triaging, and your team is making customers happy left and right! It's time to measure and showcase just how well your team is handling messages and find ways to improve.
Analytics
Analytics help you make informed decision and handle customer messages better. Track how quickly your messages are being resolved, how much each teammate is handling, or which customers write in the most, among other things.
Get visibility into what kind of messages you're handling: By tagging messages by product, feature, location, customer, or project, you can track the volume and frequency of customer messages around certain topics. View a report on any tag in Analytics to figure out what kind of work your team is up to the most.

Track team performance: Track response time, handle time, resolution time, and more on a team and individual basis to see how your team is handling messages. This data helps you find ways to improve your customer communication, whether you're deciding it's time to hire more help, or finding a better way to distribute and escalate messages.
Share this guide
Want to see Front in action? Get started!