One Pager - 4 min read
Managing a remote team in Front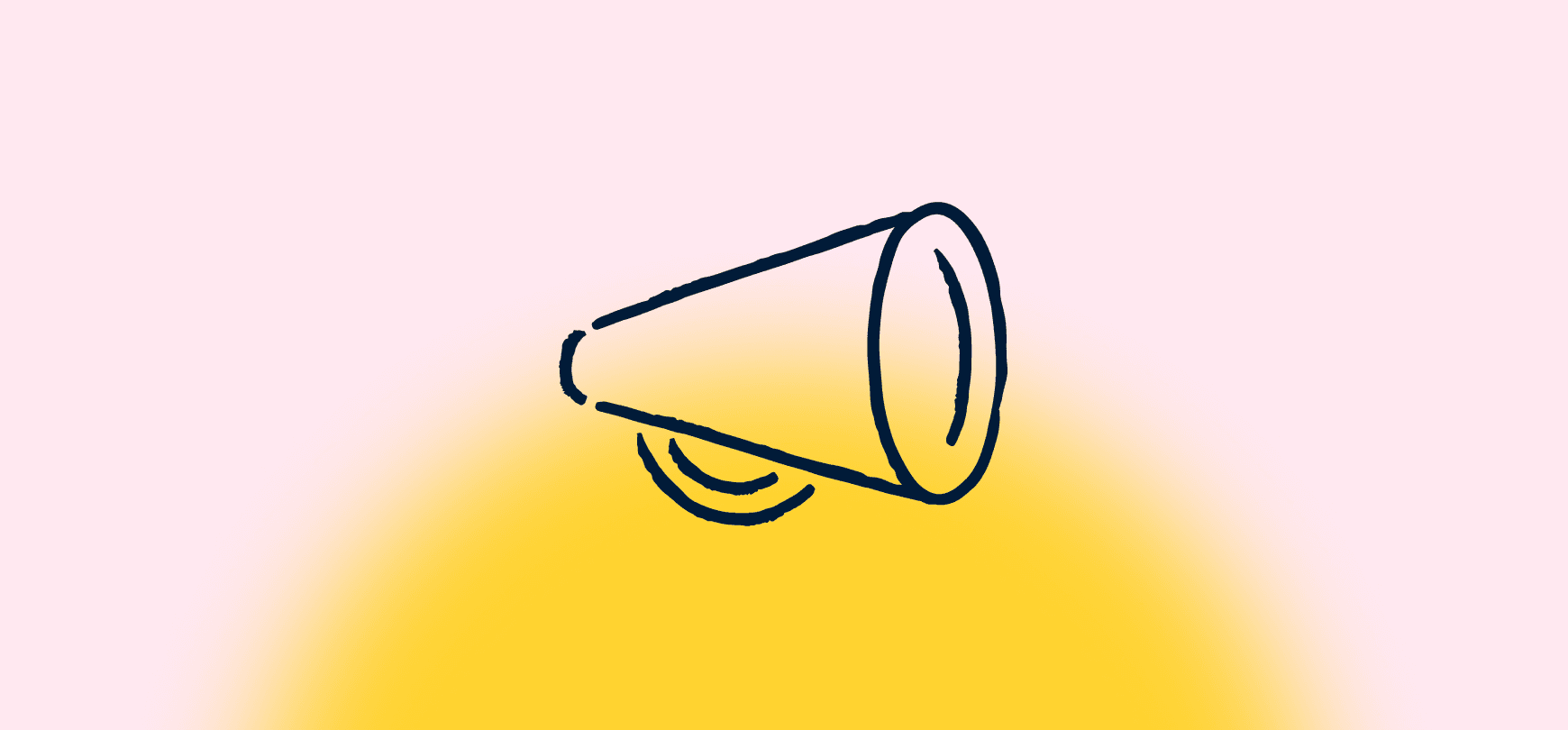 Whether your team is distributed across continents, working from home on Fridays, or somewhere in between, staying aligned and connected can be challenging. Our philosophy on remote work is that with the right product (and a stellar team) remote work should actually make your team more efficient, motivated, and even more collaborative. With the right workflows in place, your team can get past the potential work-from-home-woes and channel energy into the customer and team interactions that fuel your mission. Here are 5 steps to bring out the best in your remote team with Front.
1. Collaborate from anywhere to stay aligned and connected
We've built features into Front that are designed to make remote teams work more efficiently and collaboratively. It all starts with a Team Inbox, where all your communication channels are funneled into one place for your whole team to see and take action on. That means off the bat, there's a shared view of what's happening and everyone is inherently on the same page. Set up a team inbox so your team can manage all customer messages from one place, together. When working on a message or project, loop in a coworker with a simple @mention. Comments avoid the duplicative and chaotic workflow of forwards and ccs, and makes it seamless and natural to create a thread on an email, handoff a project, or escalate a message. It recreates the quick desk chats that happen in the office, and lets you feel like a team from anywhere.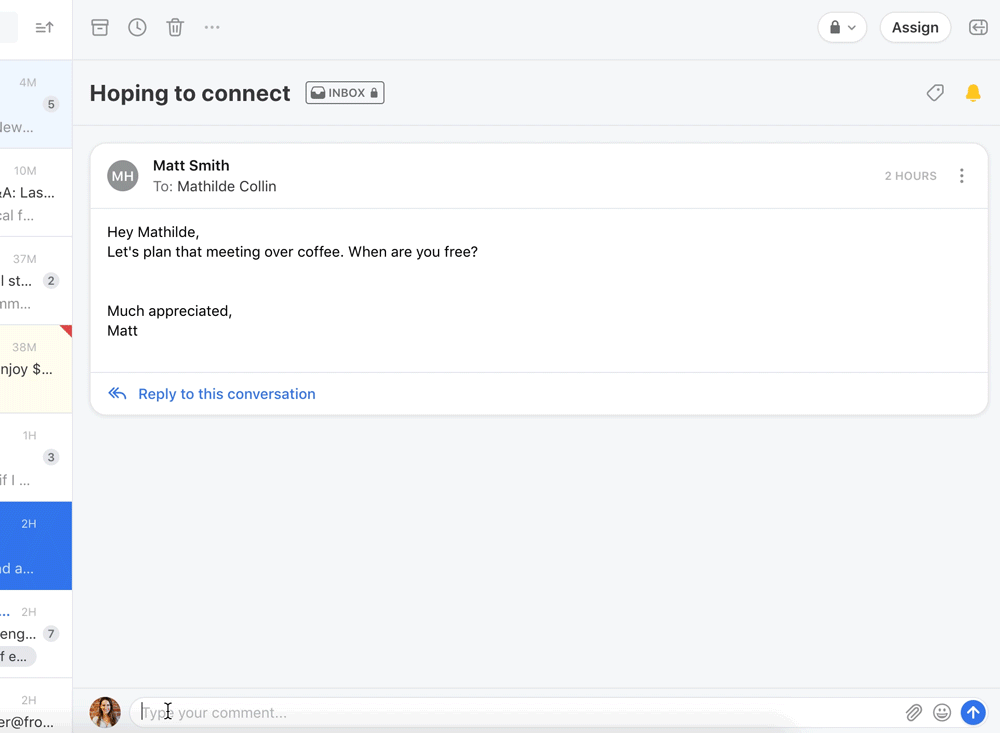 Another great tool is Internal Discussions. Invite a co-worker, a group of teammates, or a whole team inbox to chat in a discussion, and add a topic so it's searchable and easy to find. This keeps work where it should be – your inbox – and omits the need for alternative team chat tools.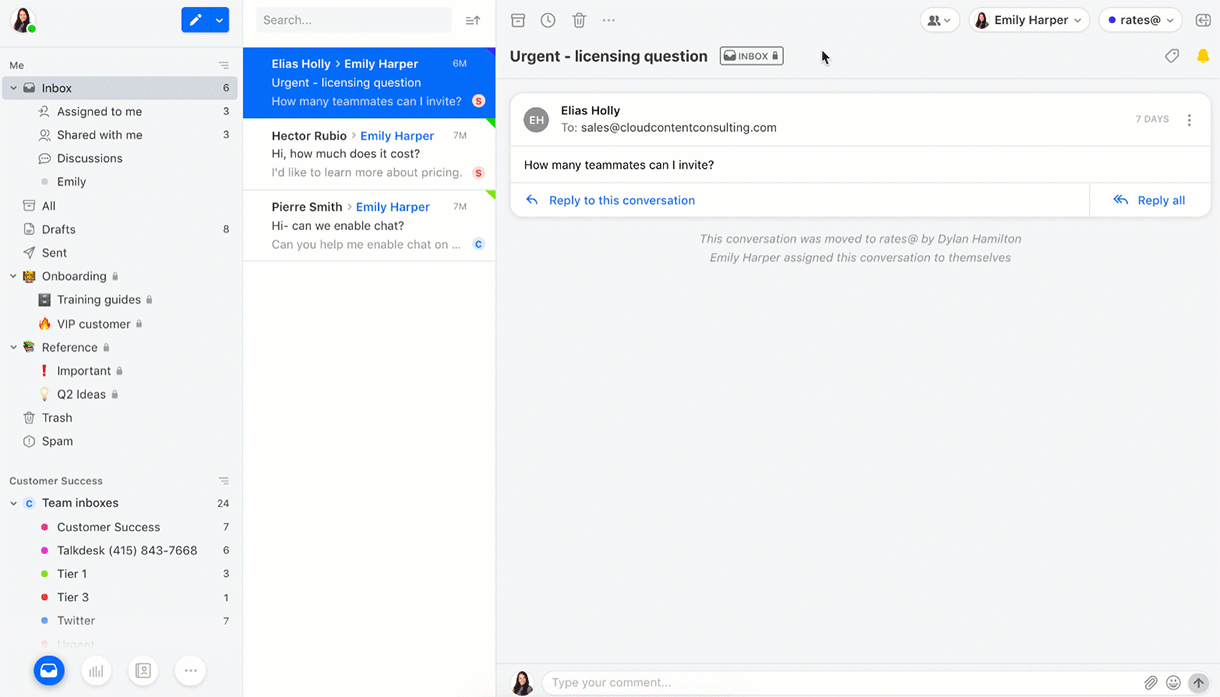 Lastly, you can share a draft with a teammate to write it together or coach someone on messaging. Working on it together in realtime saves you time going to another app to chat about an approach.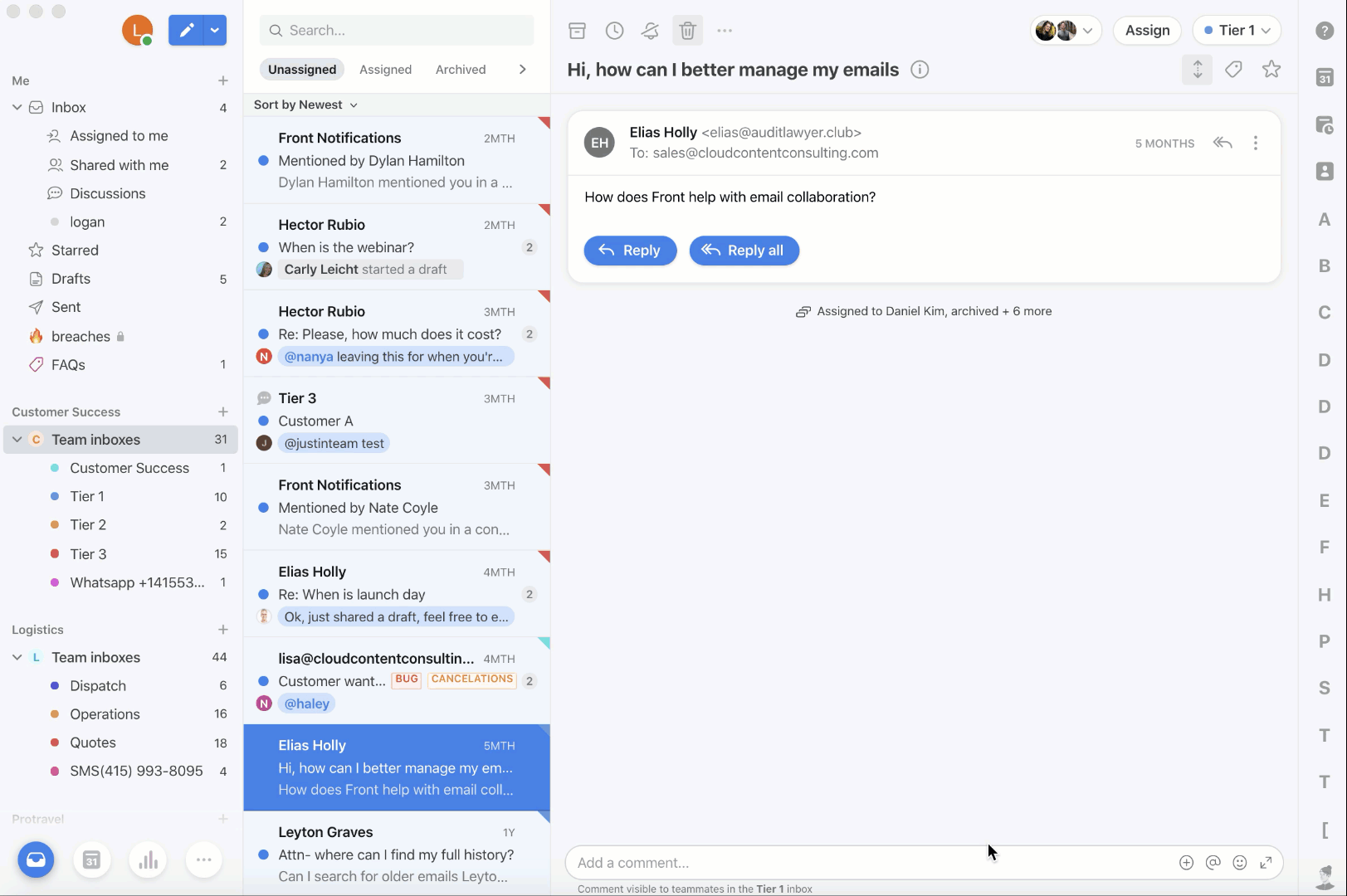 2. Stay accountable to one another while apart
We mentioned it before, but Team Inboxes really are the holy grail of team alignment. At a glance you can see all incoming messages, and nothing gets hidden or lost in a personal inbox.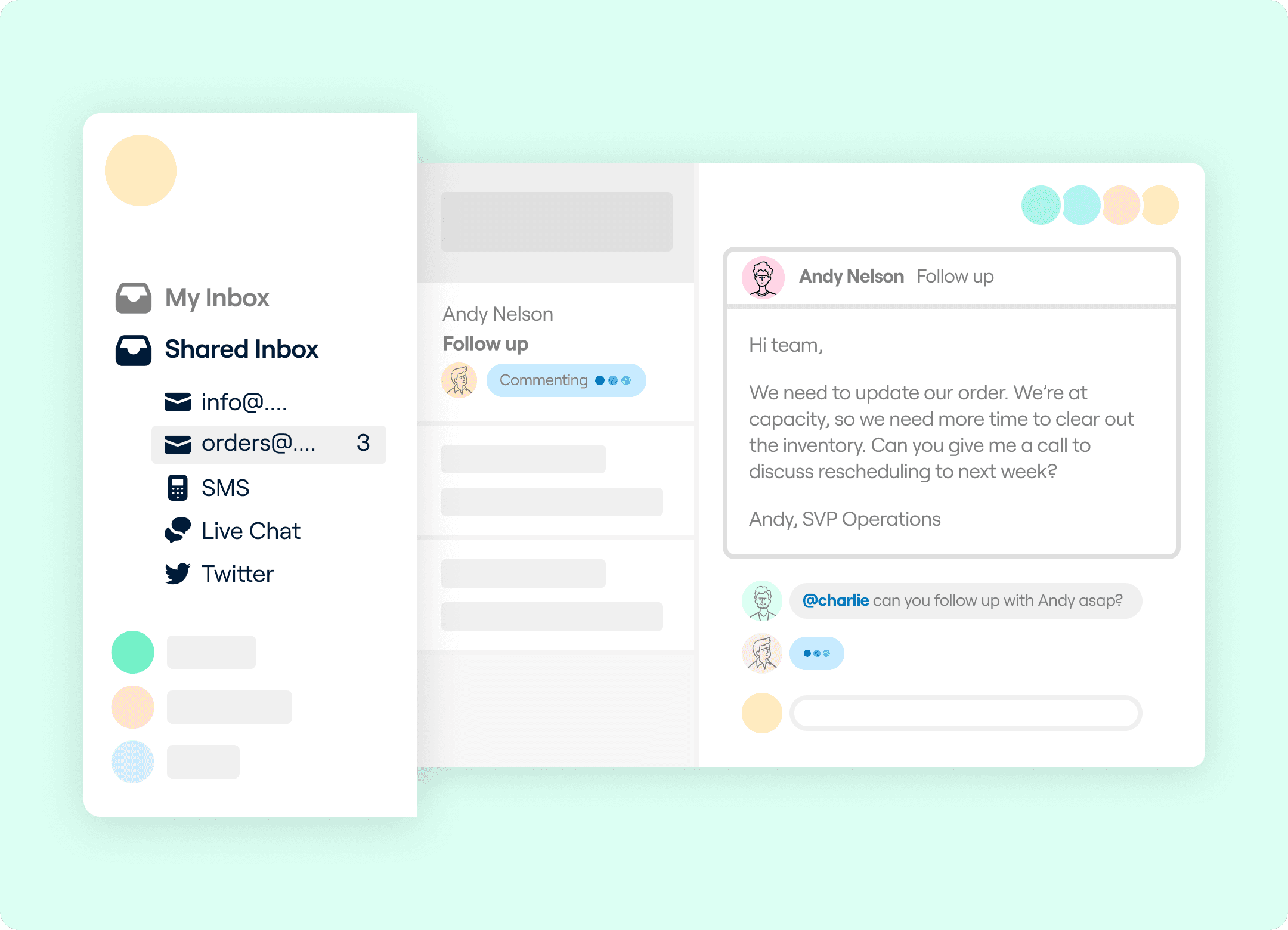 The easiest way to help hold people accountable – and make it clear to others what they're responsible for – is to assign a message. In a simple click, you can let someone know that it's time for them to jump in. And afterwards, you can scan the team inbox and see what work is assigned to who so it's easy to check in on progress or proactively know who to support.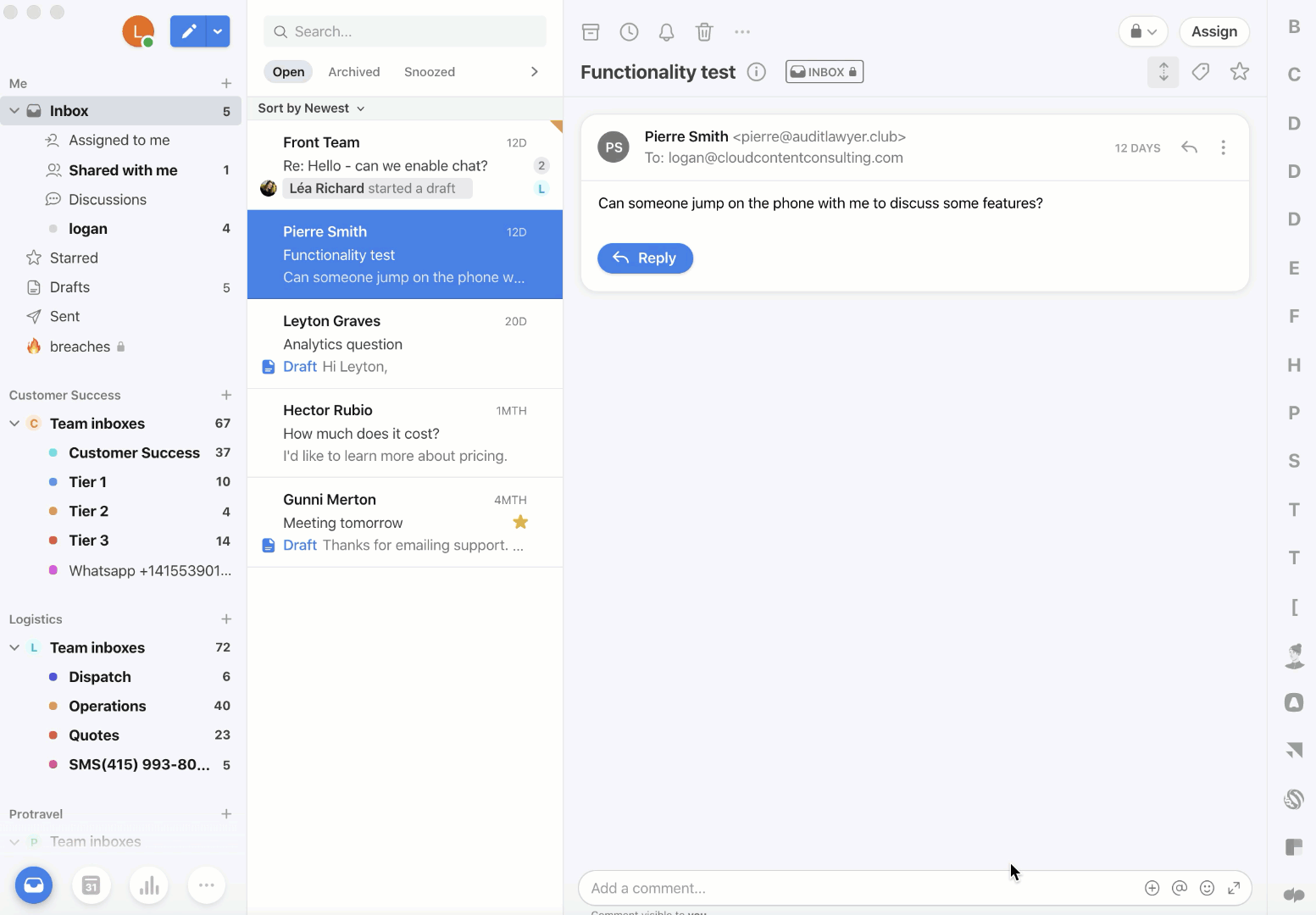 Want to see whether your teammate or customer viewed the message you've sent? Stay accountable to one another with read receipts. Want to make sure you let nothing slip through the cracks?"Snooze" a message so that it'll pop back up in your inbox later and remind you to follow-up.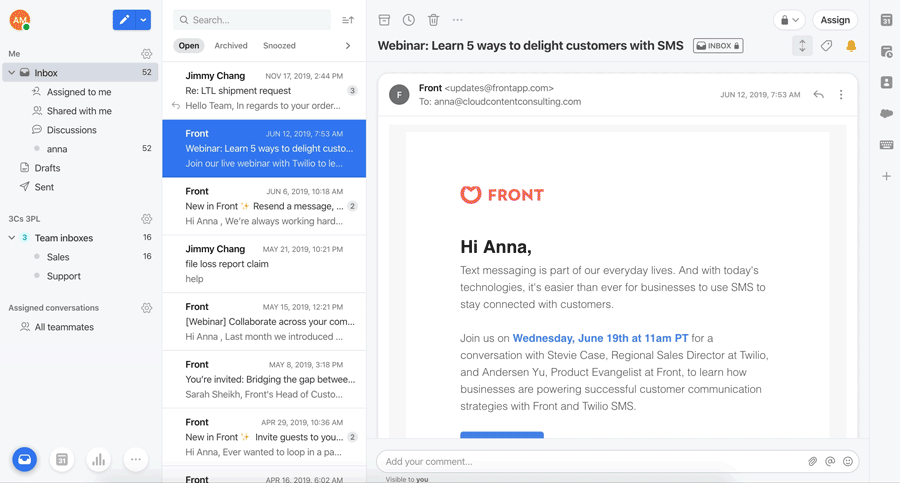 3. Get a bird's eye view of performance and customer experience
The easiest way to get constant visibility into your remote team's workday is through Views. Create a View to keep a pulse on what tags are being used the most, response time, and team performance. Tailor it to what you care about most, like when incoming messages are tagged as "VIP" or when an SLA is at risk of a breach. Or, take it one step further. Front Analytics provides you a real-time pulse on your team's workload and performance, as well as customer's experience. We recommend you schedule a report to arrive in your inbox regularly – daily, weekly, whatever's best for you – so you don't even have to remember to check the Analytics tab.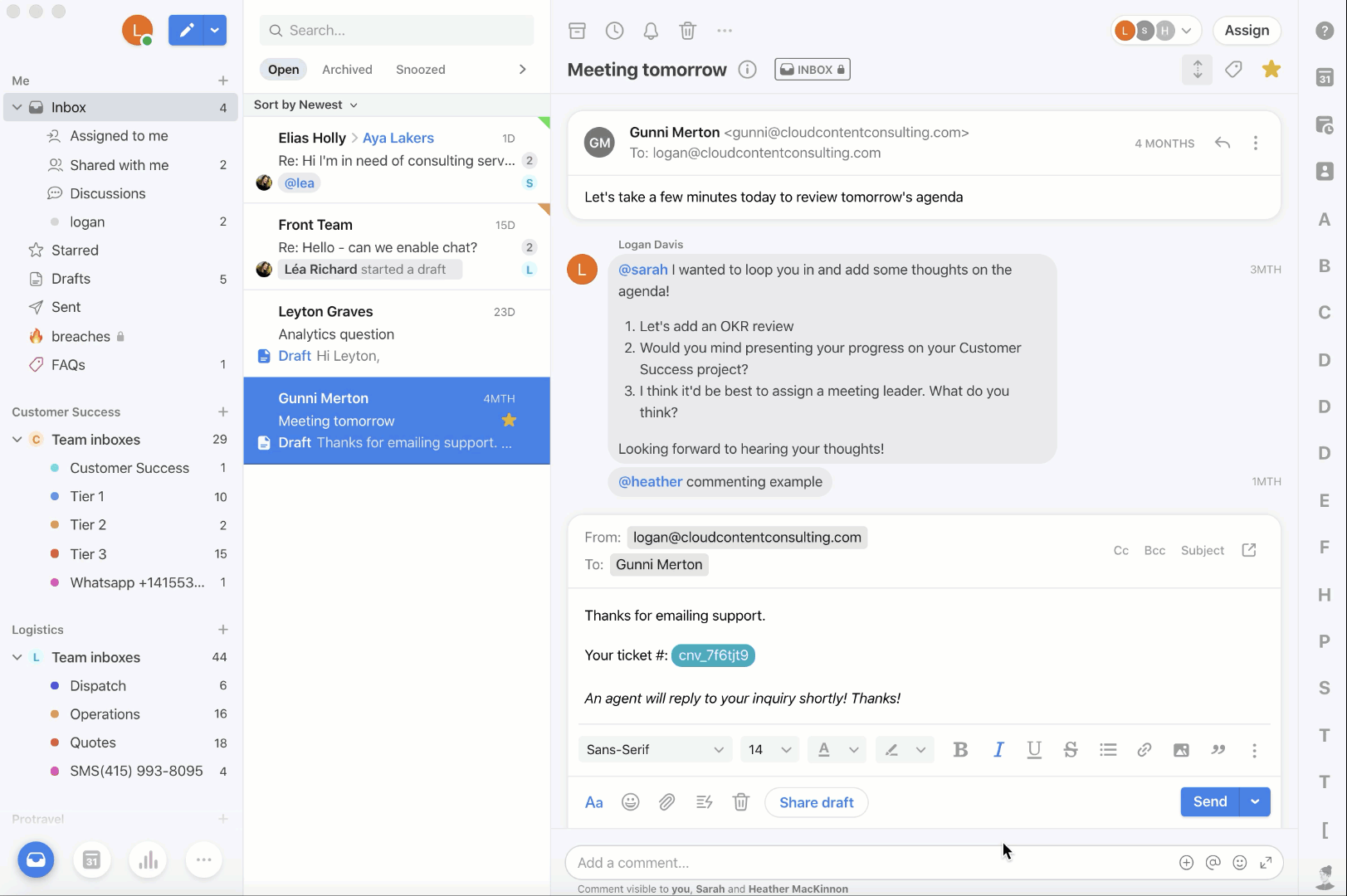 Customize your report to show what you're most interested in, like…
Average response time

Handle time

'Heatmap' of your busiest hours

How often different customers right in
4. View all customer context from Front, from anywhere
A shared view of customer context helps your remote team stay on the same page, pick up where another left off, and your customer feel taken care of. View all recent communication from a specific customer, and bring up their history next to any message to come across as a united front from anywhere.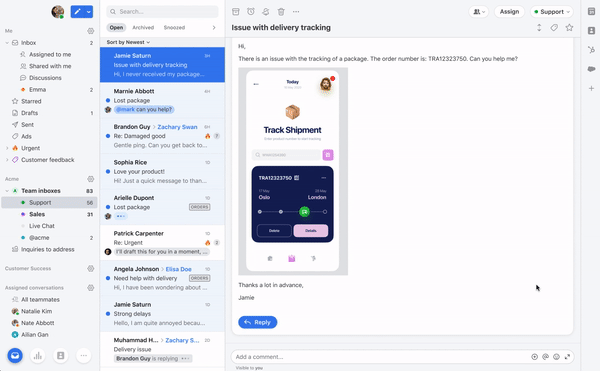 Front also integrates with your favorite software, so you can bring up your most relied upon tools with next to your inbox. View CRM data or move a message to a project management tool to keep your work stream efficient and up to date.
5. Automate workflows to escalate to escalate work and keep your team on track
Finding the right workflow for your remote team is key to keeping everyone aligned and on top of work. Front's Rules Library lets you discover our most popular Rule Templates – if-then conditions that trigger actions. You can customize and activate them in a matter of clicks.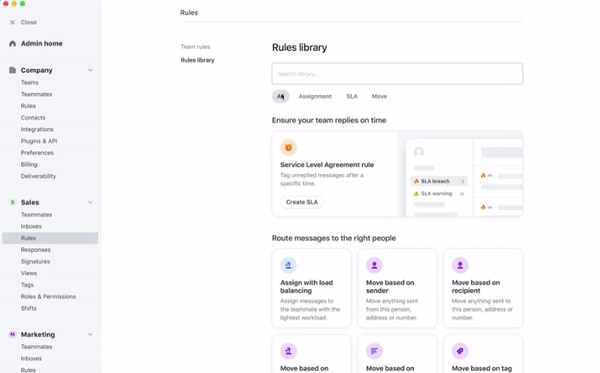 The library is full of templates to help:
Ensure your team replies on time

Route messages to the right person or team

Give your team appropriate visibility

Keep your inboxes tidy

Increase your team's efficiency
If you don't find something that fits your needs, create a rule from scratch.
Share this one pager
Was this one pager helpful?
Want to see Front in action? Get started!