Guide - 6 min read
Your Analytics homepage: the Overview report
As a team admin, manager, department head – or even just a data-driven teammate – it's critical to be able to access high level success metrics at a glance. That's what the Overview reportwas built for.
What's the Overview report?
The overview dashboard is what you land on when you first click into Analytics. It's a high-level view of customer communication and team's impact As the homepage for analytics, the overview dashboard provides summary-level team communication insights. At a glance, you'll be able to view high-level analytics about message volume, inbound conversations, and teammate efficiency in responses. This information is displayed through customizable 'widgets,' or sections of the report. These sections can be used to identify trends, measure the impact of their team efforts, and more. Each section answers a high-level question, and most sections provide links to their corresponding pages for quick access to more detailed insights.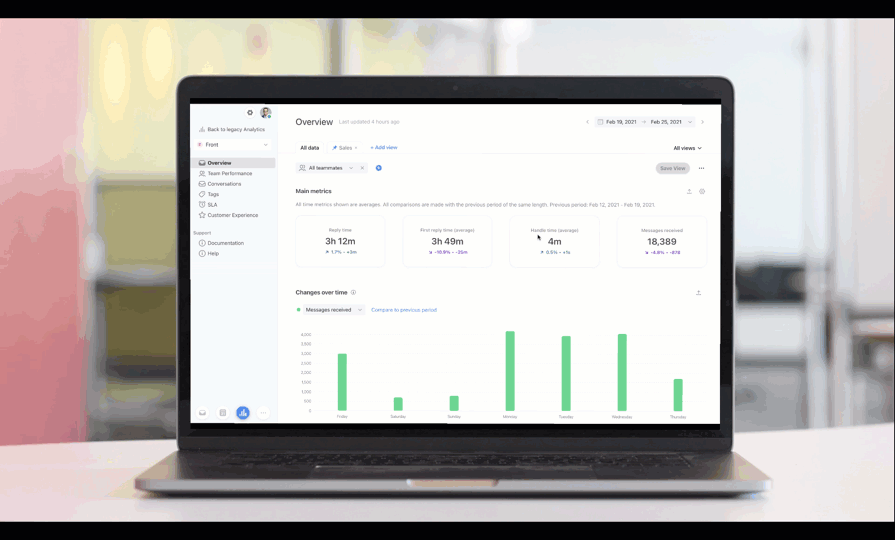 To view the definition of every metric you can measure in the Overview dashboard, visit our Analytics Glossary.
What can be measured?
The Overview report lets you quickly gain valuable insights to make smart decisions with your customer communication data. View the Overview report to answer questions like:
What is the overall volume of communication my team is handling?

What is the quality and efficiency of my team's communication?

What recent changes are worth digging into further?
Ultimately, you can customize the report so that it's your quick, on stop shop for a high level summary of the metrics you care about most. Often, people like to use the Overview report to measure metrics like
The average time between a message and its reply

The average time from opening a conversation to sending a message
The Overview report has a few default sections that dig deeper the impact your team is having. Within each section, you can customize the metrics you view.
Main metrics
This is the section to navigate to when you need to get a sense of success at a point of time. It's the first section, and it shows you averages of metrics so you can view top analytics at a glance. You can feature up to four metrics from a list of approximately a dozen, like average reply time, handle time, SLA breaches, and more – so you can see exactly what you care about most every time you arrive in Analytics. Once you select your metrics, they'll stay put until you change them again so you can easily view a dashboard relevant to your needs and get a snapshot. You can change your filters, dates, and more to double click into the inboxes, teammates, or tags you care about most and compare metrics from the past.
Key use case: As a team manager, you like to start your day by reviewing yesterday's metrics. You click into Analytics and arrive on your homepage – the Overview dashboard. You've pre-selected your most critical metrics, so you change the date to the past 24 hours and immediately see how your team performed and your customers were impacted yesterday. At a glance, you have full visibility into what support your team may need today.
Changes over time
One of the best ways to measure success it to visualize and compare data over time – that's what this widget is made for. Choose your metrics from the drop down – there are 6 different metrics, like messages received, sent, reply time, and more – and watch the graph present the data for that metric. You can view data by day, week, or month. This section helps you compare and recognize patterns far more easily than looking at a table of numerical data, and helps you anticipate trends in the future.

Key use case: As a department head, you like to see how your company's impact is changing over each month. By evaluating the Changes over time widget regularly, you can visualize trends in message volume, handle time, and more to get a sense of what your customers are experience and what your team is dealing with. This helps you anticipate trends, congratulate high performers, and make sure you reach your goals by the end of the quarter.
Reply time
This widget helps you understand the percent of conversations that were replied to across five time ranges: 0-15 min., 15-45, 45-60, 60-120, 120+. The Reply Times section will clearly display the amount of time it takes your team to respond to messages across your inboxes. With this information, you can manage your team and customer experience by deep-diving into the conversations that take a long time to answer and better staffing customers or inboxes that need additional support.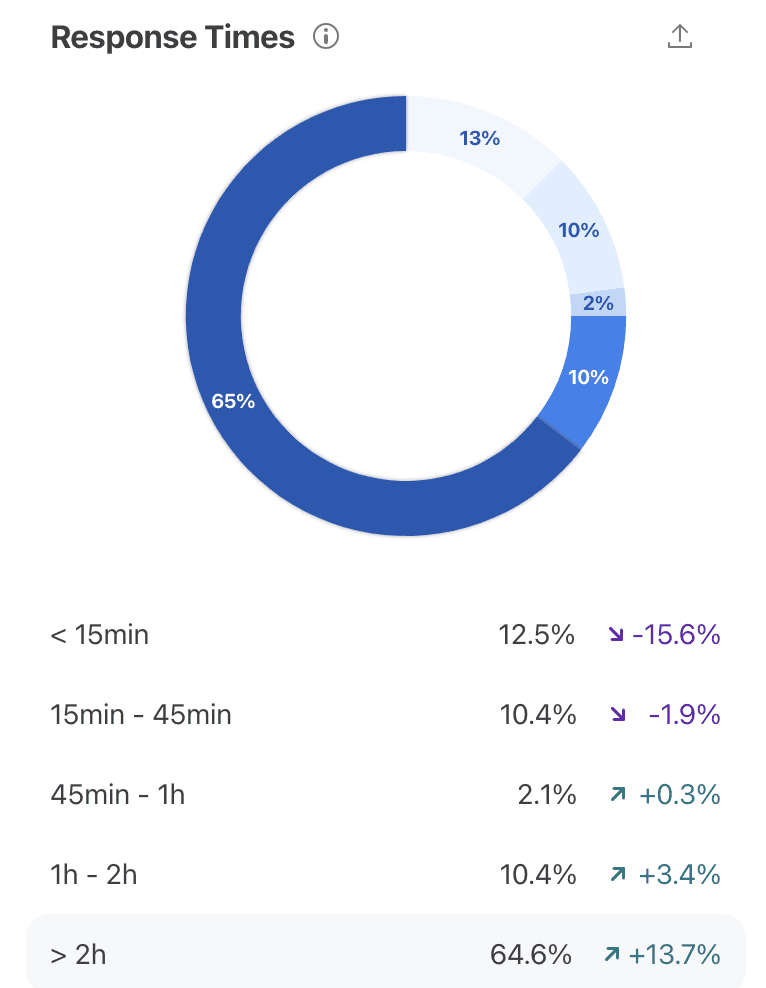 Key use case: You're curious as to why some messages in the past couple days are taking a while to get a response. You click into the bucket representing over 2 hours to view all the messages that took longer than 2 hours to get a reply. By connecting the dots and understanding the teammates or customers that need additional support, you're able to translate this knowledge into coaching to create a strong team and happier customers.
Team
Curious how your teammates are performing, at a glance? This section shows the greatest increases and decreases on a team compared to the previous time period of the same length. You can select from a half dozen metrics to view in the dropdown, like reply time, handle time, and more. The Team section helps you understand where your team is with its current workload. For instance, you can quickly get a sense of who is falling behind and who is excelling by viewing the largest changes in response times, message volume, and SLA breaches.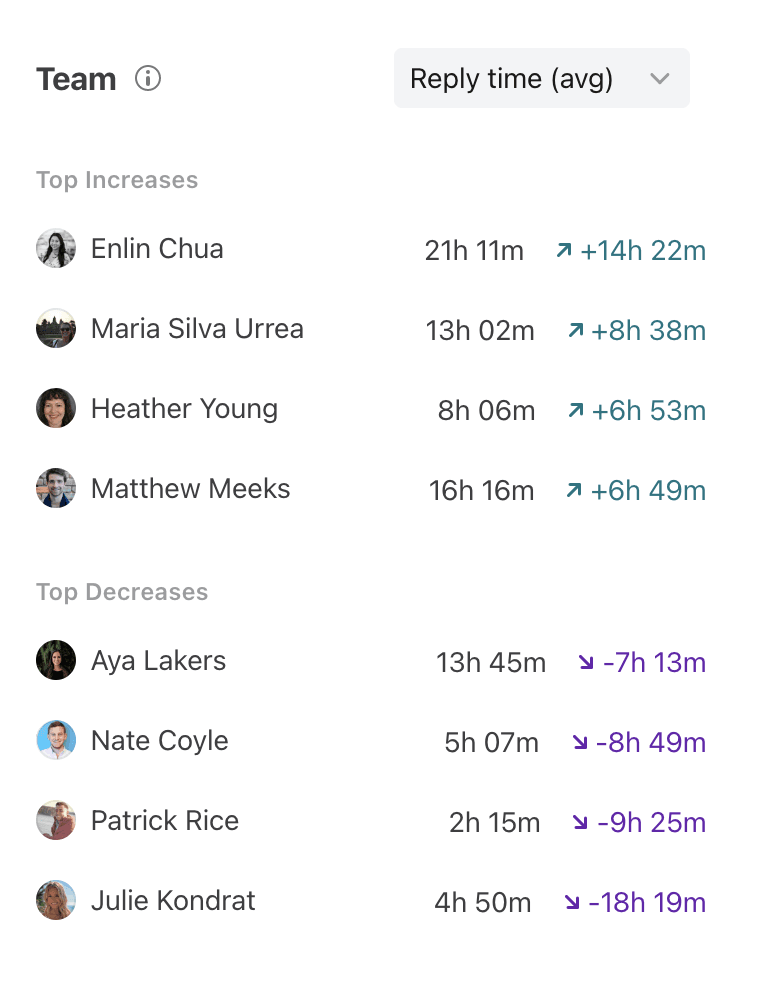 Key use case: You change the metric to value to view who on your team is handling the most critical of messages, and who's falling behind. By viewing that, you're able to help prioritize your team's time and recognize the team members who are working hard to please high-value clients.
Top tags
What are the primary topics occupying your team's time? This section shows the list of most frequent tags in a selected time period, and the change in usage from the previous period of the same length. The Top Tags section lets you see the types of requests coming in and monitor complex processes involving tags. For instance, get a better sense of a possible increase in messages tagged with SLA breach or discover that the "SLA warning" tag is trending.
Key use case: Using tags to track issues or client communications? This is how you can see what's occupying your team's time. For instance, say you have a tag for Bugs, and you notice that they tag is trending upwards. You can click into the metric to drill down into the details and investigate the context behind that calculation – and ultimately locate the bug, and adapt your support strategy for the time being to help customers experiencing it.
Share this guide
Want to see Front in action? Get started!