One Pager - 8 min read
Set your team up for success with team inboxes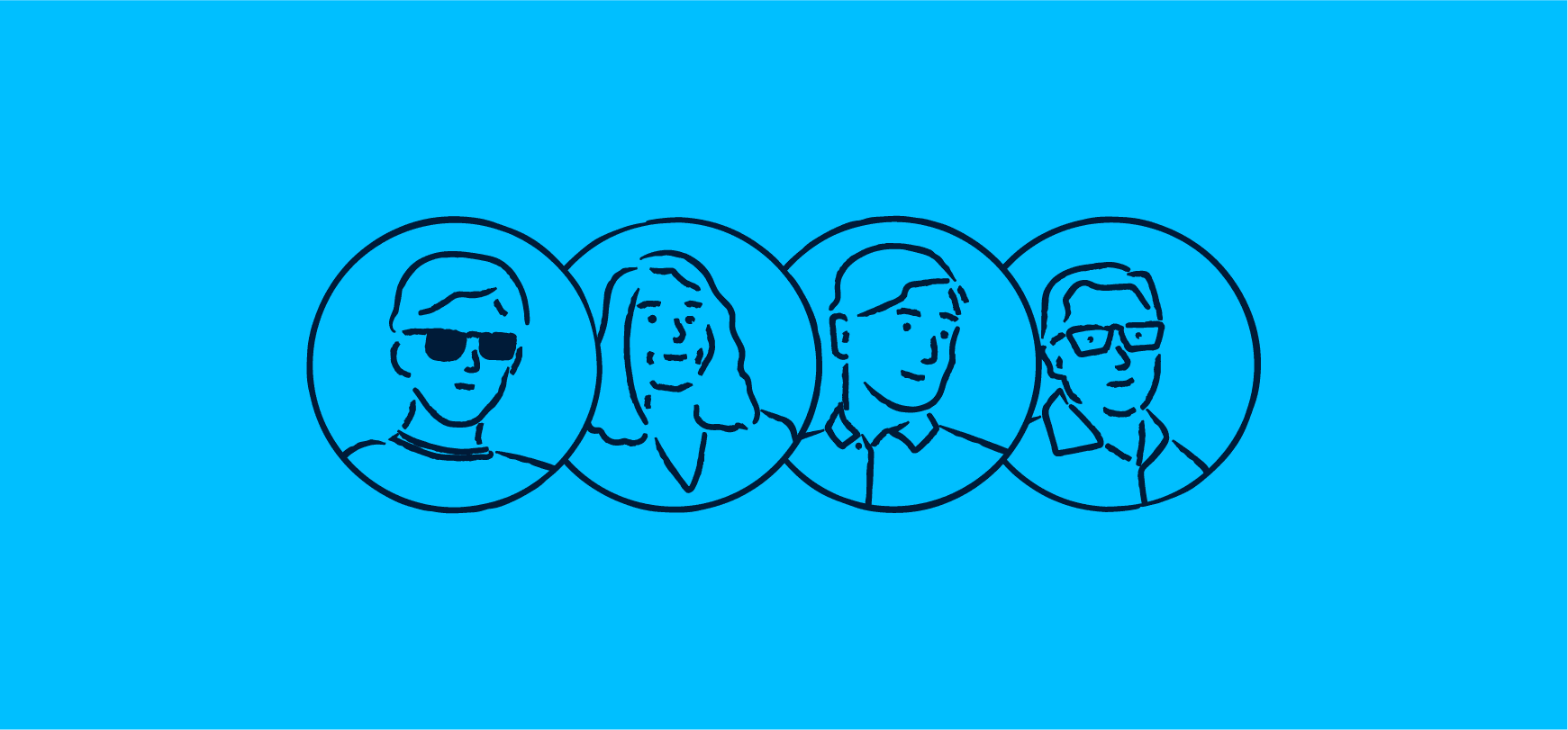 Picture this:
You just treated yourself to a well-deserved week-long vacation. Before signing off, you closed out all your apps, made a thorough Out-Of-Office plan, and left important work in the hands of teammates you trust.
You return to a jam-packed inbox, a variety of client messages to respond to, and notifications on 10+ different pieces of software that you need to tend to. You already feel behind, and it's not even 9 a.m. yet.
Sound familiar? These days, even if you go to an office, your job is less a physical place than the sum total of the different apps you rely on to do your work. In fact, the average employee switches between 35 job-critical apps more than 1,100 times per day. So even when you're not coming back from an island getaway, the constant context switching, the influx of messages on different platforms with unclear owners, and the various ways internal teams communicate all combine to make it nearly impossible to create a positive customer experience. Productivity and morale take a huge hit.
This current system isn't sustainable. That's why Front made a shared inbox that's supercharged and designed to work for you, not against you.
What's a team inbox?
You may be familiar with the concept of a shared inbox already. This is your "[email protected]," an email inbox that many teammates can access to send and receive emails from the same group address. Things work a little differently with a shared inbox. We'll walk you through it here:
Regular group email: With the email we're used to, group email means that anyone who's a part of a distribution list or group alias gets their own copy of every email. One person can reply to an email, and unless they hit "Reply all," no one else will see it. If someone deletes an email, everyone else can still see their copy in their inbox.Instead of one customer inquiry that should be actioned on one time, this email turns into many copies that now requires each person to read and make a decision on
Group email in a shared inbox: You're all looking at the same queue of emails. When one person replies, everyone who has access to the inbox can see it. When someone archives an email, it leaves the inbox for everyone.
Front's team inboxes crank it up a notch and improve the experience for teams. On a codebase level, it's a completely different way of thinking about email even compared to your distribution lists and aliases. Plus, we add some bells and whistles that help your team work faster together while focusing on what matters most.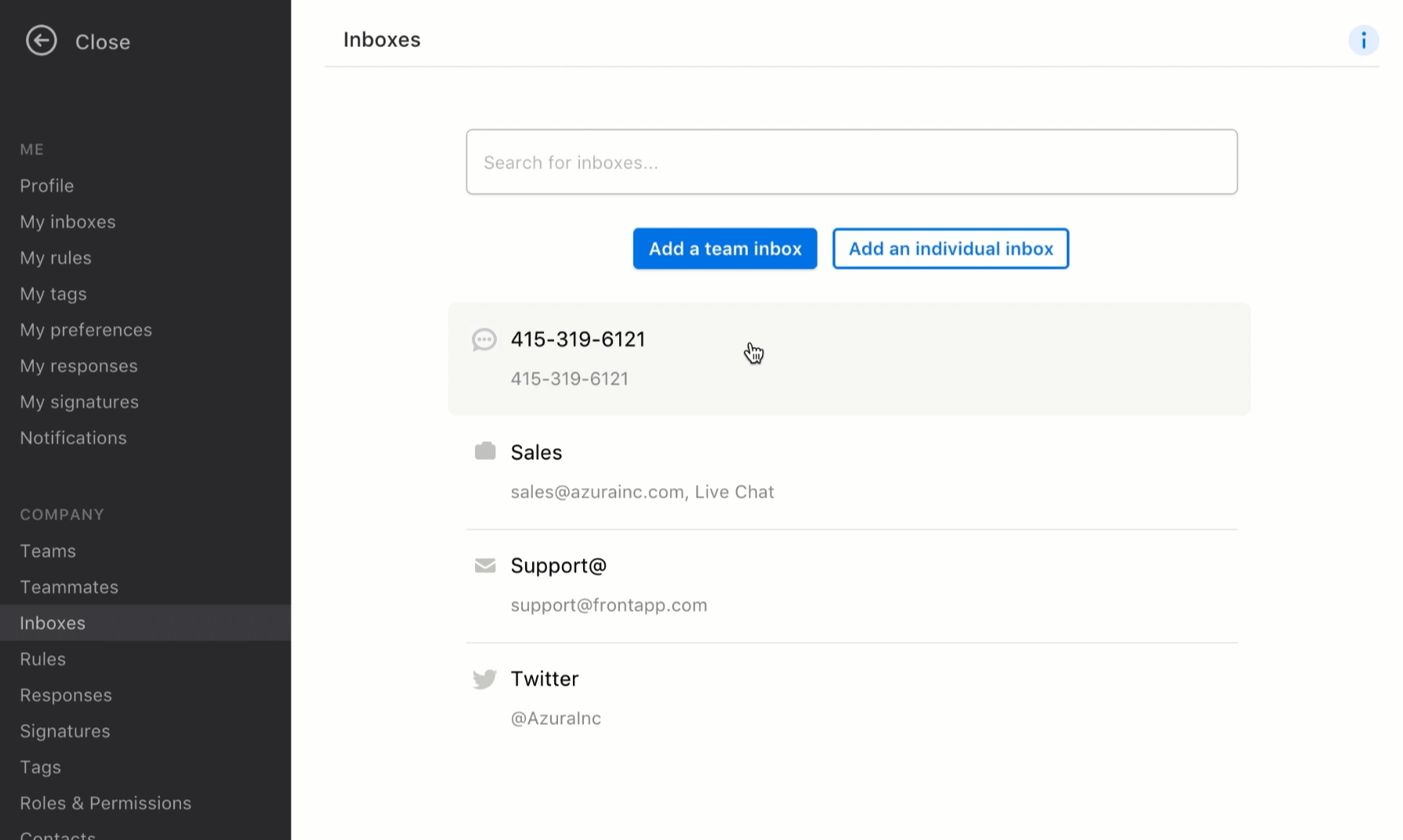 How team inboxes work in Front
Front allows your team to manage shared inboxes more effectively. Multiple teammates can collaborate on replies from multiple channels — from your Twitter account, customer messaging platform, SMS, and email — and ultimately respond faster.
Collaborate on email to respond lightning-fast
Work off a single, shared copy of each message to coordinate quickly and get back to customers faster.

Comment on emails and @mention your teammates to create notes and work together.

Edit email drafts together to avoid the back-and-forth before you send
Every conversation has an owner so nothing slips through the cracks
Know exactly who's working on what by assigning each conversation to an owner for follow up.

Use automatic workflow rules to tag and route messages and keep your inbox organized.

Use tags to prioritize and categorize incoming messages from all channels.
Happy team, happy customers — no help desk required
Add new channels like SMS, WhatsApp, or live chat to manage all messages in one place.

No ticket numbers here! To your customers, it's just normal email.

Front stays invisible to customers but keeps your team organized behind-the-scenes.
Emails arriving in a team inbox will be visible to all teammates who have access to the inbox. Only admins can give a teammate access to a team inbox. Admins can grant access to team inboxes at the time they invite a new teammate or can add existing teammates at any time. The read-vs.-unread status of conversations is individual to each teammate and does not impact others' read status. However, if one teammate replies to and archives an email in a team inbox, the email is archived for all teammates. That way, work is never duplicated.
What you can do with team inboxes in Front
The team inbox fixes a lot of problems we encounter at work today: lots of context switching between apps, many people handling messages from a variety of channels, and real-time collaboration.
Many communication channels: Front's team inboxes are not just for email — teams can manage other messages like SMS texts, Tweets, live chats, phone logs, social media, and more in team inboxes.

Built-in accountability: You can assign an owner to every conversation so that it's clear to everyone who's handling what. You can also drag conversations to different team tags to help prioritize and organize work for your team.

Easy collaboration: You can comment @angela, can you help with this contract? on an email, instead of forwarding or CC'ing a teammate. You can also share email drafts with teammates, so you can edit together before sending to customers.

Integrations: Your team inbox connects with other apps like CRMs, project management tools, knowledge bases, and more, so you can access that information directly in your inbox.

Automate little tasks you repeat often: Got an email that your teammate, Phyllis, can handle? Use keywords, sender, or other triggers to automatically route emails from the team inbox to her so it's out of everyone else's way.
For best practices on using team inboxes, as well as to learn how to set your team up for success, check out our guide on setting up a team inbox.
What's in it for your team?
Because traditional email like Gmail or Outlook ironically gets in the way of communication, teams often feel some immediate relief with team inboxes. Here are some ways that our internal teams get the most out of the automation in team inboxes while still keeping the customer experience personal: Support teams improve customer experience
Use message templates to quickly resolve and respond to support-like questions.

Prioritize incoming messages to the right person with rules, SLAs, and assigning. You can even add shifts so that response time goals are still met when different people are working different hours.

Escalate bugs and technical issues to the right place immediately with tags and rules that identify keywords in messages and get them in front of the right eyes.

Integrate Front with your knowledge base, so articles and FAQs are easily accessible directly from Front.

Use Front Analytics to improve response and resolution times and see what kind of requests are most common.
Success and account management teams build loyal, positive client relationships
Route client messages to the right owner automatically with triggers like keyword, sender, subject, and more.

Integrate your CRM or custom database so you can reference a customer's history and journey directly from your inbox.

Schedule a time for an email to pop back up in your inbox if it hasn't been replied to so you don't have to worry about remembering on your own even months later.

Use Front Analytics to see which customers require the most care and better distribute workload among your team.

Automatically move customer emails to a shared inbox when you're away or OOO, so you get peace of mind and your team can easily jump in and reply.
Sales teams reach their goals
Automatically and evenly distribute emails coming into your sales team inbox among your reps to balance workload.

Integrate your CRM so you can reference and update Salesforce opportunities directly in your inbox.

Create an SLA rule so that you wow your prospects with reliably quick response times

Comment on an email to collaborate in realtime with other AEs or a manager when you have a question on a deal or want a hand in closing it

Connect your calendar so you can easily schedule meetings, check calendar openings, and let prospects book time slots with you in a few clicks
Is this just like… email merged with a help desk?
That's a great framework to set your expectations, but Front is actually fundamentally different — and a whole lot more. Here's the thing: Email was originally built for one-to-one communication, and it carries a stigma of being somewhat dated and inefficient.
On the other hand, help desks can be pretty clunky and often impersonal.
Team inboxes take the best of both worlds and add some original new features that crank your workflow up quite a few notches. They're designed for teams to make greater impact:
Team inboxes are easy to implement and natural for your team to learn. Since they use a familiar workflow that's similar to email, there's no steep learning curve that often comes with new software. Because Front feels similarly to Gmail or Outlook, onboarding is relatively intuitive.

Team inboxes allow for a more personal customer experience. Traditional help desk tools attach ticket numbers to every message. While this is great for organization, it makes the customer feel like just a drop in a vast ocean of tickets. When your team uses Front, the customer will never know the difference. It's just regular email (and a wonderful, personalized experience, of course.)

Team inboxes are more flexible. Help desks typically have a more rigid process that's standardized to support teams, so they're more limited in the ways you can route and assign messages, especially outside your support team. You can customize team inboxes to your unique processes, and if you have complex questions that need escalation, you can easily loop in those teammates.
Front is a customer communication hub. It transforms work into impact by meaningfully connecting your teams and customers by taking away the clutter, chaos, and impersonal customer experience. So you get the automation and customization of a help desk, with the personal and familiar touch of email.
Share this one pager
Was this one pager helpful?
Want to see Front in action? Get started!