Guide - 4 min read
Improve response time with the SLA report
Reaching your response time goals and meeting your Service Level Agreements (SLAs) is a key part of being a successful, high performing customer facing team. The SLA report is built to ensure nothing falls through the cracks and that your team makes a lasting, positive impact on your customers.
What's the SLA report?
The service-level agreement (SLA) report helps you reach your SLA goals by providing an understanding of trends around breaches and which specific conversations were impacted. If you've set up SLA rules, you can use the SLA report to deeply understand conversation volume, response times, and customer message trends. It breaks down SLA metrics by rule, time, and status so you can identify areas where your team can improve.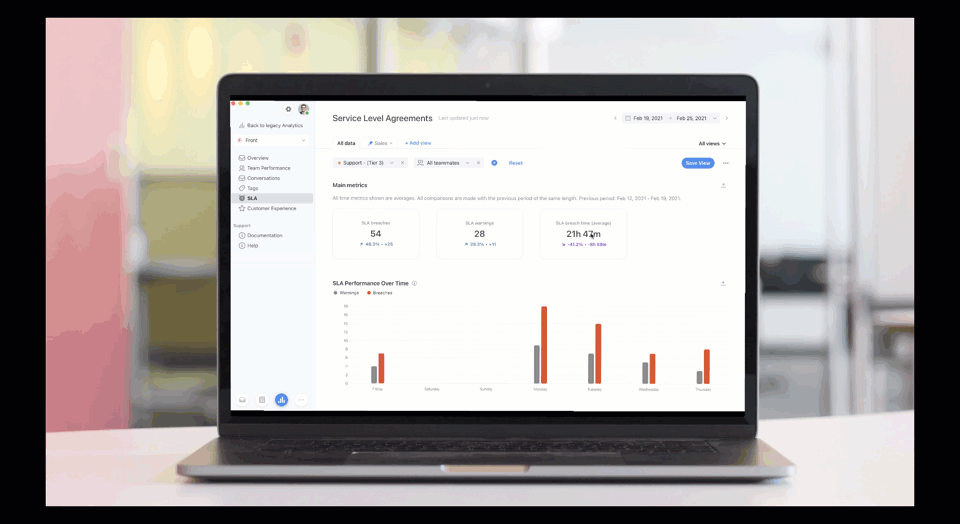 The SLA report helps you:
Track SLA performance goals based on priority levels and types of customers – like "VIP" or a specific client name

Understand how many SLAs are being breached

Use reports for easy client reporting
To view the definition of every metric you can measure in the SLA dashboard, visit our Analytics Glossary.
What can be measured?
The SLA report helps you answer questions like:
Am I meeting my SLA targets?

Which of my SLA rules is performing the best? The worst?

How is my team responding once an SLA breach occurs?
There are 3 general sections in the SLA report that help you gather insights. Leverage the filters here to filter by client and understand the SLAs that are specific to specific customers.
Main metrics
In the Main metrics section, you'll find top-line metrics covering the number of SLA breaches, warnings, average breach time, and average reply time. It provides a quick look at SLA performance, and lets you see the level of service your team is delivering. You can easily share these top-line metrics with clients to demonstrate value.
Note that SLA breaches and warnings are calculated based off the number of conversations during the selected time period, and the average breach time is calculated based off the average time a conversation spends unreplied per SLA breach. Key use case: In a team meeting, share a high level overview as to what's happening in regards to SLAs by checking out the averages section. Help your team understand how warnings and breaches are trending so you can have a fruitful discussion and game plan that keeps future breaches at bay. This is a great widget for top line metrics, without getting in the weeds.
Performance over time
Visualize data across multiple SLA rules to better understand how your team is performing in the 'Performance over time' section. This section shows the number of breaches and warnings for a specific SLA rule over time. It defaults showing all rules, but specific rules can be selected from the dropdown. This is especially valuable if you have different SLAs for specific clients, like a standard SLA and a VIP SLA.
Key use case: You're noticing that your breach volume is quickly getting close to the amount of warnings. By observing and auditing your process early on, you're able to recognize that your SLA warning workflow could use some work. You update your existing SLA rule so that it immediately notifies a message assignee when their conversations is at-risk of a breach in hopes that this will bring your breaches down. Over the next couple weeks, you observe that warnings are higher than breaches and that your workflow fix was a success.
SLA status
Get a more granular view of SLA performance across specific SLA rules in the 'SLA status' section. This table shows you the performance metrics for existing SLA Rules during the selected time period, and breaks down the impact of each SLA rule. You can even search for the exact one you're curious about. By viewing this data, you can see where improvement to the customer experience is needed by increasing response time goals and never letting messages slip through the cracks.
Key use case: You're a team lead responsible for 10 accounts split between CSMs. Every morning, you check the SLA status widget to see how your team is tracking against their SLA goals for each of those 10 accounts – you like to get visibility into breaches over time and get a strong pulse on the SLA status within each of your key accounts. If the breaches go outside of what you think is acceptable, you can click into the metric and follow up with a client , reallocate staff, or make the workflow changes needed so it doesn't happen again.
Share this guide
Want to see Front in action? Get started!