Guide - 3 min read
Identify topics trends & message themes with the Tags report
Understanding the types of conversations your team is having helps you know and anticipate hot topics, track issues, and understand how your team is spending their time. The tags report lets you double click on all of that.
What's the Tags report?
The tag report enables you to explore the types of conversations your team is having and monitor trends in the topics that come up. It highlights the total number of tagged conversations over time, as well as response time per tag – and more. This is the best place to give you metrics broken down by topic to get a high level analysis of communication by topic or the internal classification that tags provide. You'll have visibility into the types of conversations that triggered an SLA breach, tags that are requiring high handle or response time, and be able to measure the internal processes that use tags.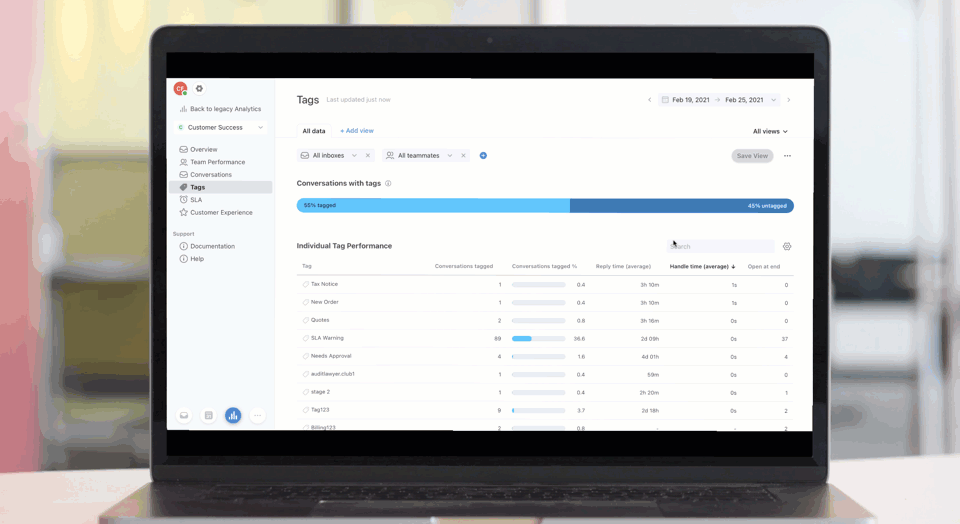 For a deeper dive into the types of conversations your team is having, you can filter the report by multiple tags, teammate, conversation source, and more. To view the definition of every metric you can measure in the Tags dashboard, visit our Analytics Glossary.
What can be measured?
In the tags report, you'll be able to develop a deep understanding of:
The main categories of communication your team is having

What categories require further attention from your team

How well your operational processes working, and what areas of improvement exist in your workflows
There are 2 general sections in the tags report that help you gather insights.
Conversations with tags
Tags make it easy to track specific topics in your inboxes, set up rules to sort messages automatically, and report on trends in analytics. The more tags your team uses can help teams discover new and more ways to increase efficiency. This is a simple section showing the percentage breakdown of tagged and untagged conversations – so the amount of conversations tagged out of your total conversations in the report period selected.
Key use case: For some admins, it's a goal to make sure all conversations have tags. Tags are a form of internal classification that help you track topics, status, and more. Every team has their own system, but almost all teams agree that having all messages tagged helps you further investigate what's happening in your inboxes. Use this section, in combination with the details drawer, to see which conversations don't have tags so you can ensure every message is accounted for in Analytics.
Tag details
Tags are flexible and can fit many use cases ranging from message categorization to understanding sentiment, and by viewing individual tag performance, you can analyze the effectiveness of tagged messages through insights on volume and performance patterns. This section shows the performance of your tags during the selected time period. You can customize the table to view tags across 12 different metrics such as reply time, new conversation, and more.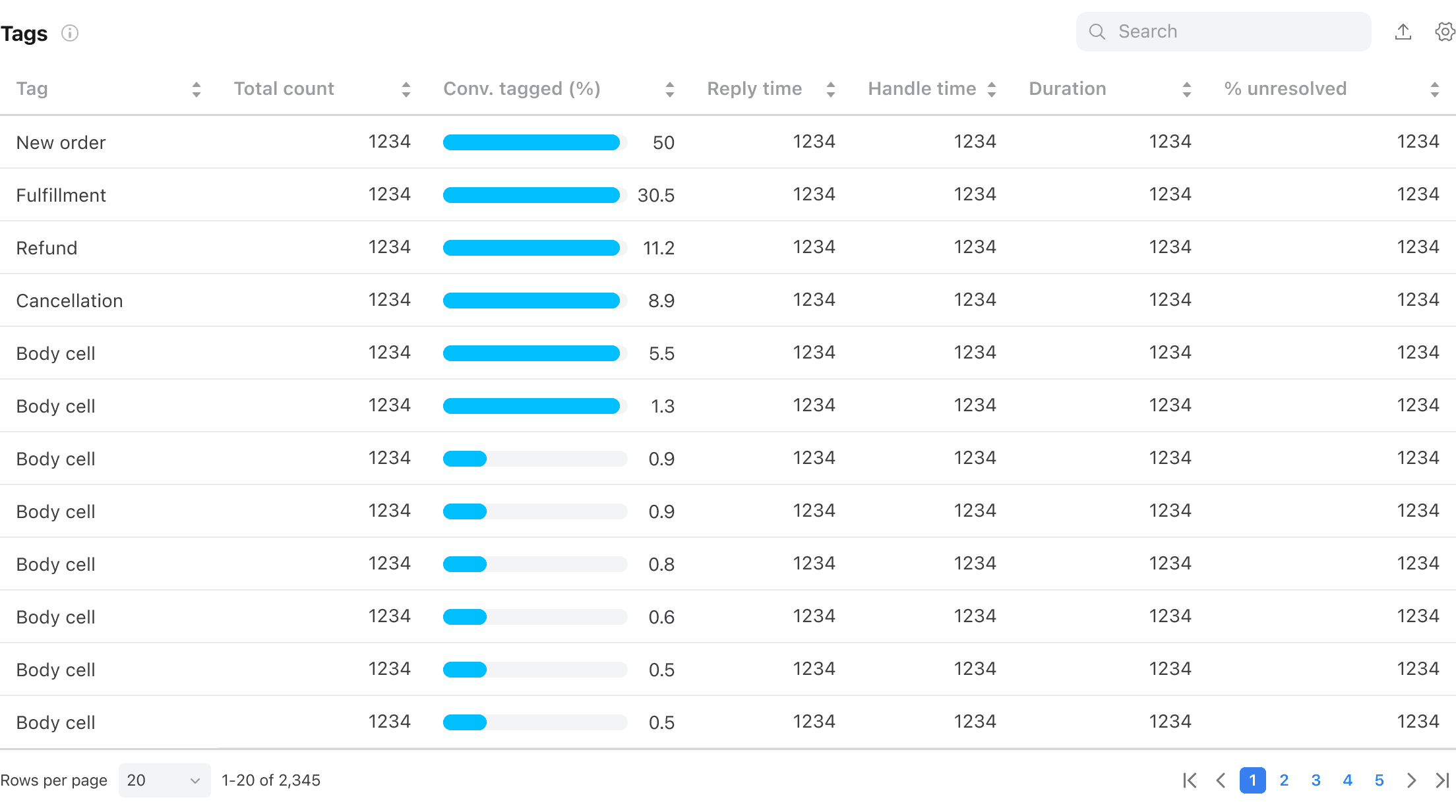 Key use case: You're curious what's happening in your VIP tag – which houses the messages from your highest value clients. You search for your VIP tag in the table, and look at the main metrics to get a sense of how it's performing. Though the reply time is strong, the handle time is particularly high compared to the other tags. You click into the metric and view all conversations associated with the calculation to investigate it further. Ultimately, you notice that some of your VIP clients are bringing up very complex issues and that you may need to reconsider who is staffed on those clients. By making the change, you better support your team and your customers.
Share this guide
Want to see Front in action? Get started!