Load One offers complete transportation and logistics solutions for customers worldwide. They specialize in expedited freight shipping—for goods that needed to be there "yesterday" according to Mike Nasceif Jr, Operational Process and Training Manager. You can think of their team like ER doctors for shipments: they provide solutions for you, no matter what you're moving and when you need it.
The Load One team focuses on building relationships with their customers as part of their philosophy. They organize teams around each customer and really work to get to know them, so they can provide the best solution even when a request is a stressful time crunch. "Personal responses are incredibly important to our customers — they expect a similar face to respond," Mike noted.
Challenge
Before Front, the Load One team used Outlook to manage a high volume of communications. It was complicated, and they used color labels to let people know what emails they were responsible for. Emails were falling through the cracks.
Then they tried Emailtopia, which also didn't fit their needs for scaling the team. It was slow, according to Mike, and there were issues with the app daily. From a technical perspective, Paito Anderson, who built their custom plugin, said Emailtopia hit a limit where they didn't have much flexibility. Then a customer recommended Front to them, and they haven't looked back.
Solution
Since 2018, the entire Load One operations function relies on Front: 14 different teams.
Reliability and speed help win more business
The team at Load One needed to be able to read and respond to emails quickly. Prior to Front, it took 20 seconds or more to open an email with the volume they were receiving.
Now with Front, everything happens in real time. "We've lost business because of that, and with Front we win more business," Mike noted. "For us, the first bid is a winning bid."
Paito said the performance of Front is its number 1 feature. "The speed at which we can open an email and reply is great," Paito said.
Quoting hundreds of customers happens automatically using Front's API
The Load One team put Front's APIs to work to connect Front to their proprietary transportation technology platform and automate the quoting process for new requests. Here's how it works:
1. A customer sends in a request for a shipment via email. There are usually several pieces of information they need to pull from the email in order to provide the quote, like the locations, weight, date for shipping, and more.
2. The Front API automatically pulls in the information from the email into their proprietary transportation technology platform — no copy and paste needed. It also generates a comment in Front below the email request with a special link to the quote in their platform.
3. Next, the plugin sends the quote details to the nearest 2 drivers, since they need approval from a driver for each shipment and rate. To reply, drivers can either use their mobile app, or say "yes" or "no" on the robo call or use the touchtone "1" or "2" on the call after being read the quote details. A comment will be shown on the Front email thread when a driver has accepted the job.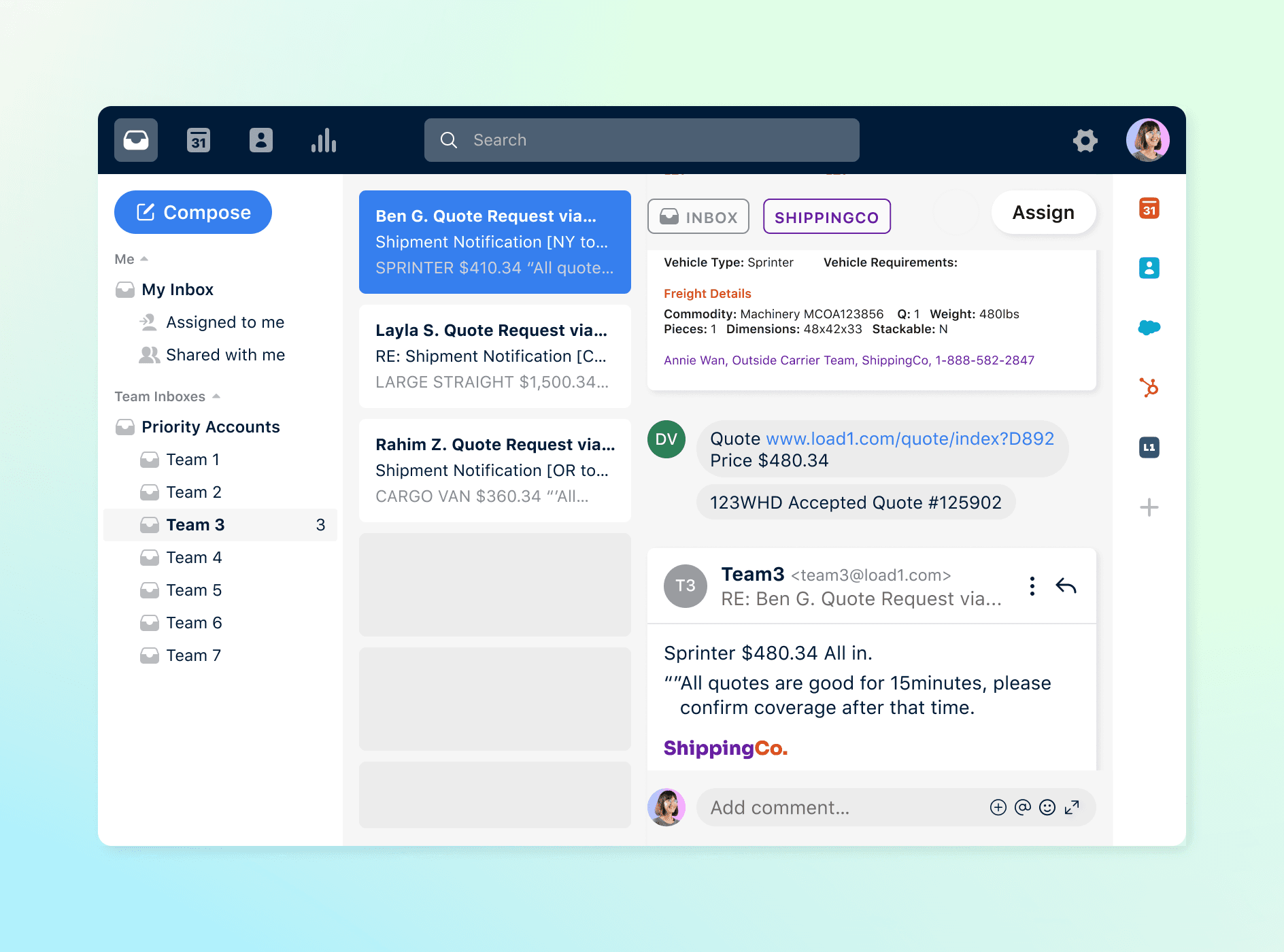 4. In some instances, a reply will be autogenerated, giving the customer a quote with details like the price, vehicle, and transport mode, and letting them know the quoted price is good for the next 15 minutes.
Their system is saving teammates time by eliminating the copy-and-paste workflow and by cutting down the amount of quotes they need to sort through manually. In many cases, their automated process produces a quote for customers in 1 or 2 minutes, rather than the manual process, which could take anywhere from 6-8 minutes.
Automatic quotes earn more customers
"We are doing 400-600 automatic quotes per business day, and 100-200 on per non-business day currently," according to Paito. "This leads to more won business, and we're closing more deals," he said.
Internal coordination is easy and painless
Once a quote is accepted, the team collaborates internally to ensure the customer gets the solution they need. For this, their team uses Front's commenting feature to chat internally on email threads. "I like that I can invite folks to conversations and easily see who will work on what," Mike said.
SLAs are met and constantly improved
Thanks to their automotive quoting process, the Load One team responds much faster to customers. They use Front rules and tags to reach their SLA of under 10 minutes for every email. "Everything is under 10 minutes now, and it was well above that before," said Mike.
Automation gives the team time to focus on impactful work
Because the Load One team doesn't have to spend as much time copy and pasting data or waiting on replies, they're able to spend time where it matters most: with customers. "Having a truck ready and a reply back to the customer within 1 minute — there's nothing more we could ask of our team at that point," Mike said.
Flexibility provides endless possibility
Paito said developing on top of Front was seamless. "The ability to develop on top of Front is a great feature in itself — that it has an API, that it scales well, that no matter how much more we process that you'll support it," Paito said.