Evaluating new tools for your business can be tricky and require thoughtful consideration.
The basics 
Front is strong for collaborative customer service — especially for more complex inquiries requiring coordination across different teams. Front is known (and loved) for its familiar interface that looks just like email. Front also features built-in collaboration through comments, compatibility with multiple departments (no more silos) and stronger personalization capabilities.
Front works with 8,500+ companies across dozens of verticals, but is especially great for:
Consumer services (house cleaning, pest control)

Utilities

Transportation (chauffeured services, private aviation, etc.)
Front also serves hundreds of customers outside of these core industries who require collaborative, complex coordination across teams.
Freshdesk is designed for transactional inquiries that don't require collaboration with cross-functional partners or teams to solve. It uses a help desk ticketing interface which is familiar for customer service agents, but alienates users from other departments.
This makes Freshdesk a better fit for industries with simpler service requirements, like: retail & ecommerce, NGOs & nonprofits, education, healthcare, media & entertainment, managed service providers, software & IT, and more.
In this guide, we'll go into user interfaces and experiences for both, cover factors to consider when choosing a solution, and dive into industry use cases and feedback.
Front vs Freshdesk: User interface and experience 
| Front | Freshdesk |
| --- | --- |
| Front is a modern customer operations platform that combines + speed of email and the efficiency of a help desk behind the scenes. It makes teammates more efficient and can be used across many customer-facing teams. | Freshdesk is a legacy help desk ticketing system, which is optimized for customer service teams only. It requires more clicks to read, collaborate, and respond, alienating users from other departments. |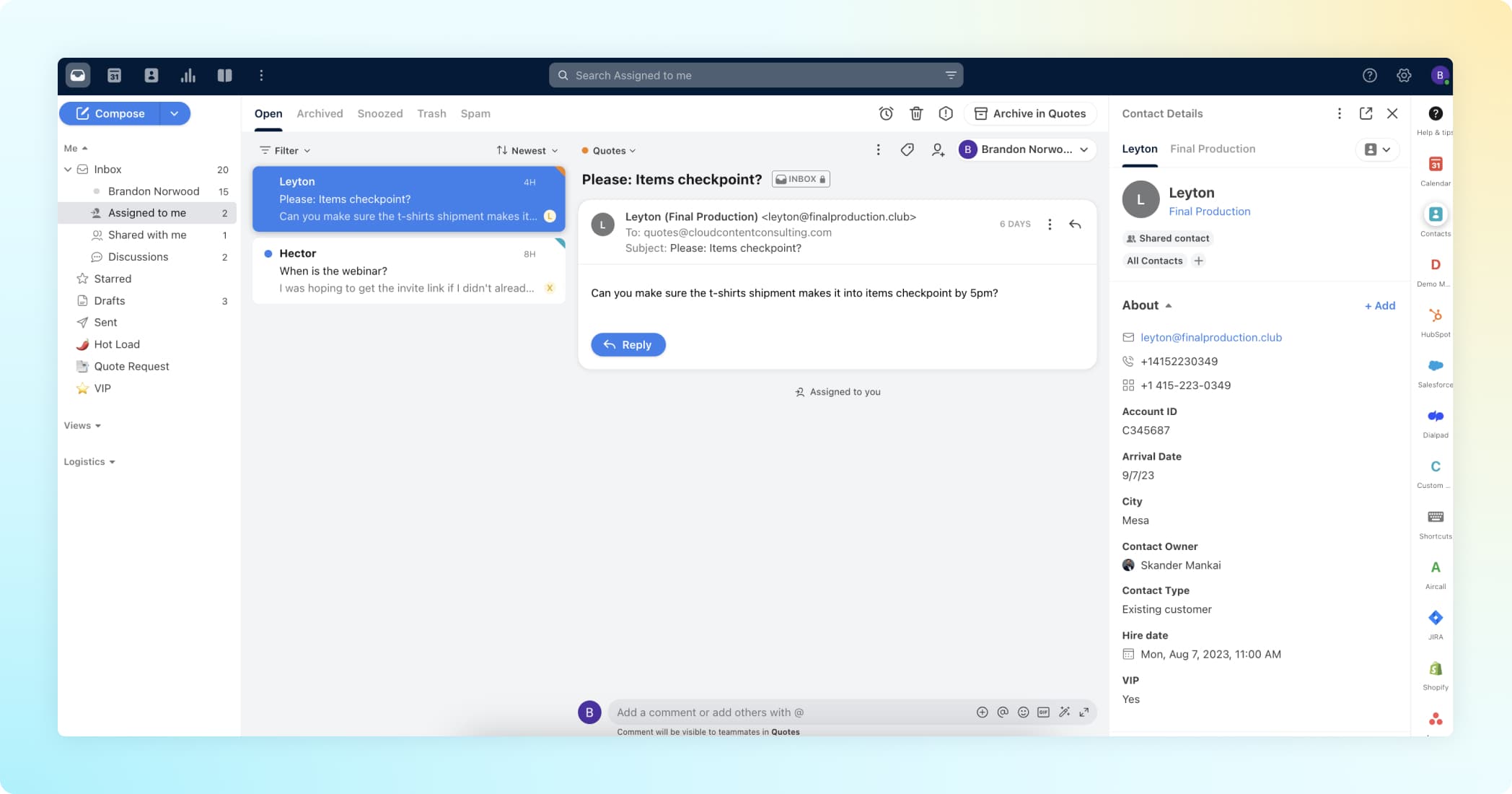 Navigation in Front is straightforward and simple to manage. Front was built to aggregate multiple channels into a single inbox, keeping work to minimal clicks and organized all in one place. Less clicks = less context switching and more time for productivity and getting customers what they need.
With Front, you don't need to manually "update/save" status changes, like assignments — Front includes real-time visibility into status updates. You can do everything in one window and prioritize work with colleagues seamlessly.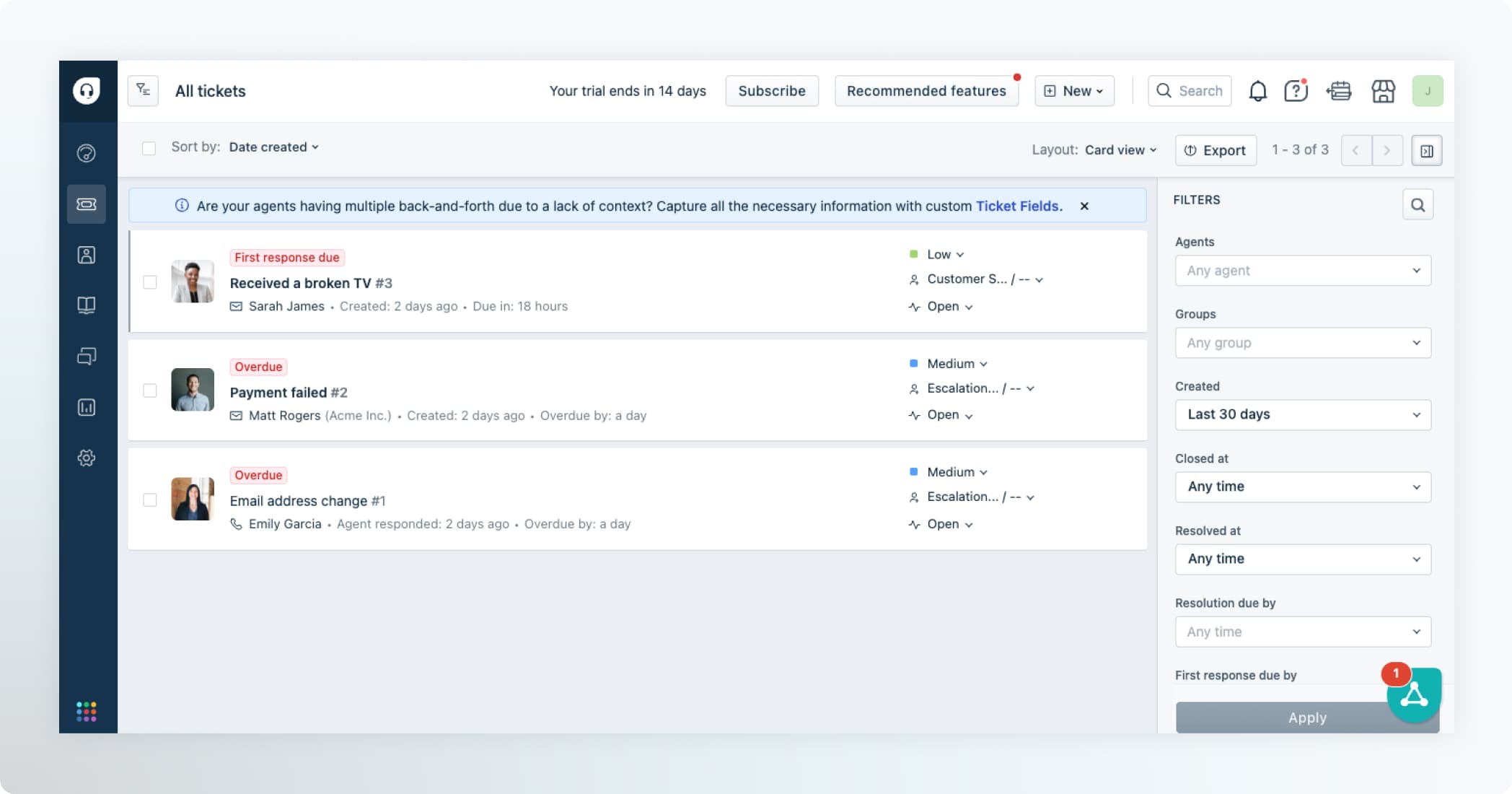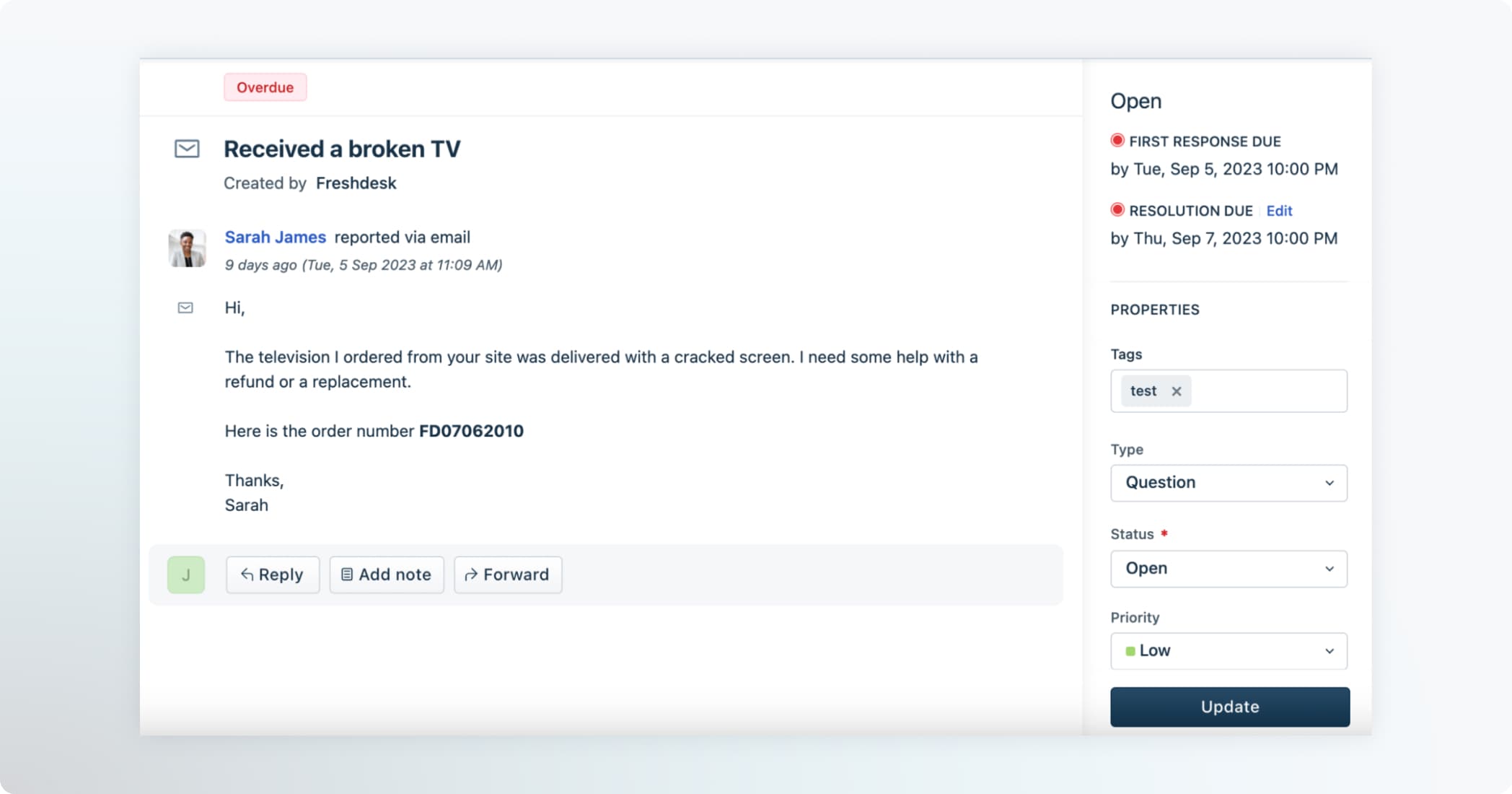 Freshdesk's ticket-based navigation requires more clicks to open, collaborate, and respond. Tickets must be routed to groups rather than a single owner, so all agents work out of a shared ticket queue. This setup results in reduced productivity and unclear ownership.
For example, an agent would typically start in a ticket queue view that just shows the issue description, select a ticket that is not currently being worked on, and then click again to reply, add a note, or update ticket fields. Additionally, ticket field changes must be saved each time before other users can see them, preventing real-time collaboration. 
Front vs Freshdesk: Collaboration
| Front | Freshdesk |
| --- | --- |
| Front is built for working together seamlessly with cross-team collaboration features like mentions, shared drafts, and handoff workflows. These features enable real-time coordination across multiple departments. | Freshdesk relies on integrations with Slack and switching to personal email for collaboration with internal teams and external vendors. There are also multiple ways to collaborate, which can lead to multiple conversations in separate parts of the application. |
Front users can easily collaborate on shared replies to customers in real time and use internal comments to align with relevant stakeholders. Internal collaboration and public replies happen in separate composers, ensuring your customers only receive comprehensive, fast replies. 
You can also have discussion threads that are not attached to a conversation or ticket, preventing inquiries from getting cluttered and confusing. Front serves as your email client, has powerful built-in integration, and offers a Slack integration, enabling agents to work from a single place.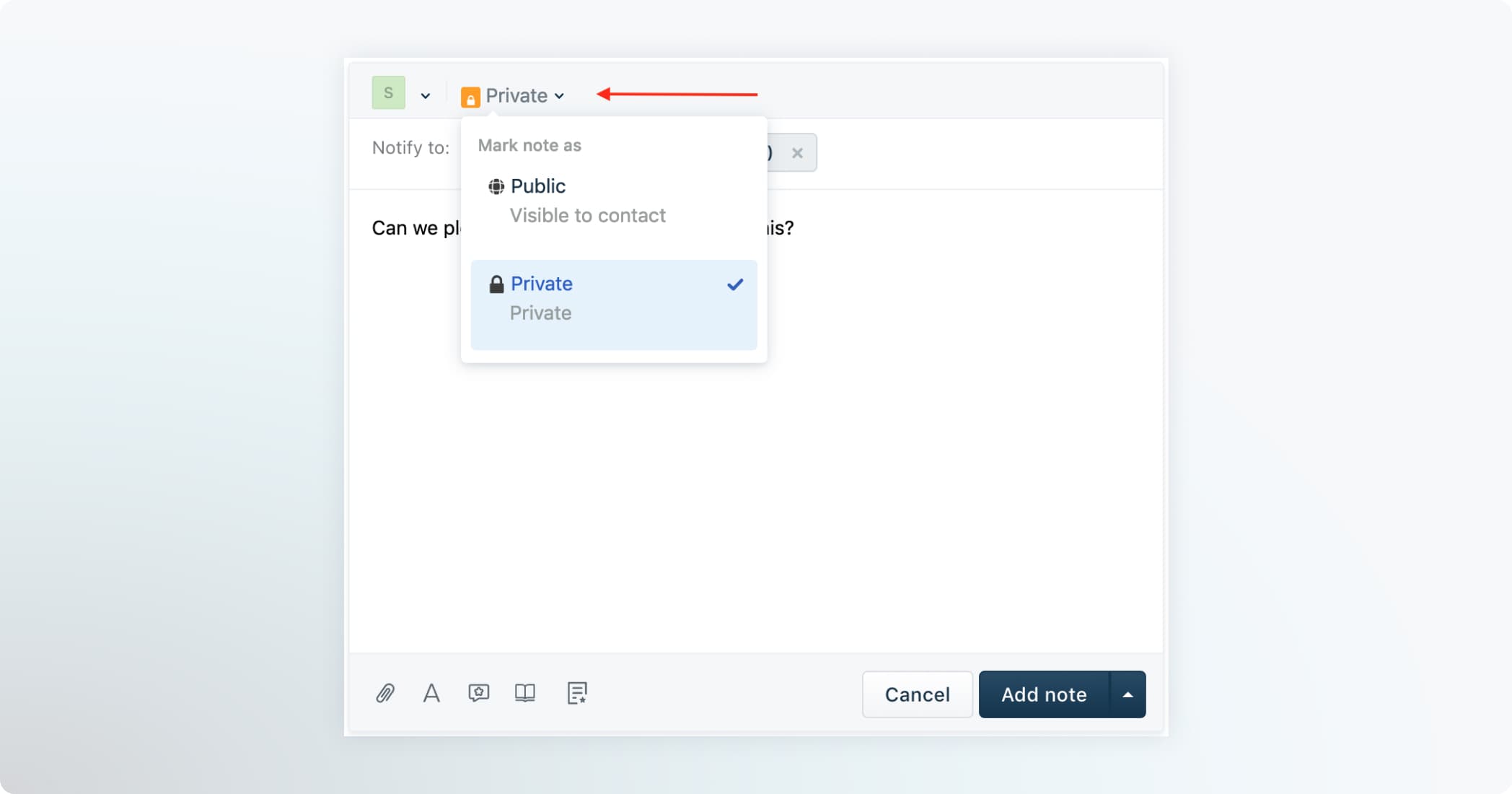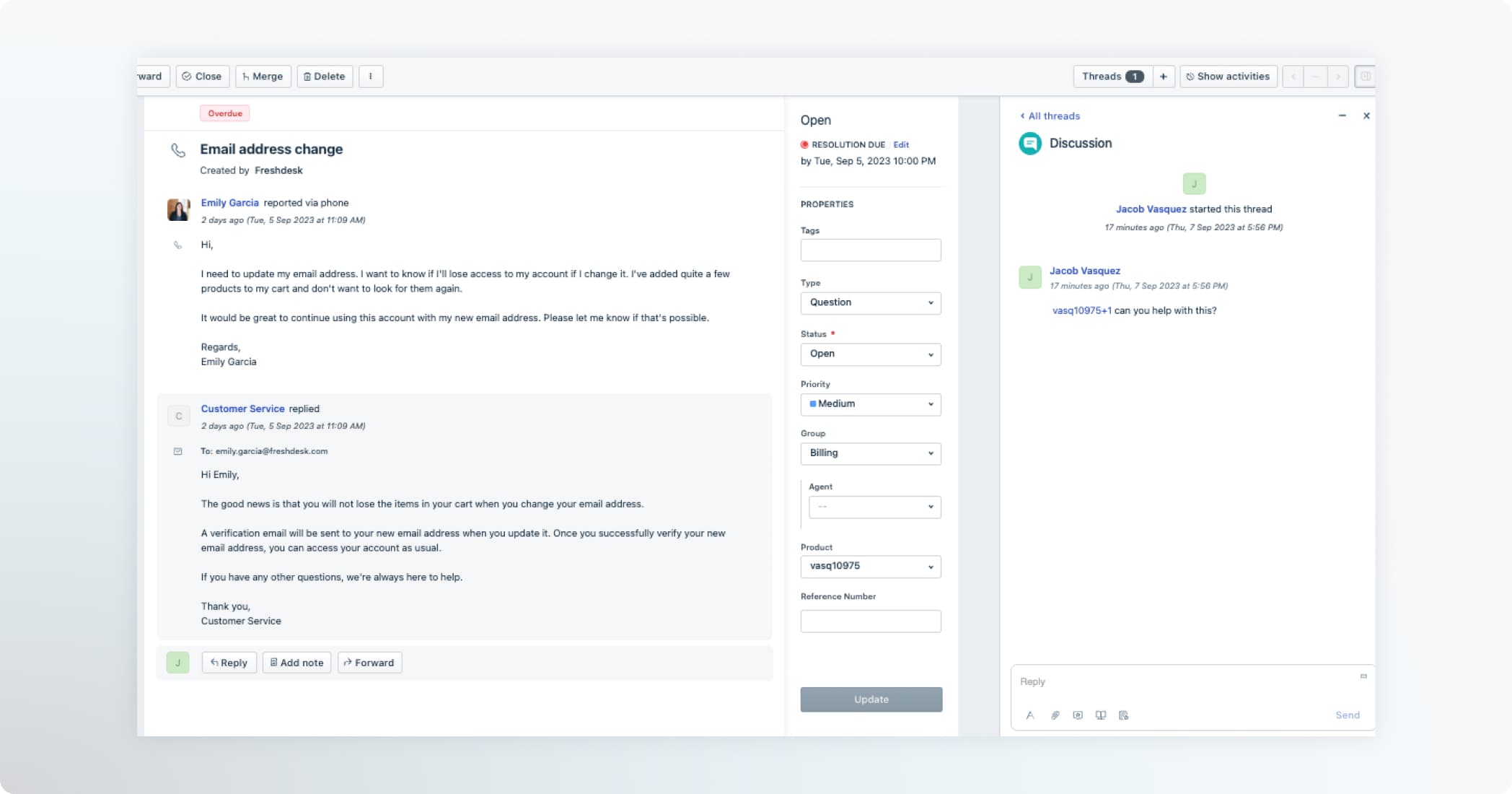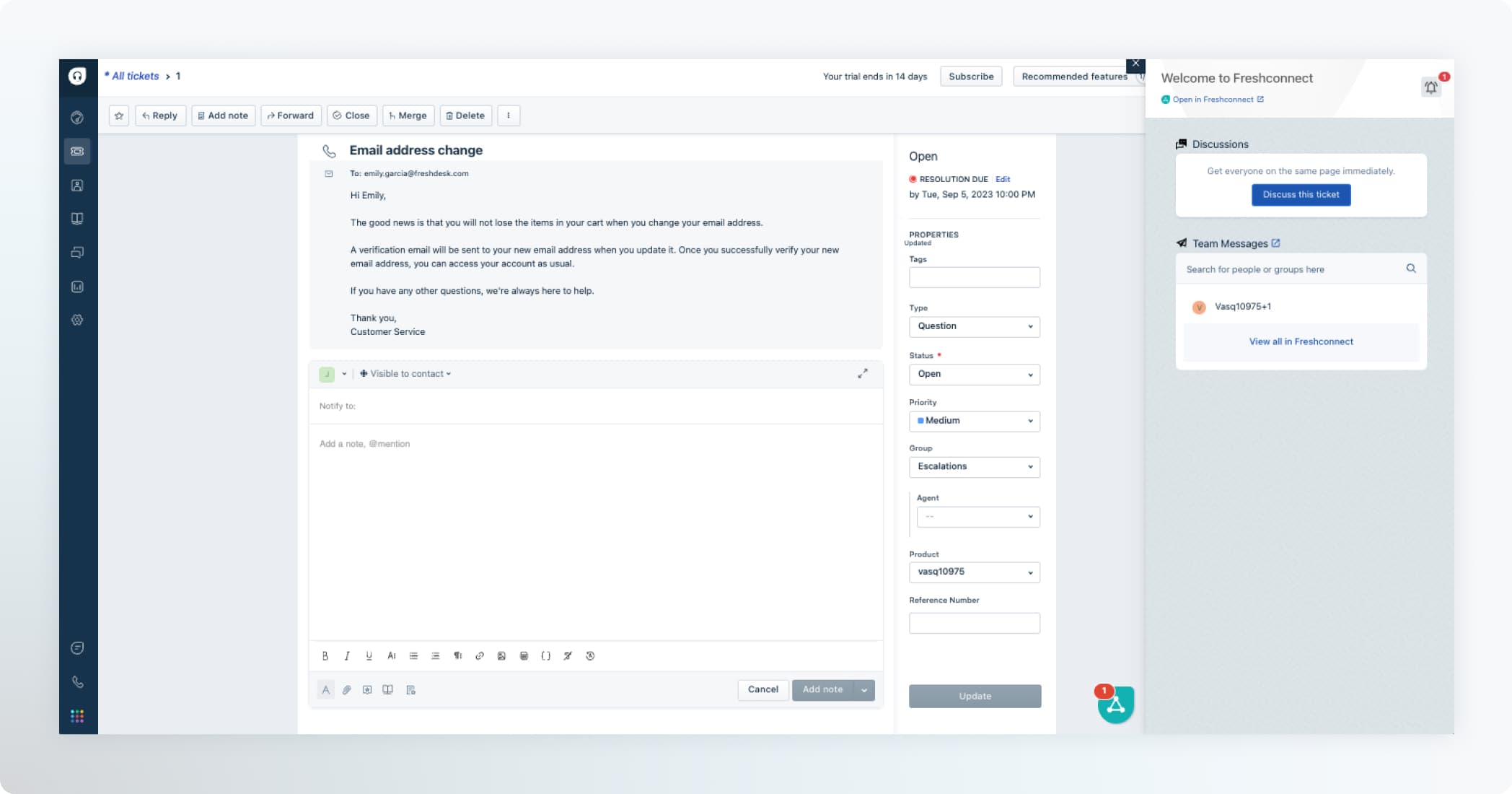 In Freshdesk, public replies and internal comments are available in the same composer, which can lead to accidental replies to the customer — damaging your credibility. Freshdesk offers multiple ways to collaborate on a ticket including internal comments inside the ticket, discussion threads, and Freshconnect IM-ing solution. This can lead to disorganized collaboration and wasted time chasing context. 
Because Freshdesk is only used by the customer service department, users have to switch between Freshdesk and their email inbox to collaborate with internal colleagues and external partners. This decreases agent productivity and increases response time. Freshdesk does offer a Slack integration, but even with this, users switch between multiple communication tools to respond.
Front vs Freshdesk: Communication Channels
| Front | Freshdesk |
| --- | --- |
| Front supports multiple channels with a native email client, chat and knowledge base solution, and SMS and voice integrations. All channels can be managed from a single place. | Freshdesk offers quite a few channels, including native email, chat, knowledge base and a voice and SMS add-on, but users must toggle between the applications to manage these channels. |
Front is a multi-channel customer service solution, so you can reply to customers across many channels like email, social, live chat, WhatsApp, and more from a single place. It also integrates with top SMS and Voice providers and features a native knowledge base. 
Freshdesk is also a multi-channel solution with native email, chat, knowledge base and a voice and SMS add on, but it requires users to toggle between three apps (Freshdesk, Freshchat, and Freshcaller) to view information from different channels. Web forms and knowledge self service are also in a separate widget compared to chat.
Front vs Freshdesk: End User Experience
| Front | Freshdesk |
| --- | --- |
| Ticketing logic is managed on the back end, so all users see and experience is a personal reply.  | Messages have added formatting and ticket logic is shown to the end customer. |
Front raises the bar for quality of service. Front's messages look like a personal reply, making the solution ideal for companies with high-value customers, complex interactions, and prioritizing quality service. With Front, teams can craft fast replies with complete context without making the end user feel like a ticket.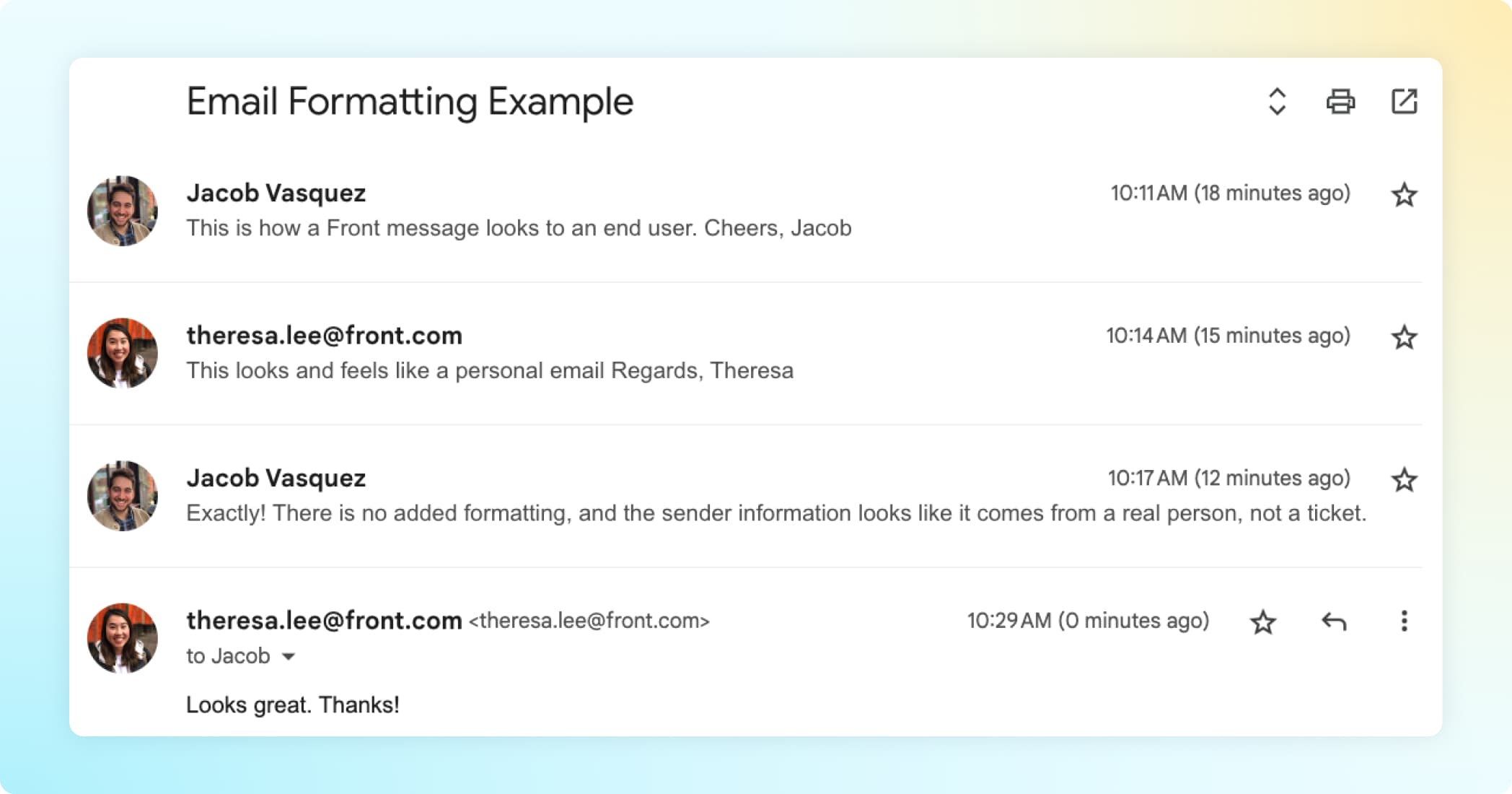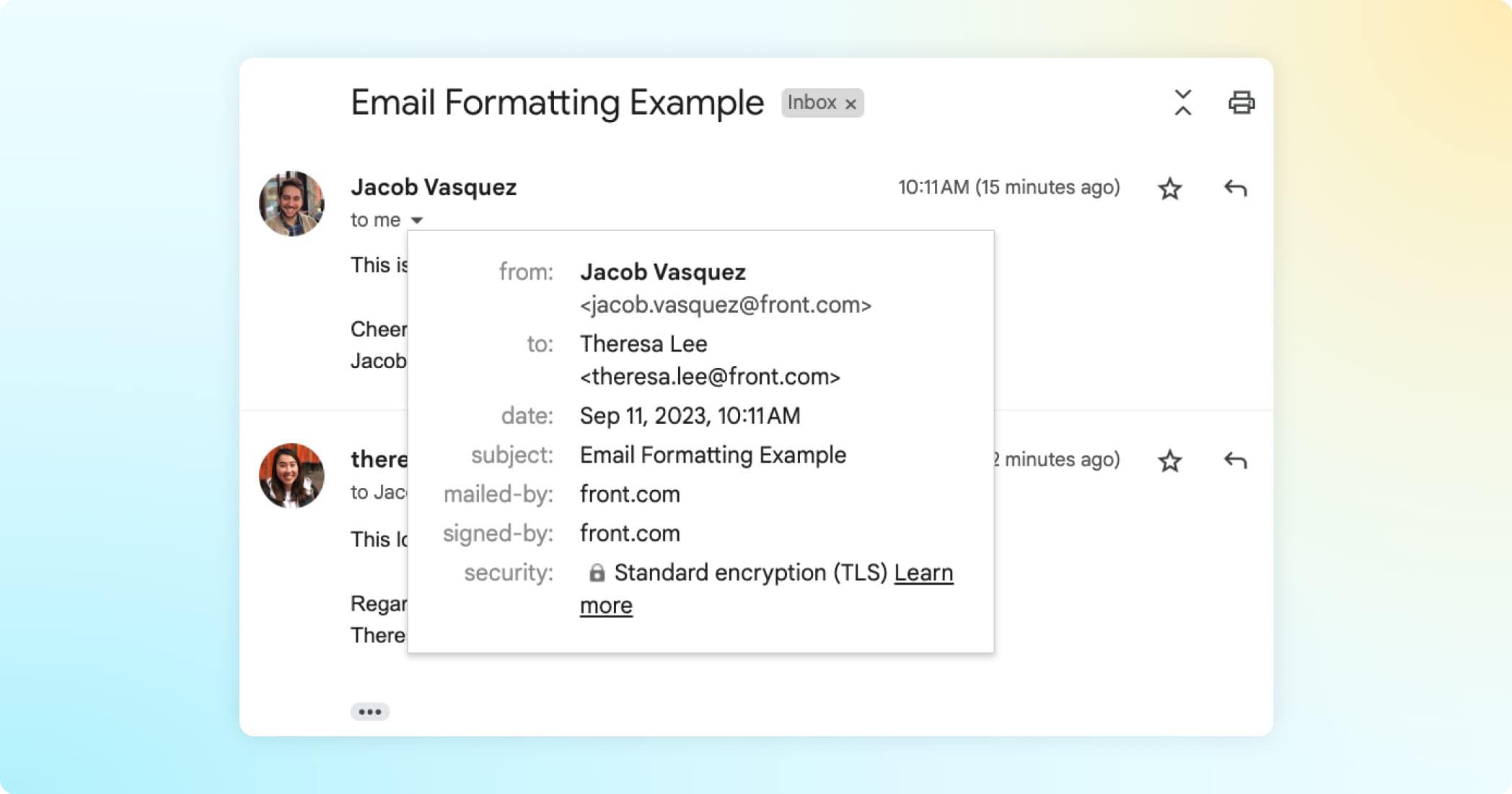 Freshdesk replies contain the customer subdomain and Freshdesk domain in the reply to address and sender information, so it can make the end customer feel like a ticket.
Front vs Freshdesk: Automation and workflow 
| Front | Freshdesk |
| --- | --- |
| Front features familiar inbox-driven architecture, workflow templates, and pre-built analytics that make it easy to use and administer. | Freshdesk's admin experience has additional configurability, but, as a result, often requires expensive implementation, longer onboarding, and challenging maintenance.  |
Front has a single rules engine to govern all conversational automation with pre-built templates and custom rules. It has many features built for flexibility and scale, including:

Customer-facing teams including support, account management, operations, and sales all rely on Front for seamless cross-departmental handoffs, escalation, and collaboration. 
Freshdesk has a moderate amount of configurability in its admin experience, but the experience is decentralized requiring rules to be set up in different places. (Ex: Different place for Automations, Scenario Automations, SLA Policies, CSAT, and automation inside Freshchat and Freshcaller). 
Freshdesk uses scopes at the user level to define access rather than inboxes and workspaces which can create issues with people having too much or too little info because restricting access to tickets can be complex.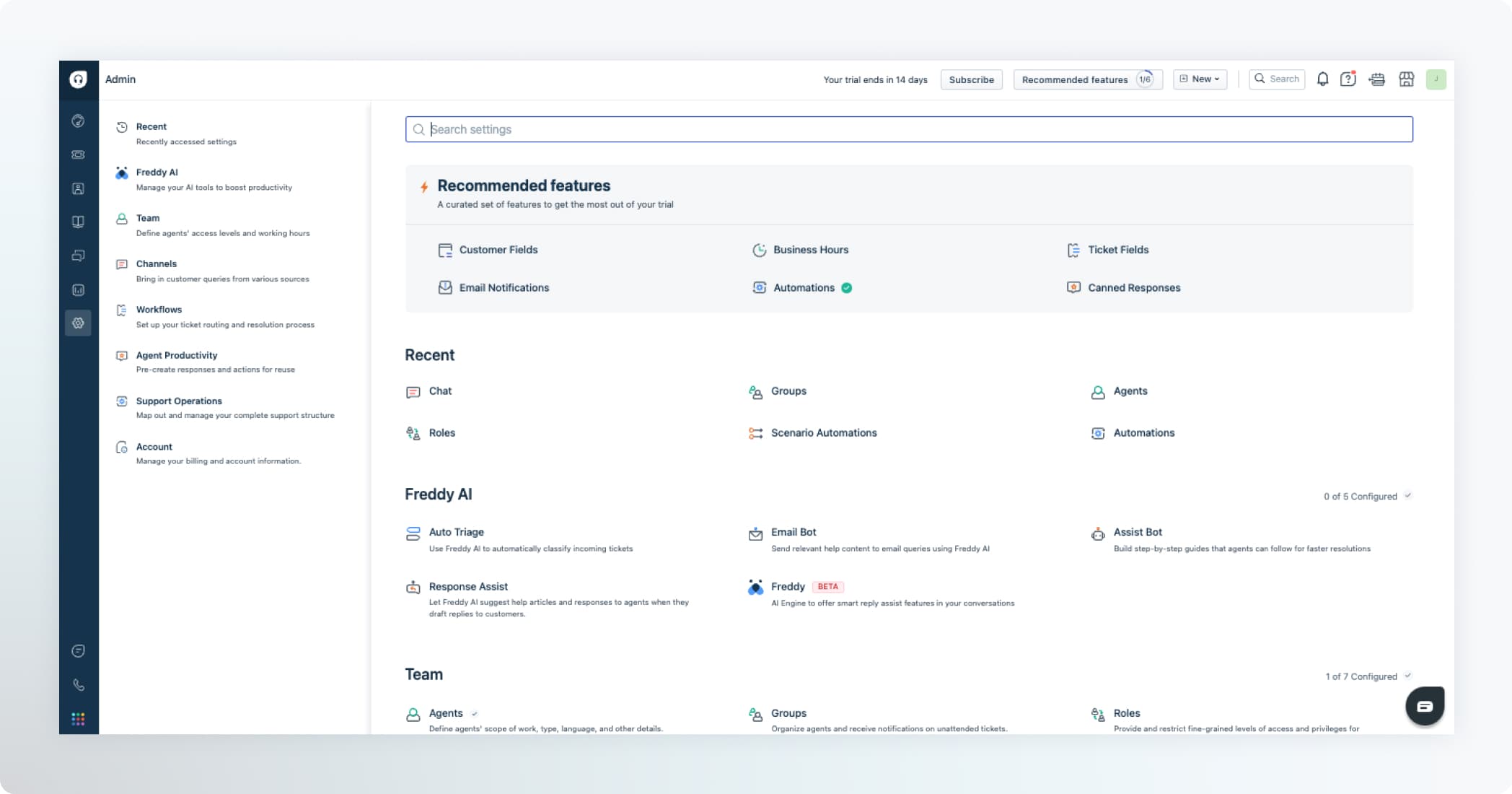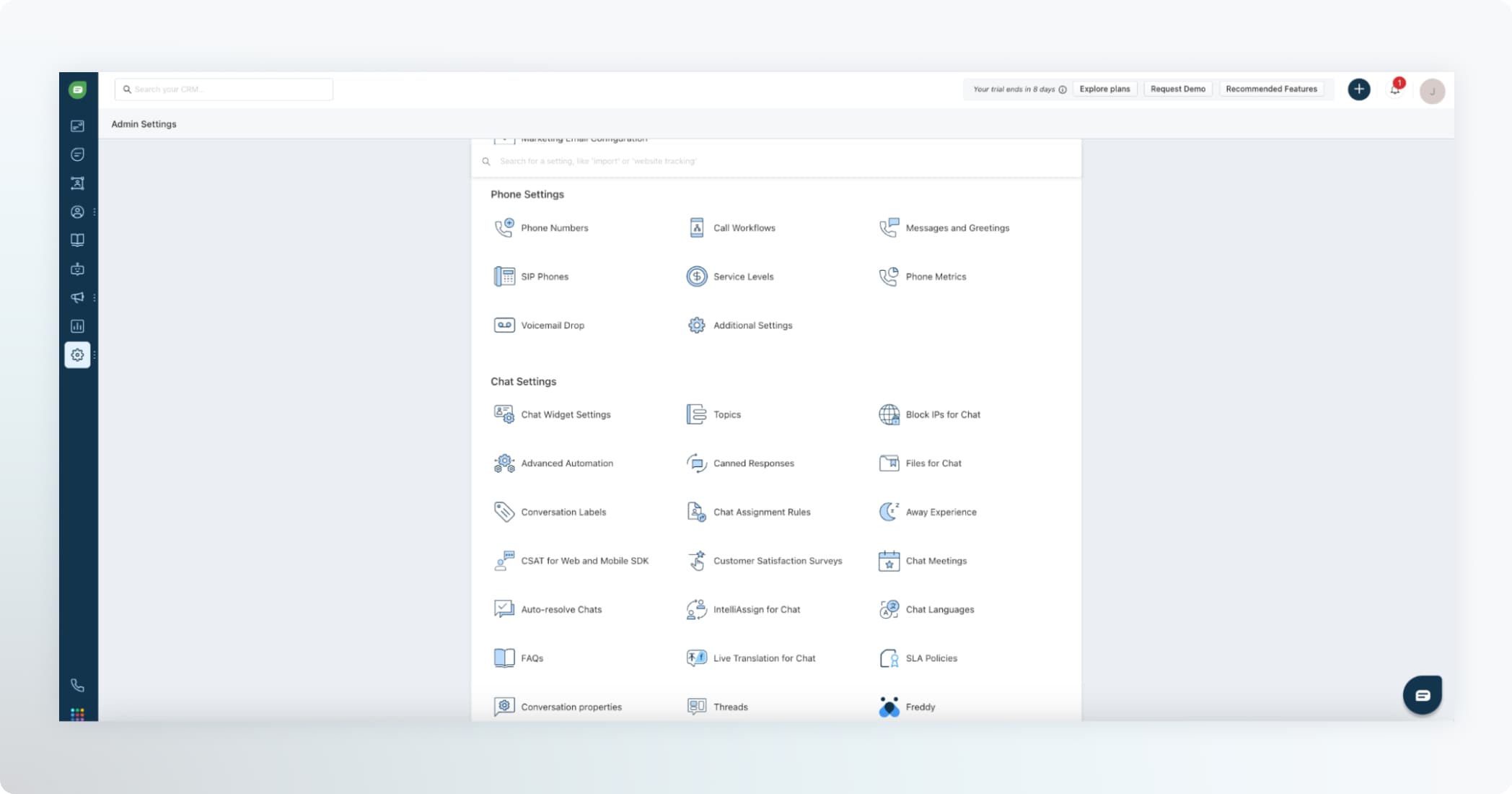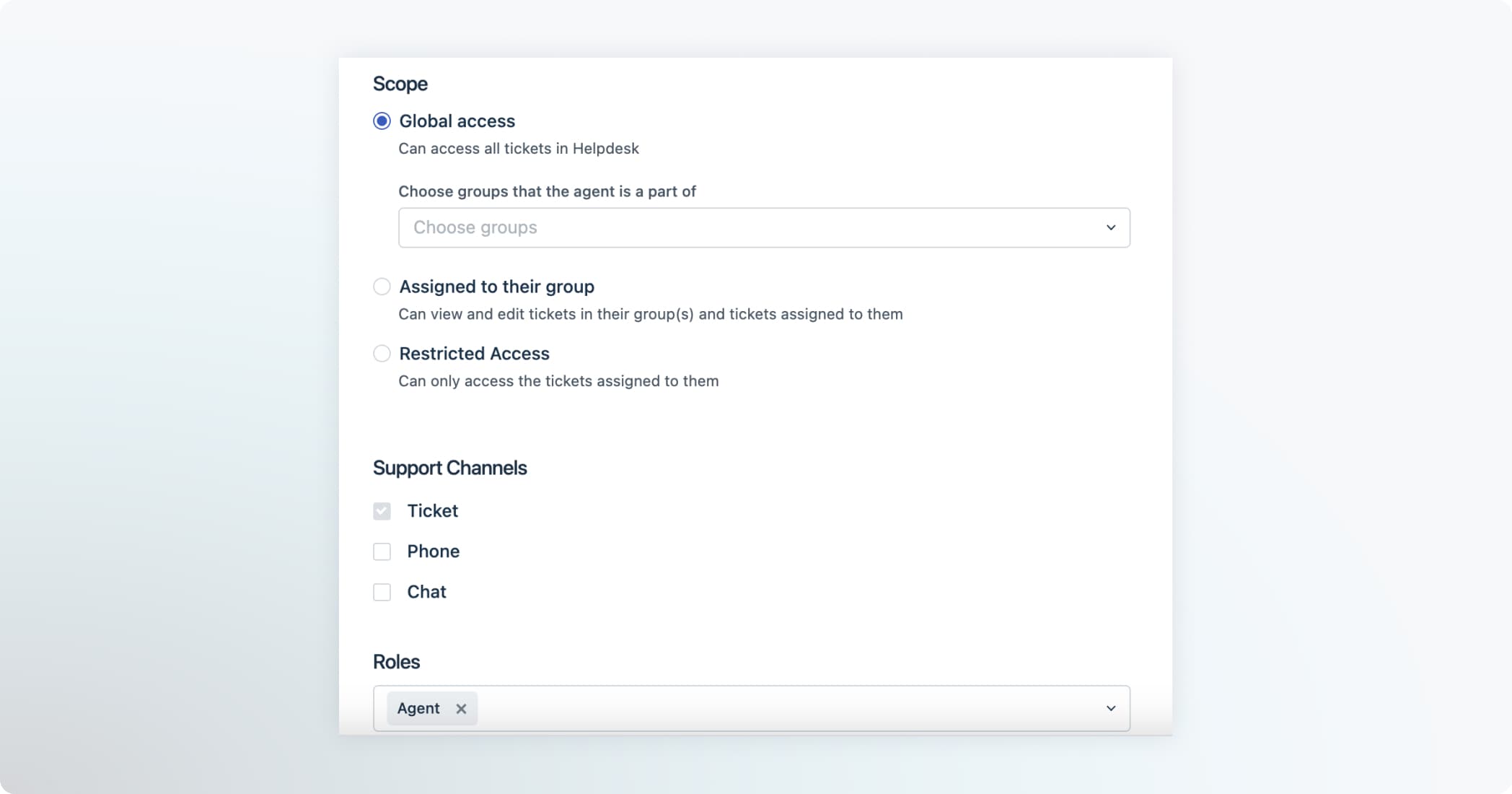 Front vs Freshdesk: Integrations
| Front | Freshdesk |
| --- | --- |
| Manage all of your favorite apps, right within Front. It features 100+ integrations and an open API to supercharge workflows built for every business. | Freshdesk has an app marketplace that includes apps to enhance productivity. |
Front is typically used by multiple customer-facing organizations, so its integrations are designed to be used within the Front application to minimize context and window switching. This requires two-way data sync between Front and the integration partner.
Freshdesk is typically used by a single customer service team which results in some integrations having a one-way data sync or read-only capability. For example, the Salesforce integration is designed for some teammates to work out of Salesforce, not in Freshdesk.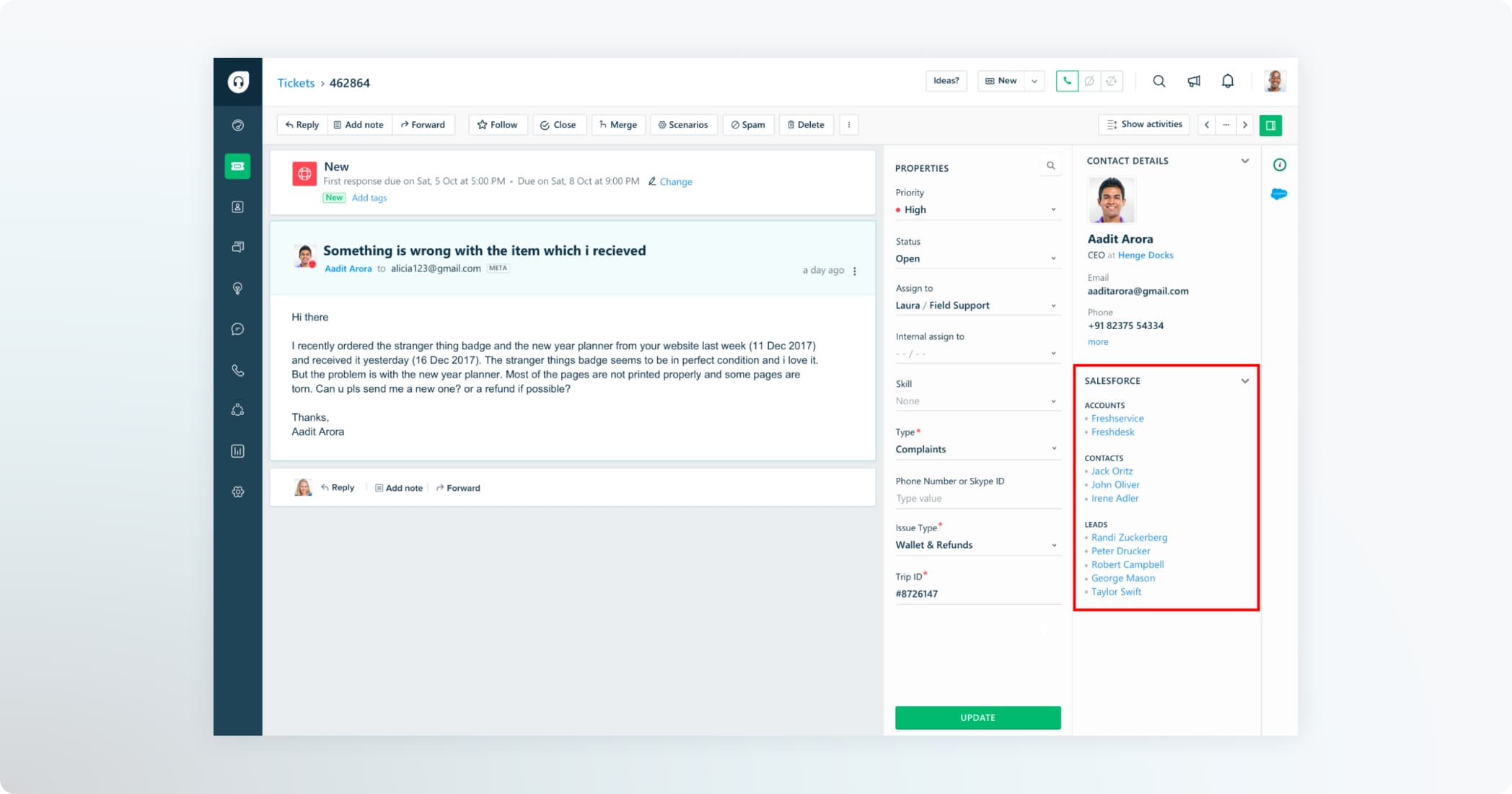 Front vs Freshdesk: Analytics 
| Front | Freshdesk |
| --- | --- |
| Front offers pre-built, customizable reports that enable you to report on tags, team performance, customer satisfaction, SLAs, message volume, and more.  | Freshdesk offers pre-built reports and a custom metric builder, but it requires data combination from different platforms to get the full picture of your analytics. |
Front analytics offers pre-built, customizable report data and has an open API and analytics exports to build reports with customers' Front data alongside other data in their BI tool. This means faster full-picture analytics with broken down silos.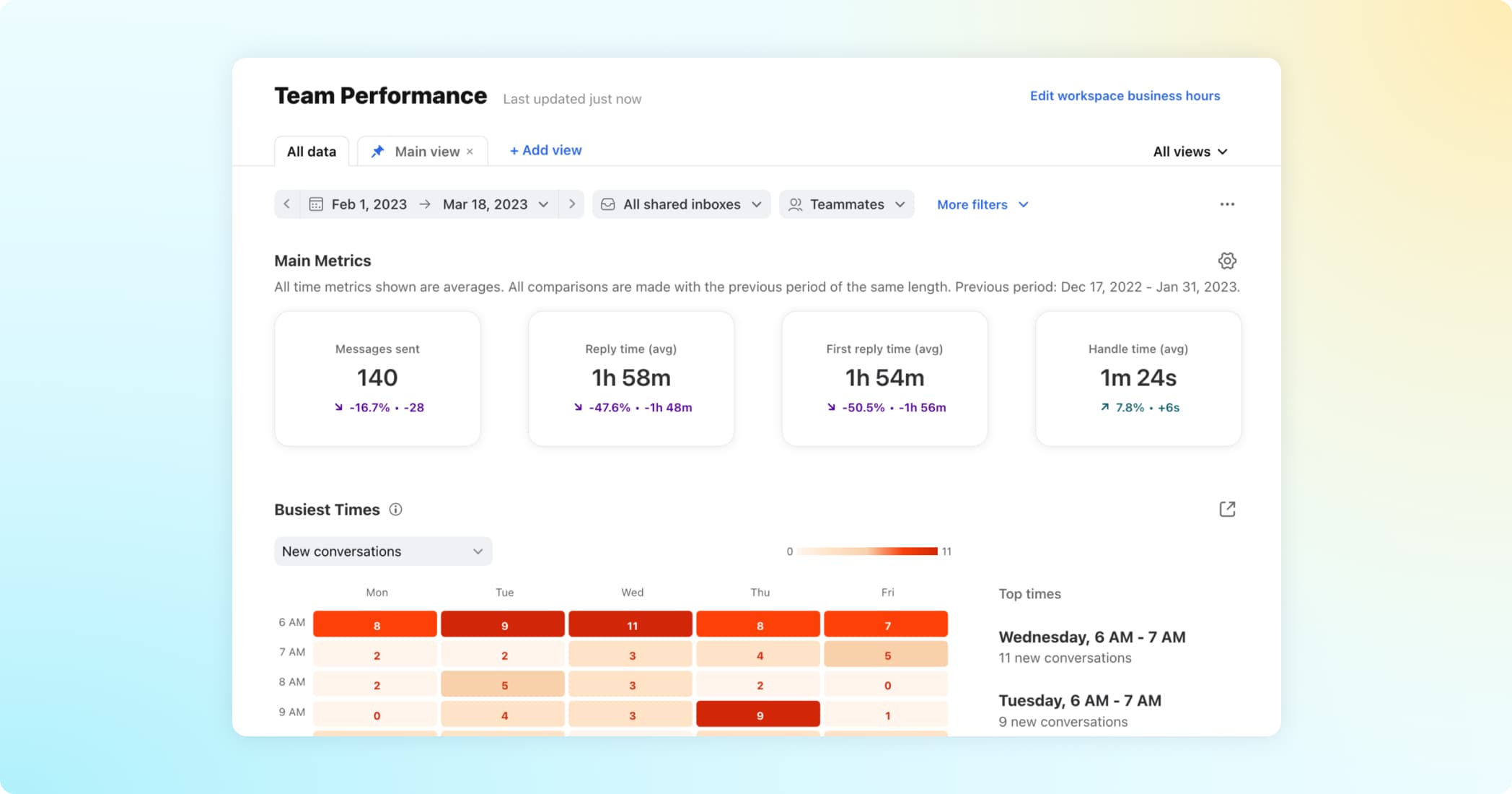 Every Freshdesk channel has a unique reporting tool, so you often need to export and combine data manually. You can create custom metrics with Freshdesk, but it is siloed based on the tool. Their open API also enables you to move data and analyze it in your BI tool.
Factors to consider when choosing a tool
Process to resolve an issue 
For teams that collaborate internally, consult with systems, or coordinate with external vendors to resolve a customer issue, Front is the clear choice for easy coordination.
If you have a single agent that can resolve a simple request, then Freshdesk is a suitable solution.
Personalization required in comms 
Think about how much personalization is needed (or wanted) in responses to your customers. Do the responses trend fairly complex, or can they be solved with a one-sentence response? 
Front has superior collaboration capabilities and a more personal interface for end-users so helps keep responses feeling super personal, while Freshdesk's ticketing system can be seen as impersonal. 
Scalability and growth
Consider whether the tool can grow with your company and meet your requirements for projected team expansion. Will it be able to handle increased usage and adapt to changing needs?
Front is designed for growing organizations that require increased efficiency of operations while maintaining exceptional service. It's easy to scale Front to fit your org. 
Freshdesk works well in larger organizations with a rigid ticketing structure that enables many support agents to follow strict process flows and stay accountable.
Ease of use and training
Once you bring on a new tool, you'll need to develop a training plan to educate employees on how to use the tool effectively. Additionally, make sure there is adequate support in place for addressing questions, issues, and updates.
Front has a simple set up and onboarding process that's easy to follow and become familiar with in no time. In addition, Front's support team is top notch — and has consistently reached a 100% CSAT score — illustrating its emphasis on customer happiness and success.
Integration with existing systems
Assess the compatibility of the new tool with your existing systems and infrastructure. Ensure that it can integrate seamlessly with your current technology stack to avoid issues with data sharing and workflow.
If you rely on Salesforce, for example, it will be harder to jump between Freshdesk and Salesforce, and Front is a stronger integration option.
More customer feedback — don't take it from us!
| | | |
| --- | --- | --- |
| "We were able to see a 482% ROI with Front saving us over $715,000 in productivity and cost savings." | "We came from Freshdesk, and it was a mess. This [Front] has been a lifesaver to us." | "We wanted more than just a ticketing system. We needed something that would allow us to maintain that personal relationship with each of our clients but that would also scale with us. To be honest, we weren't even sure there was something that could tick all of those boxes - Front has been a game changer." |
| "We use templates and personalize them to the customer. And we use Front to look at the performance data associated with each shipper to identify where we need to make improvements." | "Our company has doubled revenue over the last 3 years with the help of Front. The platform is so, so, so valuable."  | "My team is happy to work with a tool that's so efficient and helps them perform at a much higher level. And it has a great UX that makes it easy to use." |
Get started with Front
Front is a better choice for teams collaborating and looking for a super centralized, user-friendly interface. It enables a more personalized end user experience, making it a winner for companies looking to tackle inbox management and exceed customer expectations soaring higher than ever.
Written by Front Team
Originally Published: 27 October 2023