What to choose, when, and for what teams? This guide has it all.
The basics 
Here are some reasons why teams choose Front over Zendesk: 
Front is strong for collaborative customer service — especially for more complex inquiries requiring coordination across multiple teams. 

Front features stronger personalization and the ability to deliver a premium service experience. 

Front has a familiar interface (email-based), built-in collaboration, compatibility with multiple departments, and personalization. 
This makes it a better fit for industries like manufacturing, travel, logistics, software & cloud services (B2B), utilities, transportation (limo services), professional services, consumer services (house cleaning, pest control), and financial services use cases. Front also serves hundreds of customers outside of these core industries who require collaborative, complex coordination across teams.
Zendesk is ideal for transactional (easy-to-solve), and less collaborative (not cross-departmental or with partners and other vendors) requests. Zendesk features stronger self-service and deflection capabilities. The product also has a solid omni-channel offering but is so optimized for customer service that it doesn't account for other customer-facing teams using Slack or email. Therefore, it isn't designed for true cross-team collaboration.  
Zendesk's industry focus includes the following: education, financial services, government, healthcare, manufacturing, media, retail, software & cloud services, telecommunications, and transportation (B2C).
User interface and experience 
| Front | Zendesk |
| --- | --- |
| Front's interface combines the familiarity and speed of email with the efficiency of a help desk behind the scenes, leading to less clicks and more efficient agents. | Zendesk leverages the design of a help desk ticketing system, which requires more clicks to open, collaborate, and respond.  |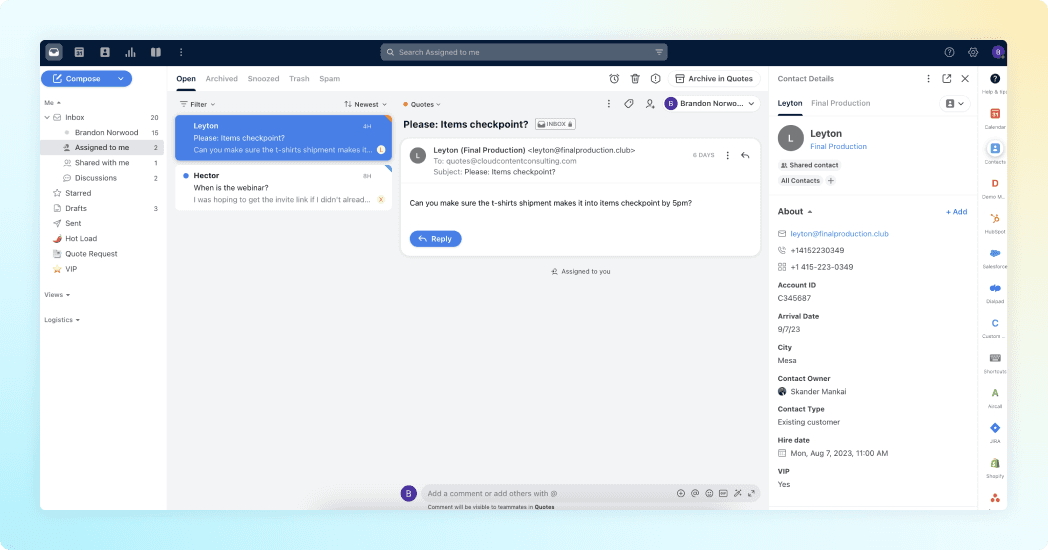 In Front, navigation is straightforward, requires minimal clicks, and is optimized for aggregating multiple-channels into a single inbox. You can do everything in one window — without having to "update/save" status changes like assignments. In a team swarming to solve customers' problems, users can always trust that they see the latest version of the content because it updates automatically.
Zendesk's ticket-based navigation requires more clicks to open, collaborate, and respond. Tickets must be routed to groups rather than a single owner, resulting in unclear ownership. Ticket field changes must be saved each time, which forces users to reload to see if others have updated something and prevents real-time collaboration. Their offering is optimized for omnichannel support, when a single agent responds in any channel from a single ticket.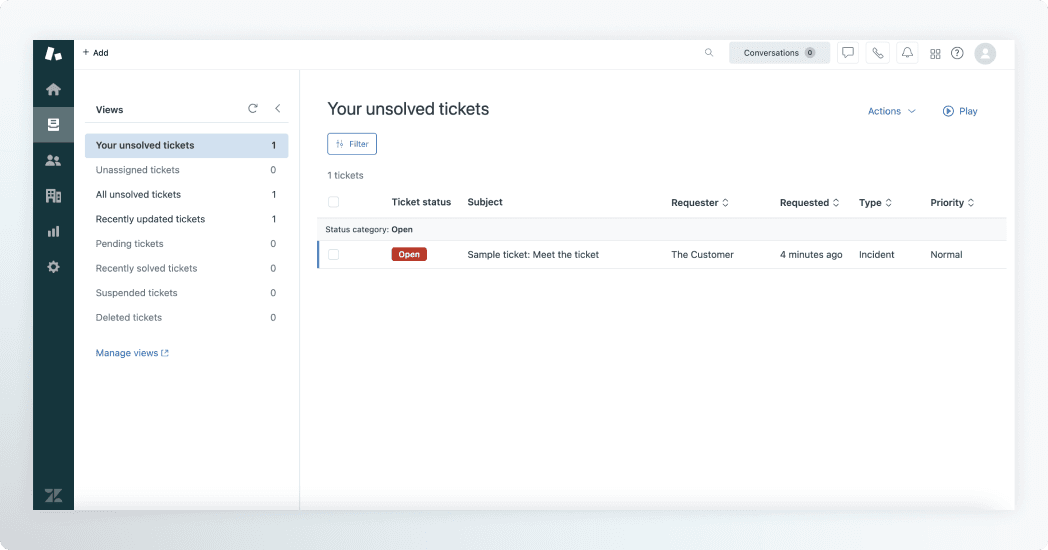 Collaboration
| Front | Zendesk |
| --- | --- |
| Front features built-in cross-team collaboration features such as mentions, comments, assignments & notes ensures that everyone had complete context without forwards, cc's, and switching to other applications | With Zendesk, communication and collaboration across teams is disjointed and clunky, which means additional integrations are needed. |
Front's interface allows replies to be drafted collaboratively while internal comments and mentions are available under the message. Users can follow conversations privately or be cc'd directly. You can also have discussion threads that are not attached to a conversation or ticket. This makes it simple for teammates to see what's happening in real time to avoid duplicate replies or quickly get feedback on drafts.
Front replaces your email solution and integrates with Slack, so side conversations are not needed. 
Zendesk is so optimized for customer service that it alienates other customer-facing teams. Collaboration can happen in Zendesk, but other customer-facing teams aren't using it, so they have to use Slack or email. Zendesk offers a side conversations capability as a stopgap, but it's not designed for true cross-team collaboration.
The collaboration capability in Zendesk also has a couple of drawbacks. Public replies and internal comments are available in the same composer, which can lead to accidental replies to the customer, damaging credibility. There is also not a way to work on shared drafts and collaborate in real time.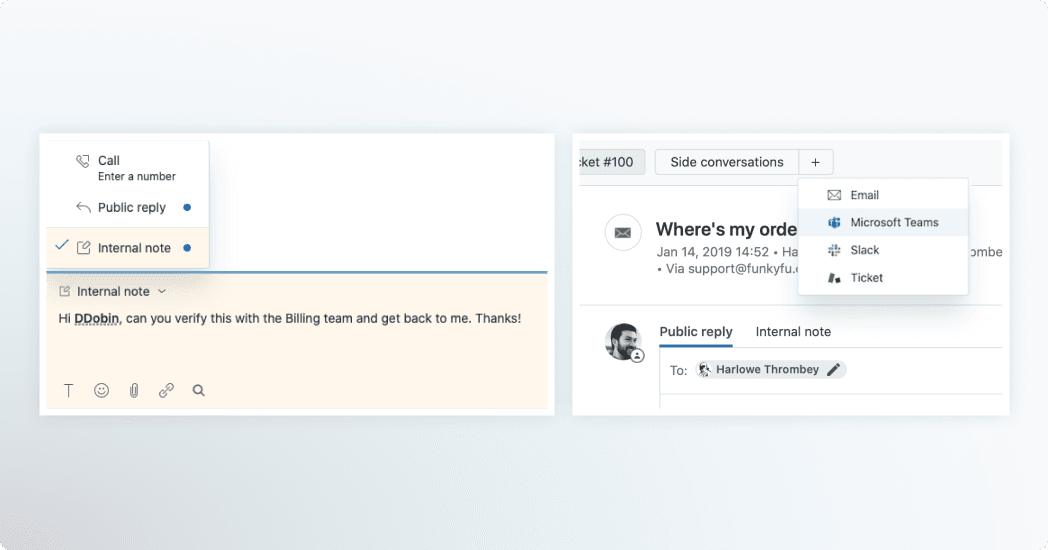 Communication channels
| Front | Zendesk |
| --- | --- |
| Front supports multiple channels with a native email client, chat and knowledge base solution, and SMS and voice integrations. Messages look like a personal reply with ticketing logic handled on the back end. | Zendesk offers multiple channels, including native email, chat, knowledge base and a voice and SMS add on. It's optimized for omnichannel support, where you can respond using any channel from a single ticket. |
Front is a multi-channel solution, so you can reply to customers using multiple channels but can only respond on the channel the inbound message was received. It also integrates with top SMS and Voice providers.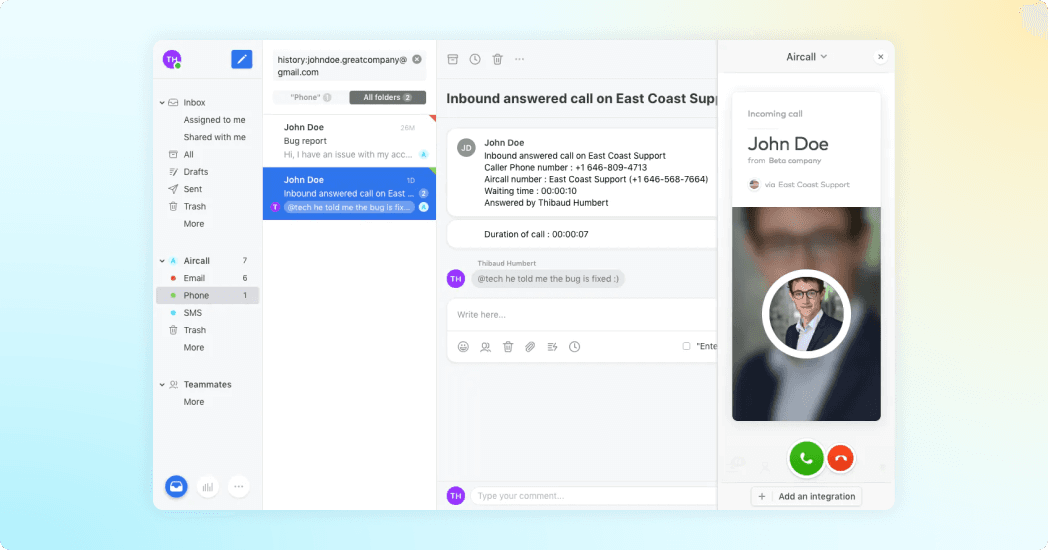 Zendesk offers an omnichannel solution that enables agents to respond to messages across channels on the same ticket. Tickets (typically) have an automatic reply to notify requesters that it was received. The solution follows a lifecycle of New, Open, Pending, and Solved. This can result in customers feeling like a ticket number, so it's ideal for high-volume, low-value customers, transactional interactions, and prioritizing speed and efficiency.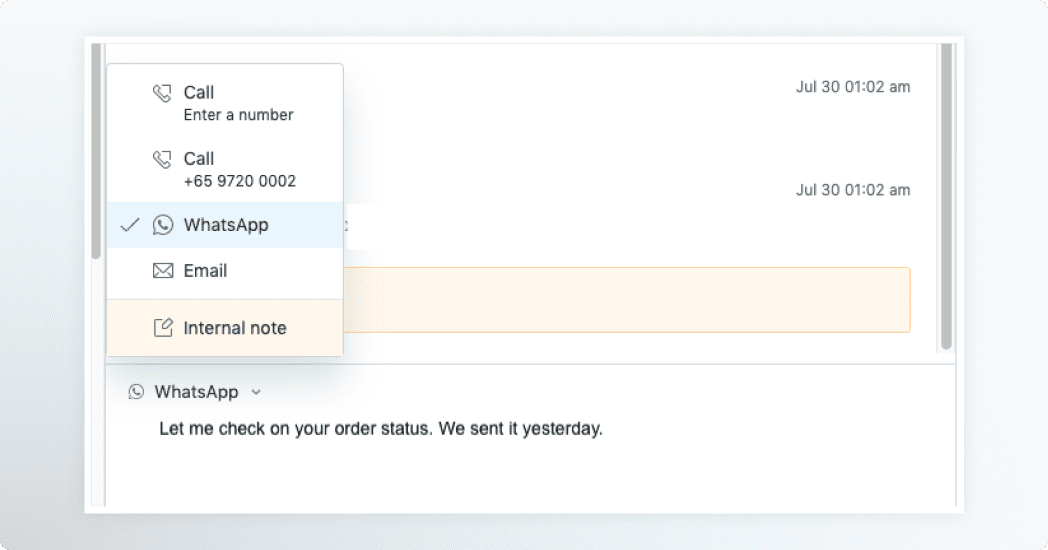 End user experience and service quality
| Front | Zendesk |
| --- | --- |
| Messages look like a personal reply with ticketing logic handled on the back end. | Messages have added formatting and ticket logic is shown to the end customer. |
Front's messages look like a personal reply, making the solution ideal for companies with high-value customers, complex interactions, and prioritizing quality service.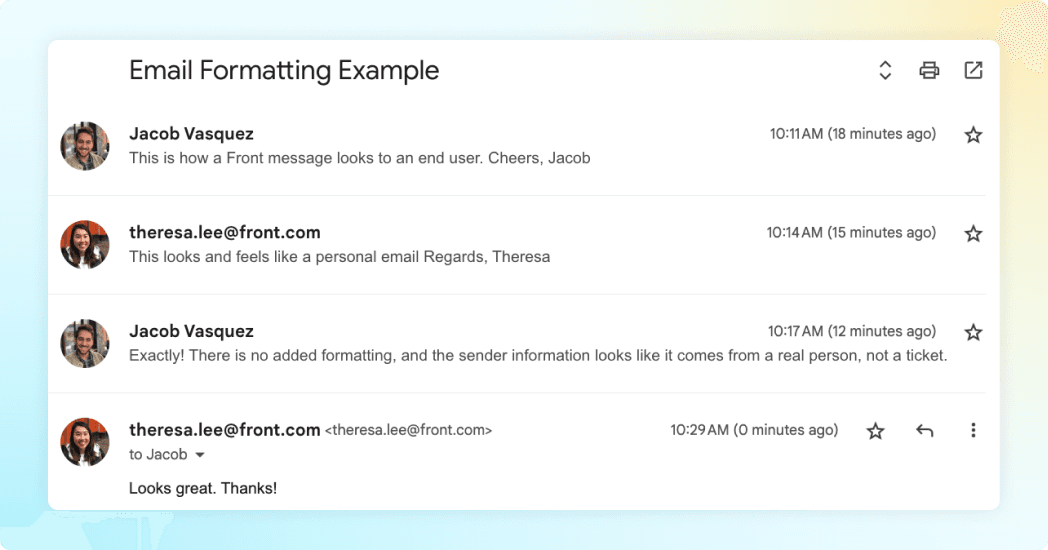 Zendesk replies have extra formatting added and the customer subdomain and Zendesk domain are shown in the reply to address and sender information, so it can make the end customer feel like a ticket.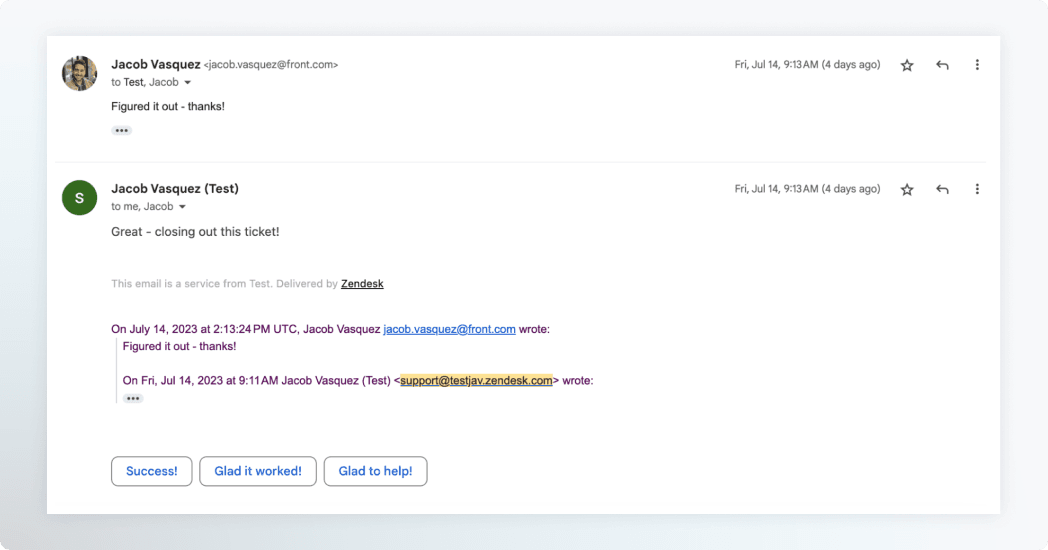 Automation and workflows
| Front | Zendesk |
| --- | --- |
| Familiar inbox-driven architecture, workflow templates, and pre-built analytics make it easy to implement, administer, and use Front.  | Zendesk has more configurability in their admin experience, and this flexibility can be nice, especially for enterprises with complex setup needs and resources. It can also be overwhelming and not needed for small and mid-market organizations.  |
Front has a single rules engine to govern all conversational automation with pre-built templates and custom rules. It has many features built for flexibility and scale, including: rule sets, teammate groups, inboxes, workspaces, CSAT, SLA, and more. 
Workflows in Front can be designed for seamless cross-departmental handoffs, escalations, and collaboration across customer-facing teams including support, account management, operations, and sales.
Zendesk has a decentralized rules experience with different configurations for Triggers, Chat Triggers, Chat routing, Automations, SLAs, and Omnichannel routing, which results in longer onboarding, implementation, and maintenance. It uses filtered views and groups for agents rather than inboxes and workspaces, which can create issues with teammates having too much or too little info because restricting access to tickets can be complex. Zendesk often also requires an external consultant for implementation, which is expensive and reduces ownership.
Because not all customer-facing teams use Zendesk, workflow automation is typically limited to the customer service organization, making it harder to design meaningful workflows for escalations and handoffs that involve cross-functional teams.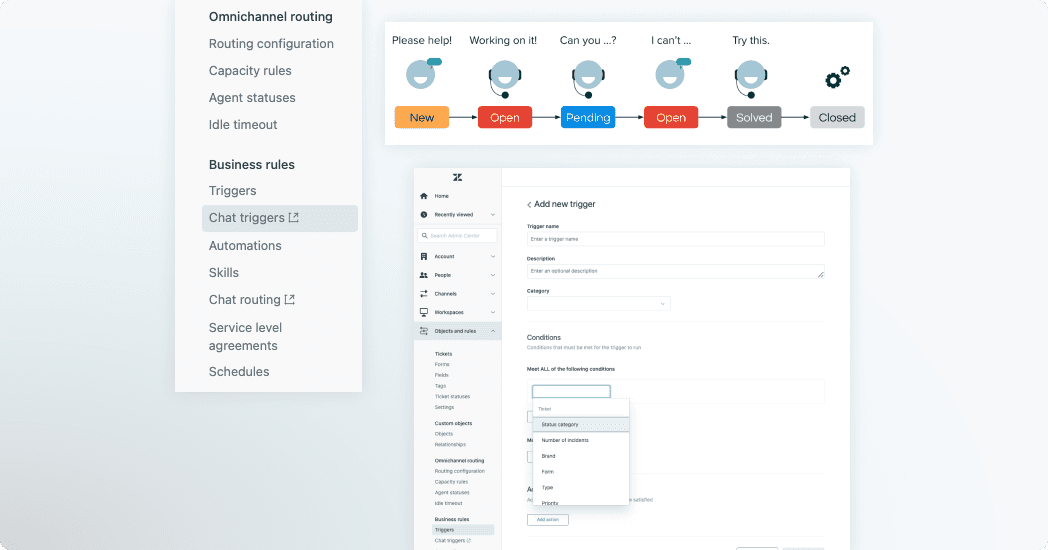 Integrations
| Front | Zendesk |
| --- | --- |
| Front features 100+ integrations and open API to supercharge workflows bespoke to any business.  | Zendesk has an app marketplace with apps that help increase agent productivity and streamline workflows.  |
Front is typically used by multiple customer-facing organizations, so its integrations are designed to be used within the Front application to minimize context and window switching. This requires two-way data sync between Front and the integration partner.
Zendesk is typically used by a single customer service team which results in some integrations having a one-way data sync or read-only capability. For example, the Salesforce integration is designed for some teammates to work out of Salesforce, not in Zendesk.
Analytics 
| Front | Zendesk |
| --- | --- |
| Front offers 50 pre-built reports that enable you to report on tags, team performance, customer satisfaction, SLAs, message volume, and more.  | Zendesk offers robust customer service reporting, which is great for improving a single department, but it lacks the ability to measure across multiple departments for project-based work.  |
With Front, customers make meaningful improvements to their business with pre-built report data that provides insight into team performance, conversation stages, resolution metrics, and more across multiple customer-facing teams. Front also believes in breaking down data silos and has an open API and analytics exports to make it easy for customers to build reports with customers' Front data alongside other data in their BI tool.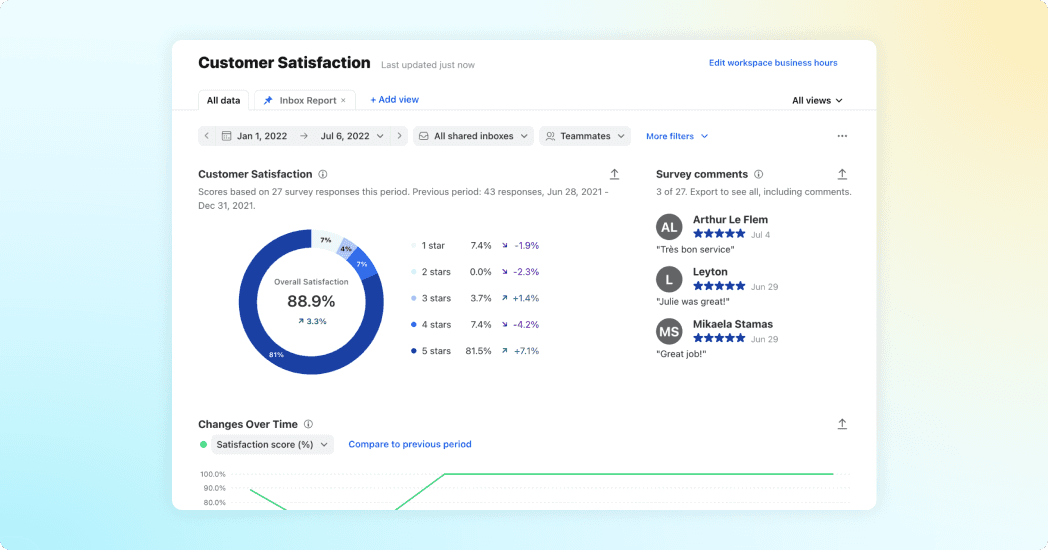 Zendesk offers pre-built reports and a BI suite to create custom reports using ticketing data, but this is only for the customer service team that uses Zendesk. There is also a real-time dashboard available on the Professional (read-only) and Enterprise plans. This level of granularity is typically needed by complex enterprises with hundreds of customer service representatives who need to measure and optimize that specific team. Zendesk reporting does not support measuring performance across multiple customer-facing departments who likely are not on Zendesk's customer service platform.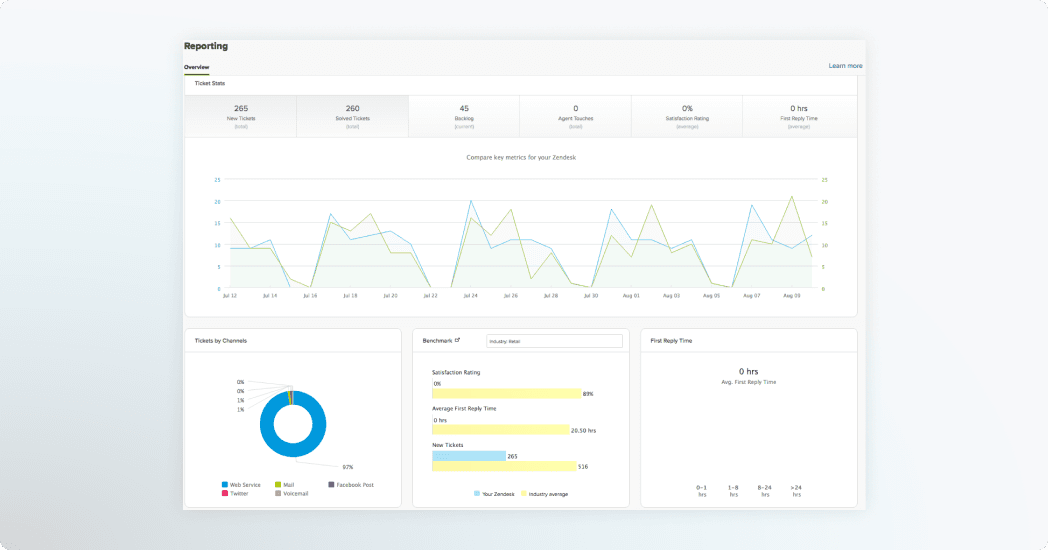 Factors to consider when choosing a tool
Company size and team structure 
Front is strong for collaborative customer service, especially for more complex inquiries requiring coordination across multiple teams while Zendesk is strong for easy-to-solve inquiries that don't require collaboration.
Companies are now looking at their entire customer service stack including customer success, operations, and customer experience tools. Ensure you audit the entire customer journey to understand if one solution can be used by multiple departments.
Scalability and growth
Front is designed for organizations who are scaling and need to increase the efficiency of their operations while maintaining exceptional service. These organizations are typically experiencing missed messages, slower response times, and lack of visibility.
Zendesk shines with larger organizations where a more rigid ticketing structure ensures that hundreds of support agents follow strict process flows and are accountable.
Consider what stage of growth you're at and whether your objective is to design workflows that will enable you to scale rapidly, or if your aim is moderate growth and you need a better framework to service a well-established existing customer base.
Ease of use and training
Intuitive interfaces and user-friendly designs minimize the learning curve. Additionally, consider the availability of training resources and support from the tool's provider to help your team become proficient users.
Front is known for a simple set up and onboarding process that will have any team comfortable with the platform in no time.
Budget and pricing plans
Evaluate pricing models to ensure they align with your budget. Take into account not only the upfront costs but also any ongoing subscription fees and potential additional charges for premium features.
It's worth noting that Zendesk does have unexpected cost changes and pricing increases, while Front prides itself on no hidden fees.
Customer base and support channels
Determine what channels your customers want to communicate on and whether they expect to receive a reply on the same channel or a different channel.
Front supports multi-channel conversations (email, SMS, phone, WhatsApp) and enables you to respond in the same channel the question was asked. For example, if someone sends a text you can only respond via text, not email.
Zendesk enables omnichannel support where customers can write in on WhatsApp and get a reply on email. This type of journey is more common for B2C use cases rather than B2B.
Reporting and analytics needs
Figure out your key customer service metrics and ensure you can track these. Most organizations don't look at data in a silo, and will want to look at this data alongside other relevant insights. Confirm the data is accessible and can be used in your reporting tool of choice (e.g. Looker).
Integration with existing systems
Choosing a tool that seamlessly integrates with your existing systems is crucial to avoid data silos and reduce inefficiencies. Smooth integration will maximize the value of your investment and streamline your workflows.
As we saw from the example above, if you rely on Salesforce, it may be tricky to jump back and forth between Zendesk and Salesforce, and Front is a stronger integration option.
Front vs. Zendesk customer story: Branch saves 58% of their costs by switching from Zendesk to Front
Branch Insurance, a new kind of insurance company leveraging the power of community to make insurance more affordable, needed a way to optimize their customer experience. 
Branch had originally used Zendesk to handle customer inquiries, but they hit limitations in customizing SMS workflows into their process. Branch found Zendesk clunky and overwhelming to navigate, set up, and implement across teams. It was difficult for staff to sort through the Zendesk interface to view the relevant information that each team needed, including whether or not they were at risk of a service level agreement (SLA) breach. Customer inquiries would get mixed across their member support and sales teams, creating extra work in forwarding messages and causing some communications to be missed entirely. 
With Front, all of that changed 🚀
Front enabled Branch to centralize and customize their email and chat customer communications. By hooking up their SMS chats with Front's Twilio integration, they went from being unable to handle a single SMS customer message to handling thousands of customer messages over a span of three months, some of which resulted in new customers. 
Front's unifying workspace made team inboxes easily accessible to corresponding teams. Because teams found Front intuitive and easy to navigate, they were able to work a lot faster with a simple design that not only was tailored to the function of each team, but also made it super convenient to collaborate internally with in-thread comments and discussion threads.
A few key results:
Within a six-month period of switching to Front, Branch saw their CSAT score jump from 85% to 90%. This was largely due to clear line of sight to their SLA breaches, which reduced customer response times by 75%. 

Before Front, Branch's average email response time was 5.5 hours. Today, their response times average 1.4 hours — exceeding their SLA benchmark of 2 hours.

Branch was able to see a 482% return on investment (ROI) with Front, driven by over $715,370 in productivity and cost savings. They saved 58% of their costs just switching from Zendesk to Front.

Prior to Front, Branch had six employees to manage 300 messages per day across email and chat. Now they are managing 600 messages per day across expanded channels of email, chat, and SMS.

Using Front improved onboarding and training time for Branch — up to 8X faster than Zendesk.
More customer feedback — don't take it from us!
"Neither platform (Gmail & Zendesk) really works, and I'm hoping to consolidate to something better. Gmail does not provide accountability or visibility in answering inbounds, nor transferability for vacations or staffing changes. Zendesk performs badly with outbound emails, auto-assignment to the correct individual and is a noisy interface for a salesperson." - Leading Online Mortgage Lender

Using Zendesk for customer support and Slack for internal collaboration was limiting and it was hard to escalate emails and tickets to other teammates. Front enabled them to easily share emails for collaboration, quickly escalate cases, and get help from other teammates in a timely manner. - Lydia

It would typically take more than one person to manage a customer issue, so Zendesk wasn't an option. When you need to route and respond to thousands of messages as a team, you need a much more collaborative support solution. - Homeland

"Zendesk was solely focused on support which meant we couldn't handle our sales request with it (without buying another product). Even with their support tool, responses to our customers were in ticketing format which is very impersonal." - CleaningPros

"Ticketing system made our communication feel impersonal"

"Customer communication was siloed in Zendesk leading to lots of forwards, cc's, and bcc's"

"Teams either had too little or too much access to information" - Bellhops

Clunky and overwhelming to navigate, set up, and implement across their teams.

Onboarding and training was lengthy and created reporting challenges 

Difficult to sort through the UI to view SLA breach

Admins had to go into Zendesk 4-5 times a day to correct assignments and tags due to user error - Branch
See what your peers are saying on G2
Get started with Front
As shown in the comparisons above, both tools have their strengths. It's important to assess individual business needs before making a decision on which tool makes the most sense for your company.
One thing's for sure: the bar for customer service is on the rise, and with Front, you'll always stay ahead on putting the customer first. 
Written by Sara Shaughnessy
Originally Published: 3 January 2023