Give clients an unforgettable travel experience
Your guests are looking for the experience of a lifetime. Shouldnt their communication about the trip planning be just as enjoyable? Front is a customer communication hub that lets travel agents and consultants streamline internal communication and use automation to create exceptional customer experiences.
Get started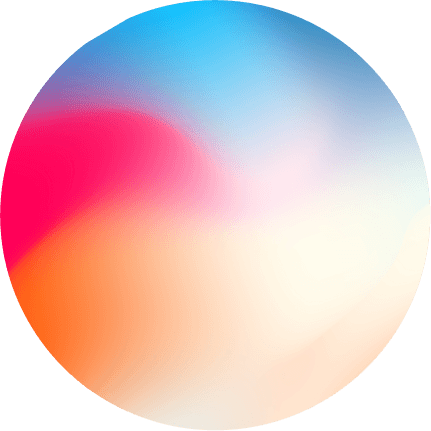 Improve Customer Experience
Deliver the best experience, together
Front brings all your client communication into one place: a team inbox. The whole team can work together behind the scenes to give the best response faster.
Drive Operational Efficiency
Instantly triage client messages
Instantly assign messages and tackle your high-volume inbox as a team—so every client gets a response on time.
Increase Growth
Happy clients bring repeat business
With Front, busywork is automated and SLAs are enforced, so your team is focused on delivering a premium experience that brings your clients back for more.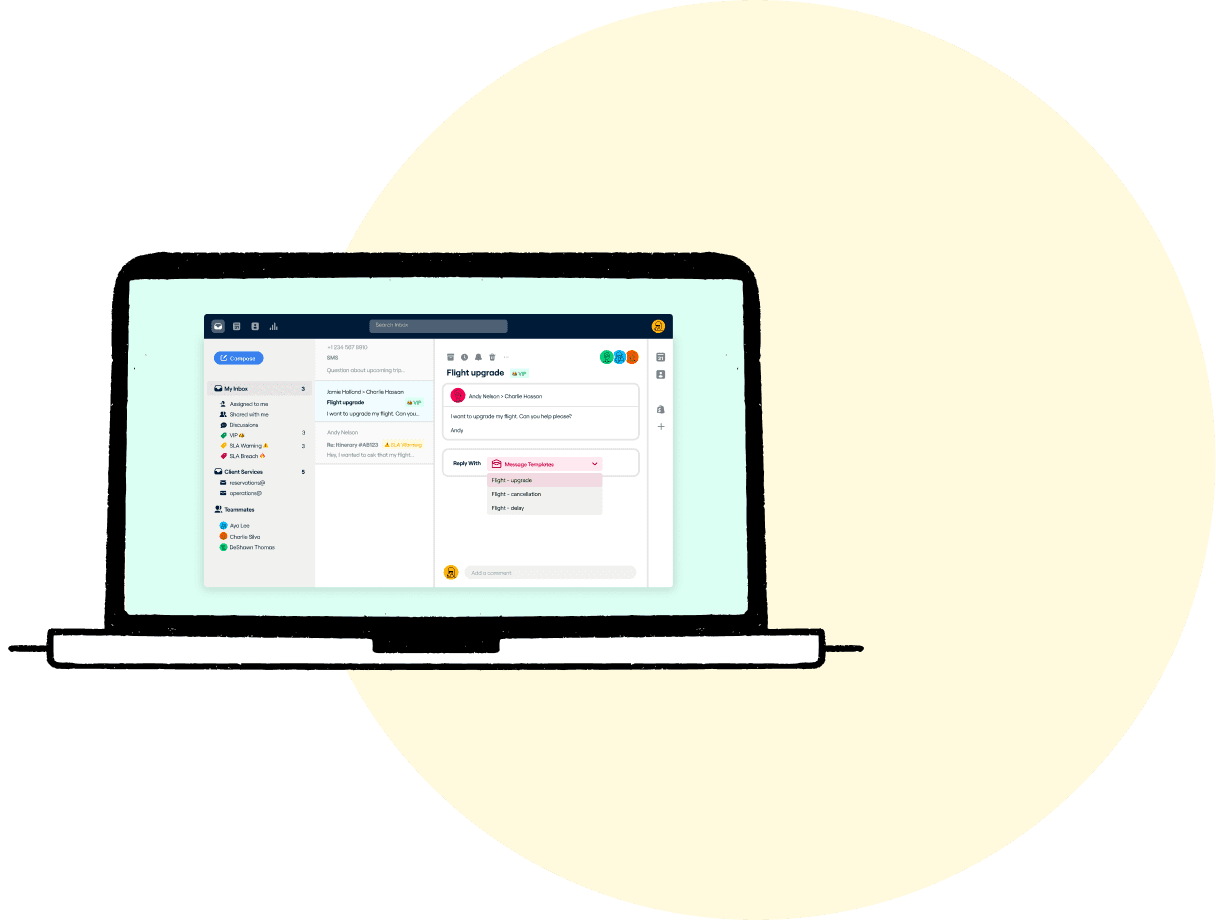 Make every client feel like a VIP
Whether you plan corporate travel or experiences for small groups, Front makes client communication your superpower.
Bring every client message, from all channels, into one place to share a view of all client needs. Conversations are routed to the right person in record time and handoffs are seamless. With robust analytics, leaders track and measure response-time SLAs to continually improve the client experience.
Word travels fast—Front powers leading travel companies
Now that we use Front, collaboration exists where there wasn't before...Front allows our managers to do their jobs better
David Sefton, SVP of Operations for West Coast Operations, Altour
2 mins
SnapTravel maintains a response time of 2 minutes for customer conversations.
Front has enabled us to work much better as a team to accomplish our goals, to know when we're succeeding and when we're falling behind.
Zach Smith, CEO and Co-Founder, Anywhere
Swipe left to see more testimonials
Your whole team has the information they need
Access a shared view of client messages in team inboxes, and classify work for your team with tags. With all customer context right in your inbox, everyone is aligned on how to best serve your customers.
Collaborate seamlessly on critical requests
Loop in another department without forwards, CCs, or external chat tools. Assign a message to the right owner so they know to tackle it immediately, and work together on writing critical emails.
Automate your workflow—so you can spend time on your client
Build simple automations to instantly delegate and escalate requests. Or, save responses to common replies so your team can work faster.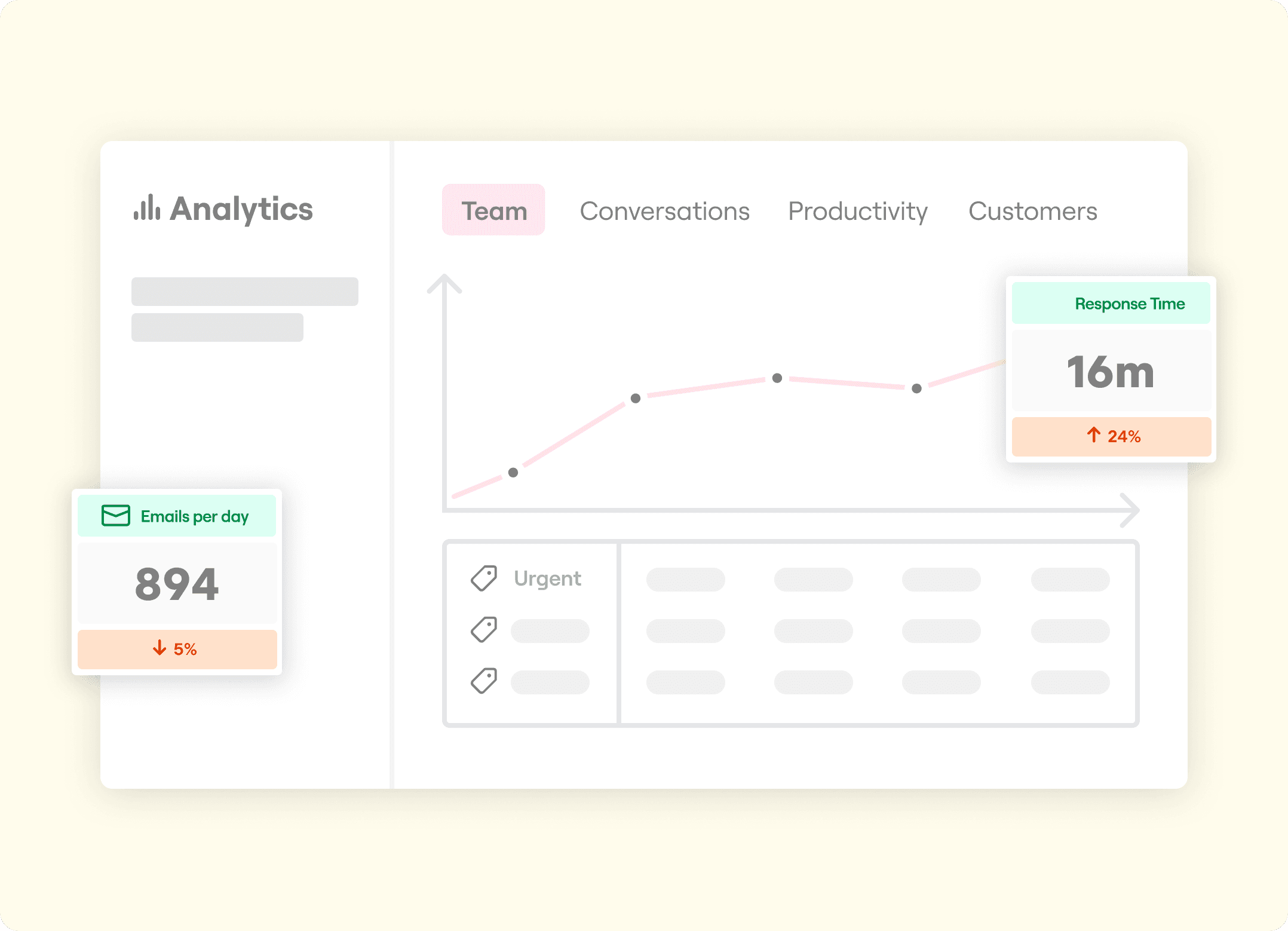 Insights help your team shine above the rest
Measure response and resolution time, teammate performance, and workflow patterns. Turn insights into action so you can continuously remain ahead of your competitors.
Front fits your team perfectly
Bring the apps, data, and messages that drive business growth into your inbox and create the workflows your team requires.

Integrate your favorite apps into Front—or build your own.
Resources to deliver extraordinary experiences
Swipe left to see more resources