Check out our updated guide on how we internally communicate at Front!
We've all experienced it. Chances are, we've all done it, too.
And it's not just Slack — we've all had an email thread that bounces back and forth for two weeks before reaching a decision for next steps. And sat through that meeting that took a full hour, but easily could have been handled by email.
When we want to communicate and collaborate with teammates at work today, we have many options to choose from. Choosing the wrong channel can not only be frustrating, but also a significant waste of time for everyone involved.
At Front, we place importance on choosing the right communication method because in the end, it's about respect:
Respect for your teammates: Being mindful and honoring your teammates' time

Respect for the business: Maximizing your efficiency so you can make a positive impact
Here's our internal guidebook for communicating effectively as a team.
TABLE OF CONTENTS
1 - Which communication method should I use?2 - Etiquette for communicating3 - Writing a meeting description4 - Choosing your notifications wisely
---
1. Which communication method should I use?
We'll cover three main communication methods we use here at Front: email, messages, and meetings. A good framework to follow in deciding which to use is to think about three things: 1) the speed of the response you need, 2) the type of idea you're sharing, and 3) the response you expect to come from it.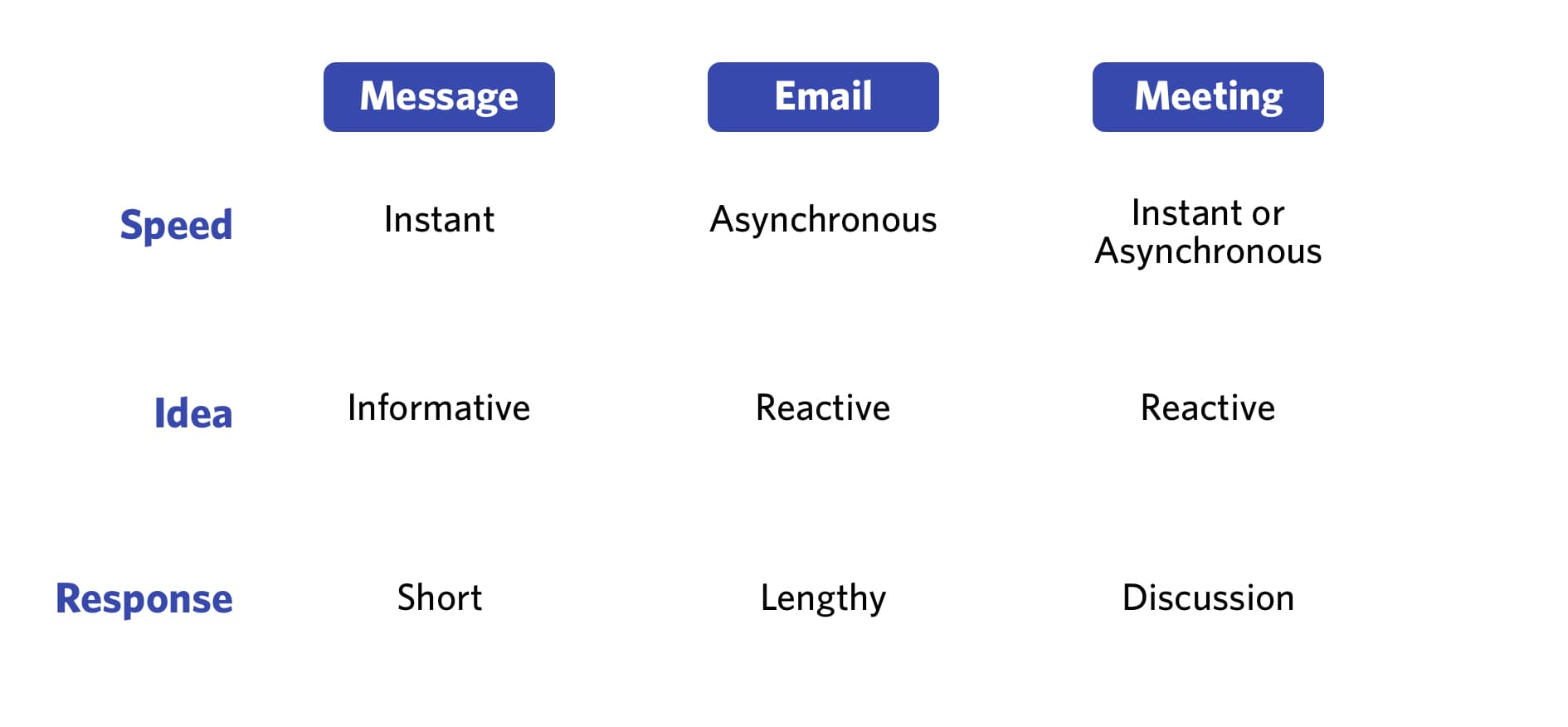 Speed: instant or asynchronous?
Do I need a response right this second, or can this conversation be handled on the recipient's own schedule?
Idea: informative or reactive?
Is this an FYI where the recipient can give a quick 👍 and move on? Or is this idea something that needs to be responded to?
Response: short answer, lengthy answer, or discussion?
What do I expect to come from this? Will the answer be in the form of a succinct answer, something a little longer, or is the result going to be a back-and-forth discussion?
Asking all these questions any time you want to communicate seems like a lot of hassle, but you'll find that once you try it a few times, you'll catch on quickly. It becomes second nature in no time!
---
2. Etiquette for communicating
Email
Email is a form of asynchronous communication, which means it allows you to send and respond to messages on your own time. Since you can organize and group it by topic, email makes it easier to find what you need than searching through a long unstructured chat thread of unrelated conversations.
It's probably no surprise that we're big fans of email at Front. Sending an email avoids interrupting someone in real time with a DM, so they can respond later and stay focused on what they're working on. Front has a few key differences from traditional email:
1. Comments: We can comment directly on email threads to discuss them internally with teammates.2. Assignments: We can assign emails to specific teammates so everyone knows who's responsible for following up.3. Shared drafts: We can share email drafts in Front to collaborate or ask for feedback before we send, rather than working on a separate shared doc or using Slack to discuss it.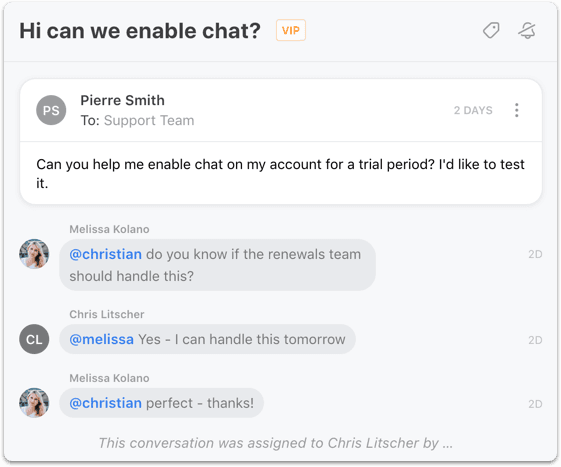 Do's and Don'ts for sending an email
✅ @mention a teammate directly on an email when you want to discuss it in comments
❌ Send an email where you describe or reference another email
✅ Assign an email to someone when it's their responsibility to respond
❌ Send multiple emails back and forth to decide who will respond
✅ Send an email when something is very important and needs to be prioritized
❌ Send a chat message for something very important, since it might get lost
✅ Invite teammates to your email in Front when you want to share it with them
❌ Forward an email to a teammate
Messages
Whether you're getting status updates on a big project or deciding where to grab lunch, internal messaging is a great way to communicate quickly and cut down on the volume of email in your inbox.
At Front, we have internal discussions built into our product, so we can communicate quickly or casually with teammates, without leaving our inboxes. It enables us to discuss things with our team in an organized, topical manner. People may also use Slack, Teams, or another chat product to quickly communicate in real time.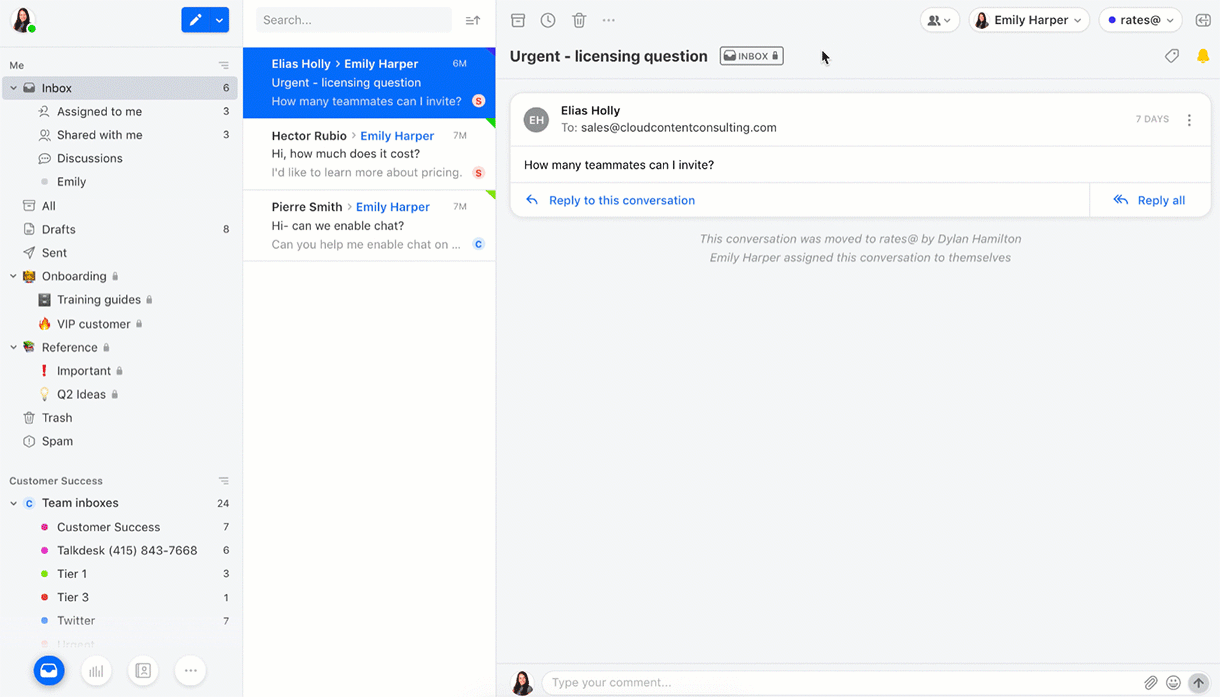 Do's and Don'ts for sending an internal message
✅ Invite anyone who needs to be part of the discussion, and add anyone else when you need them to weigh in
❌ Regularly follow conversations in channels that aren't relevant to you
✅ Add a topic to your discussion, so everyone's on the same page
❌ Have important conversations about a specific topic in an unstructured channel where it can get lost
✅ Tag your discussion to keep it organized in your inbox, just like email
❌ Organize internal chats and emails in different structures
✅ Snooze an internal discussion when you want to remind yourself to come back to it later
❌ Bank on remembering to come back to an internal chat message later
Meetings
At Front we love in-person collaboration, but we aim to keep our meetings to a minimum. Since we promote a culture of transparency, we recognize that not everyone needs to be in every meeting. We know that we all have the same information, and we trust each other to make the right decisions.
Do's and Don'ts for scheduling meetings
✅ Schedule a meeting when you need a thoughtful, real-time discussion
❌ Schedule a meeting for something that can be efficiently handled over email or messages
✅ Schedule meetings for the shortest possible time
❌ Block off an hour for every meeting by default
✅ Make sure every meeting has a purpose, agenda, and expected outcome outlined in the meeting description
❌ Send a meeting invitation with no description
✅ If you're unsure if someone should attend, invite them as optional to let them decide
❌ Accept every meeting invite without considering whether or not your presence is truly necessary
✅ End meetings with clear decisions, action items, or topics for follow up
❌ Leave meetings without clear next steps
---
3. Writing a meeting description
To schedule meetings, we use Front Calendar, which helps us schedule meetings efficiently without leaving our inboxes.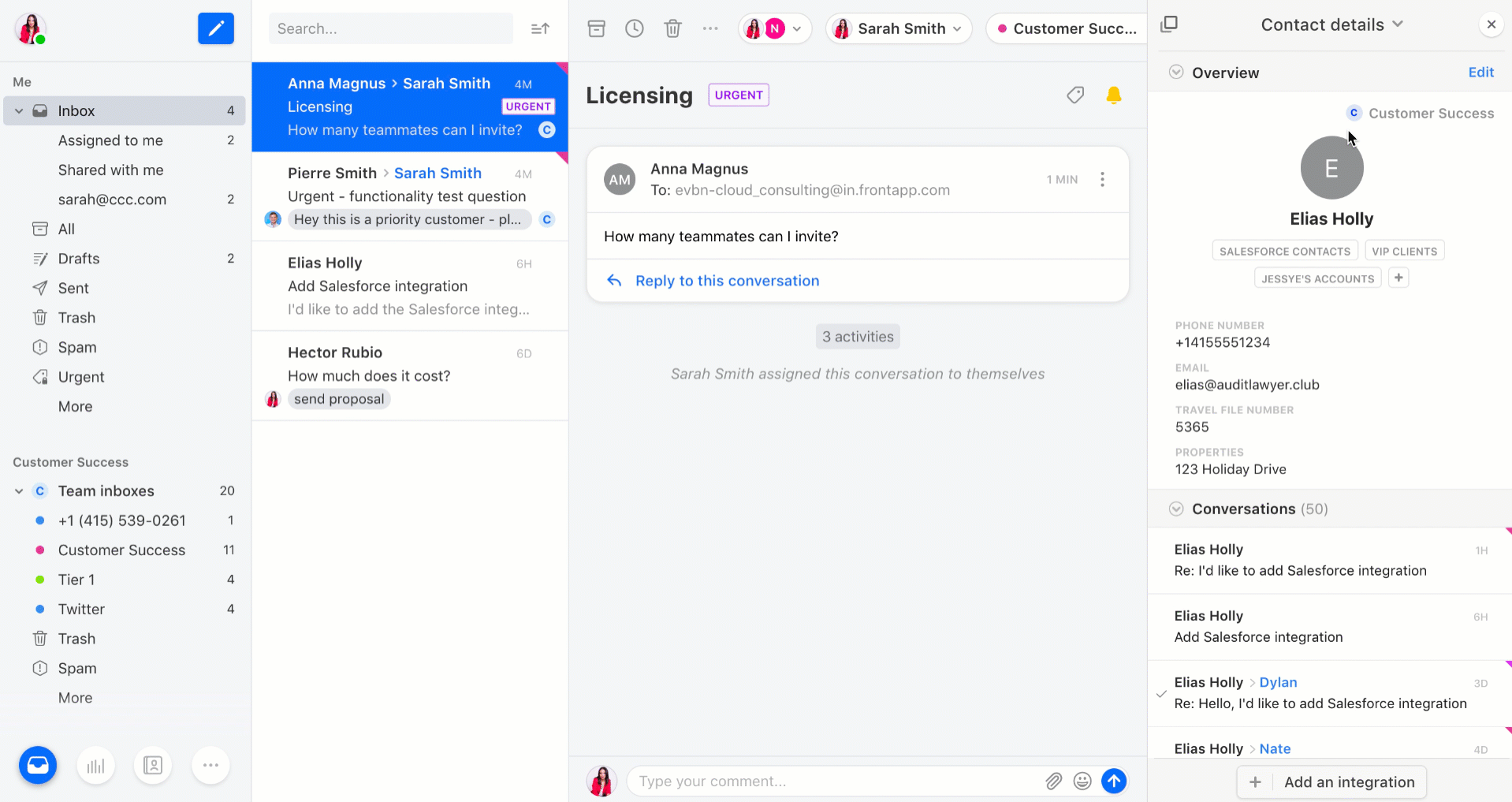 We aim to include a description of the meeting in every invitation. Our CEO Mathilde Collin has a framework she recommends we follow for every meeting we schedule, so that everyone invited knows what the meeting is for, and how to prepare.
Purpose: What's the point of this meeting?

Agenda: Link to any notes here, or briefly explain the schedule you'll follow

Limits: What you will and will not do during this meeting

Decision: Are you hoping to reach a decision from this meeting? If so, state it here.
---
4. Choosing your notifications wisely
You'd be amazed at the work you can accomplish when you don't have dings, pings, and updates flashing across your screen. At Front, we highly encourage everyone to turn off their notifications. We've found that doing so empowers you to take agency over your work — rather than let your day be dictated by notifications.
Try the #NoNotifications Challenge!
🚫 Email
🚫 Slack
🚫 Social media
🚫 News and weather
🚫 Fantasy sports
🚫 All other random apps
✅ Phone
✅ Text (on phone, not desktop)
✅ Calendar (so you don't miss those important meetings!)
---
Communicate right = everyone wins
Internal conversation and collaboration fuels everything you do at work. It can either get out of control, or be a positive force behind your successes. When you choose the right communication channel, you're enabling yourself and everyone around you to do their best work.
Written by Ashley Hahn
Originally Published: 17 April 2020