Last month, we brought our EPD (engineering, product, and design) teams together in our San Francisco office for a busy week of hackathon-ing and hanging out! We had three primary goals for this year's offsite: come together in person to build and strengthen our team relationships, align on 2023 goals and strategy, and generate new ideas from our (fifth annual) hackathon. 
Thinking about hosting your next team offsite anytime soon? Read on for highlights from ours and best practices for inspiration.
The main event: Front's 5th edition hackathon
First, let's redefine a hackathon: it's a sprint-like event that involves multiple disciplines (engineers, designers, product managers, researchers, products analysts, etc.) collaborating intensively to innovate on a company challenge. 
Things it involves: strong focus, synergy, intensive moments, and working holistically to crack big problems together through collaboration. In the past, hackathons have also inspired our team to ship new features (like Giphy in Front, emoji reactions, select tools in HQ, custom emojis, and more!) They're a moment to bring all of our brilliant minds together in one place to share strong inputs on creative projects.
What was so special about this year?
We had a record-breaking 120+ participants from all disciplines of EPD (and beyond!) It all went down in the San Francisco office, but we had 20 hacking teams in the SF office, the Paris office, and remotely. Each team had 36 hours to prototype and pitch an idea in a video format. We had one central theme: make Front more mission critical 🚀. We recommend rallying around one theme to make the projects more cohesive and keep the focus narrowed.
How did it go, and what came out of it?
It was a big success! Here's what some of our team members had to say about it:
"The hackathon was a unique opportunity to work outside our usual roles and product areas!"
"What a great way to collaborate across functions and build solutions that address important customer needs — and have tons of fun doing it!"
"Being on a security team can often mean limited insight into what's happening on the product side. Getting the opportunity to see the whole feature implementation lifecycle was super valuable." 
"The hackathon was a unique opportunity to work with people I had never worked with! It created bonds that would have otherwise never happened."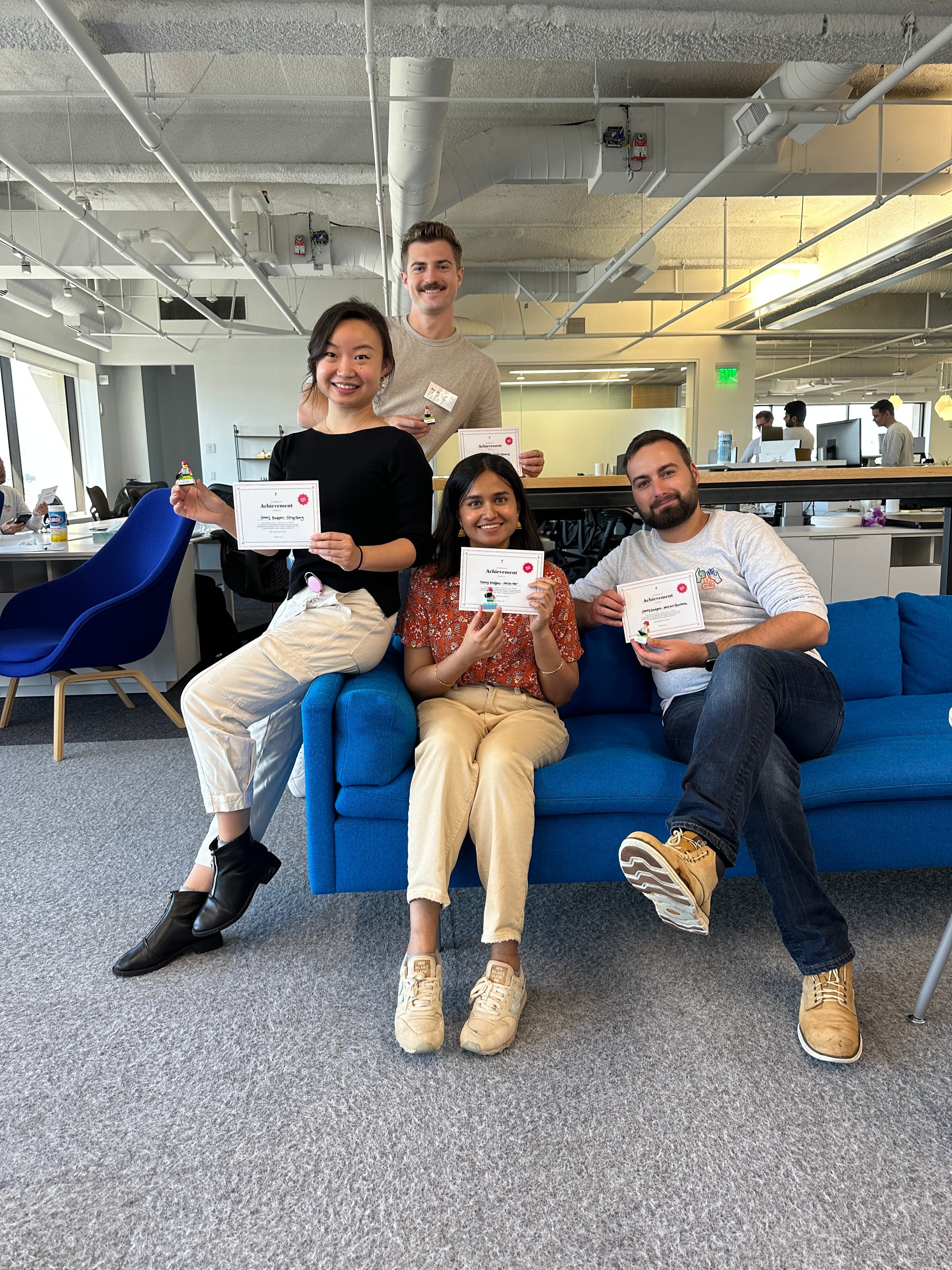 And the result: 20 teams and new projects! 
While we'd love to highlight all of them, we'll stick to calling out the four winners for now. We liked breaking winners into four different categories to spotlight different unique factors of different projects. Drumroll please... 🥁
MOST SURPRISING
Composer in-line quick actions:
Detects intent to schedule by intelligently looking for key phrases (e.g. do these times work for you?")

Turns 10+ clicks into 2
TEAM SPIRIT
Front achievements and badges (+ hats): 
Gamifies the Front onboarding experience so customers can get the most out of Front 

Offers a selection of lovingly handcrafted hats and badges to the participating users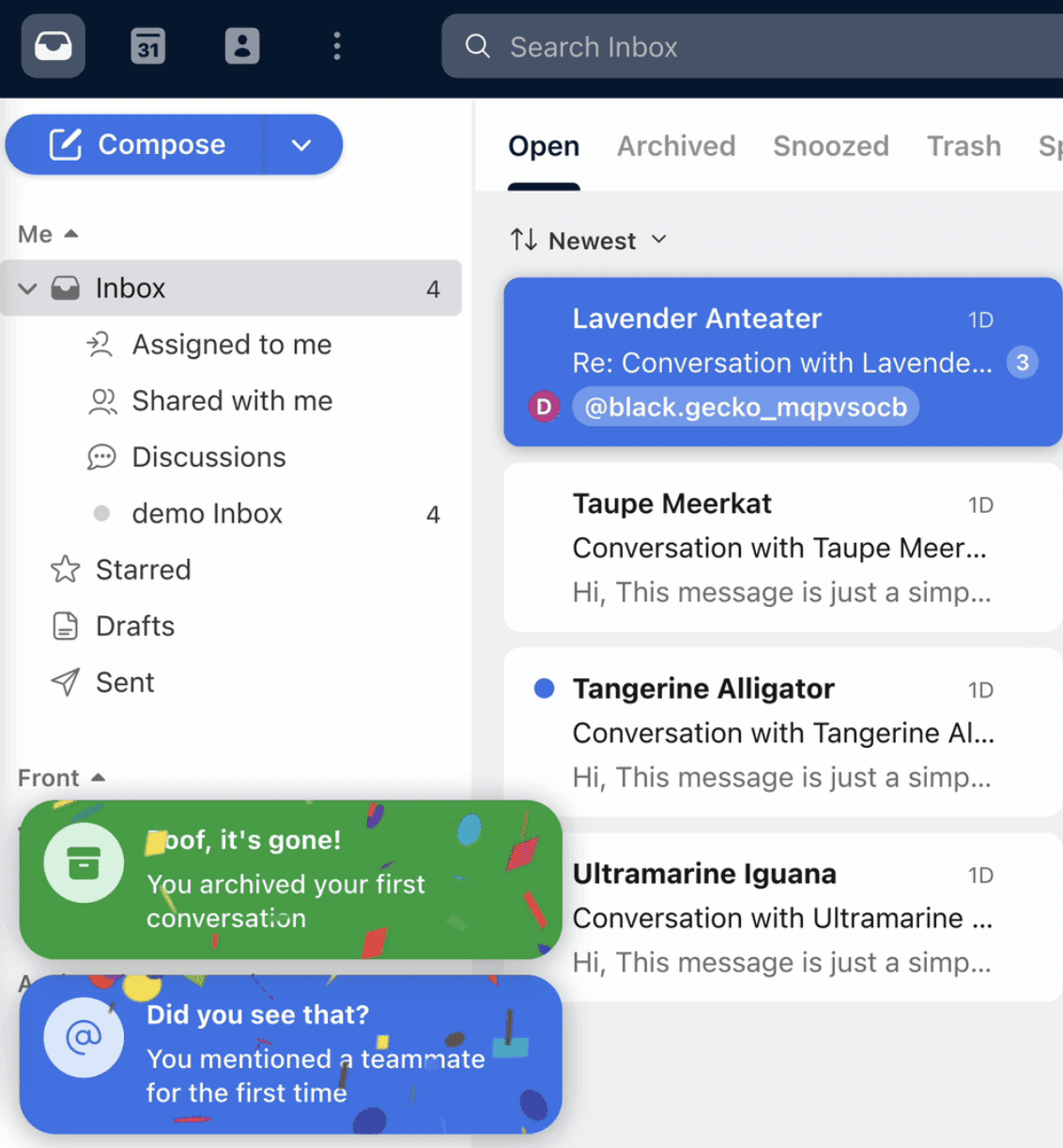 BEST IN SHOW
Translate messages: 
Automatically detects when a message isn't in the customer's default language

Offers instant translation at a click (and works on mobile too)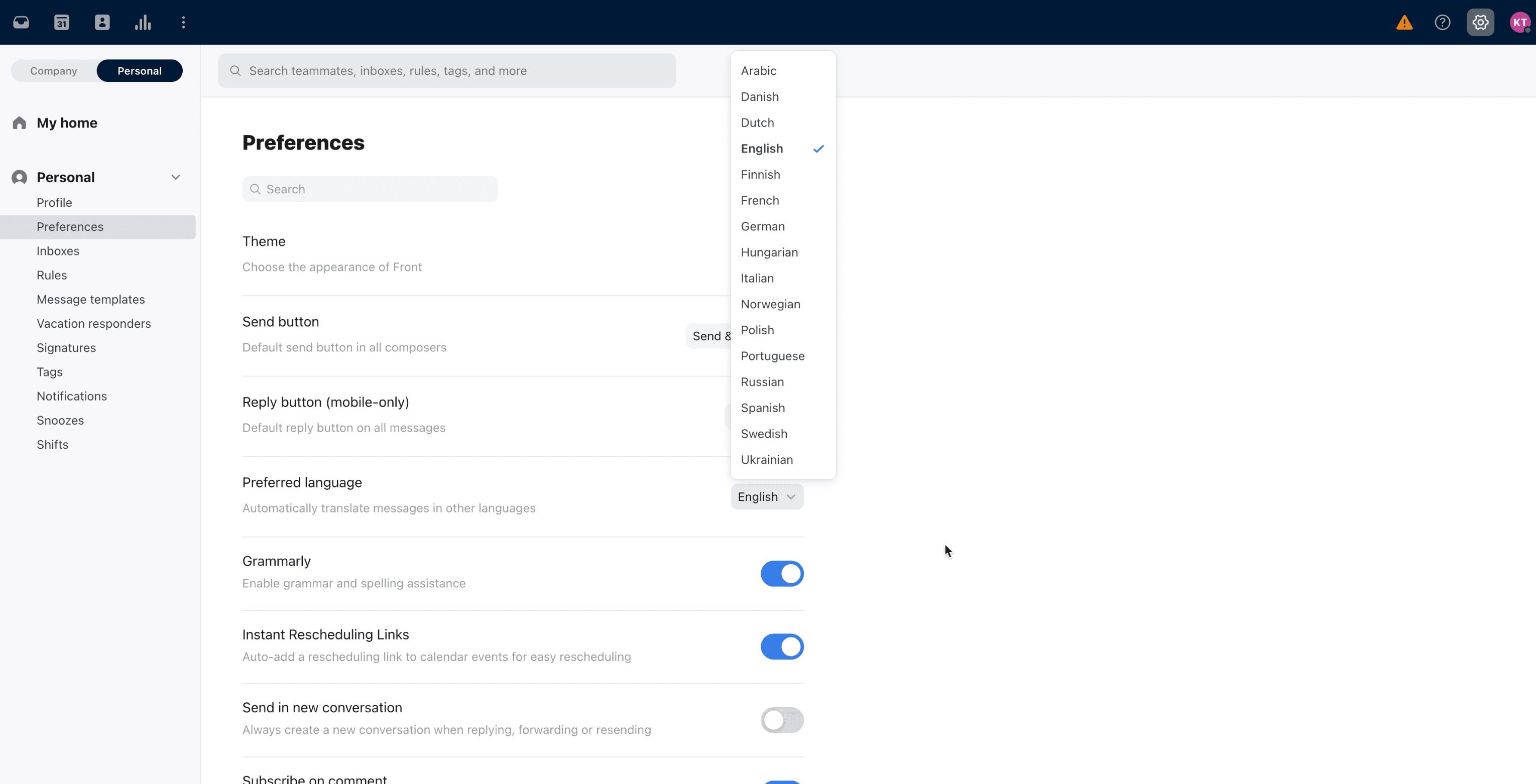 FAN FAVORITE
E-loominate
Creates Loom in a couple of clicks from right within Front's composer

Avoid writing out paragraphs and paragraphs - just record a quick video instead

Embeds a GIF preview of the Loom in your email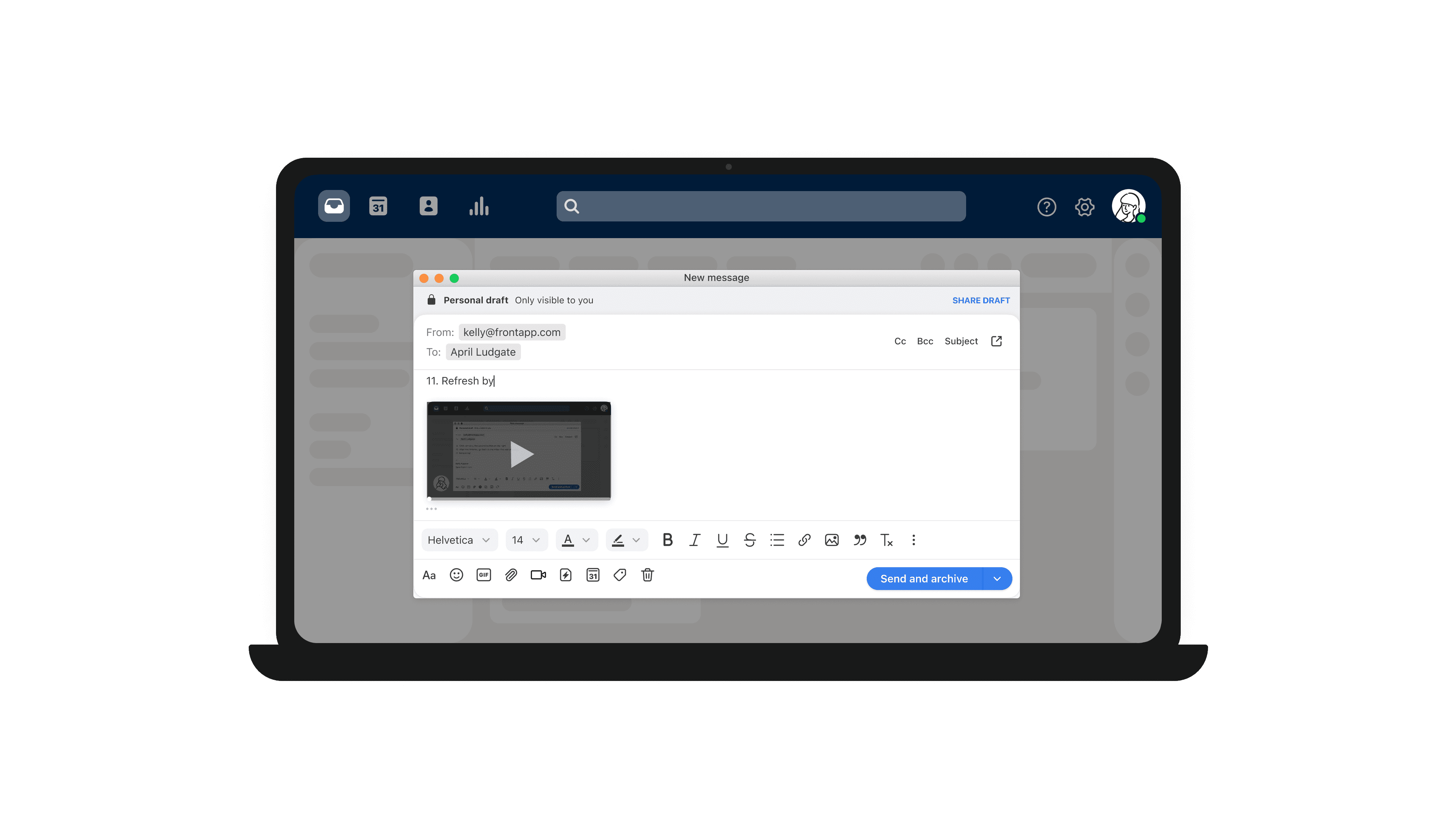 There was so much excitement about some of the hackathon prototypes that some have made their way onto our future roadmap.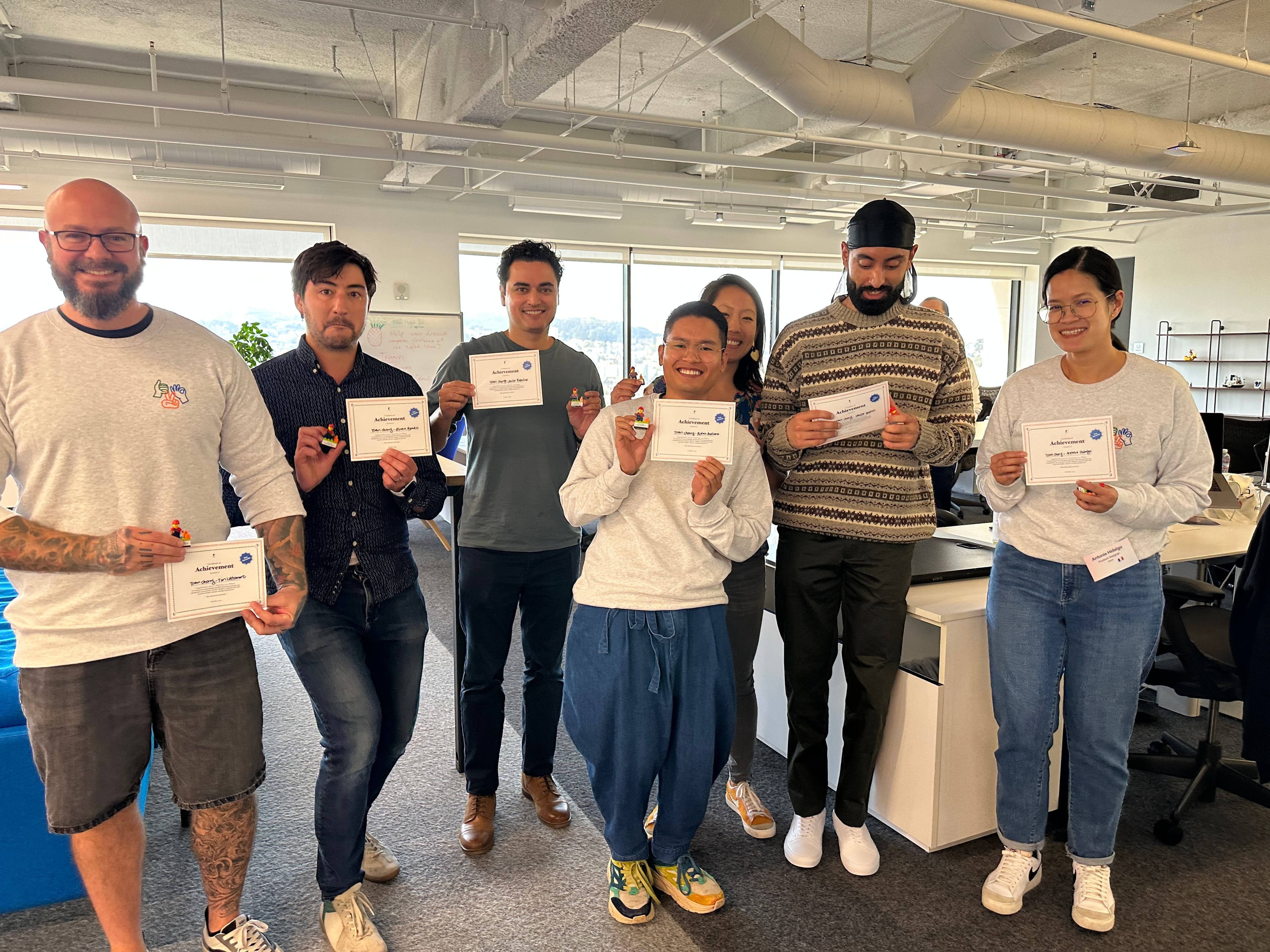 The EPD impact: defining 2023 goals 
Throughout the week, we also made it our mission to clearly define our goals as a team for the upcoming quarters and as we round out 2022. We recommend pairing team goal setting with more collaborative, creative work like the hackathon throughout the week to ensure your team comes away with tangible next steps.
Our takeaways: 
1) We know ticketing is poor at long-form communication and it doesn't solve today's customer problems. 
2) We have the power to solve all of the problems! We aggregate and route communications, we resolve and respond to requests, and we measure and improve customer communications.
In 2023, the EPD team will stay laser focused on making sure all customers get the most value they can from using Front.
Here's how:
We'll make adoption easier for our customers with a next generation routing solution

We'll create more powerful solutions – like a superpower message template allowing customers to bring external context into their answers 

We'll educate our customers better on customer best practices and teach them how to use Front the right way through guide education and guided learning 
And that's a wrap on the week! We loved hearing from teammates on highlights and what they loved about the offsite:
"I had such a wonderful time at the offsite. It was brilliant to get everyone together in one place for a week of collaboration and connection. The EPD hackathon was an impressive showcase of our ability to innovate in 36 hours — and I'm pretty sure some of the features that were prototyped will make it into the product soon! We all left the offsite feeling really energized about Front's plans for the coming year."
-Alex Peattie, Senior Engineering Manager 
"The EPD offsite was a great opportunity to work with people who know more about the product than me and people I don't usually get to work with. I had a lot of fun bringing my team's project story to life and infusing a strong brand point of view. Everyone was so collaborative and it was amazing to see the high caliber of work that came out in just two days."
-Ridan Arellano, Brand Designer
"I had so much fun at the EDP offsite and am so grateful to have been able to come and meet everyone — including people who I probably won't be working with or wouldn't have had the chance to meet as I am remote. It's made my onboarding at Front super easy. I'm so impressed with all of the hackathon entries too. I'm really excited to start working with you all!." 
-Laura Kassapakis, Product Manager 
And one last one…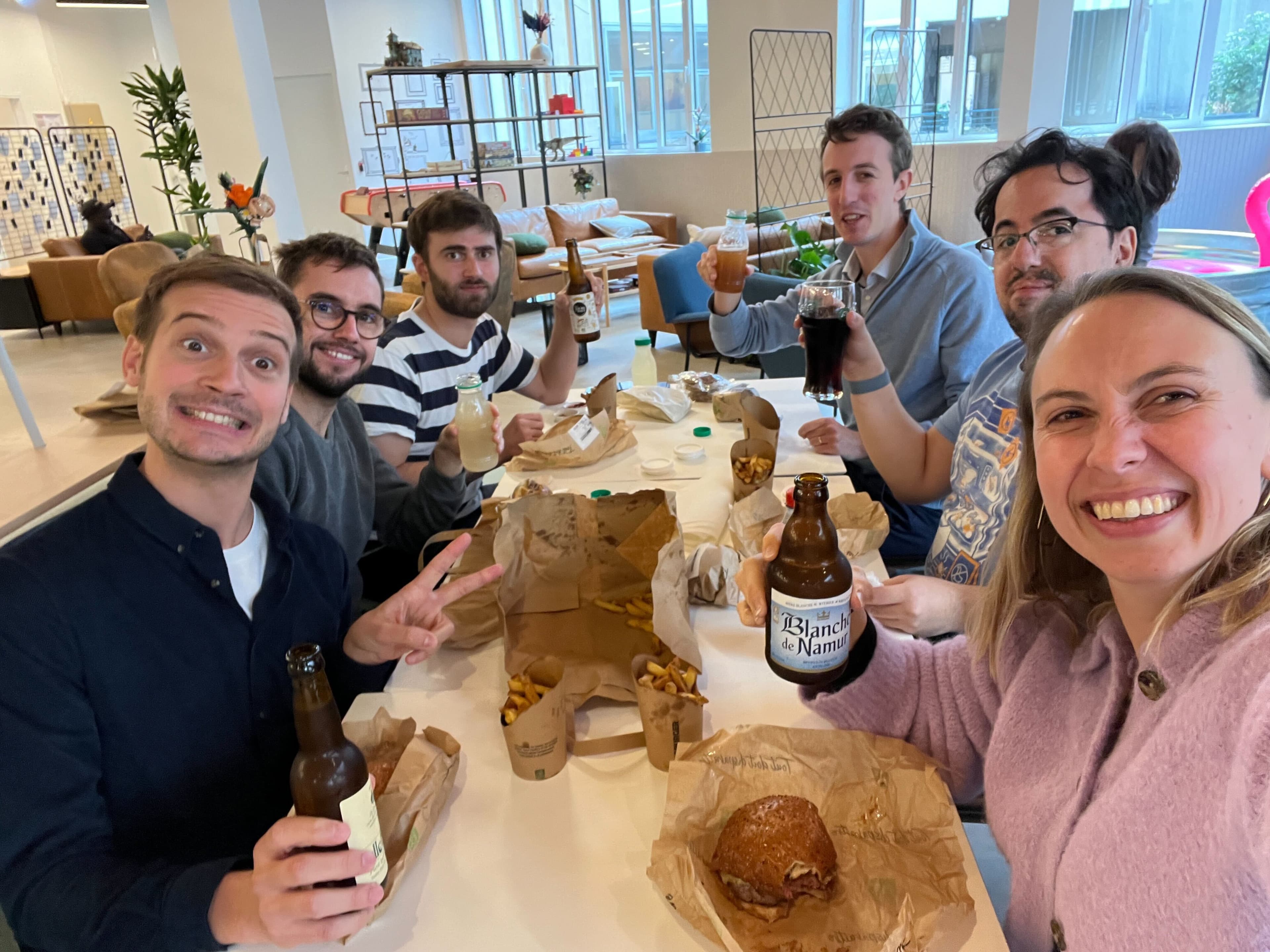 Here's to what's in store 🥂
Written by Sara Shaughnessy