Webinar

|

Dec 07

|

06:00 PM UTC
The new rules of customer service with PartnerHero
Welcome to Customer Service Game Changers: learn from the people defying industry benchmarks and setting a new standard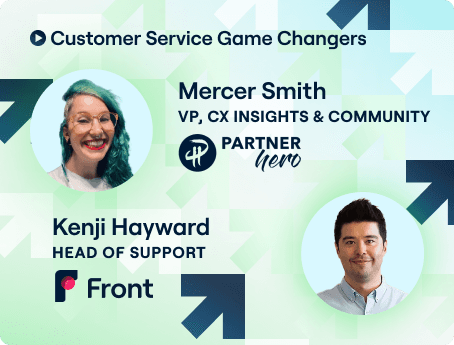 Exceptional customer service is the name of the game when it comes to retaining customers and building loyalty. But the game is changing, and it's changing fast. Customer expectations are shifting with endless choices and AI is swiftly transforming what's possible. 
How do you stay ahead and ensure the level of customer service you deliver stands out from the crowd? 
We're excited to welcome you to Customer Service Game Changers — our new conversation series featuring leaders who have set a new bar in the industry: they've unlocked near 100% customer satisfaction, built efficient global teams, and successfully embraced AI and other tools to uplevel communication. 
For our first conversation, Front's Head of Support, Kenji Hayward, will chat with VP of CX Insights and Community at PartnerHero, Mercer Smith, to cover the new rules of customer service, top learnings from the past year — and even some hot takes 👀🔥
Mercer has 20+ years of customer service experience at companies like Wistia, Atlassian, and Trello and is the author of CXOXO: Building a Support Team Customers Will Love (available for pre-order!)
Join us for a 30-minute chat, where they'll discuss: 
Why service is one of the top ways your business can stand out in a crowd

How to think about riding the AI wave and strategies for implementation

The new metrics (like BSAT) every support leader should know and track