As automation creeps further into every aspect of life, it's left us all questioning: where do we draw the line? Is this just making us all seem...robotic?
When it comes to business email, the infiltration of AI and machine learning has already begun. Refreshingly, the result has not been that we're turning into robots. Instead, automation in our business inboxes is freeing us of menial tasks, so we can focus on what matters. Here's a look at how Front is paving the way for smarter business email.
1. Artificial intelligence: Your inbox will learn from you.
Wouldn't it be nice if your inbox suggested responses for you? Not just a "Thank you!" or a "I'll get back to you soon!" Or, if your inbox could learn how to do a task for you, like forward a message to your teammate? Now, companies are building bots and using AI to make your inbox smarter and help you work faster. Here are a few teams using AI to supercharge your Front inbox.
Forethought learns from your responses, so you can give better customer support
Forethought's AI-powered teammate Agatha Answers lets customer-facing teams find answers quickly and respond faster. The Front Agatha Answers integration automatically pulls all contextual information from across the org — like online help articles, Google Docs, past conversations, and more — directly into your agent's inbox, helping your team answer questions faster and more accurately.
MonkeyLearn helps you automate tasks with machine learning text analysis
MonkeyLearn turns emails, support tickets, chats, social media, surveys and documents into actionable data. With MonkeyLearn and Front, you can automate tasks based on the language in your messages. For instance, automatically add the tag Negative on messages from unsatisfied customers, so you can easily identify what messages need to be addressed. Or, automatically route all messages in a certain language like French, so the right teammate can answer.
Ada will give teams easy-to-build bots for more personal, thorough customer service — coming soon!
The Ada integration in Front will allow you to build a bot on top of your Front inbox without needing technical help or cumbersome configuration. Your customer service team can easily teach the bot to build content, add pictures and gifs to messages, and send links to resources. It's easy to move to transfer the conversation to a human when your customers need it, and everyone has more time to send better replies.
2. Custom inbox plugins: Build automated workflows in your inbox.
Why should every team's inbox look and act the same, if every business is so different? Now, teams can customize their Front inboxes with plugins that bring the data they need to their fingertips and enable them to keep systems in sync from their inbox. Here are a few who are building their ideal inboxes using Front's custom plugins.
Fishbowl saves hours each day with automations
Fishbowl offers the leading inventory management software for QuickBooks. When a Fishbowl client trainer opens a message in Front, their custom plugin automatically matches and displays information from Fishbowl's backend and CRM.
Through Front's API, they also tag every message with the client's name, so the trainer can easily read through all their past interactions, even between different members of their team. Clients can open and track support requests directly from Fishbowl with a request creation form that connects to a shared inbox in Front. The time they save with their plugin in Front helps save them $150K every year.
Beyond pricing delivers personalized support
Beyond Pricing powers dynamic pricing for more than 20,000 property owners and managers around the world. They support customers in Front over email, Twitter, and Facebook. Their Front plugin allows them to quickly look up existing customers and prioritize new leads to see whether they've connected their Airbnb or other rental account, how many properties they have, their revenue history, and other details.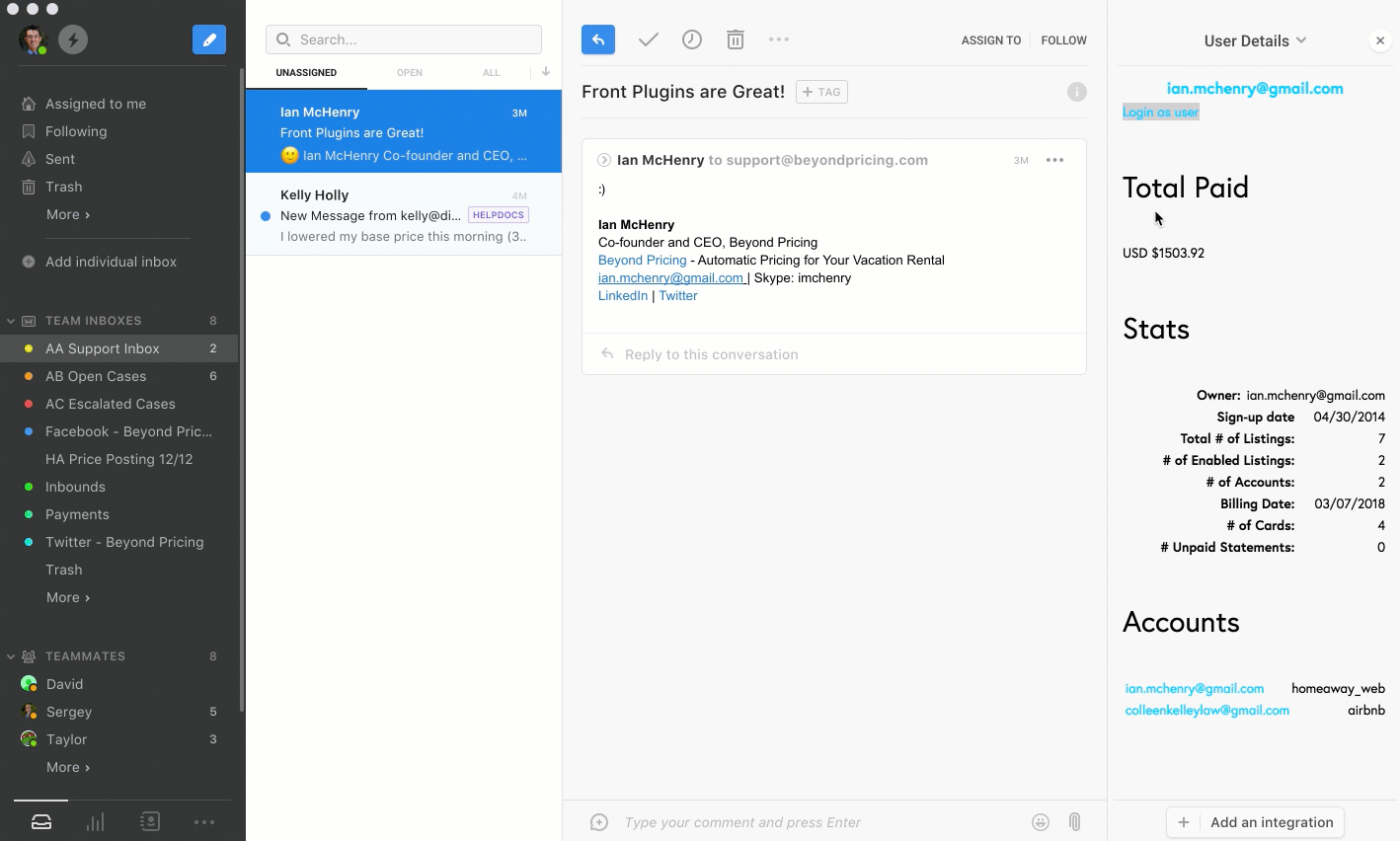 From there, one click takes them into Beyond Pricing's admin console, where they can quickly debug an issue. Having their customer data accessible in Front allows them to work quickly and efficiently, instead of jumping between tools to look up the information they need to respond.
3. Integrations: Bring your other apps into your inbox
It used to be that when you opened your inbox, you only saw email. Now, that's far from the case. With access to context and your other essential apps, your inbox isn't just a messaging tool. It's a central hub for getting work done.
1. Context: Why leave your inbox to update a customer's info in Salesforce? Or grab a link from your internal knowledge base? Access it all directly in your inbox.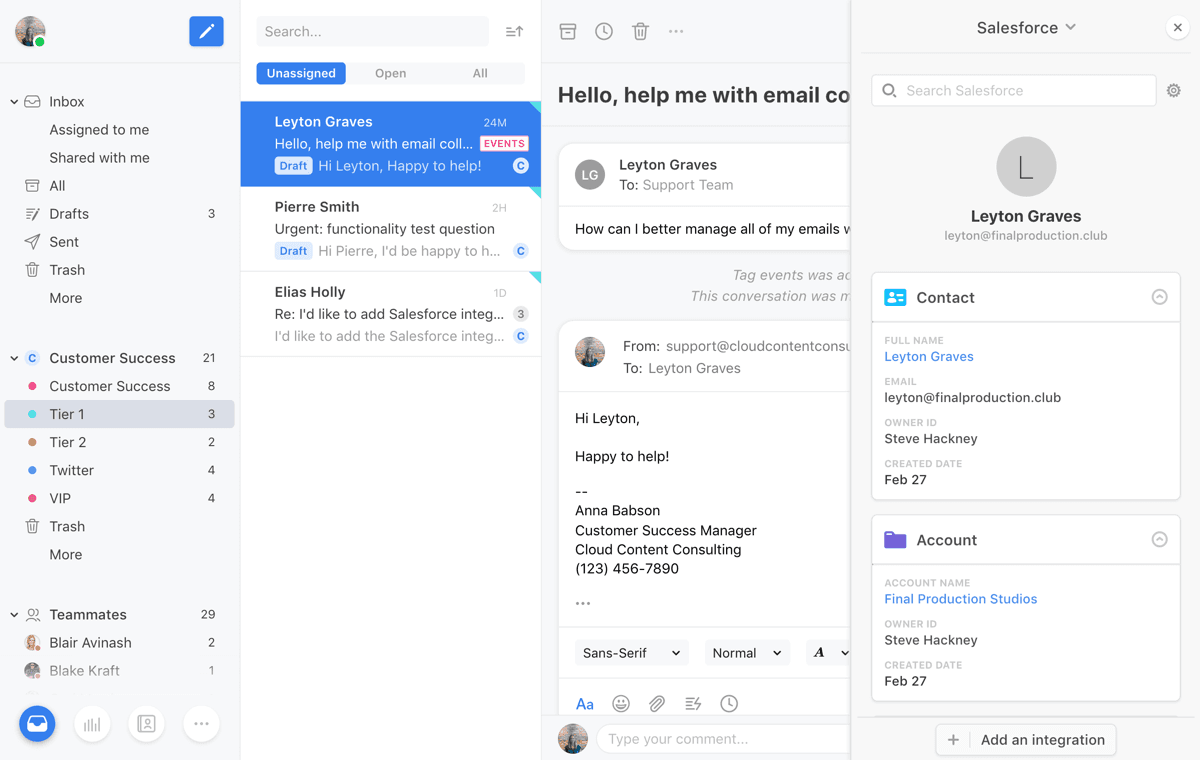 2. Take action in other tools: Need to update a JIRA ticket? Check off a task in Asana? Being able to take action in these tools directly from your inbox means fewer clicking around, switching tools, and distractions.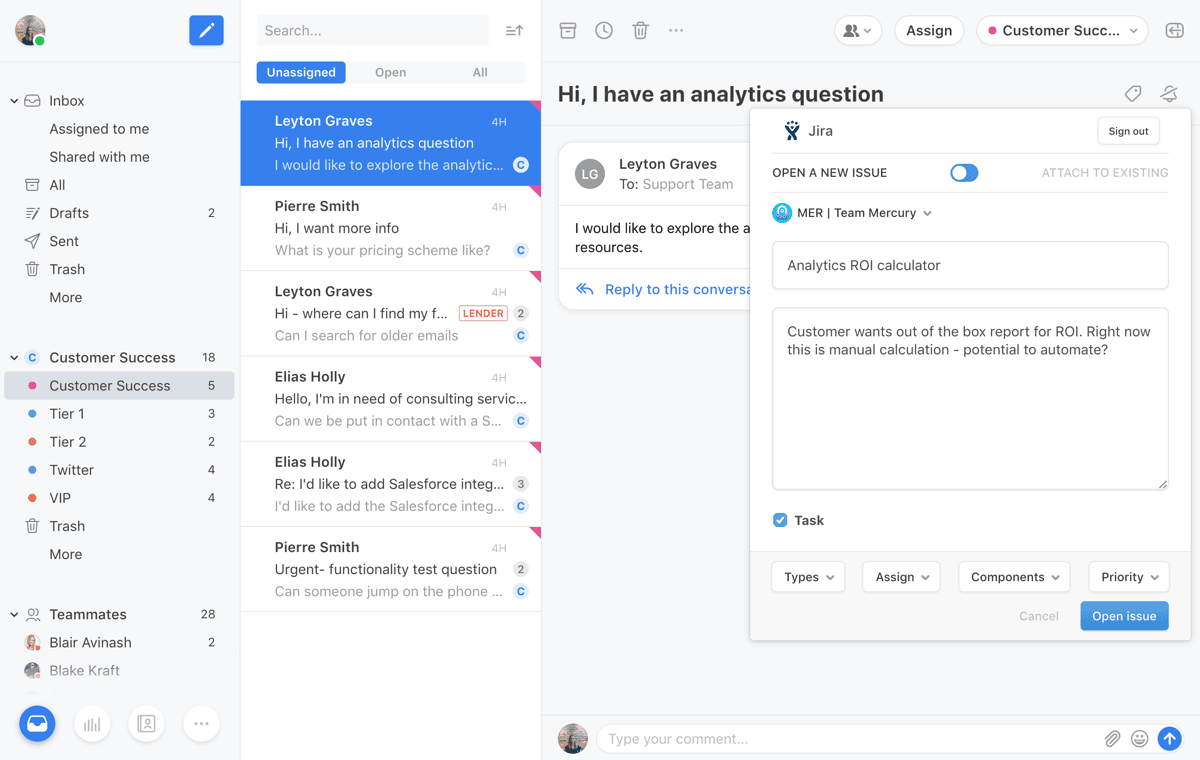 Automation leaves time for you to be the best human you can be
When AI came to personal email, people worried that robotic replies and mistakes would result from the automation behind their messages — like an accidental "I love you."
That's far from ideal for business email.
These integrations and plugins in Front won't turn you into an email robot. Instead, they're making your data readily available and automating actions that take up your time each day. Because when you've got the information you need and the time to do it, the sky is the limit for you and your team.
Written by Emily Hackeling
Originally Published: 17 April 2020