Sometimes, getting work done can feel like a game of ping pong: bouncing between email, live chat, Salesforce, and other apps to catch up with customers. When you're constantly switching tools, it's inevitable that messages — and leads — will slip through the cracks.
That's why we're thrilled to offer early access to Front's Drift integration to make handling live chat a snap. More than 150,000 businesses around the world power their growth with Drift, and now teams can handle these conversations right from Front. With live chat, email, SMS, and more in one place, it's easy to work together to get back to every lead faster.
---
Consolidate conversations for lightning fast response times ⚡️
With Front, your team is always there to answer across all your communication channels. Now, chat conversations from Drift sync instantly with Front to make centralizing your work in one place easy. And if you're not using Drift yet, managing it through Front is a seamless way to add it into your customer experience.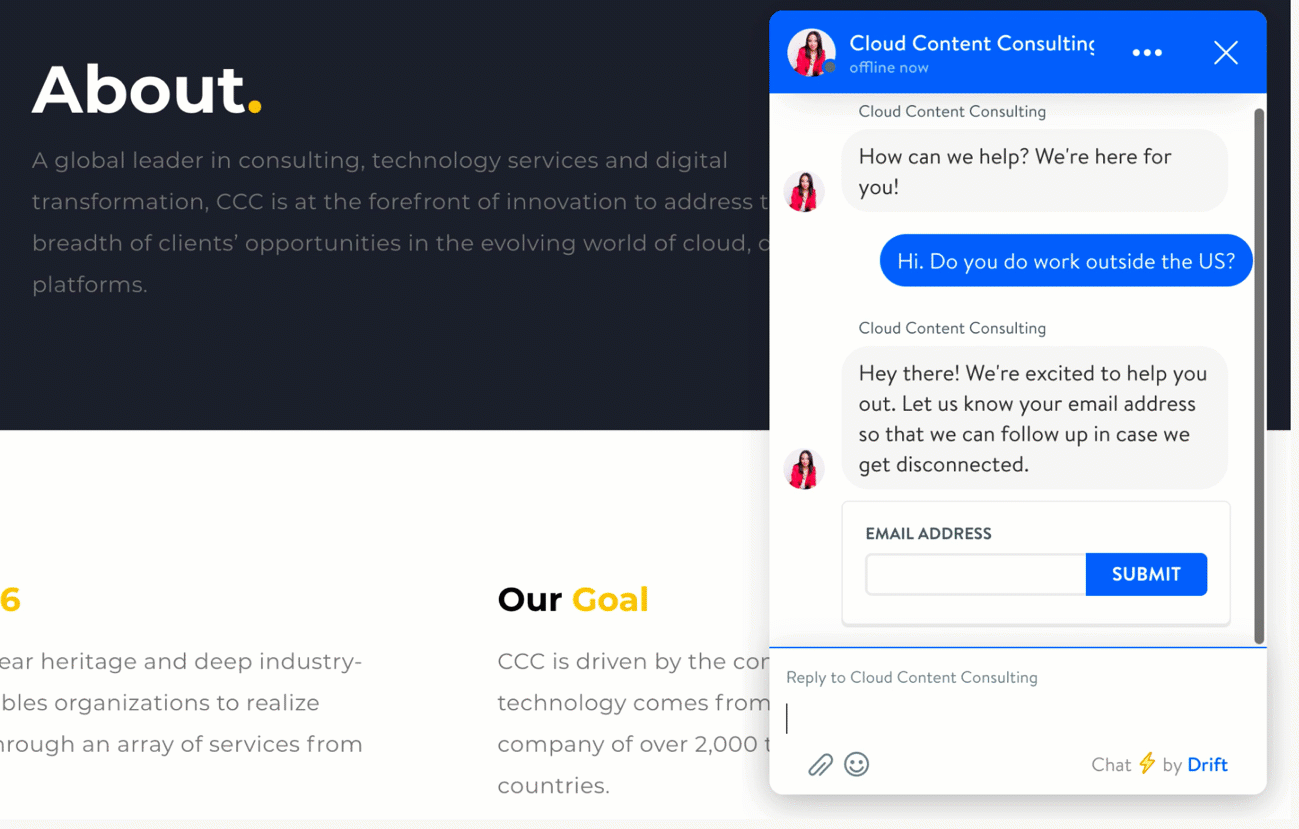 Automatic routing rules and SLA warning tags make sure nothing slips through the cracks, so your team can focus on your customers. Want a notification for extra assurance? Front can let you know whenever you're assigned a new Drift conversation.
---
Seamless partnership between SDRs and AEs 🤝
With live chat, time is of the essence. With Drift in Front, it's easy for SDRs to quickly get context from Salesforce for higher quality responses and to smoothly transition conversations to an AE when they're ready. We use Drift here at Front for that very reason 🙌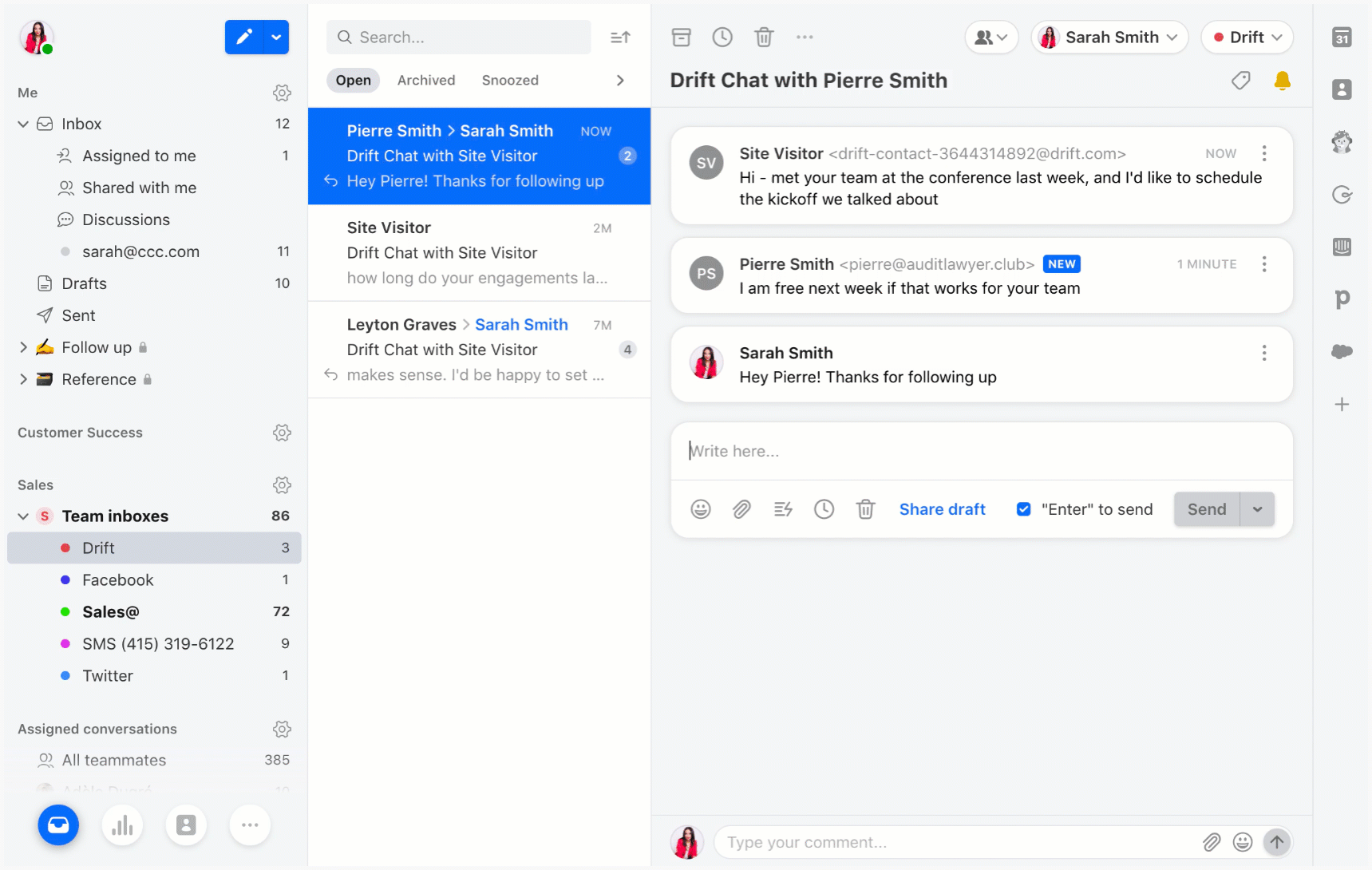 Front gives SDRs several easy options when they want to hand off a lead to an AE. They can loop the AE in on the thread with an @mention, assign the conversation to add it to their queue, or book a meeting for them with their scheduling link in Front. AEs can get up to speed instantly with all the background information they need saved on the conversation, and add notes in Salesforce right from their inbox.
---
Bring your bots along, too 🤖
Drift's powerful Playbooks make it easy for businesses to engage with website visitors, and bots help them optimize their time with customers. Drift bots can capture important information like email addresses, company names, or use cases to qualify leads in advance, so your team can focus on spending time with your highest value leads.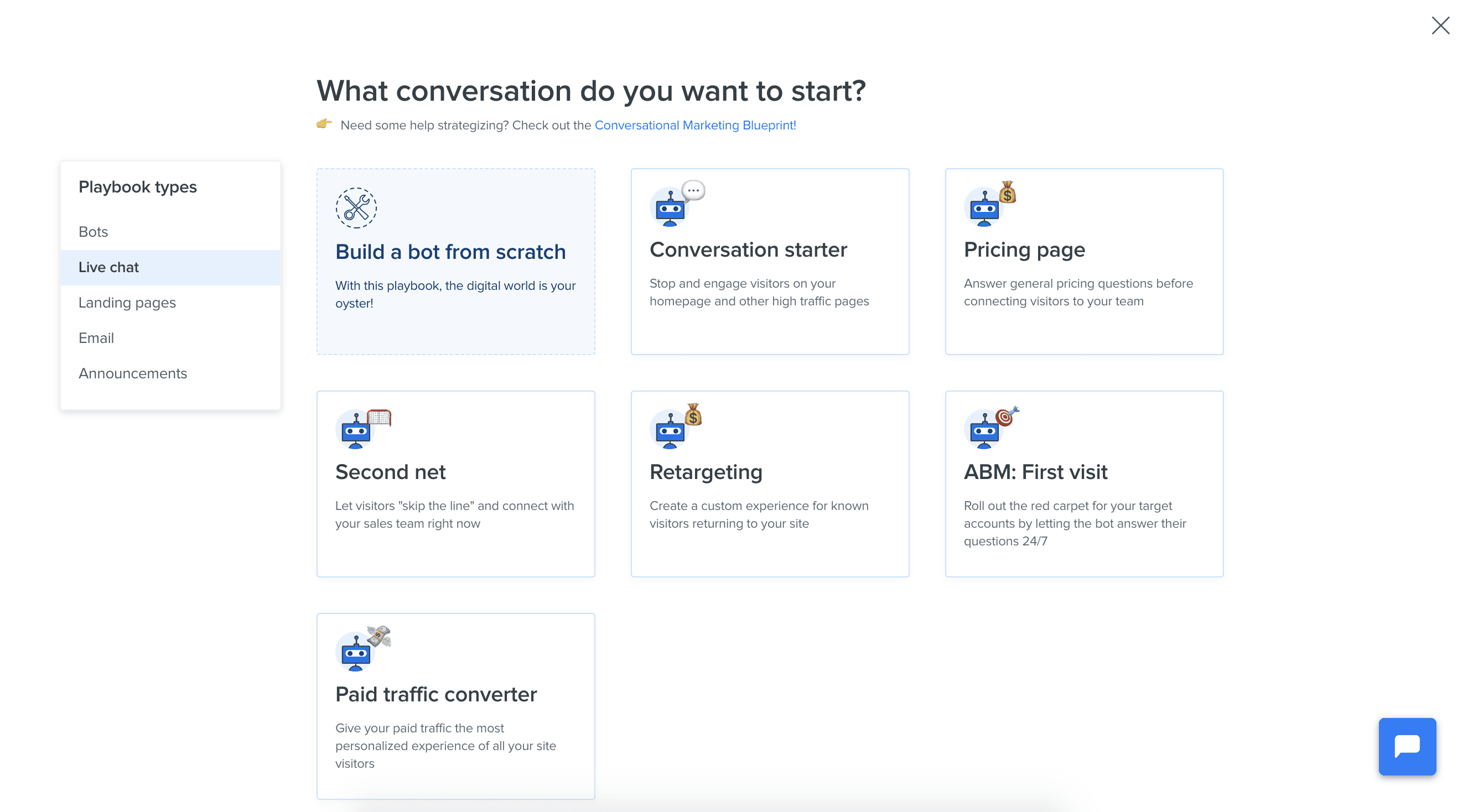 Can't live without the Playbooks and bots you've already set up for your site? No sweat. All your Drift conversations will sync to Front, whether they're bot-assisted or not. Your team can keep an eye on when it's time to jump in for the bot, or use Front rules to assign conversations when a human should take over.
---
Front + Drift = real-time support, right from your inbox
When your teams work together like a well-oiled machine, your customers win. SDRs respond faster, AEs deliver a more personalized experience, Support can hop in to troubleshoot instantly — and it's all seamless for your customers.
Want early access to the Drift integration? To get started, you'll need a Drift account with API access and a Front account on the Plus or Pro plan. From there, adding a Drift inbox in Front is as easy as 1, 2, 3.
Written by Sarah Spangenberg
Originally Published: 17 April 2020