We know traditional email is a drag on your day — and on your business. That's why Front is transforming corporate email to be fast and collaborative, so teams can accomplish more together.
Our favorite way to do that? We'll give you one hint: 🙌
Emojis aren't just for texting, Twitter, and Slack. They're a great way to work quickly with your team on email to reduce noise in your inbox and move faster on urgent issues. Here are 4 ways emojis can help you work more efficiently in Front — and have some fun along the way!
---
React with a 👍 , instead of CC's or reply-all's
Comments in Front already revolutionize how your team collaborates on email, so you can quickly @mention people to coordinate behind-the-scenes. Now, you can react to comments with emojis to get feedback and make decisions even faster.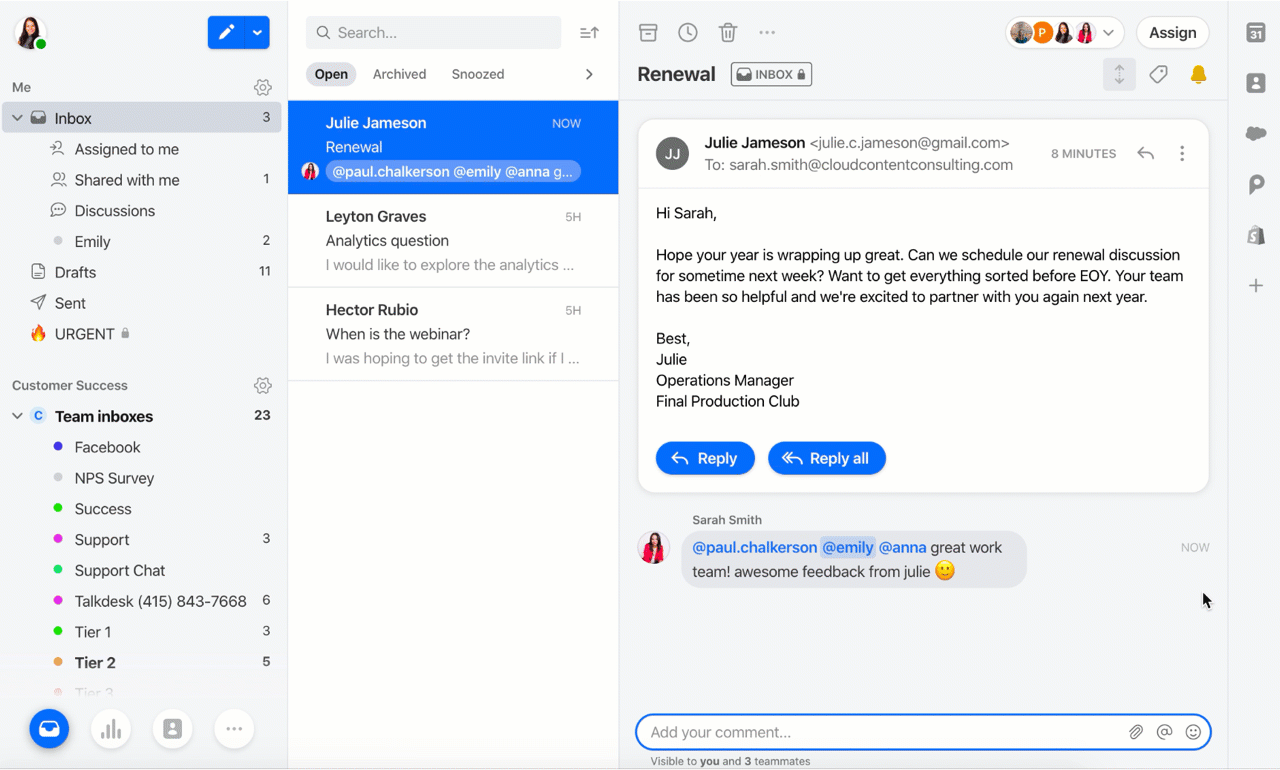 Here are the emojis we use most often to weigh in — without bombarding everyone's inbox with another "Looks good to me" email:
👍 = Sounds good

➕ = Agreed

💯 = Totally agreed

😍, 👏, and 🙌 = Love it

🙏, 🙇‍♂️, and 🙇‍♀️ = Thank you

💪 and 🚀 = You can do it!
Emoji reactions help you give input and show your appreciation while cutting back on unnecessary internal email. Less typing and fewer messages for everyone? That's what we call a win-win.
Make decisions faster in discussions 💬
Front'sinternal discussionsgive you an easy way to chat distraction-free, right from your inbox. Just comment and @mention your teammates to work together quickly, like chat. Each discussion is organized in a separate thread, like emails in your inbox, so information doesn't get buried when you step away from your desk.
Emojis are a great way to move discussions forward, too. Use emoji reactions to give your feedback in two clicks. Or you can even cast a vote, like when you're trying to decide on an offsite location or which version of a design works better.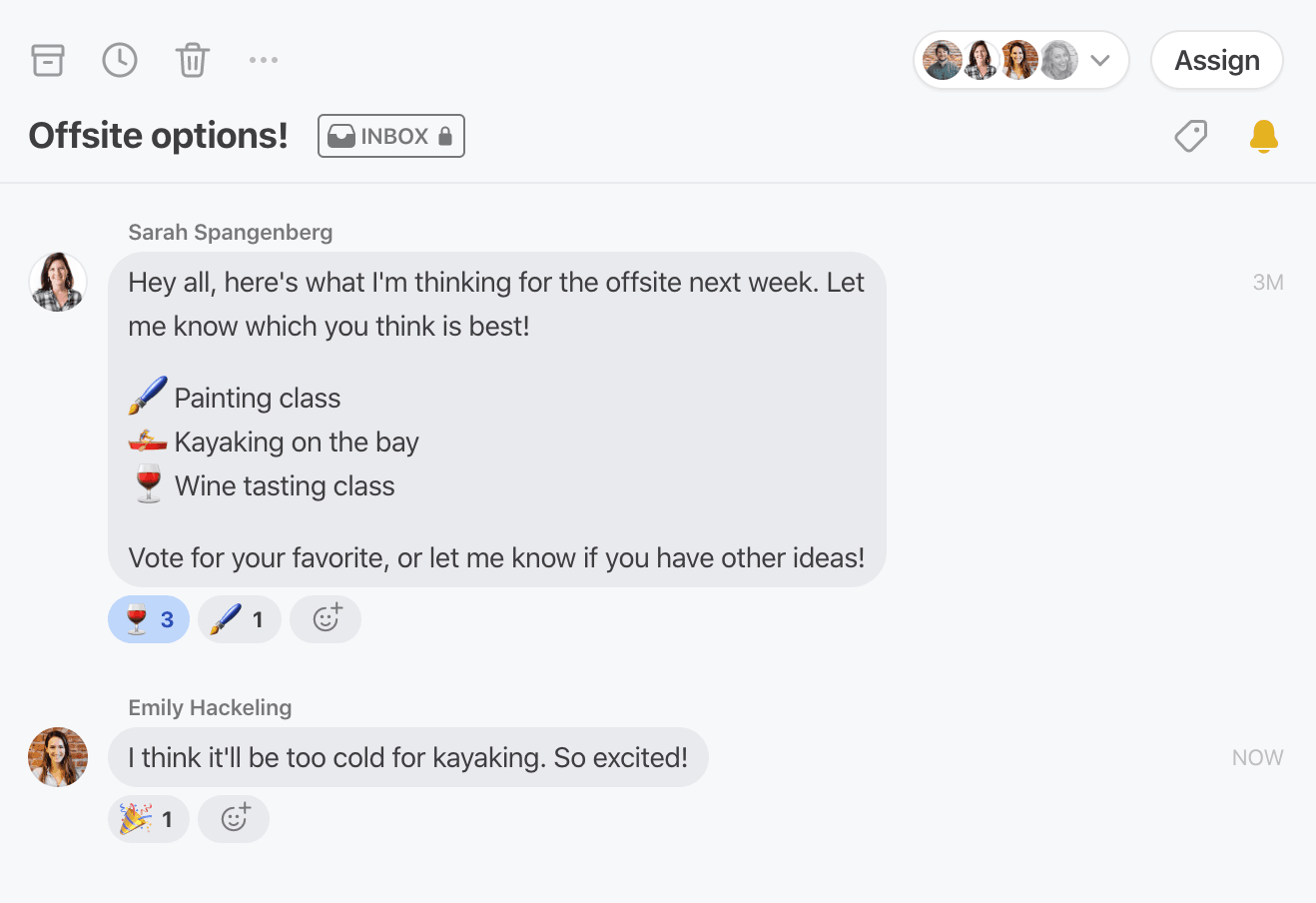 Organize email at a glance with emoji tags
Tags make it easy to label and sort messages, so you can stay on top of your inbox. With Front, you can even use automatic rules to tag emails for you and highlight them with related emojis. Urgent emails are 🔥, expansion opportunities are 💸, and positive feedback messages are 🤩. Use whatever system works for you to spot emails at a glance!
With your inbox sorted and labeled for you, you can quickly scan for important messages. Nothing slips through the cracks, and everything stays neat and tidy.
Coordinate work without all the back and forth 👀
When you've got a busy day with customers, the last thing you need is more messages to coordinate who's working on what, like an email from a teammate saying, "I'll handle this!". Emojis are a great way to let your teammates know you're handling a customer message without generating more noise.
Add an 👀 to show you're looking into an issue or inquiry, so no one else spends time on it. Teammates will even see when you start drafting a response to avoid duplicating any work. If you get stuck, just add a 🤔 to show you need some help!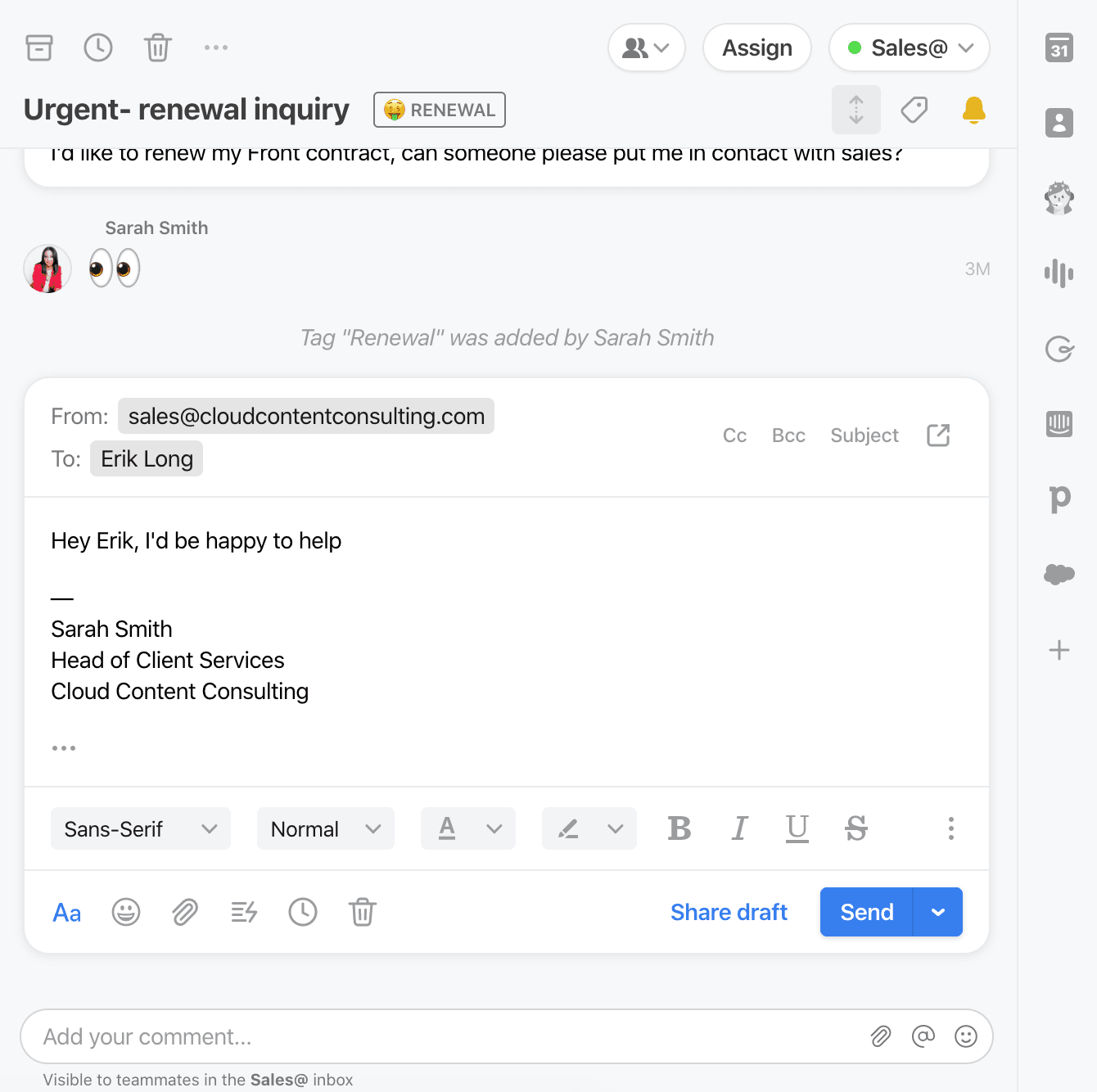 Try them out!
Who knew those silly emojis could be so useful for getting work done? They're effective tools for showing emotion and highlighting what's important — and now they can help you to have a little fun in your inbox, too.
Written by Sarah Spangenberg
Originally Published: 17 April 2020