Whether you're answering a question about your business, thinking about replacing more expensive support channels, or preventing your agents from burning out asking the same questions over and over again, Front Chat makes it easy to deliver a great customer experience at scale.
Offering live chat often means bringing yet another tool into the picture. Front makes it simple by letting your team reply faster to chats, emails, texts, and tweets without juggling multiple tools or duplicating workflows. 
Let's take a closer look at how Front Chat streamlines your omnichannel communications. 
A more economical way to grow your business
It's no surprise that live chat is gaining popularity, with businesses seeing as much as a 280% increase in profits using live chat with their customers.
Whether it's consolidating tools due to tightened budgets or optimizing ways to attract new business, Front Chat is a fast and easy way to talk to customers. Some examples of how some companies take advantage of live chat:
Simplifying customer support by replacing costly, hard-to-maintain channels like phone systems

Reducing headcount because agents are able to support more customers

Expanding different ways to meet customers where they are to drive sales and foster customer loyalty 
No need to toggle tools when its all in one place
Introducing a new channel doesn't need to be a headache. Adding live chat is a lot simpler when it can be easily managed with your other channels all in one place. Switching back and forth can drop productivity by 45%, so your agents will appreciate having the full context in Front, regardless of if the customer decides to reach out over chat, email, SMS, or social media. 
Reporting is also simplified when your analytics can include all your channels. You can identify customer behavior trends to inform your team on how to provide more effective support. For example, setting up service level agreements (SLAs) for each channel ensures your teams reply times match customer expectations.   
Less repetitive work, please
Because Front Chat messages arrive instantly into a shared inbox within Front, all of your existing or planned workflows can easily apply to your live chat messages. It's one less step building more automation and one step closer to consistently showing up for your customers because:
Chat conversations are immediately sent to the right team or person

Seamless escalations and handoffs ensure accountability

Incoming chats are automatically organized alongside your other channels for clearer prioritization

Reply time is guaranteed with SLAs 

CSAT reporting is automated to keep track of customer satisfaction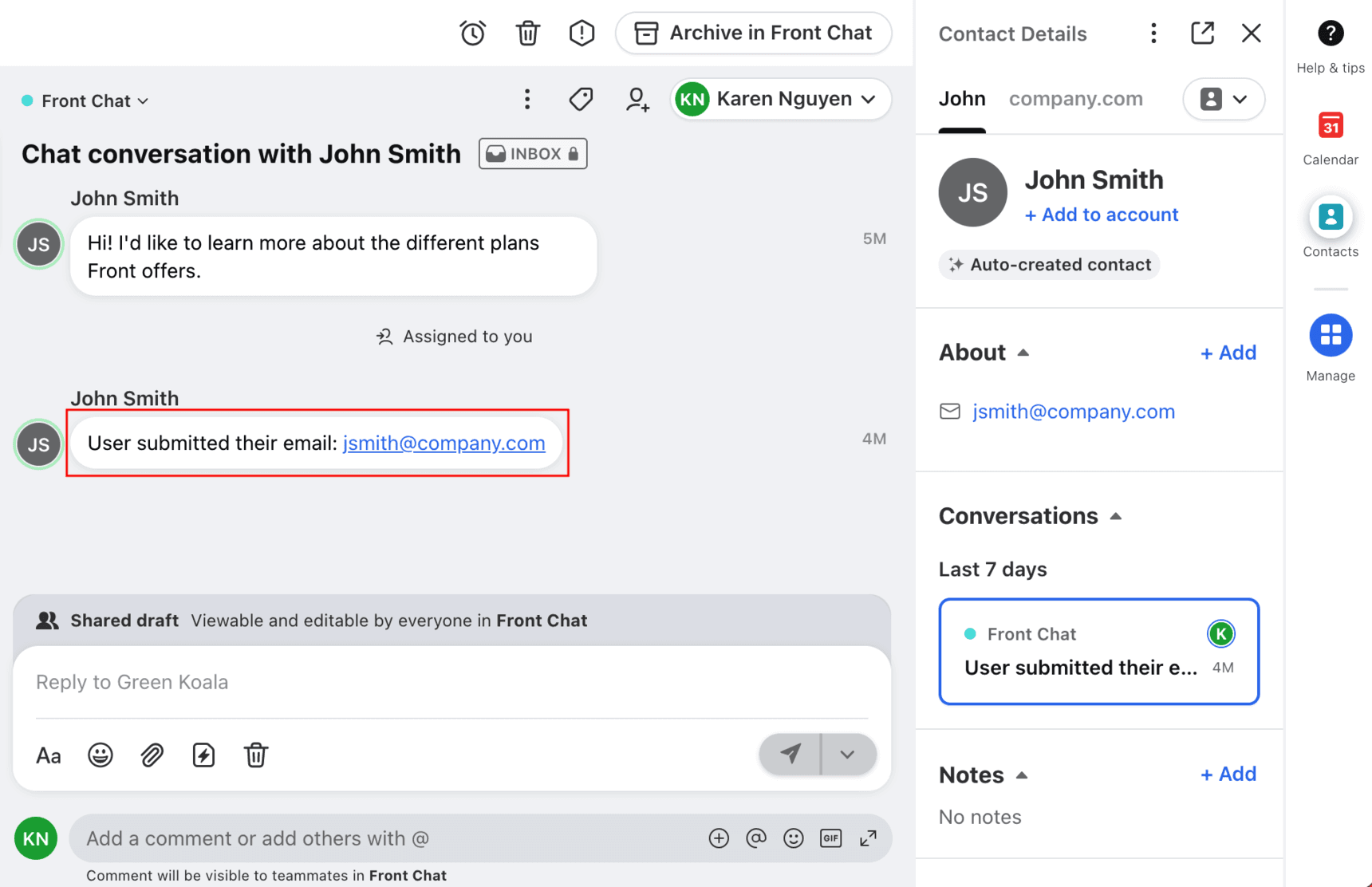 Plus, there's no need to ask for historical context if your customers have communicated with you before. If their email is in Front, it syncs with their contact details, any past conversations, and records in your CRM.
Let chatbots do the legwork
Chatbots can help resolve inquiries faster by automatically collecting information for triaging conversations and directly answering frequently asked questions.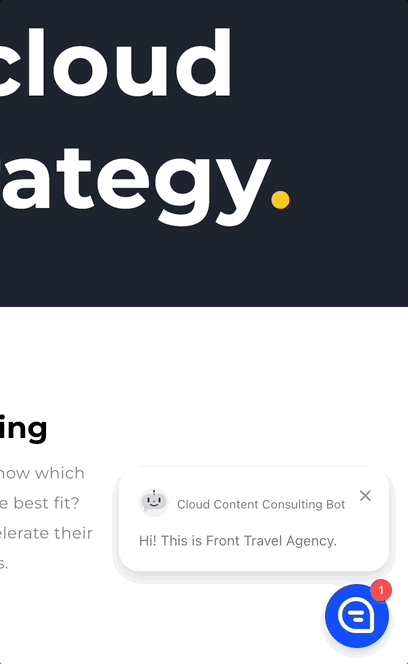 Too often agents get hung up in asking the same questions over and over to collect additional context before they can fully understand or move forward with the customer request. This can be a huge time sink, especially when the conversation needs to be routed to a different person or team. Chatbots can be configured to gather this essential information upfront so the human agent has everything they need when the conversation is passed off to them.
If the same few questions come in over and over again every day, chatbots can identify if the customers inquiry matches these questions and directly provide them with the information they need. It frees your agents to focus on solving more complex inquiries that require closer attention.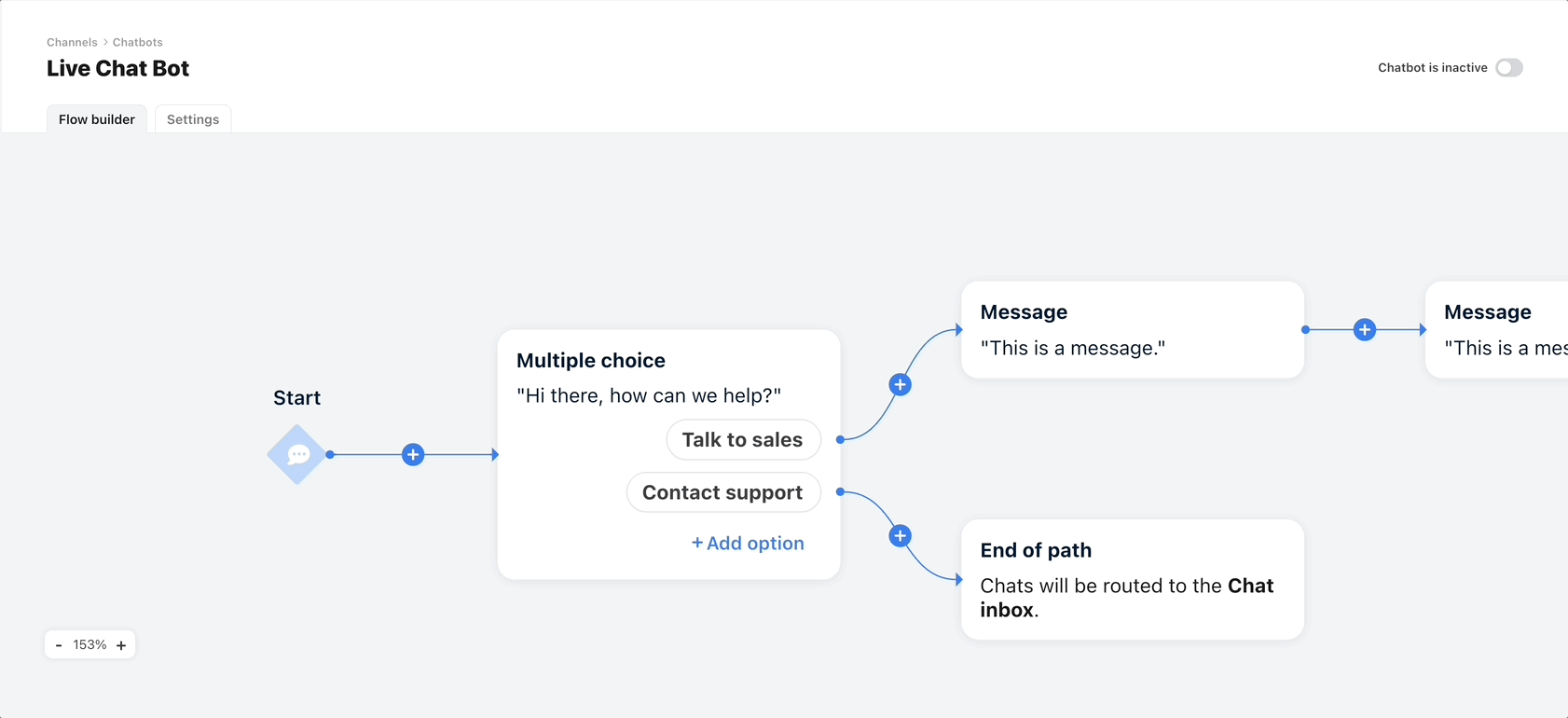 Resolve customer inquiries faster
When your team has full visibility of chat conversations within a shared inbox, Front makes behind-the-scenes collaboration fast and seamless getting your team up to speed with expedited coaching. 
Skip the extra email or DM thread when you can loop in a teammate with a simple @mention within the same conversation. They can easily chime in because all of the context is kept in one thread, as opposed to confusing forwarded emails or noisy reply-all's.
If you need help crafting your response, shared drafts make it easy to tag in your manager for a quick review before sending it off to the customer. A more thorough response helps reduce the back and forth between you and the customer in getting their problem solved.  
Start connecting with your customers in real time
Front Chat brings your focus where it should be on your customers. Live chat conversations are easy to manage alongside all your other messages, so you don't need to jump between tools just to talk to your customers, collaborate with your team, or track analytics.
Learn how to set up Front Chat
Written by Andrea Kane
Originally Published: 17 April 2020