Learn how custom Front plugins help Fishbowl, Hostmaker, Beyond Pricing, and Platzi get more done, right from their inboxes
Most of the time, following up with customers means bouncing between tools to find all the information you need to reply. That's why Front brings all of that context to where you need it — next to each conversation in your inbox.
With integrations to CRMs like Salesforce and ecommerce platforms like Shopify, Front enables teams to see the information they need directly in their inboxes. But what about data from custom backend systems, databases, and in-house CRMs? That's where Front plugins come in.
Plugins are web applications you can develop for your team to use in Front — to view customer purchase history, check account status in your backend, or make order changes in real time. We love seeing the ingenious workflows our customers build using Front, and we encourage you to bring that creativity to your own team, too! Here are a few of our favorites to give you a little inspiration.
1. Fishbowl
How this software company saves hours each day with automations
Fishbowl offers the leading inventory management software for QuickBooks, with solutions for customers in manufacturing, warehousing, industrials, and ecommerce. Their custom implementation process means that Support and Account Management are constantly on the front lines with their clients to answer questions and help them troubleshoot.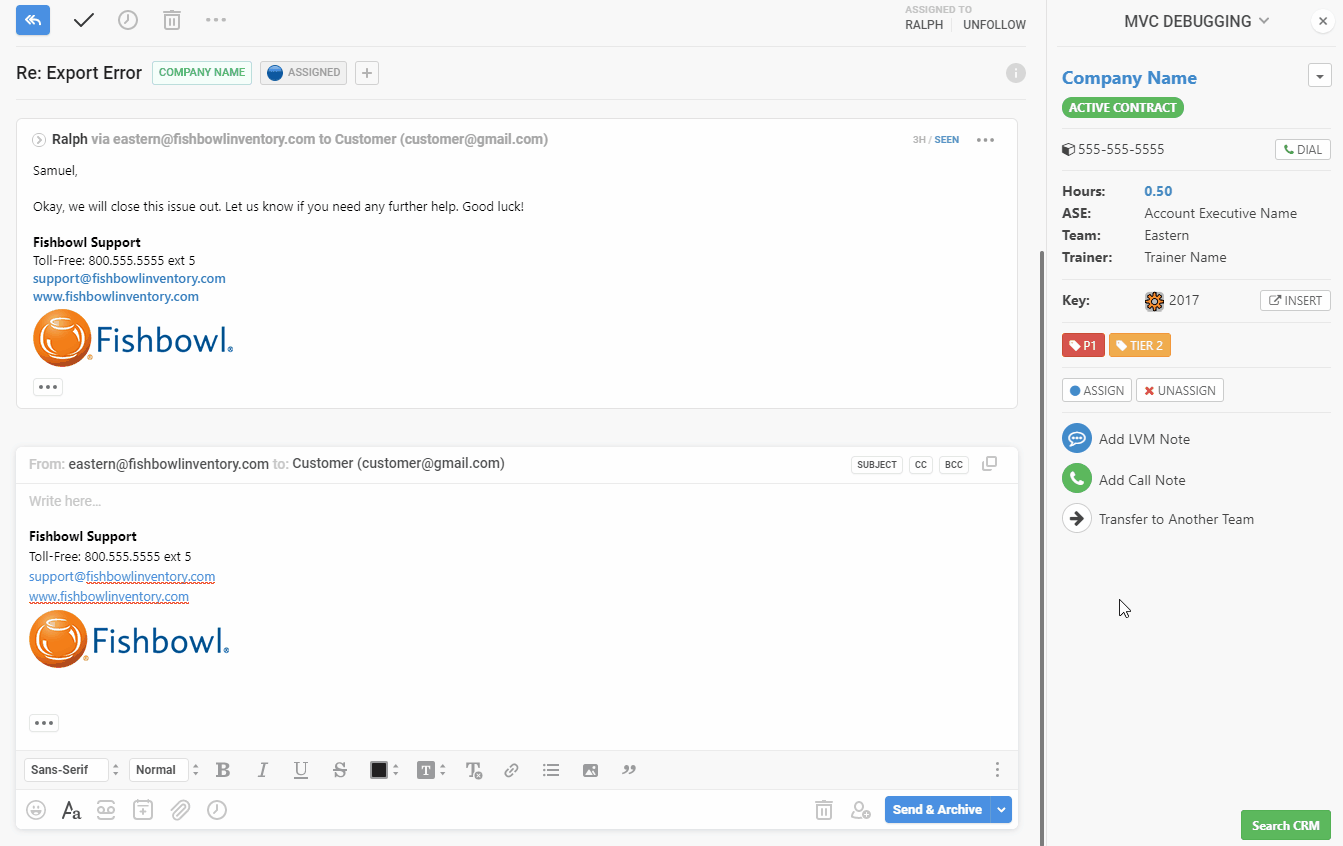 Front's open APIs were a deciding factor for Fishbowl to choose Front. Fishbowl's Internal Systems group had a vision to make Front their team's central hub, where they could work as efficiently as possible and have easy access to critical information.
When a Fishbowl client trainer opens a message in Front, their custom plugin automatically matches and displays information from Fishbowl's backend and CRM. Through Front's API, they also tag every message with the client's name, so the trainer can easily read through all their past interactions, even between different members of their team. Clients can open and track support requests directly from Fishbowl with a request creation form that connects to a shared inbox in Front.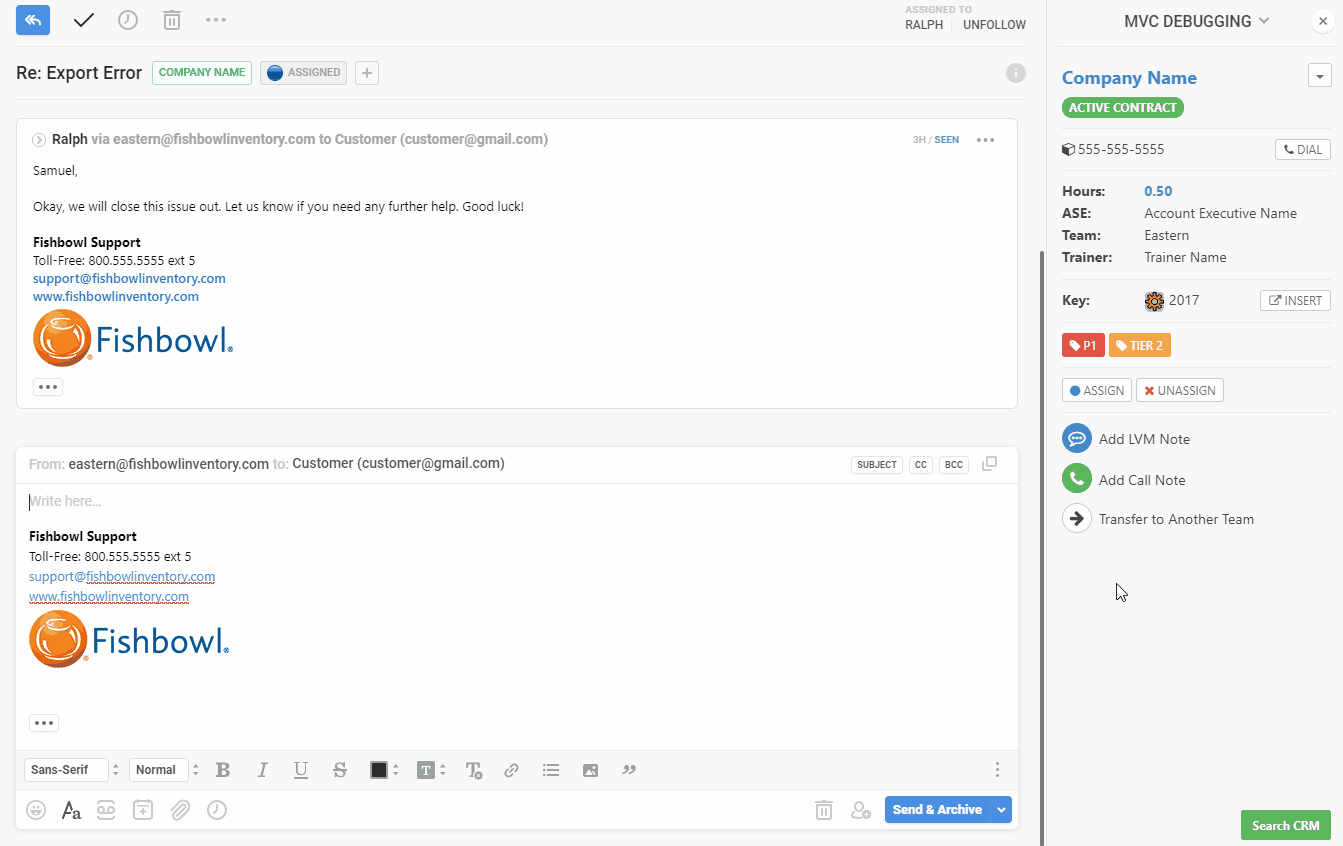 They've also enabled trainers to take key actions directly in their Front plugin: click-to-dial to call back a customer, click-to-paste license key information, and a popup flow that lets the trainer add a note and transfer the conversation to another team. Fishbowl estimates they save about a minute and a half per message by using Front rather than their old Outlook setup — with even more time-saving automations to come.
2. Hostmaker
How this hospitality management platform works faster with Front
Hostmaker allows any rental property host to deliver an amazing guest experience. Operating in five cities across Europe, Hostmaker coordinates the end-to-end process of running a rental property. From interior design services, to managing reservations through sites like Airbnb, Booking.com, and TripAdvisor, to coordinating key pickups, Hostmaker makes running a rental property simple.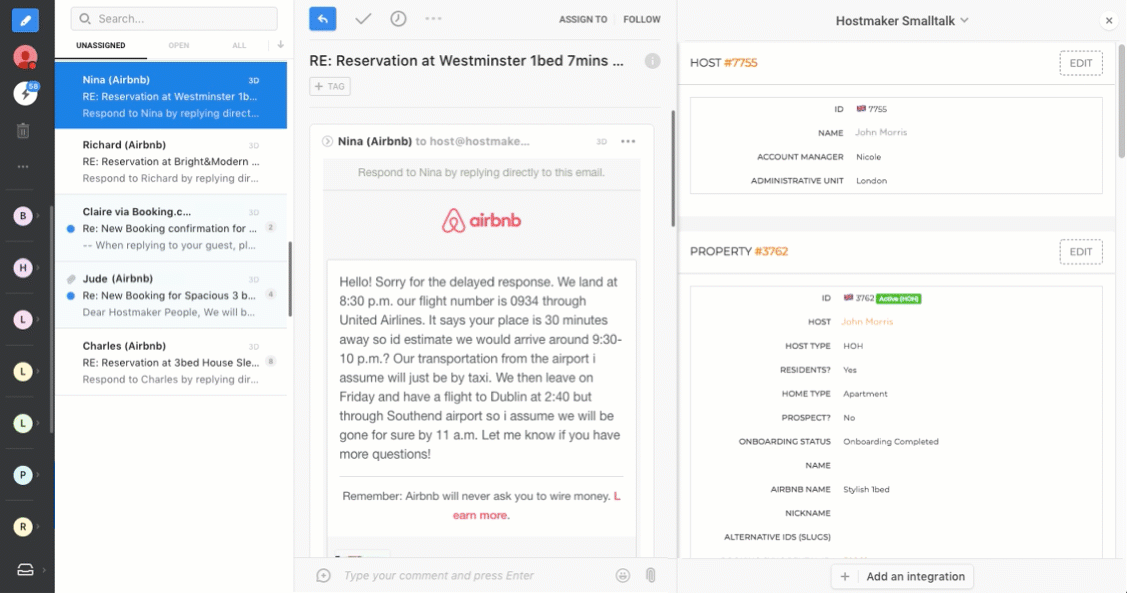 Hostmaker communicates with hosts and guests through Front across all of their locations: London, Paris, Barcelona, Rome, and Lisbon. Their Front plugin enables their guest services team to pull guest information from their database by matching the email address of the open message, allowing them to work faster and stay focused on messages in Front. Account managers can write notes, adjust reservation dates or check-in times, and look up answers to common questions — like how to work the dishwasher. The account manager can quickly relay that information to the guest without skipping a beat.
They've also set up webhooks that identify the right account manager for the property in their backend to assign messages to that team member in Front automatically. Next, they plan to build a similar plugin for their host services team to give them the same access to important information and updates without leaving Front.
3. Beyond Pricing
How this rental pricing platform delivers personalized support
Ever wonder how you ended up paying that price for your Airbnb or VRBO rental? Beyond Pricing might be the answer. They power dynamic pricing for more than 20,000 property owners and managers around the world to help property owners boost their revenue, while keeping costs low for renters based on what's available.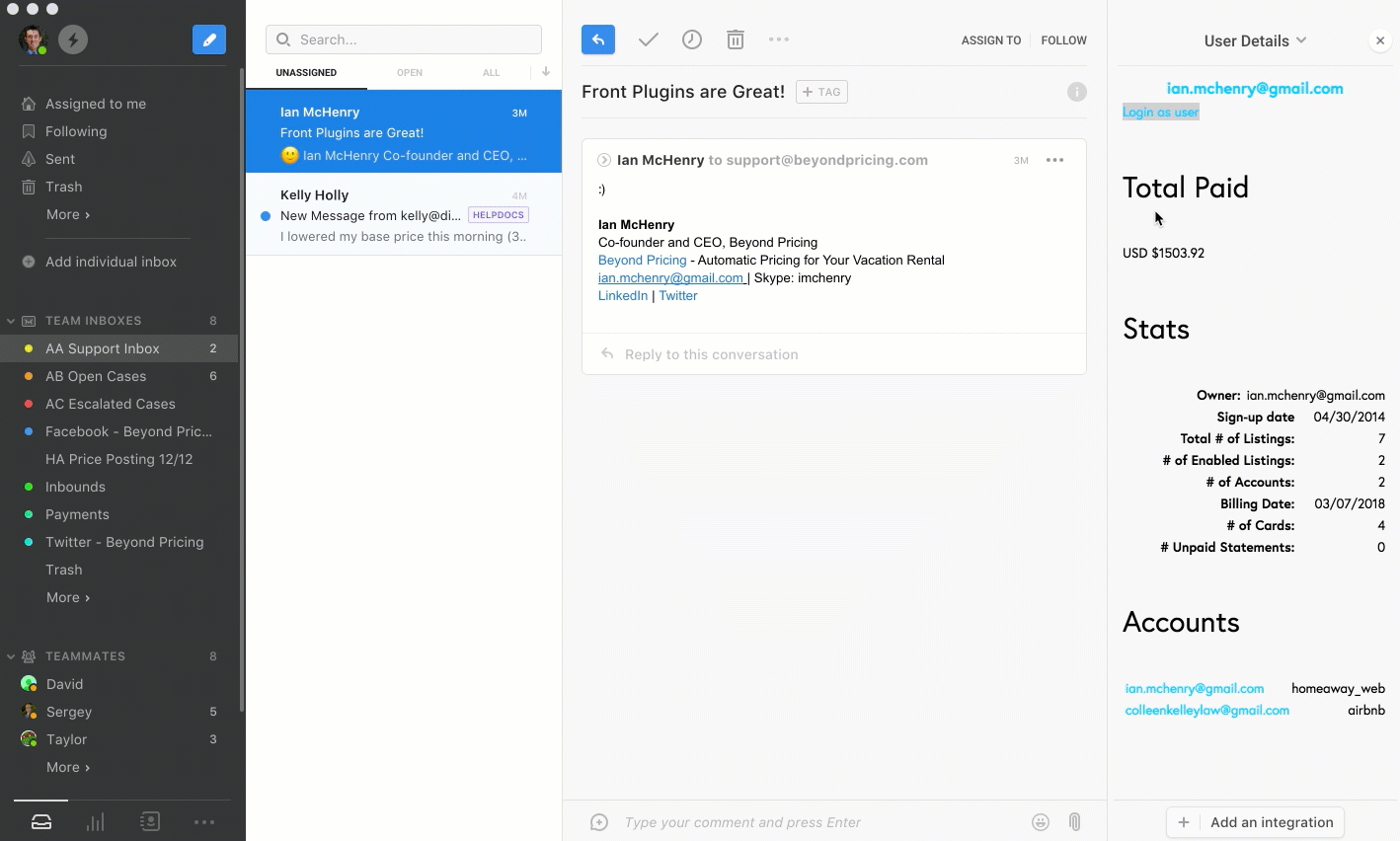 The Beyond Pricing team supports their customers in Front over email, Twitter, and Facebook. They chose Front for its personalized feel: messages look like they were sent from someone's regular inbox or directly from Twitter or Facebook, rather than being transformed into tickets. Their Front plugin allows them to quickly look up existing customers and prioritize new leads to see whether they've connected their Airbnb or other rental account, how many properties they have, their revenue history, and other details.
From there, one click takes them into Beyond Pricing's admin console, where they can quickly debug an issue. Having their customer data accessible in Front allows them to work quickly and efficiently, instead of jumping between tools to look up the information they need to respond.
4. Platzi
How this e-learning platform cut their response time
Founded in 2013, Latin America-based Platzi empowers students to learn the skills they need to succeed in technology careers: SaaS and growth marketing, programming, data science, UI design, and more. Given their company roots, they also specialize in Spanish language courses and offer more than 100 courses — and counting.
Their Student Success team manages communication with current and prospective students through Front over email, Facebook, Twitter, and reviews in the Google Play Store for their mobile app. They previously would look up student information in their CRM, but they found the back-and-forth between their CRM and Front was slowing down their team's response time. Now their custom plugin displays these profiles directly in Front, so they can see details like the student's name, Platzi username, country, and subscription plan at a glance.
Platzi also used the Front API to tag conversations according to the student's user type: paid, free, or new users not yet on a Platzi plan. Automatically sorting messages helps them prioritize their queue to ensure they're getting back to students as quickly and personally as possible.
Feeling inspired?
Ready to build your own custom plugin for your Front team? You can get started by taking a look through our Plugin API docs. Feel free to reach out to us, too — while we don't offer development services (yet), we'd be happy to help answer technical questions that come up while you're building!
Written by Sarah Spangenberg
Originally Published: 17 April 2020