Sales are closed over the phone and in person — but that's not where the majority of sales reps are spending their time.
Your team is busy sorting email, manually entering data, or sifting through lead information in their CRM. Before every customer interaction, a rep has to hunt for information that's siloed across tools. Afterwards, they're expected to update information across all platforms.
With this amount of operational overhead, it's no wonder 45% of all sales reps don't hit their quotas.
The problem is that common sales processes often set reps up for failure. Information isn't easily accessible, so reps have to spend a lot of time on administrative tasks to move the needle forward. It's been accepted as a necessary evil of the job, when it doesn't have to be.
A shared inbox can serve as your sales team's "command center". You can have all the information from your lead gen tool, your email, and your CRM feed into one place. Whether a rep needs to see the conversation history of client or fetch a phone number, they can get it from the same tool — without context switching or wasting time.
Here's how a shared inbox like Front for sales can raise the ceiling on what's possible for your sales team.
1. Context across every channel.
Front brings together email aliases like sales@ or hello@, live chat providers like Intercom or Olark, social media channels, and more. With every channel in one place, reps can respond to leads no matter how they reach out to your team — allowing them to cover more ground without switching between tools. Looping in teammates is easy with internal comments and @mentions alongside every conversation, rather than creating duplicate conversations or copying information across tools.
2. Read receipts and automatic follow up reminders.
80% of sales take at least five follow-ups, so create a system that doesn't let important leads fall through the cracks. Set reminders after every email to a new lead, so you don't have to remember to follow up later. Front's read receipts also let you see exactly who has viewed their messages when.
3. Integrations connect your apps to your inbox.
Establish Front as your home base. Native integrations with CRMs like Pipedrive and Salesforce, chat tools like Slack, and user data platforms like FullContact make it easy to connect all the apps your team uses directly to your inbox. Reps can save notes and activity history on a lead or edit deal information directly from Front. After all, having information on your prospect is key for closing a deal and simplifying your sales process.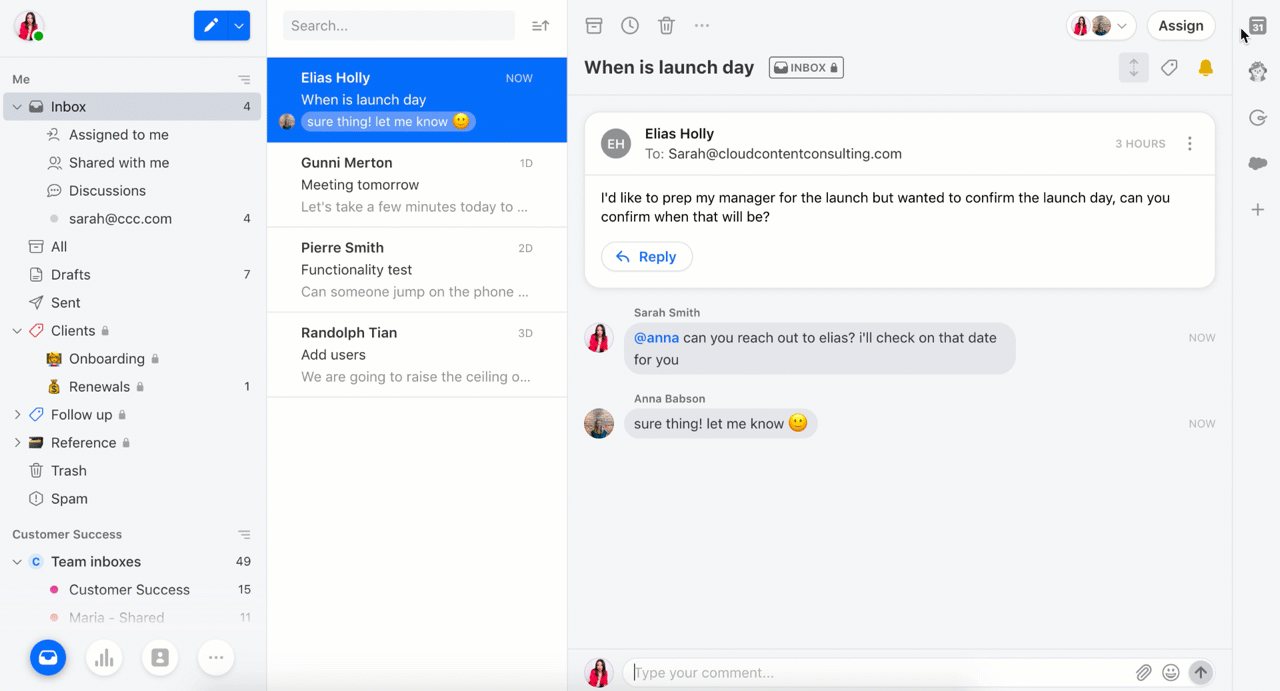 4. Custom organization with rules and tags.
Rules make it easy to assign new leads automatically or tag messages based on keywords in a message, so reps spend less time organizing their shared inbox. Assign your leads to different stages using tags, so when an email comes in you know exactly where they are in the funnel and what needs to be done next. You can even choose emojis for tags to identify lead stage at a quick glance.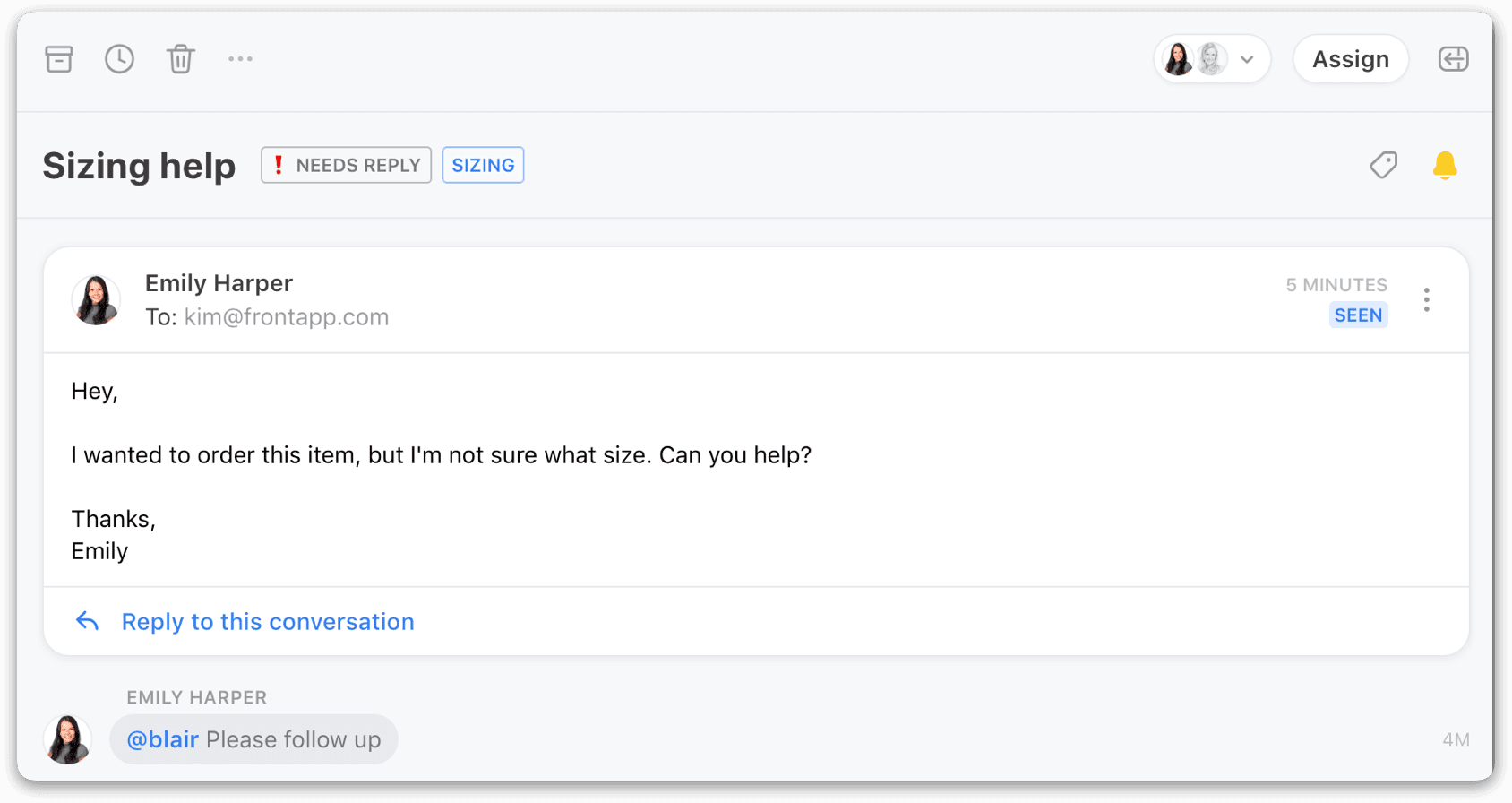 With workflows centralized in Front, reps can spend less time on operational tasks and more time selling.
5. More transparent for your team.
The right tools can help any manager be a more valuable resource to their team. Too often, managers have limited insights into the day-to-day, so they can only look at success metrics after the fact. They might know things like average time-to-close, win rate, or number of cold calls made, but they don't have visibility into the work behind the numbers.
A transparent platform like Front changes that. Managers can view more than just analytics; they have access to the conversations that led to those reports — so when the numbers point to either a problem or a fantastic result, managers can understand the underlying causes.
Front helps managers get more insight by:
Bringing every message into one shared inbox.When your entire sales team operates from one shared inbox, you have a complete picture of your funnel – every conversation with every lead. Messages sent to the team inbox (through sales@, Intercom, Aircall, or other channels) are still assigned to individual reps, so no leads slip through the cracks.
Following conversations with leads.Front lets you "follow" conversations, so you have visibility into how your reps are communicating with leads at various stages of the funnel. For example, if a new rep is working with an important lead, you can follow their conversation and collaborate with the rep through comments.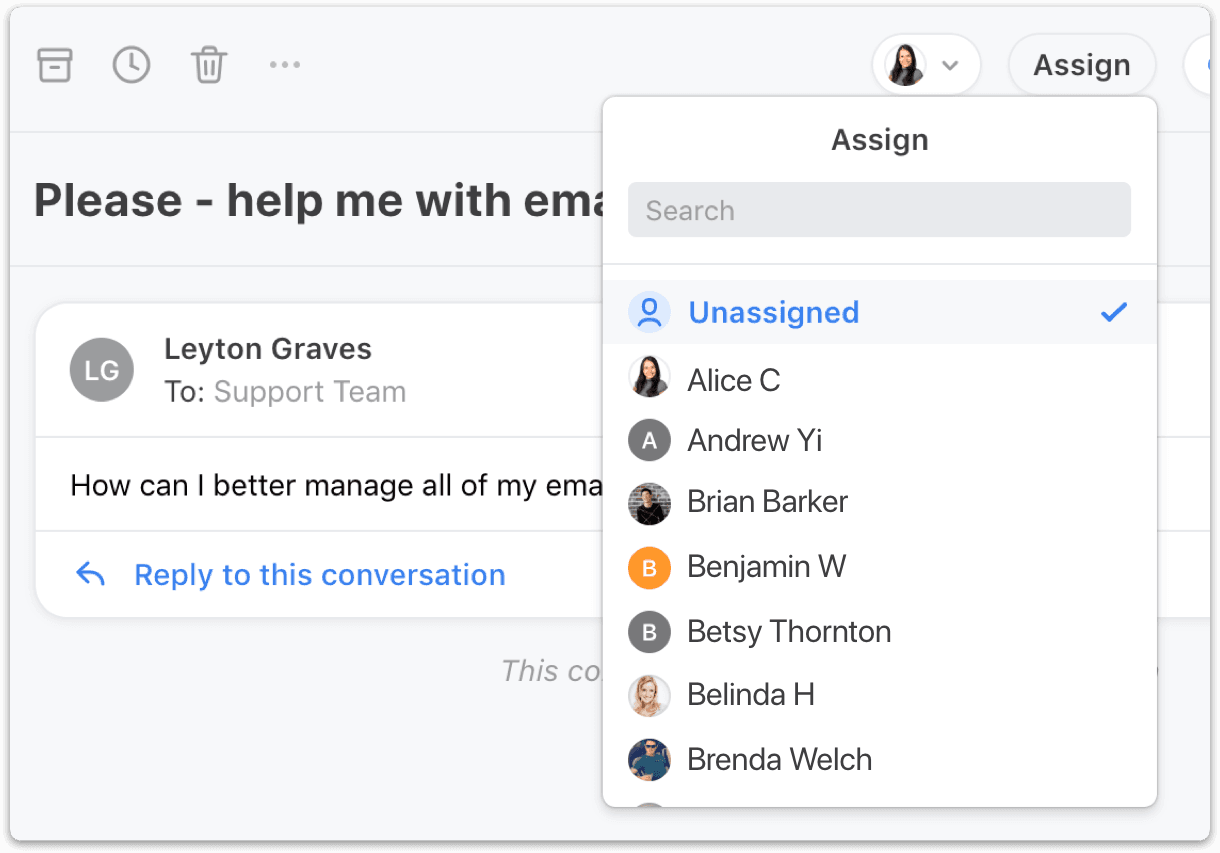 Sharing drafts with sales reps.One of the best ways to lead is by example. Front enables you to create template responses, so your team can model their emails after a great example. Reps can also share drafts with you when they want guidance or help with wording on a message before they reply.
With Front, you still have the analytics you need as a manager — but you're also equipped to look past those analytics. You can establish a performance baseline, test new approaches, and continue iterating over time to improve and grow your sales team.
6. More efficient for your reps.
When you're a sales rep, every minute counts toward closing opportunities. However, according to CSO Insights, only 33% of inside sales reps'time is spent actively selling. To juggle leads in all stages of the funnel, sales reps are forced to switch context and repeatedly look up the same information. Operational inefficiencies can make it difficult for sales reps to succeed, resulting in frustration and lost revenue.
Set your sales team up for success by building efficiency into your sales cycle by design. That means reducing the need to context switch, streamlining how data is transferred between tools, and surfacing lead information where it's needed. Front brings all your communication channels into one platform, so it's easy for your reps to work efficiently.
7. Unite your team around one tool.
Sales reps should be chasing down leads, nurturing relationships, and closing deals — and if they're not actively selling, they should be honing their craft and focusing on their professional growth. Not only does that bring the business revenue, but it keeps the employees engaged. With annual turnover on sales teams lingering around 25%, the last thing you want to do is overload your team with administrative duties.
A shared inbox cuts out unnecessary overhead from the sales process. With Front, sales reps have everything they need at their fingertips, so they can focus on their customers instead of operational overhead.
Closed the deal? Read How to master the Sales to customer success handoff to guarantee a smooth transition.
Written by Olivier Casassus
Originally Published: 17 April 2020