True story: back in the office days, a few Fronteers once stood up to present at all-hands and started rapping, complete with dance moves, hats, and lyrics that showcased their goals and achievements on business development.
Looking out over the rest of the company that morning, faces showed a mixture of surprise and joy, and when you think about it, what more could you ask for when you're getting the entire company together under one roof?
All-hands meetings are often seen as synonymous with lifeless sessions that aren't any more relevant than they are interesting. But at Front we firmly believe these meetings don't have to be the bane of the workweek (and you don't have to rap every time, either).
We meet for all-hands at 9:00 every Monday morning. These gatherings have become a cornerstone of our culture, a time when we can really live out our values. Since many Fronteers say they truly enjoy our all-hands meetings, we thought we'd share our playbook for anyone to customize for their own company.
What is an all-hands meeting?
If you've ever gathered your entire company together in one place (either physically or virtually), you've led an all-hands meeting. Content will vary from organization to organization, but common themes include:
announcing new initiatives or company news

providing updates on products

offering financial overviews

celebrating notable successes

pointing out opportunities for improvement

offering a chance for team members to ask questions
How often all-hands meetings are held depends on the company as well. Some execs choose to bring their teams together weekly (like we do at Front). For others, once or twice a month (or even quarterly) feels like a better fit.
The key benefits we find from our all-hands meetings
We asked the team what they like best about our all-hands meetings:
"It energizes me! A Monday morning 9am may not be everyone's cup of tea, but for me it helps me transition back into work mode and gets me excited about the rest of the week." - Raymond Luong, Software Engineer
"It helps me refocus on big picture thinking. Sometimes it's easy to get caught in the weeds of a problem you're too close to but all hands sort of helps you hit refresh and remember those big picture goals more clearly." - Nico Ramirez, Mobile Product Designer
"It gives me a better image of where Front is heading. I am also continuously amazed by my teammates and their work, which inspires me to go the extra mile at what I do." - Mohamed Ghobara, EMEA Business Development Representative
"They help by upholding our values like Transparency and Low Ego by sharing a lot of information, but also including speakers who wouldn't normally have a presenting role." - Erica Lubitz, Solutions Engineer
"I'll never again in my life take for granted the community and connection you get from something as basic as an all-hands meeting. Front takes care to make each meeting joyful and to amplify voices from all across the company. It helps me feel like what I do makes a real difference for my co-workers!" - Matt Klassen, Content Marketing Manager
When done well, all-hands meetings offer an ideal opportunity to energize and inform your entire company, building a stronger internal communication muscle and making the team happier at work. They have become a cornerstone for us as we aim to build a company culture that values transparency and seeks to engage the creative energy of all team members.
What should you include in your all-hands meetings?
Of course, there's no "right" way to hold an all-hands meeting because different companies have different priorities and team sizes. But here are some key components we include in our all-hands, which you can take and customize to create an agenda your team will actually look forward to attending.
1. People first
Get the energy flowing in the right direction by highlighting people first—this is what we do at Front. New hires always start on Mondays, so we start off the meeting with a warm welcome for them. Ask newbies (ahead of time) to share something unique about themselves and/or why they chose to work at your company. We do this, but we give new hires one week to settle in before presenting, so they give their quick intro on week 2.
This works great because people like people—it's fun to see new faces, and it's an engaging way to start the meeting, especially when you're on video.
2. Big life events
Depending on the size of your team, all-hands might be the perfect time to highlight what's going on outside the office. Babies, engagements, kids' accomplishments, achieving personal goals, and other major life milestones are all worth celebrating as a team. If you're a team of hundreds, this might not apply to you, but for more intimate or smaller companies, this is a chance to remind everyone that the people you're working with are, well, humans!
3. Results and numbers
This is where the transparency happens for us. We go over sales numbers, marketing leads driven, churn, and other key metrics regularly. We have slides we update each week that track our pacing towards quarterly company OKRs. This way, no matter what department you're in, you've got a sense of what we're all working towards and how it's going. If we're behind, you can ask about it, and leaders can explain why. If we're doing great, we go over what we've done to get there and how we will replicate it.
This segment is so important to us, and we adjust it often to make sure we're giving a useful amount of information that everyone can actually understand.
And yes, we usually put smooth jazz in the background when we go over the numbers.
4. Jobs well done
Public recognition for a job well-done can go miles for making the team happier and more engaged. Provide a segment for recognition—and be sure to spread out the wins so shout outs are distributed across teams.
At Front we do this through our Fronteer of the Week nominations. You can nominate a teammate for work that goes above and beyond while highlighting our values, and each week we showcase a winner in all-hands. When we were in the office, we even had a little LEGO trophy that the winner gets to keep at their desk for a week.
Here's our customer support representative Lemuel with the Fronteer of the Week trophy.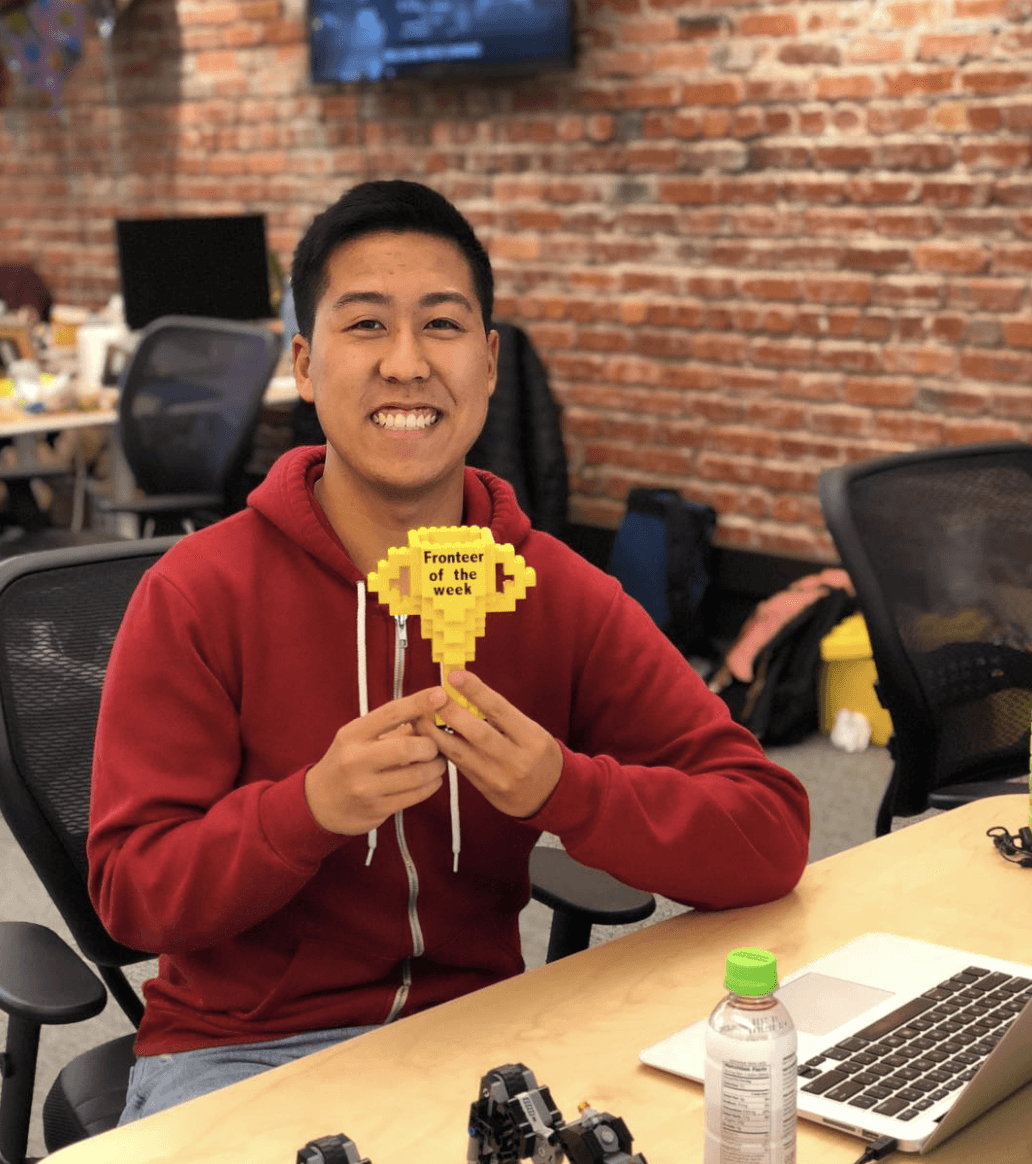 Customer support representative Lemuel with our Fronteer of the Week Trophy, a weekly award for exemplary work
5. Challenges and opportunities for growth
Everyone is human, so keep failures and learnings central to your all-hands agenda. This is great for several reasons: sharing failures is one of the best examples of transparency you can set for your team, it encourages people to take risks (hopefully calculated ones), and it establishes trust. Sharing challenges like a product launch that went astray or a difficult financial loss is all part of building trust. Always follow up admissions of failure with lessons learned and your plan for addressing problems for the future.
We do this through our Stumble of the Week. It's a self-nomination, so you offer up something you fumbled on in the past week and share what you learned with the company. It's a great way to get everyone accustomed to talking about mistakes, and lets everyone know that errors are accepted and not ridiculed on our team.
6. Guest speaker spotlight
Most all-hands meetings feature a speaker from either within the company or outside. Inside speakers might be project leads providing a behind-the-scenes look at the products or initiatives they're working on. Outside guests could include an industry leader or someone working at a company in a complementary field.
In the past at Front, we've held Lunch and Learns separate from all-hands meetings, but there's no reason they couldn't be all in the same session. During these meetings, the entire team is invited to hear an outside speaker and ask questions. We've brought in all sorts of leaders, including Ben Silbermann, CEO of Pinterest; Steve Good, executive director at Five Keys Schools and Programs; and Jay Simons, the former president of Atlassian, in the photo below.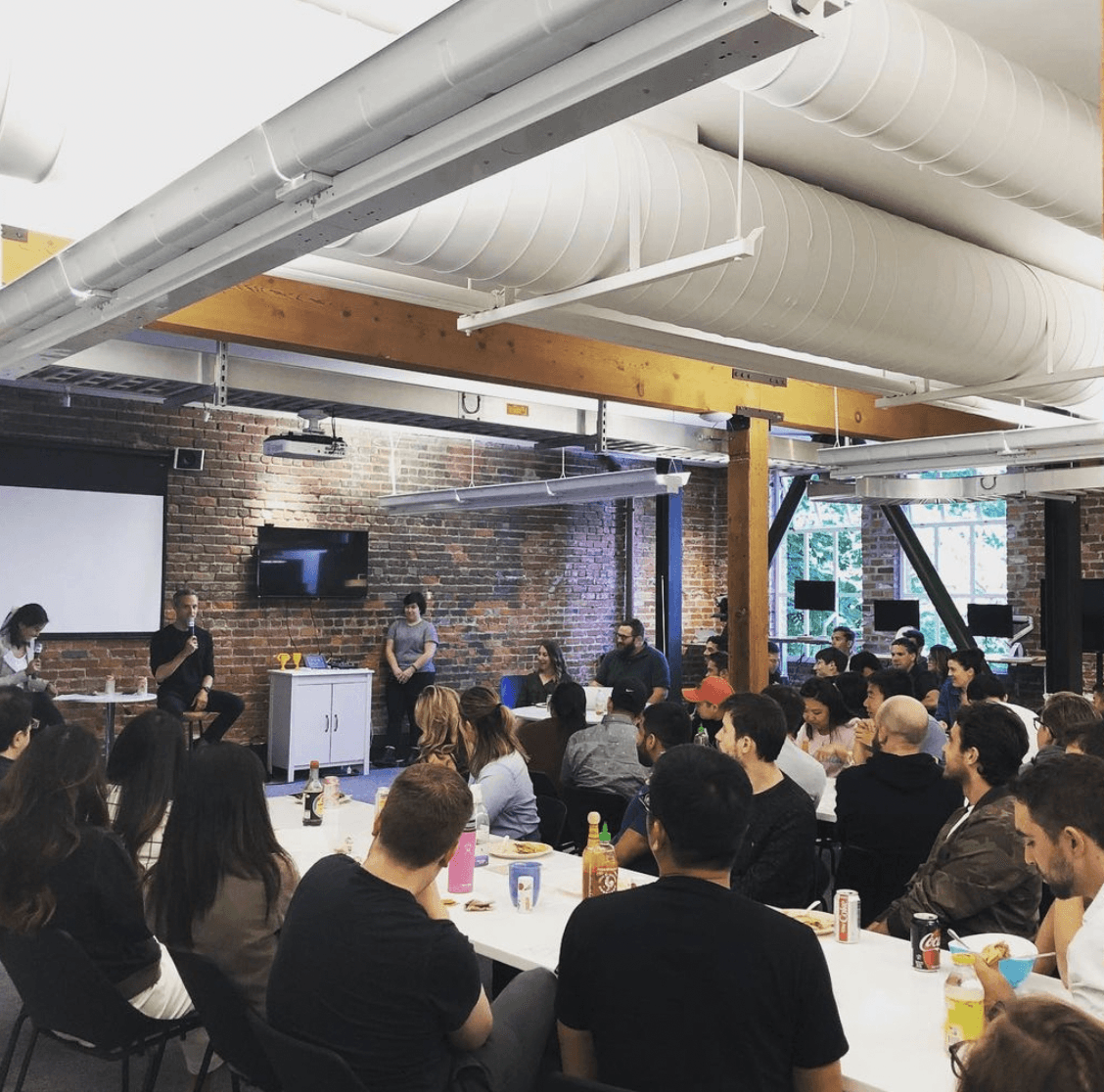 Former Atlassian President Jay Simons speaks for the entire company followed by a Q&A
7. Customer spotlight
All-hands meetings are an ideal venue to educate the whole team on customer feedback and experiences. These stories can provide valuable insights that team members can use in their work. Share details like how a new customer closed, the specific pain points your product addressed, or the customer's results with your product. You can get fun with these too, and have different parts of the company share their interactions with the customer. An account executive can share how a deal closed, a product manager can explain how a new feature impacted a customer, a marketing teammate can go over the customer lifecycle, or a finance teammate can share details on the payment and billing experience.
How do you make an all-hands interesting?
If the mere mention of a company-wide meeting sends your mind scurrying for something to occupy an hour of intense boredom, you're not alone. With the right amount of pizazz, all-hands meetings can help build a culture of transparency at work and encourage better team collaboration by bringing people together. Here are four ways to spice it up and keep things interesting so no one gets caught snoozing on video.
1. Kick off with an icebreaker (and some funky music too)
Even the most eager crowds need to get loosened up a bit, especially over video. Our Head of Product Nate Abbott doubles as a DJ for all-hands and queues up fresh beats for 5 or so minutes prior to the meeting. That way when everyone jumps on, you get a little dose of energy and have something to discuss in the chat.
You can also try opening with a trivia question or a brief, light-hearted Kahoot quiz where everyone can participate using their smartphone. Another alternative for big groups that's super simple? Pose a question for everyone to answer in the chat. It'll get people engaged before you start.
2. Choose an MC who enjoys it
When picking an MC to host your all-hands, choose someone who's personable and actually enjoys working the crowd. This individual doesn't need to be moonlighting at a standup comedy club, but their vibe does need to be positive and energetic. It's also a great opportunity to leverage the skills of someone who has this spark, but doesn't get to fully utilize it in their day job. Also consider alternating MCs to add some variety and let different people across the company take the spotlight—it doesn't need to be someone who is a leader or manager. In fact, sometimes it's better if it's not.
Our Account Executive Sebastian Diaz Carballeda Dominguez has been the MC for our all-hands for the past few months.
3. Make the deck count
There's nothing that makes people zone out faster than sitting and listening to someone talking for 30 minutes straight. Invest in the slides—our CEO Mathilde shared her all-hands deck template here for your inspiration. We like to start the deck with our company mission as a weekly reminder, and then we keep a standard format for the rest so it's easy to plug things in week after week. To mix things up, it's also good to drop in some interesting multimedia elements like a video presentation or a photo montage.
4. Showcase your in-house talent
You've got talent on your team, whether you know it or not. Tap into the skills of your people to compliment your agenda. You could ask team members to share talents via a poetry reading, live music, or a trip report from a recent adventure. Back in the days when we were in the office, our head of recruiting did a live fencing demonstration in all-hands.
Our Head of Recruiting gives a live fencing demonstration during all-hands
How do you run an all-hands meeting (remote or in person)?
Here are a few tips based on our own experience of running all-hands meetings to help you and your team get the most out of these gatherings—whether you're remote over video, in the office together, or a mix of the two.
Use video
Many companies have teammates represented over a large swath of time zones, so ensuring that everyone's included can be a challenge. With remote work rapidly becoming the norm, using video to broadcast your meeting is essential. Time your meetings at a point in the day to allow for maximum live participation. We have most teammates in California and Paris, so Monday morning and Monday evening align nicely for those time zones.
Record your all-hands meeting so anyone who missed it can view them at the beginning of the next workday. Invite team members who can't participate in the live sessions to record questions or updates so they can participate more fully.
Let the people ask questions
For Q&As, we leverage Slido, which lets teammates submit questions, and the rest of the team can upvote their favorites. This is great for keeping teams who might not be online in the loop and getting their questions answered.
Offer treats or coffee if you're in person
Fact: people gravitate towards food. If you want your people to come running to your all-hands meeting, providing a little snackage is never a bad call. When food sharing is a safe choice again, offer coffee, water, or some treats for your team to snack on. One thing our team loved in particular for mornings in the office was a variety of filled croissants (chocolate or savory). People come quickly when you post a photo like this on Slack: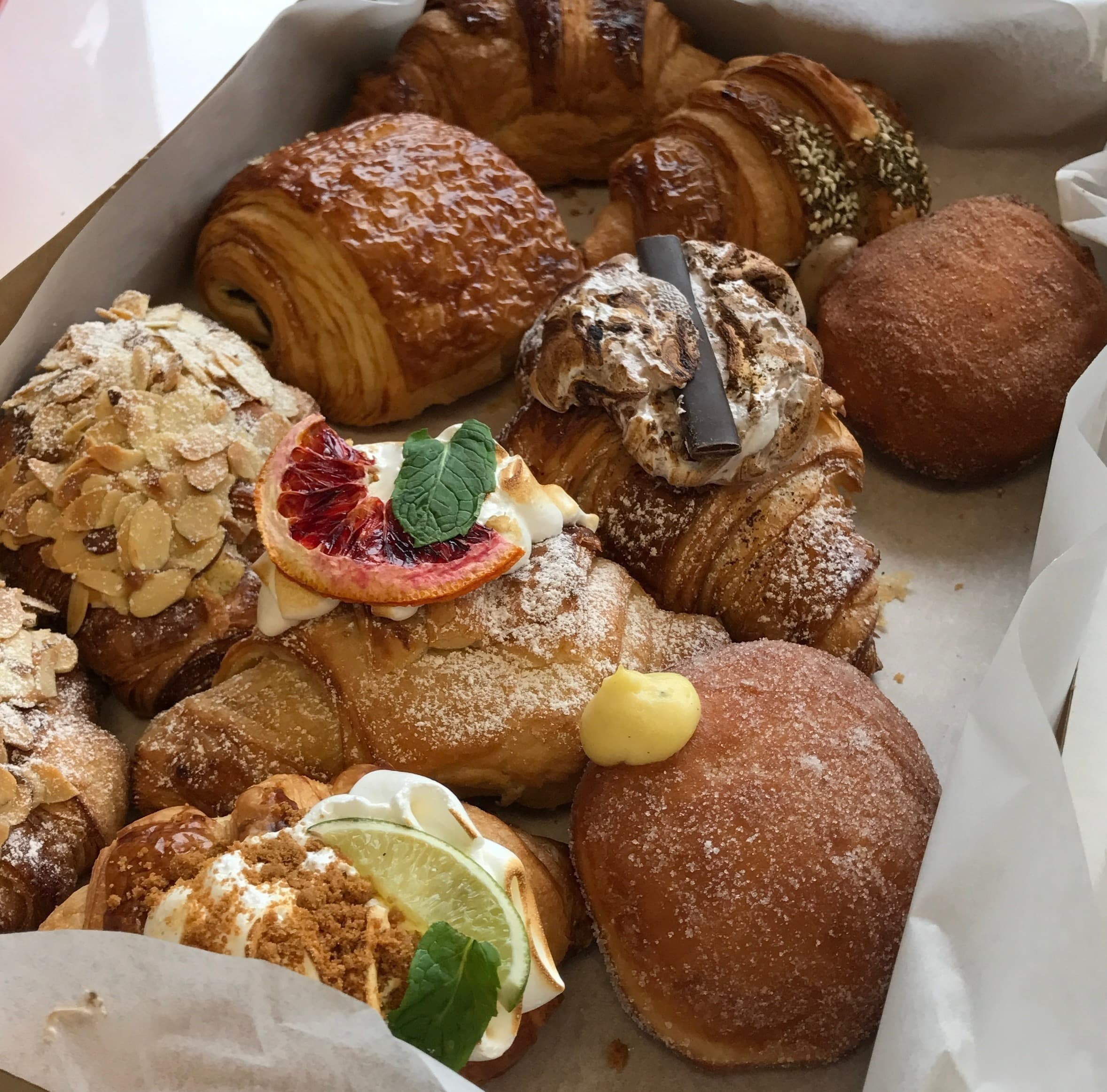 Croissants keep people running to all-hands in the morning
No more boring all-hands meetings
All-hands meetings reflect the effort you put into them. Done well, they offer a chance to energize your team and infuse transparency into your company's culture. The information you share and how it's presented can get your people excited about what's been accomplished and the opportunities that lie ahead for your team.
Are your team meetings inclusive? Read Lessons on inclusive collaboration from author and professor Jodi Detjen.
Written by Laura MacPherson
Originally Published: 26 February 2021