Transparency is one of our core values at Front, which means we put a lot of thought into internal communication. Whether it's "How do I book a meeting room?" or "How are we doing on our revenue goals?" we want everyone on the team to feel empowered to find answers and ask questions.
These are some of the initiatives we've used over the years to stay transparent and get all Fronteers the information they need, when they need it.
1. Put together an employee handbook
It's great to have a single source of truth that your employees can reference when they need to know the basics. That's why many teams create an employee handbook. It can cover any essentials that employees might have questions about while working there — and it serves as a great onboarding tool for new teammates, too. In your employee handbook, you can cover:
Company mission

Team values

Office policies

Office map

Emergency plan

Address and phone for all office locations

Important contacts (who to call/ask when…)

Meeting policy (which rooms to book, how to book)

Budgets and expensing

Employee referrals

Hardware policy (laptops, headphones, desk equipment)

Time off policy (vacation, sick days, volunteer days)

Benefits and perks

Transportation suggestions (fastest, cheapest, and safest ways to get to the office)

Neighborhood guides for all offices (helps when employees are visiting other offices!)
Of course, your handbook will be most helpful (and is more likely to be read) when it's very specific to your office and team. It can — and probably should — grow over time.
You can put your handbook in whatever format works best for your team. It can be as simple as a Google Drive shared with the whole team, or a scaled handbook solution like Blissbook or Airmason. Ours lives in Dropbox, where we can all find it and reference it easily.
2. Schedule an All Hands meeting
Another old trusty? The All Hands meeting. It's a very common internal communications method for a reason: it's a great way to communicate to everyone on your team, all at once.
But be careful — All Hands meetings can end up feeling like a waste of time for certain people if they're not structured right. Since you're taking time from every person on your team, make sure to plan the agenda so that it feels worthwhile and relevant for everyone.
Our CEO Mathilde Collin wrote her tips for an effective All Hands meeting. Ours is held weekly, every Monday in our HQ. Our Paris office and remote employees video in. Mathilde argues that it works so well for us because we've made it a repeatable, turnkey process. It helps align us all on what's happened in the past week, and what we need to focus on for the week ahead.
Here's what we cover in every All Hands:
New hire introductions: In your second week, you can introduce yourself, share first impressions, and tell everyone about a fun fact or hobby you have.

Product update: We track key metrics like NPS, feature engagement, and free trial to paid conversion.

Revenue update: We go over revenue, leads, CSAT scores, and a customer highlight.

Special topics: We announce new campaigns or updates that the whole team should know.

Weekly awards: We celebrate a Fronteer of the Week and a self-nominated Stumble of the Week.

Mathilde's Musings: Mathilde shares news, industry findings, people updates, or anything that's top of mind and relevant for the team.

Q&A: Anyone can submit questions prior to All Hands to be answered by the leadership team.
Mathilde published a template for our All Hands meeting deck on Google Slides. Feel free to use it for your All Hands!
3. Develop a culture book
Values are very important to us at Front, so we wanted to make sure we're actually putting the values we decided on into practice each day. To do this, we made a culture book.
Every employee receives a physical booklet on their first day at work. It's also available publicly on our blog, The Front Culture Book, so that anyone can read up on what's important to us.
In the culture book, employees can find:
A letter from Mathilde. The letter is to all new employees, with details on our company mission and how it came to be.

Our values and their definitions. Our values are collaboration, transparency, care, low ego, and high standards. Since we know these words can often feel ambiguous, we included definitions and concrete examples of ways our team lives them out each day at work.

Our commitment to inclusion. We are always working to build an inclusive workplace, so we also cover the commitments we are making to empower all people.

How to be successful at Front. Here we detail the processes we have set up to help everyone do their best work at Front.
4. Write up an internal communication guide
Since we're big communication nerds 🤓, our people team wrote up Front's Guide to Productive and Effective Internal Communication. In it, we list guidelines for communicating with each other at work, so that everyone is on the same page. It helps us all work more productively. In the internal communications guide, we include things like:
How to determine when to send an email vs. send a message vs. hold meetings

Do's and don'ts for emailing and messaging

What to include in a meeting invitation description
You can feel free to adapt ours for your own team, or write one of your own from scratch. Bonus — an internal communication guide makes a great addition to your employee handbook!
5. Send a consistent weekly update email
Email is a light-weight way to keep everyone aligned and in the loop. The tricky part, however, is making it useful for your team, so it doesn't end up as inbox fluff (hello, auto-archive rules!)
In an interview with First Round Review, Mathilde explained that the key to making these emails impactful is consistency. She sends it at the same time, with the same format — and she's never missed one in the past 4 years. It also sets an example for the team, showing the importance of metrics-driven leadership and accountability.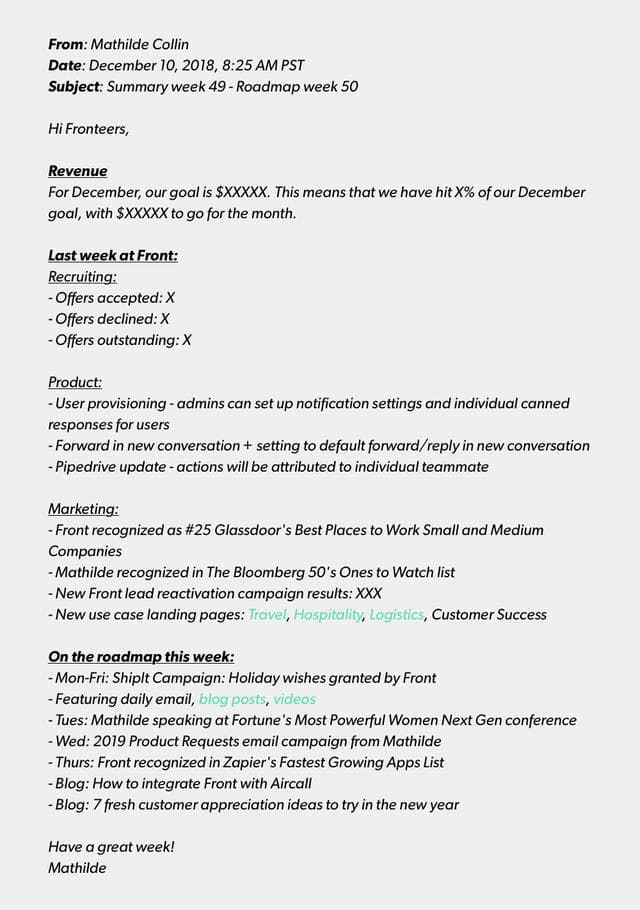 6. Build a one-on-one meeting process
Internal communication involves your leadership communicating with the whole company, but it also includes managers communicating with their teams. For this, we've developed a process for every manager to hold successful one-on-one meetings with his or her direct reports.
These are the meetings included in our process:
Weekly one-on-one

Monthly check-in

6-month career development check-in
In each one, managers and employees cover slightly different topics. The weekly one-on-one is for updates, to work through problems, and remove blockers. The monthly check-in covers broader issues, what you're liking about your job, what you're disliking, and what you think should change. The career development session is for talking through long term goals and ways to get there.
In our one-on-one meeting templates, we include questions for managers to cover, like these:
How are you?

What's the progress on items from last week?

How can I help you with these?

What can I do better?

How is our 1:1 working for you?

How is the team is doing?

How can we make things better?

How can I help with anything?

How do you feel about your goals for this quarter?

What can I do to make your professional life better?

What's the biggest problem of our organization?

What would you like to improve next quarter?

What would you like to achieve by the end of the year?

What would you like to learn?

If you were me, what would you do differently?

Is there anything I could do to invest more in your growth?

In the next month, what would you like to do differently from last month?

What's the split of your time today between X/Y/Z? What would you like to spend more/less time on?
You can read more in our blog post on how to run a successful one-on-one meetings. We've also put all these one-on-one meeting templates in Google Docs, so anyone can download and use them for their own meetings.
7. Host regular ask-me-anything sessions
Every two weeks, Mathilde blocks off a 30-minute window on her calendar. It's called "Mathilde is free to chat about anything." All employees are invited. We can ask questions, bounce off ideas, or just say hello. She's held the session for years, and it's become even more valuable as our team has scaled.
These are a few of the initiatives we use at Front for internal communication. As we grow, we're constantly reassessing them to make sure they're still working for us. What works when you're small won't always cut it when you're large, but developing the habits early on will help set you apart.
Looking for more internal communication ideas?
We worked with HubSpot to develop a Guide to Strong Internal Communications for Startups. It's a Google Drive with examples from CEOs at Front, HubSpot, and other high-growth startups like Drift, Guru, Bonusly, and HelpDocs.
Written by Emily Hackeling
Originally Published: 17 April 2020