A few weeks ago, we hosted two leaders of the logistics industry and Front customers Jay Gustafson, EVP of Brokerage Operations at Echo Global Logistics, and Will Kerr, CEO at Edge Logistics, for a fireside chat in Front's Chicago office.
It's been a busy past couple of years for the freight industry - in 2020 and 2021, businesses faced a supply chain crisis, unprecedented demand, and super tight truck capacity. Last March, the market started to change, and continuing into 2023, we've seen a significant slowdown and softening of the market. In a soft market, demand for transportation capacity falls short of supply of transportation capacity, and this results in carriers reducing prices to prevent downtime and keep trucks moving.
We wanted to know: what are Edge and Echo doing differently during this time, and what should other logistics leaders be thinking about? Here's what Jay and Will had to say on what they're focused on and the future of the market. 
How are you navigating the soft freight market?
Jay: In freight, things go up, and things go down. Right now, we're really focused on ensuring our success in the current cycle and putting ourselves in as strong of a position as we can for when the cycle does flip and freight's falling from the skies. Two things stand out as current priorities:
Instilling a culture of continuous Improvement. When the market was hot, it was tough to look deep into internal processes and external processes that support our shippers and carriers, and we think it's really important to use this lull right now to understand where you can drive a better operating procedure and better results for your partners.

Technology investment. If you start to invest in technology when the market's soft, by the time you implement anything, it's going to be tough to reap the benefits of it. We're in this constant cycle of assessing: do we build new technology or do we partner with third parties to move faster? We've used this time to double down on that continuous improvement in digital transformation.
Will: In a soft OR a hot freight market, we need to think about revenue dynamics and revenue per load. As freight brokers, we tend to make somewhere between 10% and 18% on a transaction. When the revenue gets challenged, and revenue per load goes from $2,000 a load to $1,000 a load, all of a sudden that margin opportunity really starts to dry up. The question is: What do you do about it?, What's the answer?. And, you know, for us, there's a few different things that we really try to focus on whenever we get a challenge.
The very successful cases we have going right now are relationship focused, where we have a long-term strategic vision of doing business with the customer or the carrier. Create not just a "what you've done for me lately" or "are you the first, cheapest carrier," but a contracted and a spot relationship and vision for doing business with each other for a long time. 

Focus on operational efficiency. Whenever revenue per load is really high and everybody's got freight coming out of their ears, it's easy to just hire more bodies and seats, plug it in, post the loads, take the call-ins, whatever it is that just gets the trucks there. That stops working whenever this sort of thing happens, and this happens a lot in this business. You just have to really be honest with yourself about what's working and what's not working and focus on repeatable, predictable processes and doing more with less. Be honest about "we made decisions in the past based on the information that we had available in the market that we were in," and "those things have changed so now we have to act accordingly." The longer you hold onto things, and the longer you try to run processes that aren't producing margin or aren't creating enough margin opportunity, the harder of a time you'll have getting through a cycle.
What are you doing strategically to establish relationships, build trust, and deliver service right now?
Will: On the carrier side, we're focused on carrier relationships, bringing carriers freight that they actually want not just calling them and trying to book an empty truck today, but bringing value to them. 
For customers, it's all about winning on a carrier scorecard. Customers have gotten really good at managing their carrier networks over the last 10 years. I think Jay can remember the day where we would get an inventory report at the end of the month and they'd be like did all these loads deliver?, and you're like, you bet they did! and that was pretty much it. Those days are long gone. The customers will tell you pretty much exactly what they want. They want tender acceptance - 97% or higher - on time delivery, 95% or higher, and on-time pick, right in-line with on-time delivery.
So what do you have to win on? Active participation, communication, and performance. If you do all of those things and you're well organized and working with the right carriers, you should be able to perform really well in the soft market and set yourself up for good trust and success when volatility returns. 
Jay: If you read some of the industry press or FreightWaves or Inbound Logistics three, four years ago, you would have consumed media that told you technology is going to take over freight brokerage. If anything's been apparent over the last four years, its that technology in our industry matters. It's how we all do our jobs. It's how we connect with carriers and shippers. But, what really matters to all of the stakeholders involved, is the relationships - and I would say at Echo we really see this balance of relationship and technology being the winning formula. 
One of our slogans at Echo is Technology at your fingertips. Experts by your side. We really feel like that's the winning formula to support our partners. In this industry, you deal with lots of people. Email, phone, Teams messages now, and while there's an element of having to enjoy doing business with the person on the other end of that communication, actual results are what matters. Technology it's a key part of growing, it's a huge part of doing more with less, but if you don't have the reputation, if you don't have the relationship, if you're not reliable 24 hours a day, then technology doesn't really matter from my perspective.
What do you do tactically so the systems and processes you have in place enable you to exceed customer expectations?
Jay: I'll quote our CEO, who often says: A transportation company that's moving about 18,000 shipments a day is almost a data company. 
If we have 18,000 pickups, that's 36,000 stops at a minimum. Tons of transactional data happens from the moment that order is created to when settlement happens down the line. The way we meet these new expectations of shippers is understanding our transaction data. Not just playing Monday morning quarterback, saying this happened last week - but diagnosing the results, and also using that data to drive different outcomes or a more proactive customer service experience. Its being able to have your system understand when that truck stopped moving and is maybe at risk of making delivery, and you send out a notification or build out an alert within your TMS. That's how you can use data to meet these customer service expectations. 
Another important point: at Echo, we've got about 2,800 employees in 23 offices - many of them working virtually - and with Front, we've got team productivity data to understand what each employee does on a daily basis and how they operate. We're seeing email volume spikes when we didn't have enough staffing in place to support that inbound or outbound traffic, and we can now modify staffing plans based on more than a gut feeling.
It's a combination of looking at transactional data, driving action off of that, and then looking at some of this metadata we're now able to collect through an application like Front to really understand what roadblocks our teams are facing throughout the day.
Will: Everything we do at Edge from a talent management and human capital perspective, from technology and strategic partners perspective, and from a brand vision perspective centers around operationalizing our relationships and service strategy. In order to operationalize relationships, we need to communicate and understand where we can really bring value to the customer through sales and marketing, QBR, and understanding unique customer use cases. 
For the carriers, it's all about understanding what they need and which customers we have that can really mesh with them - not just trying to find the first cheapest carrier, but trying to find the best long-term fit. 
From a technology standpoint, we have a host of in-house proprietary operational efficiency technology for booking loads, for CRM, for managing marketing. We also have Front and many other third-party technology vendors that help us fill gaps in different communication goals that we have for customers. 
What tools are you currently using and relying on, and what's on the horizon that you're excited to adopt or on your radar?
Will: We've had a lot of really great long-term partners like McCleod software, TriumphPay, and Lean Solutions for development in Colombia. One new exciting company were working with right now is Highway, the carrier identity management company, that's really shining a light on some of the major systemic issues we've had in the industry. In my opinion, the big thing holding us back from the next period of great enlightenment in freight is fraud. Not just fraud from a criminal perspective, like double brokering but also fraudulent participation, committing to things that you're going to do as a business and then not doing them either from a rating perspective, capacity perspective, or a performance perspective. There's a lot of cloak and dagger, swap in and out type of stuff that goes on in this business, and until we're able to really make capacity tradable, we're not going to be able to go any faster than we are right now. Highway's done a really great job of helping weed out a lot of the fraudulent capacity in the market. 
Jay: We're early members in the Scheduling Standards Consortium. When it was announced last November, my ears instantly perked up. One of my responsibilities at Echo is focusing on not just how we drive automation, but how we improve the user experience for our people our carriers and our shippers. As I talk to people about time-consuming activities that they face day-to-day, scheduling appointments is almost always on the top three of the list from the Echo team. When we learned that this was going on, we thought it was an interesting way to get thought leaders across the brokerage, technology, and shipper space together to try to solve this problem. I'm pretty optimistic in terms of what standardization and connectivity between some of the big systems that are out there can do in this area. Nothing live yet, but I'm pretty bullish on what this group is going to be able to develop in terms of just the technology discussion in general.
One of the trends that we see emerging are new solutions for very specific transportation problems that we deal with day to day - as opposed to a single technology or company like they predicted five years ago. This gives 3PLS like Echo the option to buy versus build. And that's something that we constantly assess on our side with the logistics technology stack we have in place and the new product development we're doing in our internal, our carrier, and our client-facing applications. It's a huge part of our strategy, but I think we recognize there are these very interesting use cases in the industry that are starting to pop up that are worth looking into if you're a player in our space. I think some problems are better solved together and appointments are one of them, fraud is one of them, tradability of capacity is one of them, and smart contracts all of that will come over the next 10 years. 
What are some best practices for evaluating new software and pitfalls to avoid?
Will: I never really look that hard at a new technology product someone I really trust hasn't recommended. It's a pretty tight group in freight, we've all worked with each other and know each other at least through a secondary connection at worst. With the good stuff, the word really spreads. So I think positive referrals and word of mouth is by far the most powerful way to market technology. 
The hard part about that is it requires having really strong technology that works and solves problems. Focus on the problem you're solving, the pain you're alleviating, the speed you're providing, and the accuracy we're missing. Are we wasting money we don't even know about that we can solve? Having really good data use cases that fit what we're trying to do and then telling us a story about how we can get to a better place through the adoption of tech is really powerful. 
Jay: The size of our team at Echo is 330-340 people, so were in a bit of a unique situation. Most technology we leverage today is homegrown from our TMS to our client and carrier portals, so in our world, there are unique workflows or operating procedures that happen within our TMS that create very clear decisions - this is something we're going to build, it's part of our platform. When it comes to new tech, we keep a very open mind. We look at the speed to market, cost to market, and whether its capabilities are in our expertise from a talent standpoint. 
Sometimes, we'll come across some new tech and it's a no-brainer to adopt it. Other situations might require debate internally on whether we can build this ourselves - or if it's a single integration we have to connect, why would we use an aggregator in that situation? We have those open conversations, but we try to approach it as objectively as possible. 
How do you manage wanting to roll out something new that you invested in to the team?
Jay: There's a couple ways to be as successful as possible. There's emotion tied to a certain workflow and way of doing things, so explaining the story on why something's happening, why a new process is being rolled out, and why a new platform is being used is really important. Beyond the story, focus on change. We have a function within our business called change management that helps support business stakeholders by training organization leaders throughout our company to know whats on the horizon and what processes are changing, and create content and training materials to support that rollout. 
Will: Help people understand the foundational work we have to do now to build for the future. The little things we're doing here and there that do require some change and do require some time are for that greater good. We also have to be really sensitive to the fact that our people are super busy. The biggest problem with freight brokers is that we don't have enough time to do all the stuff we're supposed to do. So to ask our really hard-working freight people - who also have revenue, margin, and growth pressure - to take time out of their revenue-generating activities to focus on a new email product implementation can be met with pushback at times.
We have to show them the pain we're trying to alleviate, the problem we're trying to solve, and how the work they're doing right now can make them more money and make their customers give them more freight in the future.
Front is very easy to sell because its such a clear pain-relieving technology. Pretty much all of us operate in a real similar way where we have an [email protected], for example, and you have 10 people working off an email inbox. I can't tell you how many times before using Front that we've had two people quote the same load with different rates or we've had two people update tracking information, or tracking requests with different updates. These discrepancies tend to kill credibility and momentum for us. With Front, the pain point it was going to solve was very obvious. I think most of the hurdles were just getting used to the clicks being different. 
How do you really measure the ROI of what's working?
Will: My method is pretty simple: I try to cut everything every year and then have my team fight for what they want. Every year, we've tried to either scale back or cut Front, because we're like well, why are we using this?, why do we have so many users?, why does it cost so much? Every year, teams defend it wholeheartedly. If my internal team will come up and defend the technology we're using and say they want to allocate their budget to that solution because it provides that value, then that's pretty much all I need to hear. 
Data-driven decision making is one of our core philosophies, so we determine whether our  users are using it and it's not just sitting there. We've had a lot of different freight tech apps come and go over the years because people get excited about it in a demo or people use it for a little bit and then ultimately revert back to the way they're used to doing business. Being able to measure usage in real time is really important.
Jay: I do the opposite of Will. I ask our CFO for as much as I can think of and then let him tell me no, and go back and forth with him, but I would say we look at it very similarly. 
For any new technology that we invest in, before we even go into a proof of concept, we'll have some form of revenue margin efficiency hypothesis that we build an ROI model around. After we go live, we diligently measure it, and if things aren't going as expected, we seek to understand why. As Will called out, it's typically a pretty objective decision on if you ever decide to part ways with a technology solution you've invested in. We usually try to put enough upfront due diligence in place so that we're not surprised when something doesn't play out as expected. We've had a lot of success at Echo with any third-party technology that we license or use setting up 60-day or 90-day proof of concept where we can test things so that by the time we actually approach a full-scale rollout across the organization, we've got an idea of what actual tangible results we should see.
+++
The Q&A session moderated by Jacob Vasquez, Senior Product Marketing Manager at Front, was followed by an audience Q&A and then some drinks and appetizers featuring a view of Chicago 🏙 Were grateful to Will and Jay for joining us and look forward to the next discussion!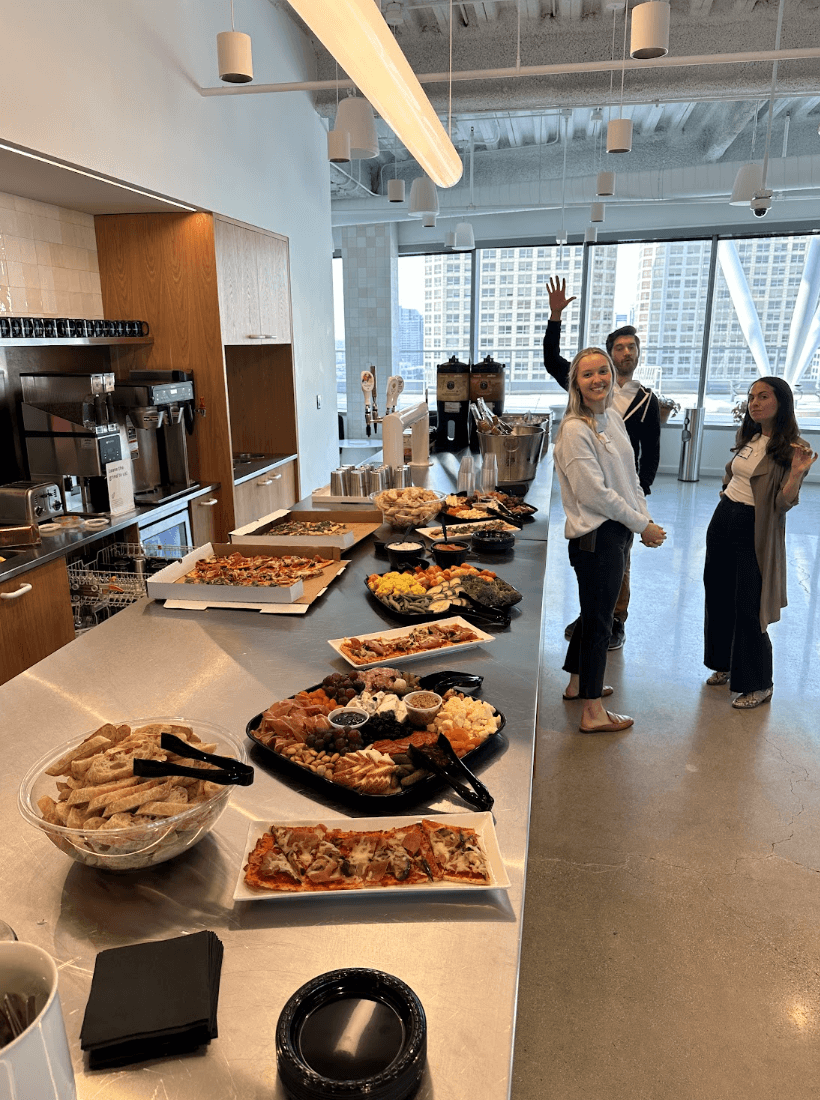 To learn more about how Front could help your logistics company, check out this article.
Written by Sara Shaughnessy
Originally Published: 8 June 2023